Indians catch spring fever on Truck Day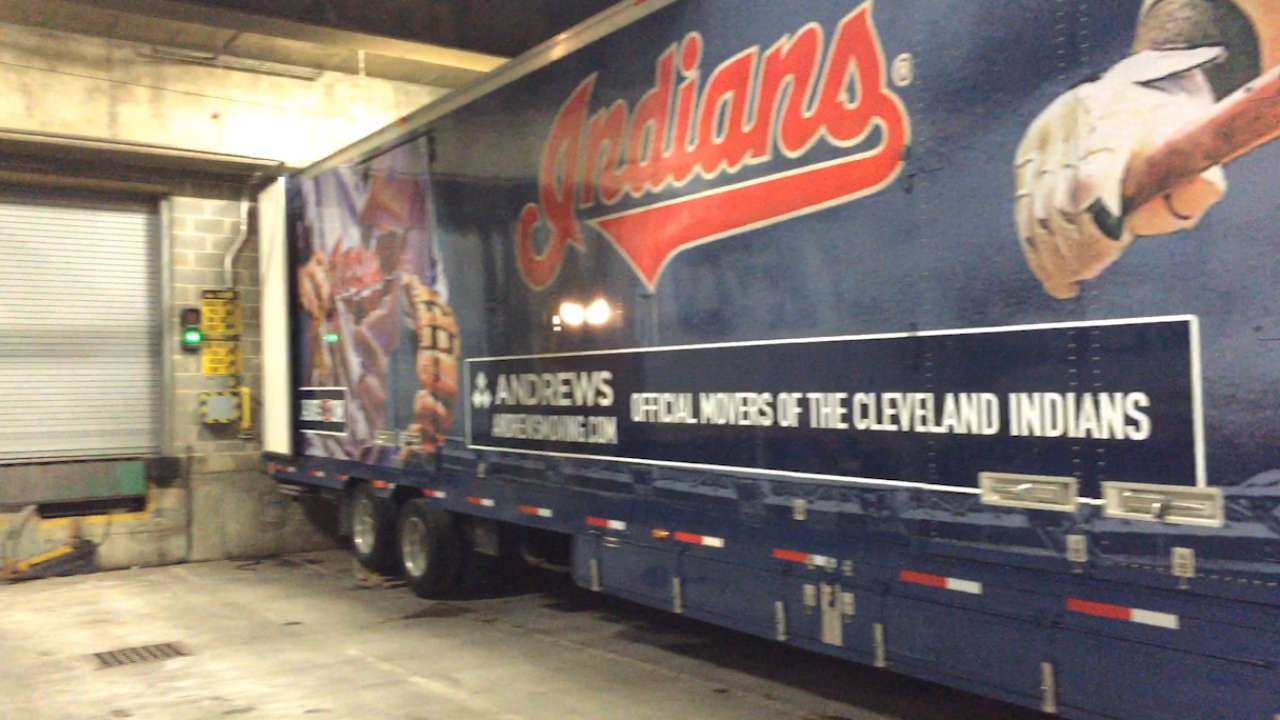 CLEVELAND -- A pair of moving trucks pulled out of Progressive Field on Friday morning, beginning the annual cross-country journey from Cleveland to Goodyear, Ariz. There is no word yet whether the trucks saw their shadows, but spring is definitely arriving fast for the Indians.
"I don't know what they're talking about with this Punxsutawney Phil," quipped Marty Bokovitz, the Indians' assistant home clubhouse manager. "This is the first day of spring right here, isn't it? When the trucks roll out, everybody gets excited. Spring is starting. Baseball's back. It should be a holiday."
Each year, Truck Day signals that the offseason is nearly over.
The two 53-foot trucks will roll through enemy territory across the Midwest with large Indians decals covering the sides of one of the trailers. Ed Fisher, who has been driving one of the trucks for the Tribe for the past nine years, said the artwork that was placed on the truck last year led to some fanfare during his 2,000-mile drive through Ohio, Indiana, Illinois, Missouri, Oklahoma, Texas, New Mexico and Arizona.
"I've had a few people honk their horns and wave and take pictures," Fisher said with a smile.
Fisher will haul the lead truck once again this year, pushing through 11-hour days along Interstate 40 with a handful of stops. Barring any obstacles with the weather, he typically takes breaks near the Illinois border, and then in Joplin, Mo., and Amarillo, Texas, before completing the final leg into the Phoenix area.
More pics from Truck Day. "It should be a holiday," said Marty Bokovitz, Indians' assistant home clubhouse manager. pic.twitter.com/EKkzpChOfe

— Jordan Bastian (@MLBastian) February 5, 2016
If everything goes according to plan, the trucks should arrive at Cleveland's spring headquarters on Tuesday night or Wednesday morning. Come Wednesday, workers at the team's Arizona complex will swiftly unload the trucks to prep the clubhouse and facilities for the preseason.
Indians pitchers and catchers are scheduled to report to Spring Training on Feb. 17, with position players following suit on Feb. 21. That said, many players already have headed to Arizona to get an early jump on their training.
"This is like taking 65 kids on a two-month vacation," Bokovitz joked. "Do you have your shoes? Do you have your shorts?"
Bokovitz said there are roughly a dozen shrink-wrapped racks filled with Spring Training clothes (shorts, shirts, etc.) that are wrapped and ready to be dropped in each player's locker. Each year, the Indians order around 18,000 baseballs and 600 bats, but most of those items are shipped directly to Arizona. The trucks are filled with bikes, golf clubs, workout equipment, pallets of bottled water, sunflower seeds and even stadium mustard.
"You've got to have that," Bokovitz said of the condiment.
As workers filled the trucks on Friday morning, the scooter belonging to Indians manager Terry Francona sat off to the side. A black scooter has replaced the red one that Francona used in previous years. The manager zips through downtown Cleveland on the small vehicle and usually has it brought to Arizona as well.
Here is the Indians' groundhog: Tito's scooter. When you see it in February, you know spring is near. pic.twitter.com/MetBUlXxnQ

— Jordan Bastian (@MLBastian) February 5, 2016
Truck Day has been weeks in the making for Bokovitz and the rest of the Indians' clubhouse staff.
"We usually start this process the last couple weeks of December," Bokovitz said. "It takes us a good month. Every day, something else comes up, or there's some hurdle we have to overcome. We get after it for the full month."
As it happened, track hurdles -- with the phrase "Tribe Strong" along the top beam -- were loaded on the trucks.
Fisher spends roughly 300 nights a year on the road. He said this is the day he looks forward to the most.
Get to know Ed Fisher, Indians' truck driver for past 9 years. Via @castrovince last year: https://t.co/kAeOe0h3d6 pic.twitter.com/2avsSU6k38

— Jordan Bastian (@MLBastian) February 5, 2016
"It's the best job that I do all year," Fisher said. "I enjoy it more than anything else I've done, and this is my ninth year doing it. I really enjoy it. I just lucked into it by happenstance the last year they were in Winter Haven [Florida]. They liked my work, I guess.
"They keep asking for me, so I keep coming back. I enjoy it, and I haven't screwed anything up, yet."
Jordan Bastian is a reporter for MLB.com. Read his blog, Major League Bastian, follow him on Twitter @MLBastian and listen to his podcast. This story was not subject to the approval of Major League Baseball or its clubs.