Close friends Betts, Bogaerts poised to lead Sox
Young stars are looking to build on excellent 2015 seasons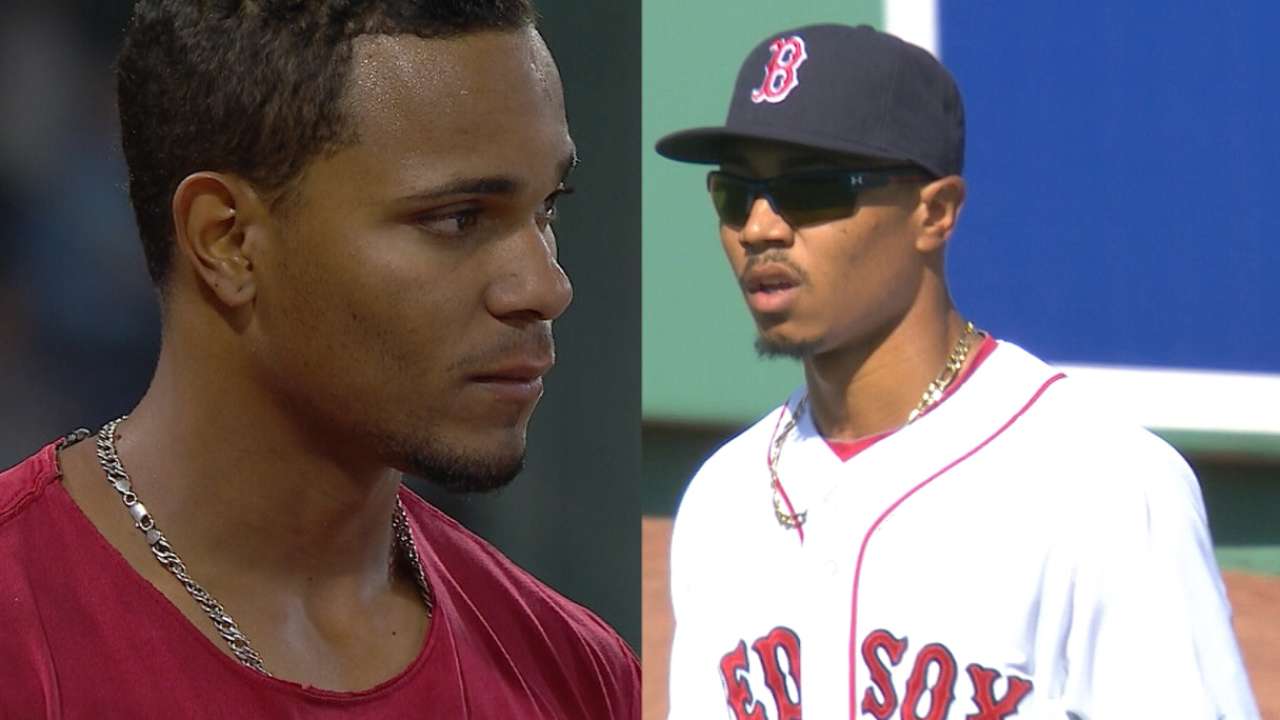 BOSTON -- Xander Bogaerts and Mookie Betts are just six days apart in age, having both been born during the first week in October 1992. And as the two ultra-talented players enter their age-23 seasons, they might be ready to take center stage for the Red Sox.
Sure, you'll hear plenty over the next few weeks about newly acquired star pitchers David Price and Craig Kimbrel. There will be a lot of talk about the great David Ortiz entering his final season. Dustin Pedroia, the gritty second baseman, will again be a focal point of Red Sox Nation.
But once the games start, Bogaerts and Betts might just provide the best combination of excitement and production. And they'll do it together, as close friends.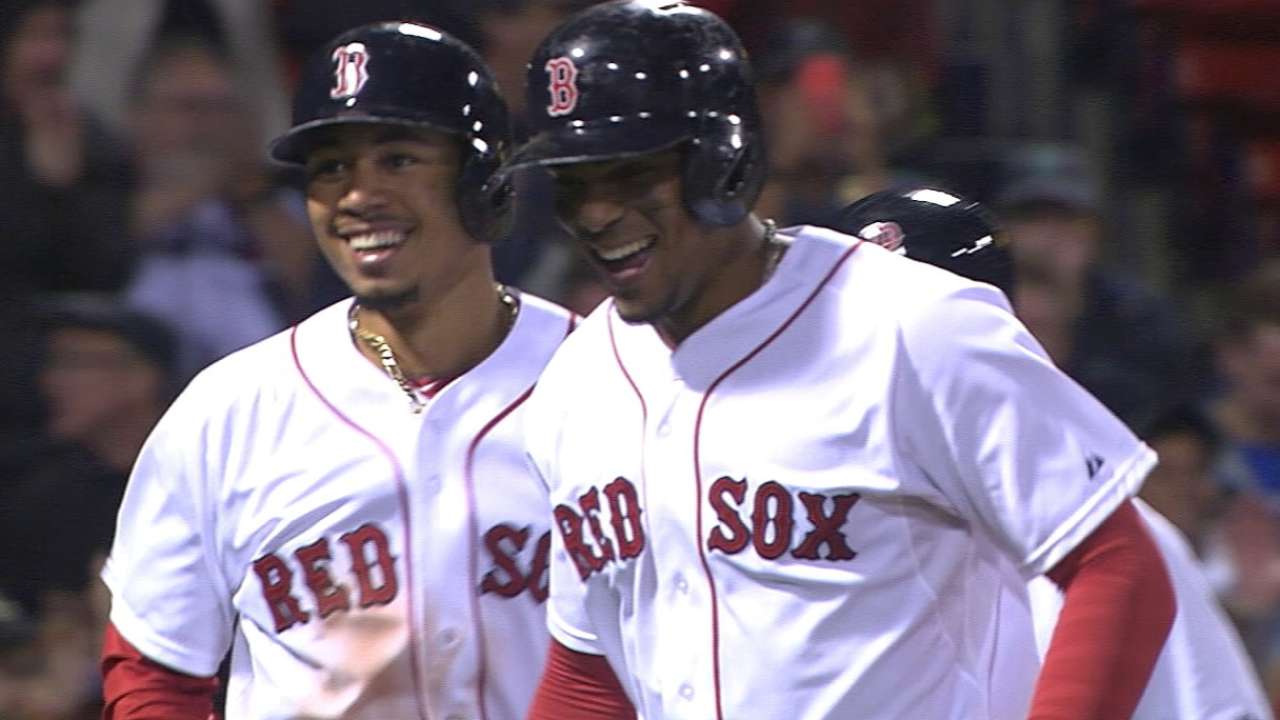 Bogaerts grew up in Aruba, while Betts was raised in Nashville, Tenn. Bogaerts loves soccer, while Betts is passionate about bowling. Yet for their obvious differences, they've formed a strong bond that should only grow stronger over time.
"Mookie is a special player. I really love that guy," Bogaerts said. "Seeing what he did last year after he struggled towards the middle, he just built up and ended really strong. It was nice to see. Every time he hits, you can learn from him. Sometimes he gets a bit hard on himself, but that's what drives him to become what he is."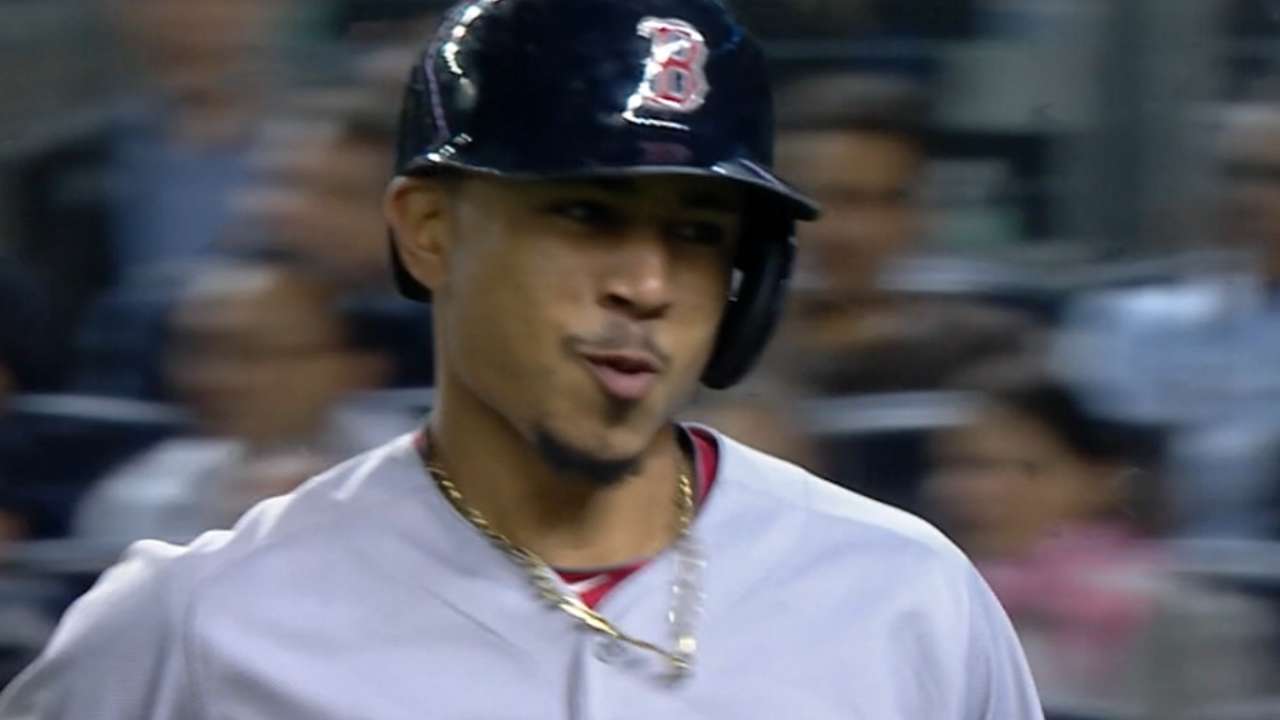 Having two young and dynamic stars playing in the baseball-crazed market of Boston is going to generate a lot of buzz over the next few summers. The Red Sox have Bogaerts under their control through the 2019 season. Betts is under the club's control through '20.
"I don't think we think so much about the age thing," said Betts. "I think we just think a whole lot about basically being like brothers. It seems like he's the big brother, just because he's been there longer. I think we just go as we go. I think we have a very similar mindset in staying even and not getting too high or too low. That's just kind of how we roll."
Boston signed Bogaerts as an international free agent in 2009, when he was 16 years old. Betts wound up being a steal as a fifth-round selection in the 2011 Draft.
"You're very fortunate. I walked into this situation where they're in the organization, and they've been highly touted by others in baseball," said Red Sox president of baseball operations Dave Dombrowski. "Then, when you get here, you understand why when you watch them play day in and day out.
"They're very good talents. They love the game. They play it with a passion. And to have two guys like that you can put in your lineup for years to come, I think if anything, they're just in a spot where they can continue to get better. They serve as a real good young core for us moving forward. They are top young players in the game of baseball."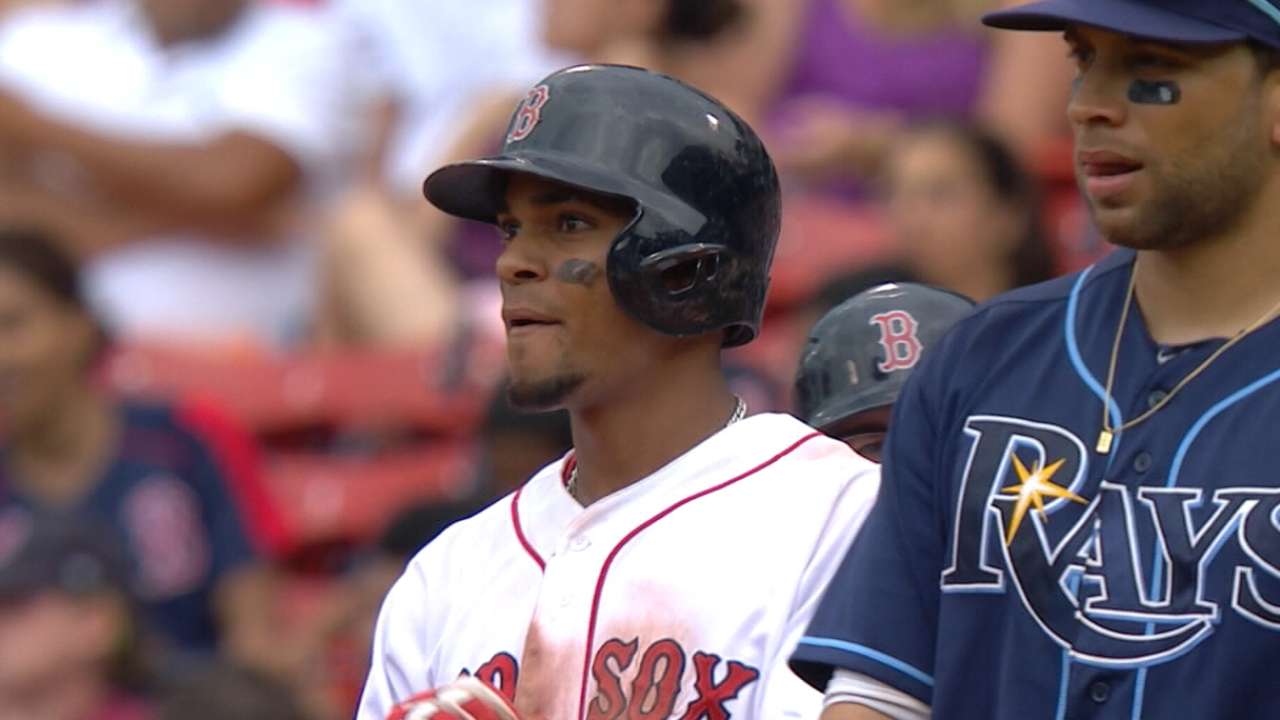 Bogaerts is coming off a season in which he belted 196 hits with 35 doubles and a .320 average. All the while, he played brilliant defense, which made him a finalist for the Gold Glove Award at shortstop.
While Betts will make a point of telling you that he struggled until about mid-June of his first full season, the stats at the end of the year (.291 average, 18 homers, .820 OPS and 21 stolen bases) demonstrated a player on the verge of doing serious damage in a variety of ways. And as was the case with Bogaerts, there was plenty of brilliance with the glove.
Who could forget Betts leaping over the bullpen wall in right-center to take back a home run from Chris Davis and finish a win for Boston?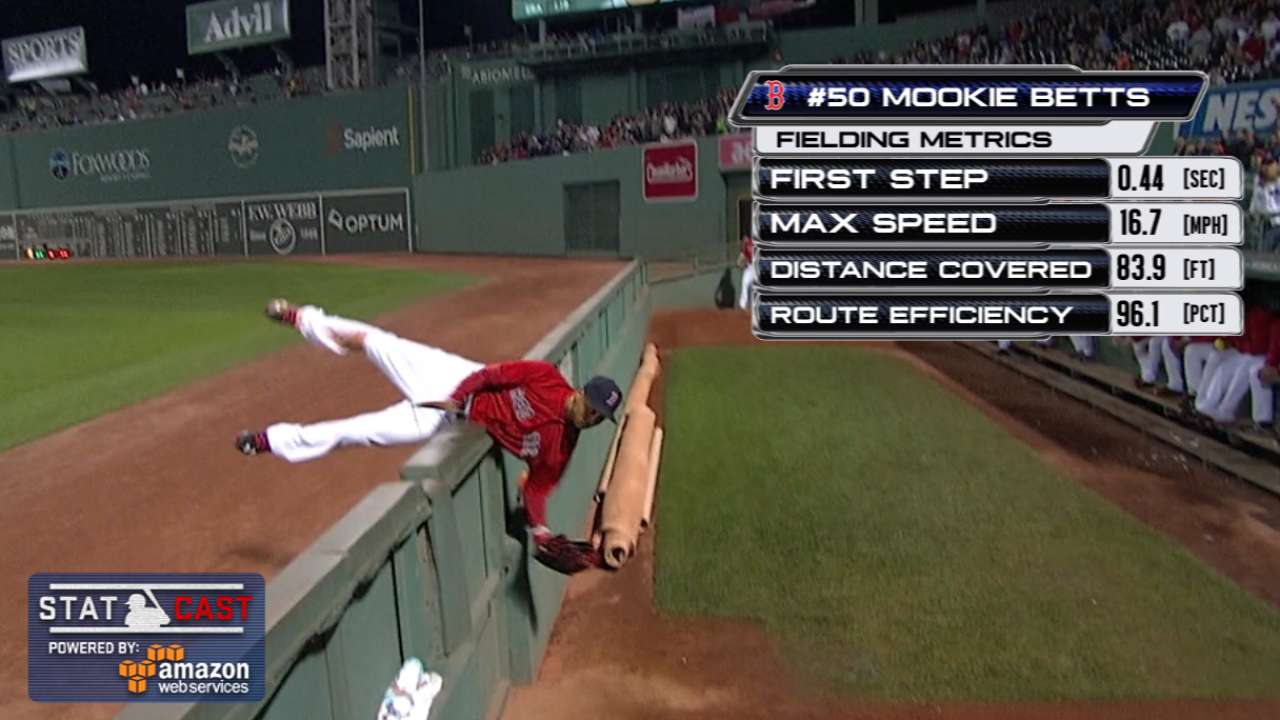 Though Bogaerts exudes the laid-back demeanor you might expect from someone who grew up in Aruba, he has the same quest for excellence that Betts has. And that's why 2014, when he hit .240 and played inconsistently on defense, was so hard for him.
Red Sox assistant hitting coach Victor Rodriguez saw a common thread in the struggles Bogaerts had in 2014 and the tough times Betts had early last season.
"It's happened to Bogaerts, it's happened to Mookie, it's happened to Pedroia, it's happened to [Kevin] Youkilis. It's happened to all those guys when they're young," said Rodriguez. "They struggled, because at the moment they struggle, instead of sticking with what they've done, they want to get out of what they do, and they want to force the swing instead of trust the swing."
Now that Betts and Bogaerts have both gotten to the point where they trust their instincts, there might be no stopping them.
"I had both in the Minor Leagues when they first came in, you could see they had ability, but these guys are true professionals," Rodriguez said. "They aren't this good by mistake. It's because they work at it, and they want to get better every day. There's still a lot of room to get better, and I think they're going to continue to get better. They've already proved it at that level. I'm very excited to be part of the coaching staff that's going to be there to see these guys develop as really good Major League players."
But it's not just their physical gifts. In fact, manager John Farrell sees a different separator.
"Their intelligence," said Farrell. "Those two guys have such great retention. So when they experience something, you talk it through with them, you make a correction or you give another way of doing certain things, and they go out and they apply it. It doesn't have to be repeated seven to 10 times. They're very quick studies, and they have that natural confidence to go out and do it."
Ian Browne is a reporter for MLB.com. This story was not subject to the approval of Major League Baseball or its clubs.