MLB.com Columnist
Terence Moore
NFL's Thompson, Harris big baseball fans
Super Bowl opponents show love for the game ahead of Sunday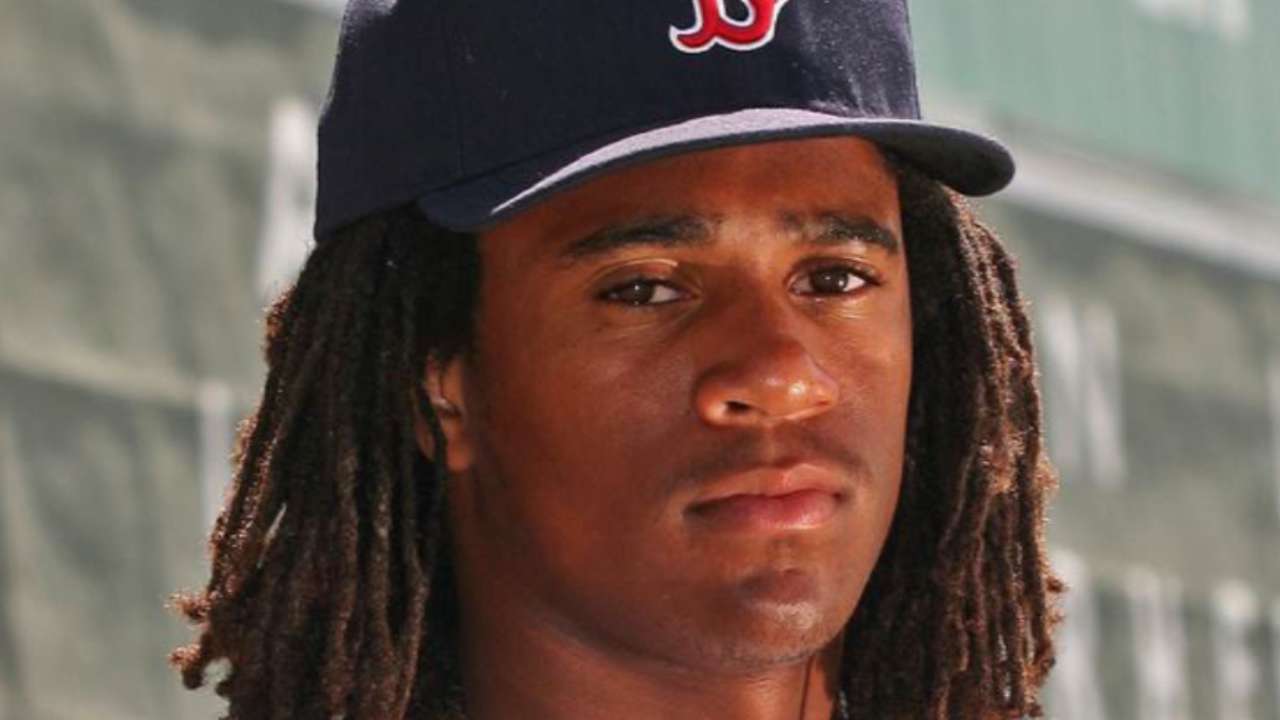 SAN FRANCISCO -- They said what they had to say. Then again, it's Super Bowl Week, so if you're linebacker Shaq Thompson of the Carolina Panthers and offensive lineman Ryan Harris of the Denver Broncos, this is neither the time nor the place to confess that your career path should have involved bats and gloves instead of blocking and tackling.
Once, Thompson and Harris were baseball players.
"If I had stuck with it, I think I would have been all right," said Thompson, drafted by the Red Sox in the 18th round in the 2012 Draft.
As for Harris, he never reached the professional baseball level, but the 6-foot-5, 300-pound tackle kept the game in his heart growing up in St. Paul, Minn., where he attended Cretin-Derham Hall High School. That's the alma mater of Baseball Hall of Famer Paul Molitor, and Twins slugger Joe Mauer was among Harris' childhood pals through their prep days.
"I really love the game of baseball, and I've been talking about it [with people] all year," said Harris, who decided to use his considerable size to concentrate on football and wrestling in high school, along the way to a splendid football career at the University of Notre Dame.
After Harris started four years for the Fighting Irish, he became a third-round pick of the Broncos in 2007. Now he's in his first Super Bowl.
The same goes for Thompson.
As a result, if Harris, Thompson and their teammates weren't preparing for that little game on Sunday in nearby Santa Clara, I have a prediction: They would loudly applaud the words of former NFL wide receiver Antwaan Randle El, who shocked folks last month through the Pittsburgh Post-Gazette regarding his football career that was highlighted by two All-Pro honors and his pass for a touchdown to help the Pittsburgh Steelers win the 2006 Super Bowl.
Randle El said he wishes his football career never happened. None of it. Not that Super Bowl TD pass. Not his various honors. Not any part of his life in shoulder pads, going back to his prolific years as a quarterback at Indiana University and at Harvey Thornton Township High School in his hometown of Riverdale, Ill.
More specifically, Randle El said he wishes he would have tried to perfect his professional baseball career, period.
"If I could go back, I wouldn't [play football]," Randle El told the newspaper. "I would play baseball. I got drafted by the Cubs in the 14th round [out of high school during the 1997 First-Year Player Draft], but I didn't play because of my parents. They made me go to [college]. Don't get me wrong. I love the game of football. But right now, I could still be playing baseball."
No question there. Randle El is 36 years old, and he has difficulty walking down a flight of stairs. In contrast, LaTroy Hawkins (42), Bartolo Colon (42), Ichiro Suzuki (41), Torii Hunter (40) and Alex Rodriguez (40) were among those still productive last season in the Major Leagues over 40 years old. The NFL also has been rocked these days by a motion picture called "Concussion," which gives a graphic description of how players in the league are impacted by the numerous blows they receive to the head during games and practices over the course of years and even decades. The league even reported last week that its data showed that diagnosed concussions rose around 32 percent this season compared to last season.
Then there is the ongoing research involving the brains of deceased former NFL players. According to those studies, more than a few of the players suffered from high rates of chronic traumatic encephalopathy (CTE), which is a disease that is believed to result from repeated brain injuries. Just this week, it was announced that the late Ken Stabler suffered from CTE after his brain was examined, and he was as tough as they came as a perennial Pro Bowl quarterback, mostly for the Oakland Raiders. Still, Thompson shrugged over the danger of it all.
"Sean Taylor. That was my idol," said Thompson of the explosive Washington Redskins safety, who died tragically nine years ago in a shooting. "He was physical, and I like being physical. I don't see anything wrong with it."
Consider, too, that Thompson struggled during his stint in 2012 with the Red Sox's Rookie-level team in the Gulf Coast League. After 39 official plate appearances, he struck out 37 times, and he quit soon afterward.
"I loved [baseball] when I was younger," Thompson said. "I just grew out of it. I guess I wanted more contact."
Harris can relate, especially since he must stay highly aggressive during games to keep defenders away from the fragile body of Peyton Manning, the Broncos' 39-year-old quarterback.
The thing is, Harris uses his love of baseball to do so.
"I think pitchers and offensive tackles have similar mindsets," Harris said. "You have to understand the situation you're in. You have to be mentally tough to overcome any mistakes you might make. And being I don't play baseball anymore, it's one of the sports I can watch and enjoy it."
What about the Randle El comments?
"Well, I definitely get why guys would want to choose playing baseball over football now," said Harris, nodding.
Then he remembered he's trying to help his Broncos win the Super Bowl, which is why he added in a hurry, "But I'm happy being here playing football."
Terence Moore is a columnist for MLB.com This story was not subject to the approval of Major League Baseball or its clubs.