Around the Horn: Catcher
Mets hopeful about d'Arnaud's health, hitting in 2016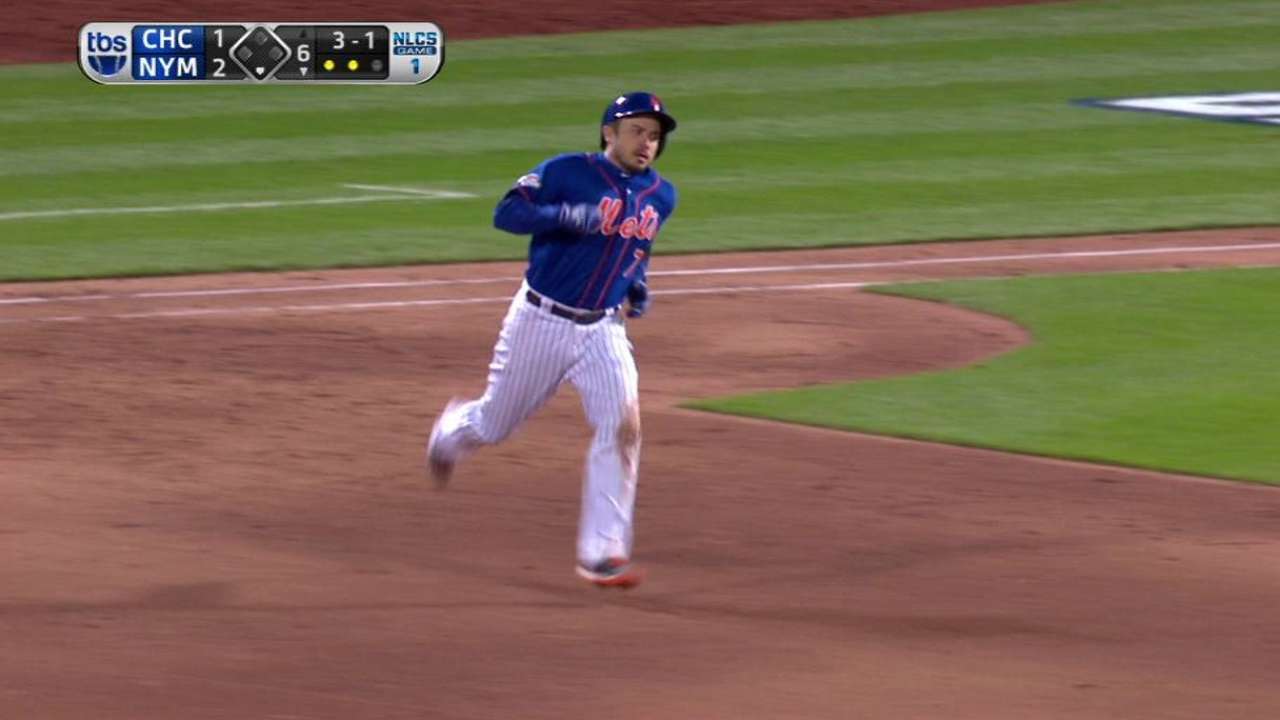 With pitchers and catchers scheduled to report to Port St. Lucie, Fla., by Feb. 17, it's time to dissect the Mets' 2016 roster. This is the second of a six-part Around the Horn series taking a position-by-position look at projected starters and backups heading into the season. Next up: Catchers.
NEW YORK -- Among the more memorable moments of last year's National League Championship Series was the 430-foot home run that Travis d'Arnaud clubbed off Cubs starter Jon Lester in Game 1, clanking it onto Citi Field's home run apple. A day later, Citi Field employees affixed a larger-than-life bandage to the iconic apple, a visible nod to d'Arnaud's burgeoning power.
"When we made the trade for him [in 2012], one of the thing the scouts told me is he has huge power to right-center field," manager Terry Collins said late in the season. "That's a part of the park where he can be a threat offensively with some power, and so what he's done is shown us that.
"We know he's got big-time power and his confidence right now, offensively, is off the charts. There's nobody, [when] he walks up there, that he doesn't think he can hit, and he's dangerous."
If only d'Arnaud can display those abilities on a consistent basis, the Mets may be onto something. Entering his fourth big league season as the Mets' unquestioned starting catcher and leader of their vaunted pitching staff, d'Arnaud has yet to prove he can stay on the field. Last year, it was a sprained left elbow and a fractured finger that robbed him of most of his season. The year before, right elbow issues and a concussion kept him sidelined. In 2013, it was a shoulder contusion and a fractured foot. In 2012, a ligament tear in his knee cost d'Arnaud most of the season.
When healthy, d'Arnaud has established himself -- at age 26, smack in the middle of his physical prime -- as one of the game's top offensive catchers. His .268/.340/.485 slash line last year would have ranked in the top five across the board among big league catchers had he amassed enough at-bats to qualify for the batting title. But with just 239 of them, d'Arnaud didn't come close. Twelve home runs and one memorable bandage wound up being his consolation prize.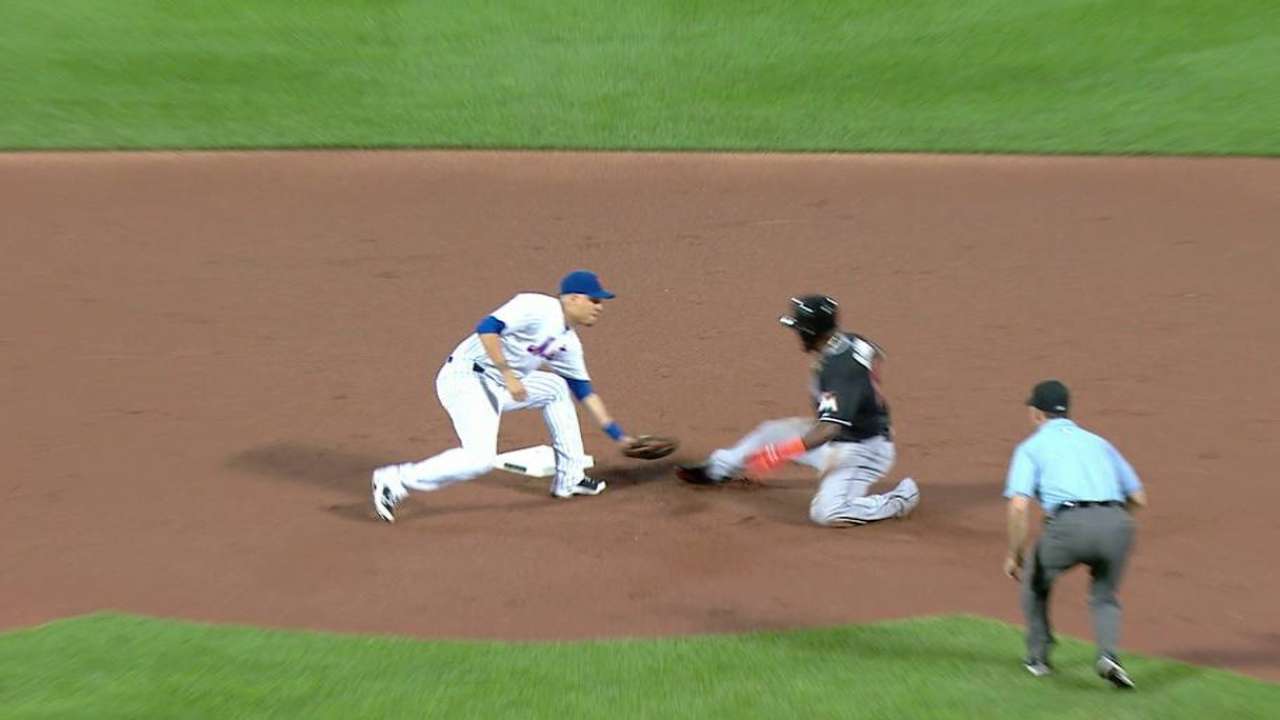 And so health, more than anything, is what will define the catcher's 2016. Not that there are a lack of other areas in which d'Arnaud can improve -- his throwing has been a constant source of work in recent years, for example, while his strikeout rate spiked last season. It's just that the Mets believe a healthy d'Arnaud fits neatly into the middle of their lineup.
Behind d'Arnaud, Kevin Plawecki is the unquestioned backup heading into this season. A strong defensive catcher, Plawecki struggled offensively during multiple trips to the Majors last summer, posting a .219/.280/.296 slash line as d'Arnaud's frequent injury replacement. But Plawecki is less than two years removed from being the Mets' No. 2 prospect, and with no other high-level catchers approaching the big leagues, he should receive plenty opportunities once again. Longtime backup Anthony Recker became a free agent this offseason and moved onto the Indians, though the Mets did retain fourth-stringer Johnny Monell. He should open the year at Triple-A Las Vegas.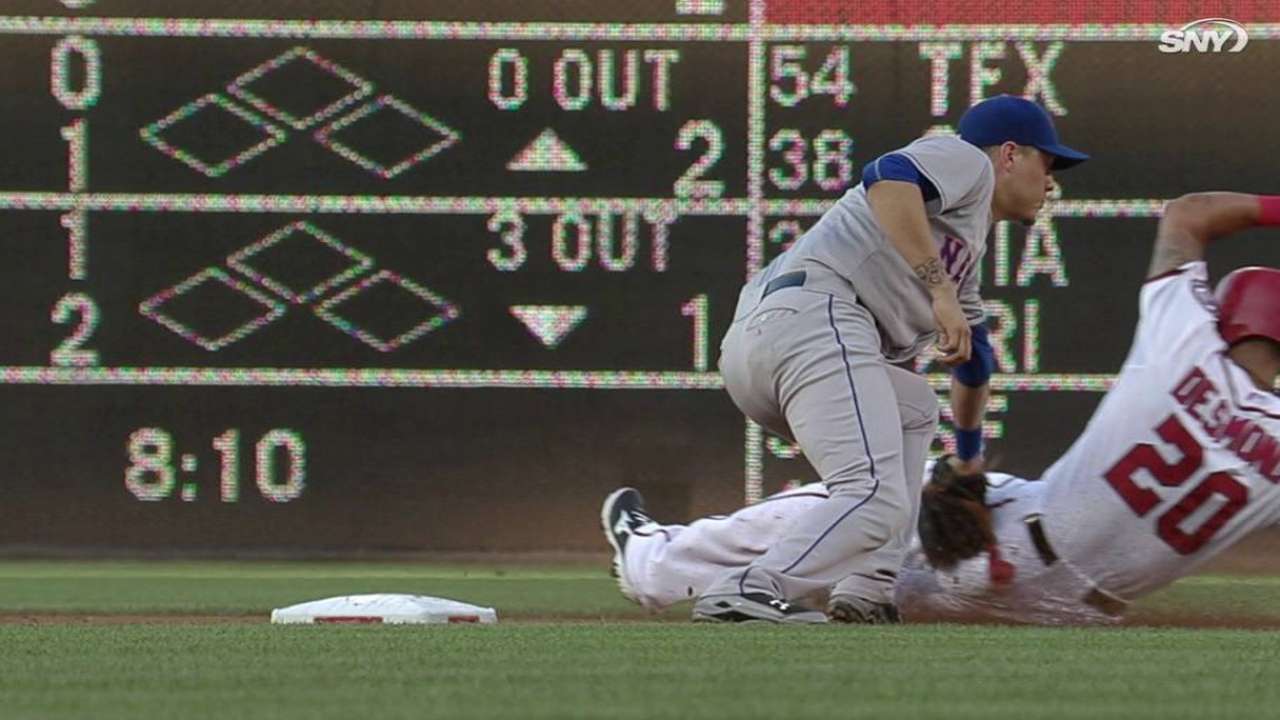 Then again, if things proceed swimmingly for d'Arnaud this summer, none of that should matter. If things go well for both d'Arnaud and Plawecki, the Mets could even consider exposing one of them to first base on a regular basis, or eventually swinging a trade. Those are all discussions for the long-term future.
For now, catcher is d'Arnaud's position in Flushing. How he fares will play a key role in the Mets' pursuit of continued success.
Anthony DiComo is a reporter for MLB.com. Follow him on Twitter @AnthonyDiComo and Facebook, and listen to his podcast. This story was not subject to the approval of Major League Baseball or its clubs.