Royals' Davis tops list of best relievers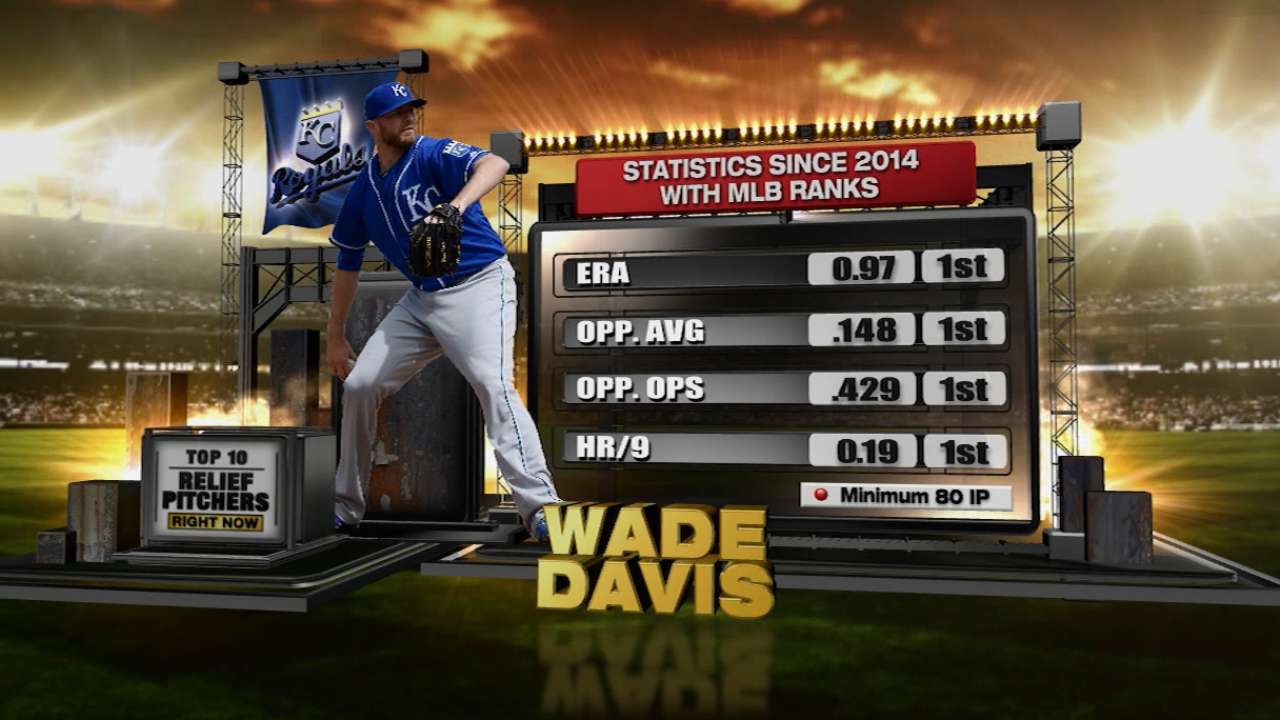 The emphasis on having dominant arms in the bullpen has perhaps never been more important than it is today.
Take for instance the Royals, who have ridden their tremendous relief core to back-to-back World Series appearances and a championship this past fall. Or the Yankees, who already had two of the most dominant relief pitchers in the game and yet still acquired another this offseason.
MLB Network revealed its top 10 relief pitchers on Thursday night, based on results from "The Shredder" -- an algorithm based on player performance that accounts for both offense and defense that was put together by MLB Network's research department "without emotion or bias." Host Brian Kenny and guest host Dan Plesac also provided their top 10s.
"The Shredder" uses an objective methodology to rank players at each position based on their past track records as well as their future projection. It weighs the offensive and defensive statistics for a player in both one- and two-year increments and places more emphasis on defense at positions that are on the right of the defensive spectrum, i.e. catcher, shortstop, second base and center field. It also takes into account a player's durability as well as the offensive environment of his home park. (In other words, it gives more credit to home runs hit in San Diego as opposed to Colorado.)
Here is MLB Network's list of top 10 relief pitchers:
1. Wade Davis
2. Dellin Betances
3. Aroldis Chapman
4. Andrew Miller
5. Zach Britton
6. Mark Melancon
7. Ken Giles
8. Tony Watson
9. Darren O'Day
10. Craig Kimbrel
PLESAC:
1. Davis
2. Chapman
3. Betances
4. Miller
5. Jeurys Familia
6. Britton
7. Kimbrel
8. Melancon
9. Kenley Jansen
10. Trevor Rosenthal
KENNY:
1. Davis
2. Betances
3. Chapman
4. Giles
5. Miller
6. Kimbrel
7. Melancon
8. Britton
9. Watson
10. O'Day
"I don't think the game of baseball, we've ever seen a collection of arms, industry-wide [like this]," Plesac said. "Bullpens across the board, mid-90s fastballs and above, it's almost industry-wide."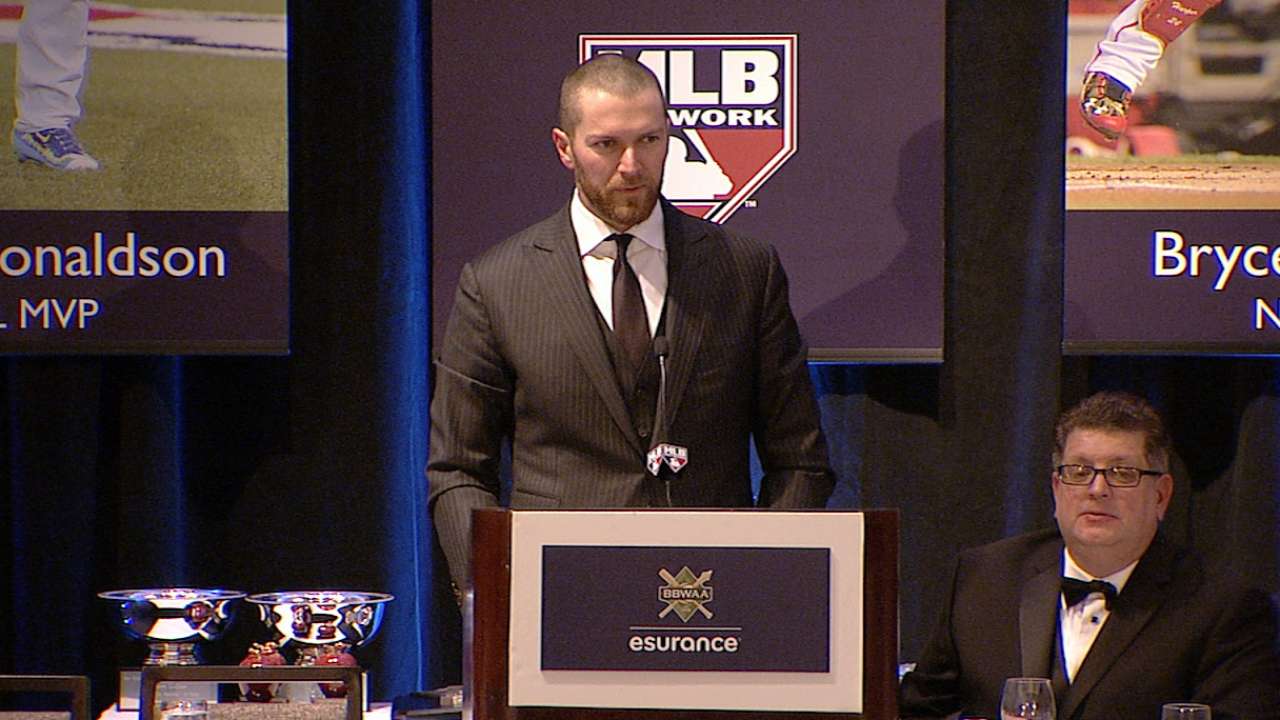 The position is traditionally one of the most volatile from year to year in all of baseball. But the man at the top brings some stability, topping the list by the computers for the second consecutive season.
• Top 10 Right Now: Second basemen
Davis was the unanimous choice on all three lists, after perhaps his best season of all in 2015. He finished with a minuscule 0.94 ERA in 69 games and took over as the closer for Kansas City during the middle of its run to the World Series championship. He was just as dominant in the postseason and did not yield a run in 10 2/3 innings.
Davis is in the midst of one of the best two-year stretches in baseball history, leading the Majors in ERA and opponents' average and OPS since 2014. Bill James, the pioneer of sabermetrics, even compared him to future Hall of Famer Mariano Rivera.
"He deserves to be No. 1," Plesac said. "His last two seasons are historic. You could match his last two seasons against anybody in baseball."
The Yankees' trio of Betances, Chapman and Miller was right behind Davis at Nos. 2, 3 and 4 respectively, giving Yankees manager Joe Girardi perhaps the most dangerous plethora of options in all of baseball.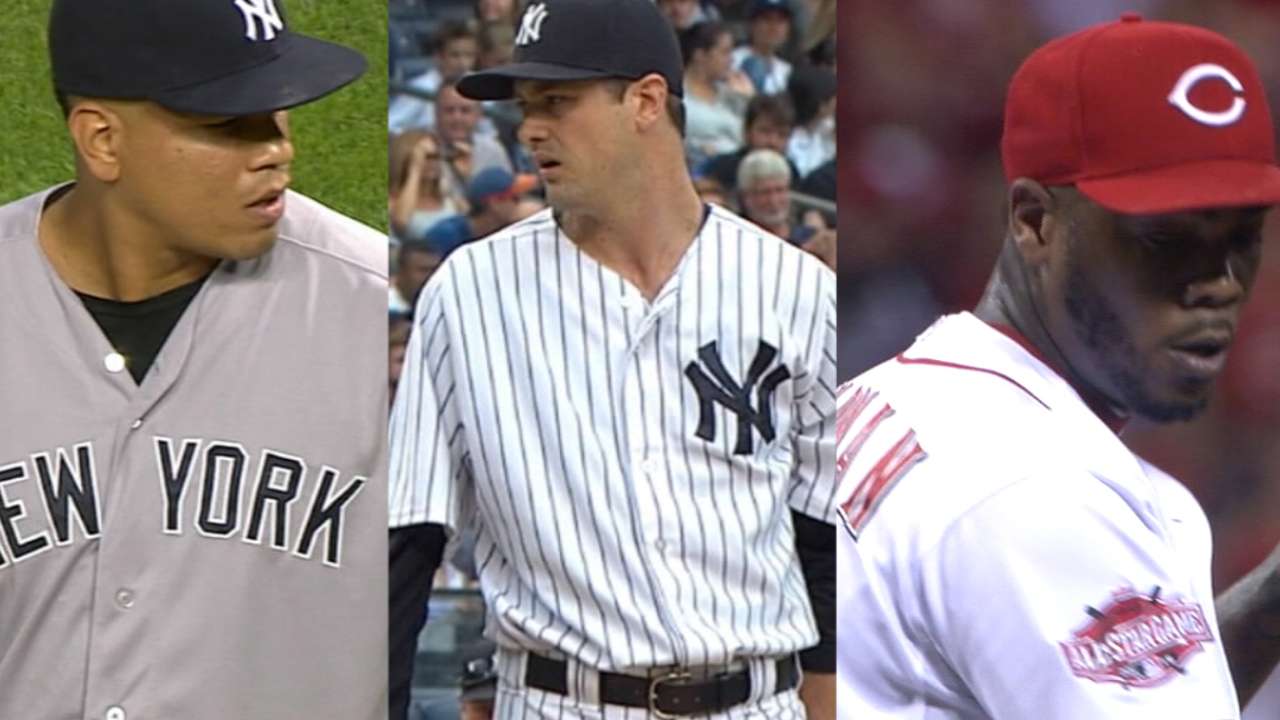 "This has a chance to be the best we've ever seen in the history of baseball," Plesac said.
Biggest disagreements
With so many dominant arms coming out of the bullpen, it's tough to come to a consensus on 10. Kenny and the computers had the same 10 pitchers on each list, albeit in different orders, while Plesac had three different pitchers on his list.
Each of the members on Plesac's list was a closer, as he chose to factor in the traditional measurements of saves and saves percentage to measure relievers. That meant Plesac favored pitchers such as the Mets' Familia, who was fifth on his list but did not appear on either Kenny's on the computer's list.
On the other hand, Kenny and the computers had no problem featuring setup men on their lists, including the Pirates' Watson and Orioles' O'Day. Kenny suggested that this could be the golden age of relief pitching.
"It's part and parcel to where we are in the game," Kenny said. "It's no longer 100, 120 innings out of the bullpen. They're doing kind of that 60-75 innings, but they're blasting. It's really the best relief pitching we've ever seen."
Biggest risers
Neither Miller nor Ken Giles was on the list last season, but both made impressive debuts.
Giles comes in at No. 7 in his first appearance on the list. Since his debut in 2014, his 1.82 FIP and 1.56 ERA are behind only Davis and Chapman throughout all of baseball. As the Yankees' closer in 2015, Miller struck out a staggering 100 batters in 61 2/3 innings. He comes in at No. 4 on the list after 36 saves in his first season.
Britton had the biggest jump of anyone on last season's list, moving up five spots from ninth in 2015 to fifth this year after a career-best 10.8 K/9 and 79.1 ground-ball rate last season.
With so many good relievers being left off the list entirely -- including the Dodgers' Kenley Jansen, Red Sox's Koji Uehara and Marlins' Carter Capps -- it only underscores just how deep and dominant bullpens have become throughout the game.
"We are getting all-time great production from these relief pitchers," Kenny said.
Jamal Collier is a reporter for MLB.com. Follow him on Twitter at @jamalcollier. This story was not subject to the approval of Major League Baseball or its clubs.