Lindor eager for sophomore season with Tribe
Star shortstop says No. 1 goal is to help club reach postseason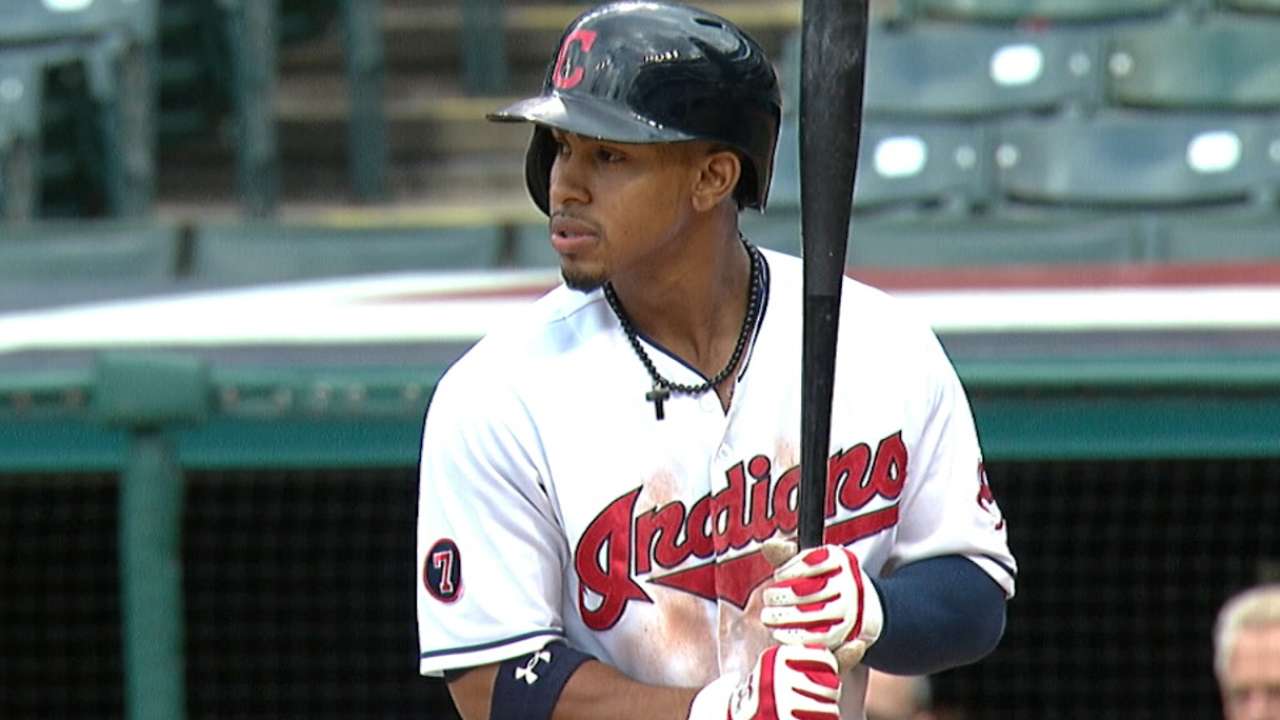 CLEVELAND -- It was unseasonably warm when a large group of Indians players convened last week for Tribe Fest. Around Northeast Ohio, snow shovels gathered dust, heavy jackets were ditched and fans could daydream a little about the upcoming season.
Francisco Lindor also was dreaming of returning to a baseball diamond, and soon, because the Cleveland air still had a little too much bite for his liking. The young shortstop was born in Puerto Rico, resides in Florida and now spends his springs in Arizona.
While wearing a knit cap, Lindor was cleary ready to get this season started.
"Cold. Cold, man," quipped Lindor, when asked how Cleveland was treating him. "I like it. I just don't like the cold weather."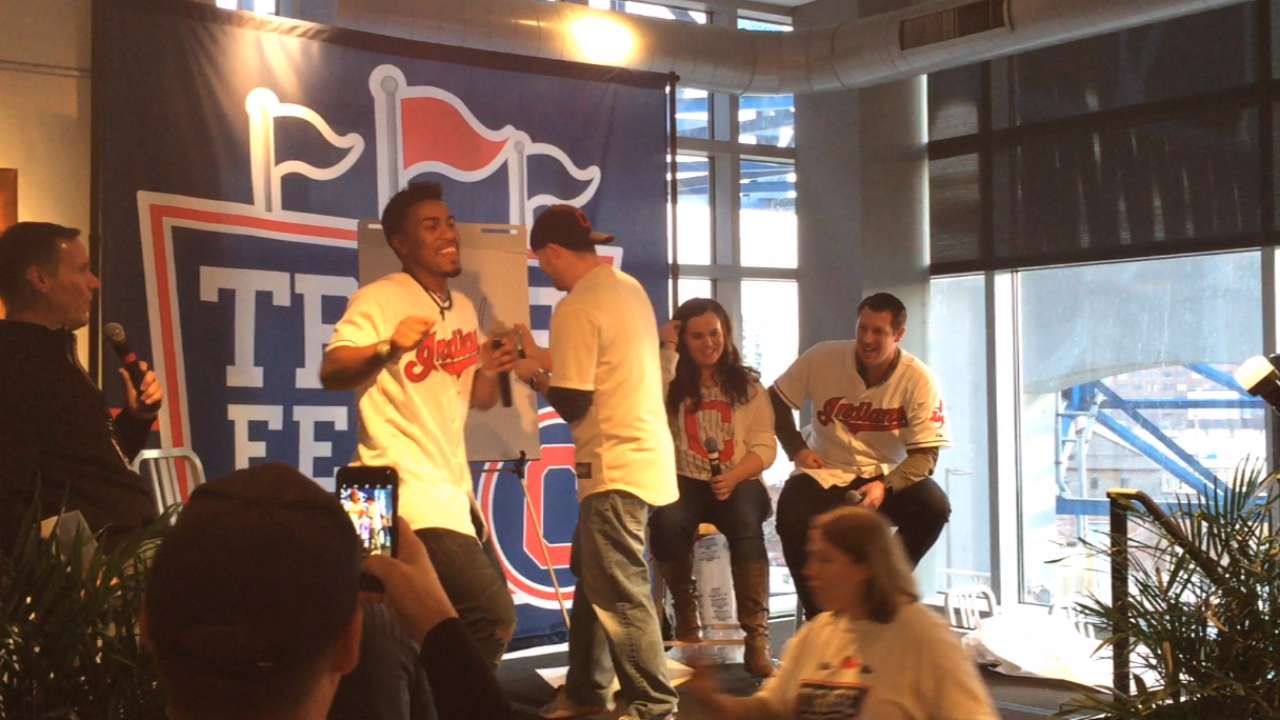 Soon enough, Lindor will be back on the sun-splashed practice fields at the Tribe's spring headquarters in Goodyear, Ariz. Then, before too long, the shortstop will be experiencing his first Opening Day in the big leagues. Lindor stormed onto baseball's stage last summer, seizing the starting job and looking like the kind of player a franchise can build around.
Lindor always has had lofty expectations hovering over his head -- the kind that go along with being a first-round Draft pick. Now, though, the shortstop is coming off a runner-up finish in voting for the American League Rookie of the Year Award and will be looking to build on Major League statistics that were even better than his showing on the farm.
MLB Network went as far as ranking Lindor as the best shortstop in the Majors in the station's "Top 10 Right Now" series.
"My work is not done," Lindor said. "At the end of the day, I can be the number one shortstop on paper, but if I don't perform, it doesn't mean anything. Just because I'm Number One on paper, it doesn't mean anything to me. I've got to continue to do my work, to continue to work as hard as I can day in and day out."
Lindor, who turned 22 in November, was not only one of the best rookies in the AL last year. He was one of the best all-around shortstops in baseball.
Lindor accumulated a 4.6 WAR (per Frangraphs.com) in his 99 games, marking the most among all AL shortstops and second in the Majors to only San Francisco's Brandon Crawford. Lindor's 10 Defensive Runs Saved were the most among all AL shortstops and first in the Majors at his position with fewer than 1,000 innings logged in the field. His 18.9 UZR/150 was the best defensive rating among Major League shortstops with at least 800 innings.
"You saw the obvious things," manager Terry Francona said. "He's a really talented player on both sides of the ball. And he's a really good kid. He's got a lot of leadership qualities that will emerge as he gains experience. I appreciate the fact that as a 21-year-old, you make some mistakes. But, when he did, he'd listen and look at you in the eye and he'd try to not do it again. That's a good quality."
Overall, Lindor hit .313 with a .353 on-base percentage and a .482 slugging percentage last season. The switch-hitter showed off some power with 12 home runs, mixing in 22 doubles, four triples, 51 RBIs, 50 runs, 27 walks, 12 steals and 122 hits. He became one of only nine rookies age 21 or younger to have at least 10 homers, 10 steals and 100 hits within the past 20 years.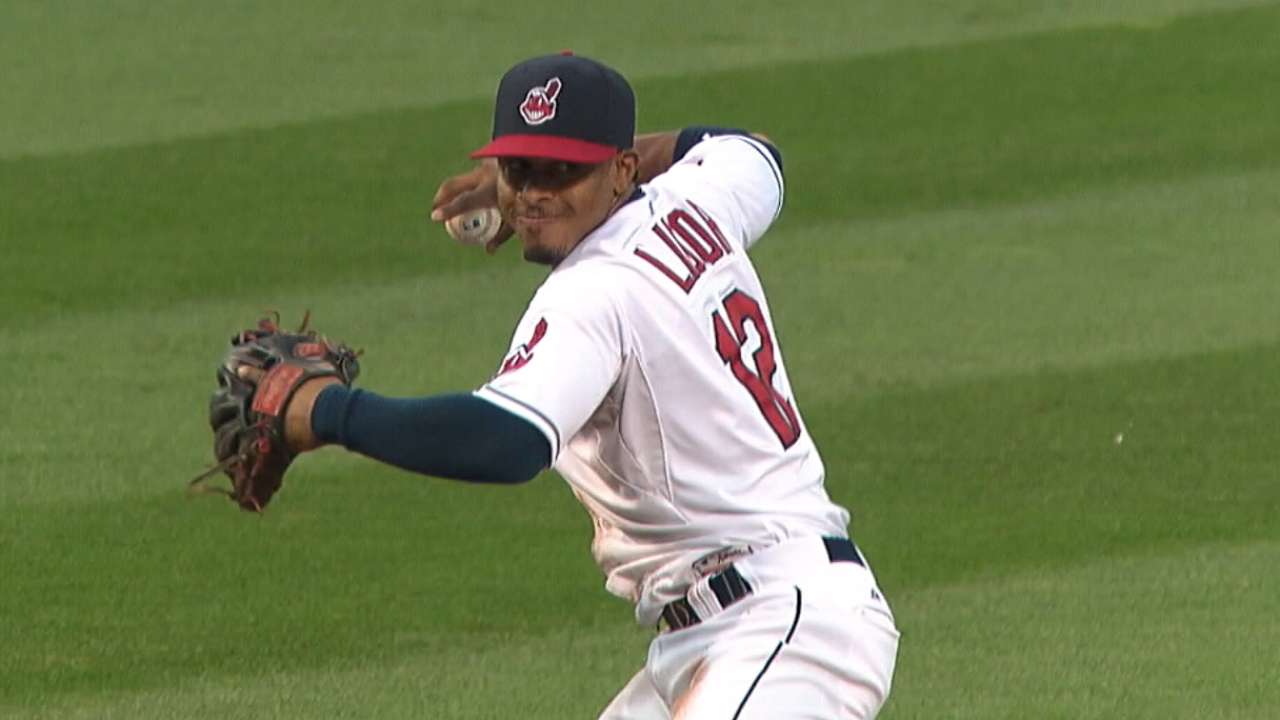 Lindor reached 100 career hits faster than any Indians hitter since 1947 and did so in one season faster than any rookie in franchise history since 1936.
As Lindor prepares for his sophomore season, his teammates know he likely will encounter obstacles as he navigates through a full Major League campaign for the first time. All-Star second baseman Jason Kipnis said it will be important to help guide Lindor through the peaks and valleys.
Kipnis is expecting big things from his double-play partner.
"He's going to be great," Kipnis said. "I'm excited to see how he matures right in front of us. Everyone can smile when you're hitting .400 for half a season. Trust me, it's the greatest feeling in the world. It's going to be how he handles that first slump, how he handles that first challenge where things might not be feeling great or his body might not be feeling good.
"That's where guys like me and [Michael] Brantley will come in and kind of help him out or pick him back up, but you know he's only going to help us in the long run, so we're excited to have him up here from Day One."
Lindor said he only has one goal in mind.
"I want to see myself as a winner. I want to play the last game of the playoffs," Lindor said. "I want to talk to you guys and be like, 'We won.' That's all I want. I always wanted to win and, ultimately, when I come home and I tell my Dad, 'I won a World Series.' That's, to me, that's it. That's it. That is it."
Jordan Bastian is a reporter for MLB.com. Read his blog, Major League Bastian, follow him on Twitter @MLBastian and listen to his podcast. This story was not subject to the approval of Major League Baseball or its clubs.