MLB.com Columnist
Jonathan Mayo
Pipeline Inbox: Breaking down the Top 100 Prospects
Jonathan Mayo answers fans' questions about baseball's future stars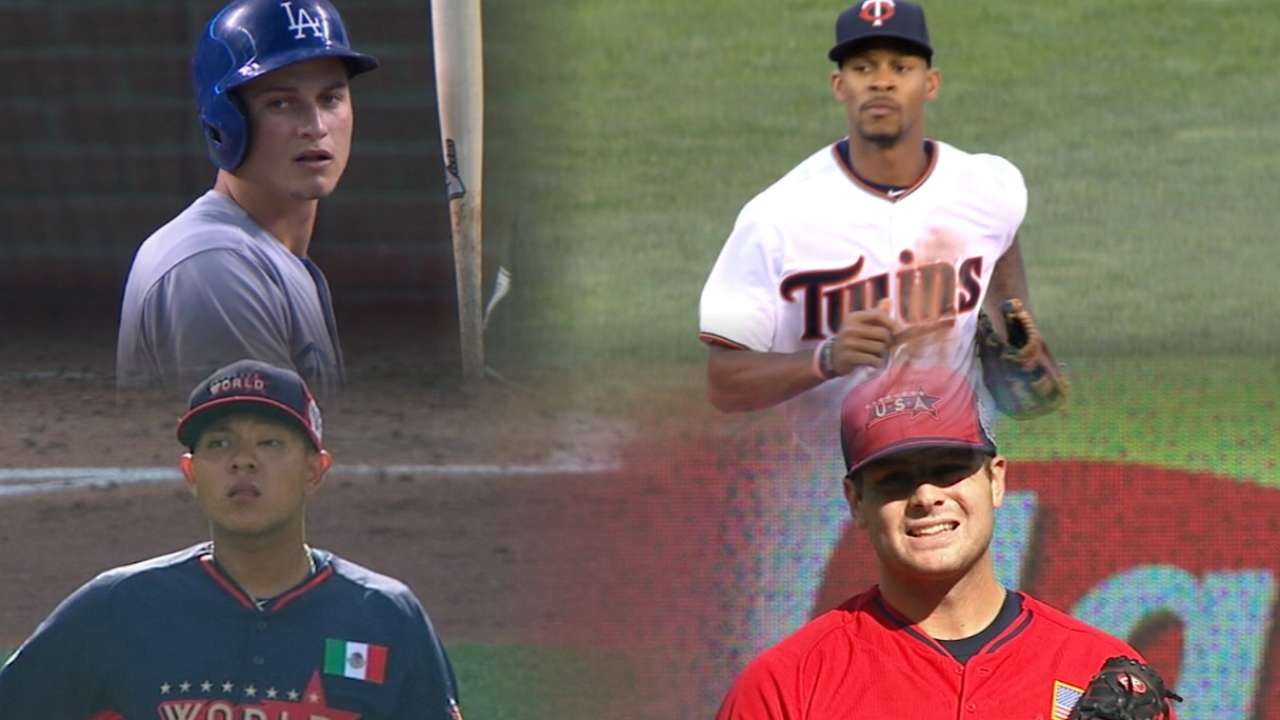 In case you missed it -- perhaps you were on a cruise or unconscious -- MLBPipeline.com's Top 100 Prospects list came out last Friday. As always, the release of the list led to some spirited debate, which is exactly why we do it.
Jim Callis, Mike Rosenbaum and I tried to answer as many of your questions as we could about the list in a Twitter chat on Monday, but we knew there was more to talk about. (You can scroll through the entire chat with the #Top100Prospects hashtag).
• Submit a question to the Pipeline Inbox
As a result, this week's Pipeline Inbox is reserved exclusively for Top 100 questions. It's nice to have more than 140 characters to answer some of these, but I'll try to keep the answers brief and get to as many as possible.
@JonathanMayo @MLBPipeline Of the top ten RHP which pitcher has the best secondary stuff

— libbguru (@serenepete) February 3, 2016
As luck would have it, we just ran a story that helps lay out the best pitching grades (or the sum of them) among all pitchers on the Top 100. Jim also took a look at the best individual tools, or pitches in this case, for the Top 100.
In the case of the Top 10 right-handed pitchers, the guy at the top of the list, Lucas Giolito, has the best curveball (graded as a 70 on the 20-to-80 scale). The best slider belongs to Dillon Tate of the Rangers (65). The best changeup from the Top 10 comes from the Dodgers' Jose De Leon (60).
@JonathanMayo @MLBPipeline the Reds have 5 in the top 100 this year. Do you see all 5 playing in the majors at some point this season?

— Glenn Meyers (@pookiejones18) February 3, 2016
The Reds have certainly done a lot to improve their farm system. Three of the five -- Jesse Winker, Robert Stephenson and Amir Garrett -- came via the Draft, while the other two -- Cody Reed and Jose Peraza -- came courtesy of the Johnny Cueto and Todd Frazier deals. I think there's a chance you'll see four of the five in Cincinnati in 2016.
Peraza seems to be the safest bet to spend considerable time with the Reds this season, even with Brandon Phillips still on the roster. I could also see Winker easily hitting his way into the left-field job at some point.
Stephenson is a bit of a wild card in that he still needs to work on his command, and the Reds are keen on not rushing him to the big leagues, for good reason. That said, if it clicks, they'll give him a chance to show what he can do this season. Reed is a step behind, having only spent half a season in Double-A. A September callup isn't out of the question, but 2017 is more likely. Garrett is the one I'd be surprised to see in Cincinnati in 2016. He's yet to pitch above A ball, so I think 2017 is far more likely.
Reed and Winker aren't on the team's 40-man roster, which is another variable to consider.
@JonathanMayo who do you see as the mets shortstop of the future, Cecchini or Rosario?

— Uncle Iroh (@ricottagenoa) February 3, 2016
I'll say this about the Mets: They sure have a whole bunch of shortstop prospects. I've been working on their Top 30 list (coming your way near the end of February or early March), and I'm not giving anything away here, but they might have as many as seven shortstops on their list. That's a crazy number. Obviously, not all of them will end up playing shortstop for the Mets.
Gavin Cecchini will get to the big leagues first, coming off a very strong 2015 campaign in Double-A. I think he'll help out somewhere for the Mets in 2016. At just 20 years old, Amed Rosario continues to hold his own with aggressive assignments, always one of the youngest at his level.
I believe Cecchini can handle playing shortstop at the Major League level, but I see Rosario as better at that position. A future middle infield of Rosario at shortstop and Cecchini at second base sounds about right. But if you told me Rosario ends up at third base and Luis Carpio plays shortstop, I'd believe that, too.
@JonathanMayo was Alex Meyer still eligible? If so, is it a move to the bullpen and control issues that dropped him so far?

— Pete Moore (@petemoore13) February 3, 2016
Yes, Meyer is still eligible. He'll end up on the Twins' Top 30 list. But Meyer is 26, walked 4.7 per nine innings in Triple-A in 2015 and is now strictly a reliever. He was much better coming out of the bullpen, but all those factors knocked him from Top 100 consideration.
@JonathanMayo @MLBPipeline Jake Thompson after the trade absolutely dominated for two months. What kept him from the top 50? #42 last year

— Walking Slow (@KeithKeith08) February 3, 2016
I'd warn against using a two-month span to evaluate any player at any level, though Thompson was very impressive after joining the Phillies in the Cole Hamels deal.
I'm also not sure where you got your ranking from. Thompson was No. 83 on our preseason Top 100 a year ago when he was with the Rangers. When we re-ranked over the summer, he came in at No. 59. Thanks to graduations of other prospects from the list, Thompson was No. 51 at the end of the season, so No. 55 is right around where he should be.
@JonathanMayo @MLBPipeline Who are your early picks for ROY? Can Judge make impact with Yanks? 1st 2015 pick to make bigs?

— Patrick Cavey (@PatrickCavey) February 3, 2016
I will stick to Top 100 guys to make some guesses here. The obvious choice in the National League is the guy at the top of the list, Dodgers shortstop Corey Seager. Does anyone not consider him the odds-on favorite at this point? Other NL guys could be infielder Trea Turner of the Nationals and Mets starter Steven Matz. I'll throw in Brewers shortstop Orlando Arcia as a sleeper candidate.
Over in the American League, I think Byron Buxton starts to put it together this year. Whether he puts up the kinds of numbers necessary to win the AL Rookie of the Year Award remains to be seen. Other candidates could be Rays starter Blake Snell, White Sox shortstop Tim Anderson or Astros first baseman A.J. Reed. I'll throw Yankees outfielder Aaron Judge in there for you as well.
For guys like Judge and Reed, it's going to come down to opportunity, and Judge might have a hard time breaking through in the Yanks' outfield to make a big impact in 2016.
Jonathan Mayo is a reporter for MLB.com. This story was not subject to the approval of Major League Baseball or its clubs.