Inbox: Which Cards prospects will debut in '16?
Beat reporter Jenifer Langosch answers fans' questions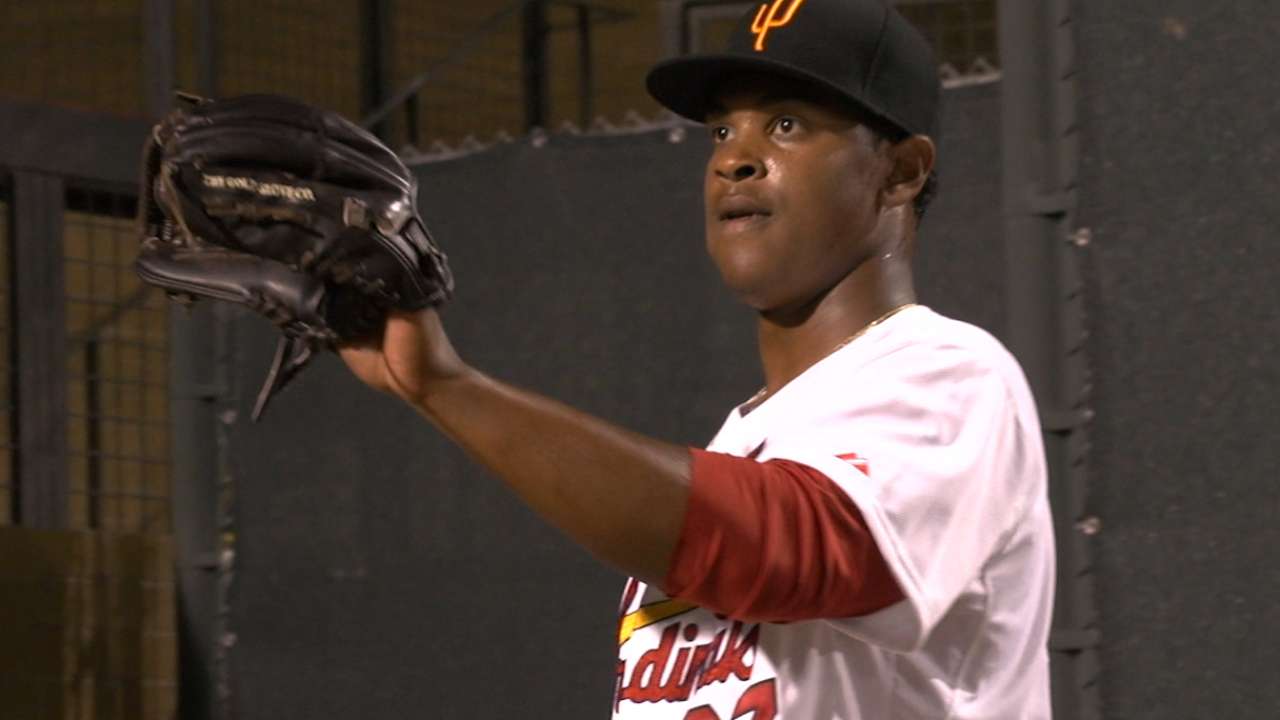 ST. LOUIS -- Now two weeks out from the Cardinals' first spring workout, it's once again time to address some of the topics most on your mind. As a reminder to those wishing to submit questions for the next Inbox, please include your name and hometown.
With Aledmys Diaz, Charlie Tilson, Anthony Garcia, etc., added to the 40-man roster, what prospects will we most likely see debut this year? How close are Alex Reyes and Luke Weaver?
-- Parker K., Alma, Ark.
The Cardinals don't have a plethora of high-level position player prospects likely to make an impact on the Major League team this year. I would project that Diaz and Tilson (ranked by MLB.com as the Cards' No. 7 prospect) will make their big league debuts in 2016, but in complementary roles. Reyes -- St. Louis' No. 1 prospect -- will be slowed some by a 50-game suspension for his November positive drug test, but he too should make a big league impact at some point. He remains the most dynamic prospect in the system. Weaver (No. 8 prospect) won't be Major League-ready in 2016, but lefty reliever Dean Kiekhefer is someone who could push his way to St. Louis soon.
• Submit a question to the Cardinals Inbox
Was there any meaningful dialog at all during the season between the Cardinals and Jason Heyward about a new contract? I understand that there was a desire to give him some time to get to know the organization and the city, but I can't imagine them paying the price they did to get him knowing that there would be no negotiations during the season, and that it would come down to a crap shoot in free agency.
-- Kevin R., East Bridgewater, Mass.
As you noted, the Cardinals did bring Heyward in with the intention of letting him get comfortable before engaging in extension talks. At some point during the season, the organization broached the topic with Heyward's advisor. The club was told that Heyward preferred to table any talks until after the season. The choice made sense on Heyward's end, as that allowed him to test his value on the open market. For the Cardinals, however, it took away any early bargaining advantage they may have thought they had.
There has been lots of speculation about Mark Buehrle wanting to pitch for the Cardinals. Do the Cardinals have any interest in him for just one season?
-- Michael W., Louisville, Ky.
There was interest early in the offseason, and general manager John Mozeliak did engage in multiple discussions with Buehrle's agent. But that was before the organization signed Mike Leake to fill out its rotation. Without a rotation spot to offer Buehrle, the Cardinals don't have much to sell.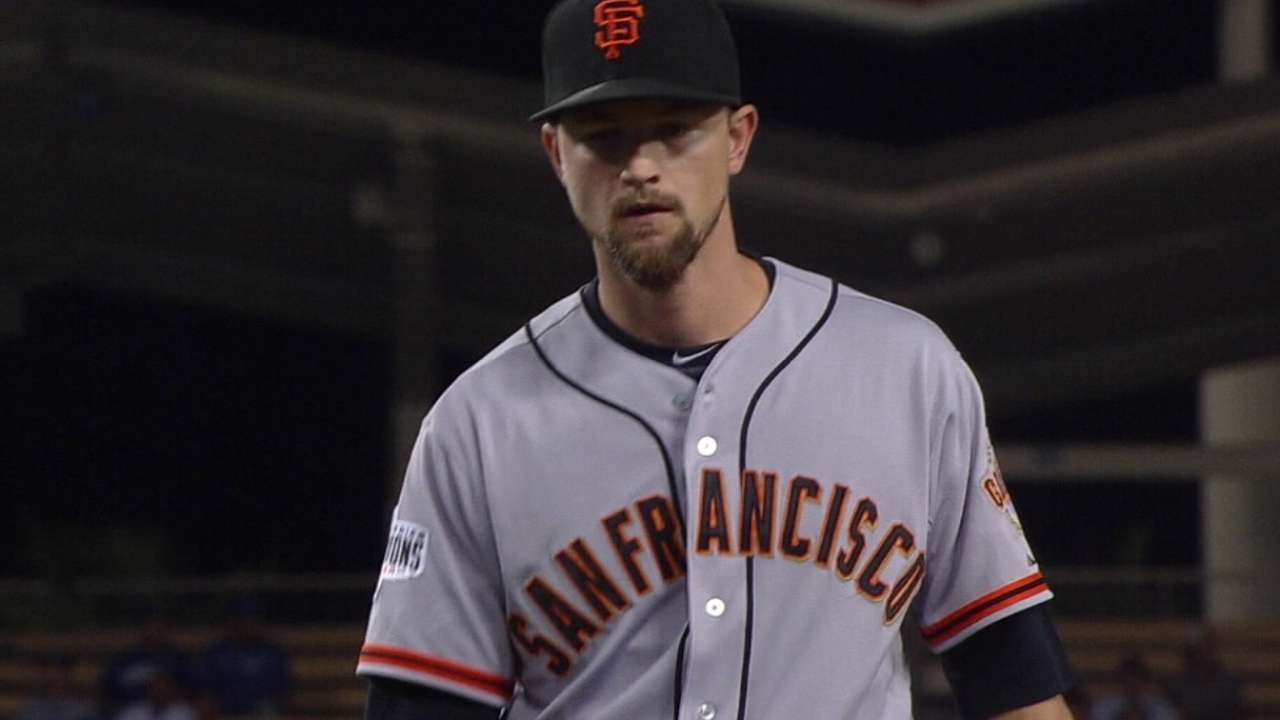 How serious are the Cardinals about using Matt Holliday sometimes at first base? It will allow for another right-handed bat in the lineup and possibly extend his playing time.
-- Madinat Z., Abu Dhabi, United Arab Emirates
At this point, the club isn't serious about it at all. The decision to do some winter work at first base was Holliday's, not the Cardinals, and that's an important distinction. With the way the roster is expected to shake out, the club has many other players more comfortable at the position than Holliday, so mixing and matching wouldn't be an issue. The Cards also don't have exceptional outfield depth anymore, so they need Holliday to keep a handle on left field.
With the departure of Heyward, will Mike Matheny take back his No. 22?
-- Paul S., Wilmore, Pa.
Yes. After a year of wearing No. 26, Matheny will don No. 22 again this season. His 2015 uniform number will now be worn by South Korean reliever Seung Hwan Oh. Other new number assignments include those given to Leake (No. 8), Brayan Pena (No. 33), Jedd Gyorko (No. 3) and Bill Mueller (No. 23).
Matthew Bowman: can you give us his resume?
-- Jeff H., Toledo, Ohio
The Cardinals selected Bowman -- who is ranked as their No. 22 prospect -- from the Mets' Triple-A roster during the Rule 5 Draft. He will have to remain on the 25-man roster all season or be offered back to the Mets. Bowman, a right-handed pitcher, was a 13th-round pick in the 2012 Draft out of Princeton University. The 24-year-old reached Triple-A Las Vegas in 2014, but last year was his first full season in the hitter-friendly park and he went 7-16 with a 5.53 ERA and 1.679 WHIP over 28 appearances (26 starts). He struck out 77 and walked 41 in 140 innings. The Cardinals hope that getting him out of a hitter-friendly park can help, and they'll evaluate him as a long reliever this spring.
Jenifer Langosch is a reporter for MLB.com. Read her blog, By Gosh, It's Langosch, follow her on Twitter @LangoschMLB, like her Facebook page Jenifer Langosch for Cardinals.com and listen to her podcast. This story was not subject to the approval of Major League Baseball or its clubs.