The short list: SS phenoms rule Top 100
Despite graduation of Correa, Lindor, Russell, all-time high 20 shortstops highlight 2016 rankings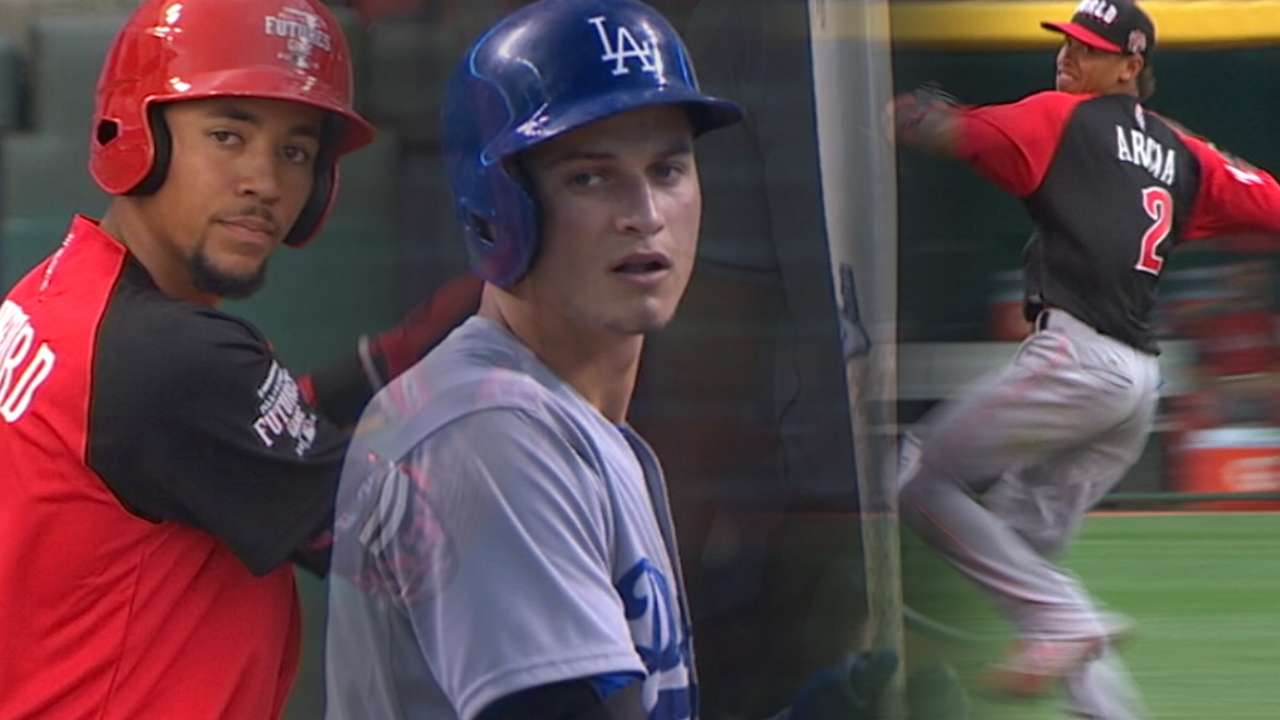 If you're looking for baseball's next phenom, chances are he's a shortstop.
That was the case last season, when a wave of up-and-coming shortstops took Major League Baseball by storm and headlined what ultimately was a legendary rookie class. Carlos Correa became the first shortstop since Hanley Ramirez in 2006 to win a Rookie of the Year Award, while Francisco Lindor and Addison Russell proved to be elite defenders and future stars in their own right.
Yet, amazingly, the state of the shortstop position in the prospect world is arguably stronger today than it was a year ago, when Correa, Lindor and Russell ranked as the Nos. 3, 4 and 5 overall prospects on MLBPipeline's Top 100, respectively.
Dodgers shortstop Corey Seager, the No. 9 overall prospect on that same list, also made his mark on the Major Leagues last season, hitting .337/.425/.561 over 98 at-bats as a September callup. And with his rookie eligibility still intact, the 21-year-old Seager checks in as baseball's new No. 1 prospect for the 2016 season.
Top 100 SS Prospects
#
Player
Team
1
Corey Seager
Dodgers
5
J.P. Crawford
Phillies
6
Orlando Arcia
Brewers
8
Dansby Swanson
Braves
11
Trea Turner
Nationals
12
Brendan Rodgers
Rockies
22
Alex Bregman
Astros
23
Franklin Barreto
A's
28
Gleyber Torres
Cubs
29
Ozzie Albies
Braves
30
Jorge Mateo
Yankees
37
Raul A. Mondesi
Royals
47
Tim Anderson
White Sox
58
Javier Guerra
Padres
79
Amed Rosario
Mets
81
Willy Adames
Rays
82
Christian Arroyo
Giants
87
Gavin Cecchini
Mets
91
Nick Gordon
Twins
97
Jorge Polanco
Twins
More significant, Seager is one of 20 shortstops ranked in MLBPipeline.com's new Top 100 Prospects list, which is far and away the highest total at the position since the inception of the expanded list in 2012.
MLB.com's Top 50 Prospects lists date back even further, to 2004, but never did more than seven shortstops grace the rankings.
This year, there are 13 shortstops in the Top 50, including 11 in the Top 30 and five in the Top 12.
That shortstops comprise one-fifth of the Top 100 speaks to the overall quality and depth of talent at the position, both offensively and defensively, across the Minor Leagues. It also reflects the evolution of the prospect landscape over the past half-decade, as teams have shifted their focus back to finding and cultivating high-ceiling shortstops, both domestically and abroad.
The Indians made Lindor the highest-drafted shortstop in 2011, taking him eighth overall. Correa famously went No. 1 overall to the Astros the following year in a Draft that also saw Russell, Seager and Mets shortstop Gavin Cecchini, who ranks as the 87th-best prospect on the latest Top 100 list, selected in the first round.
Meanwhile, the three true shortstop prospects picked in the first round of the 2013 Draft have all developed into Top 100 prospects: J.P. Crawford of Phillies ranks as the second-best shortstop in baseball, behind Seager, and is No. 5 in the Top 100, while Tim Anderson and Christian Arroyo check in at Nos. 47 and 82, respectively.
The 2014 Draft also yielded a pair of Top 100 shortstops in Trea Turner (No. 11), who debuted in the Major Leagues last year in his first full pro season, and Nick Gordon (No. 91), the son of former big league closer Flash Gordon and brother of Marlins second baseman Dee Gordon.
That brings us to the historic 2015 Draft, which, for the first time in the 51-year history of the event, had shortstops selected with the first three picks -- and a record-tying eight shortstops taken in the first round.
Vanderbilt's Dansby Swanson (No. 8) became the first college shortstop taken atop the Draft since 1974 when Arizona selected him with the No. 1 overall pick, and he'll begin his first full campaign as baseball's eight-best prospect. The Astros, who had the No. 2 pick due to being unable to sign 2014 No. 1 overall pick Brady Aiken, drafted Alex Bregman (No. 22) out of Louisiana State University, and the Rockies took prep shortstop Brendan Rodgers (No. 12) third overall.
ETA for Top 100 SS Prospects
Year
# of players' ETA
2016:
7
2017:
6
2018:
6
2019:
1
The 10 remaining shortstops on the Top 100 all are products of the international ranks who signed at age 16 or 17.
Jorge Polanco (No. 97) is the veteran on this year's list, having played 526 pro games since signing with Minnesota in 2009. Brewers top prospect Orlando Arcia (6) and Yankees speedster Jorge Mateo (29) inked deals in 2010, and Raul Mondesi (37), who last year became the first player in baseball history to make his big league debut during the World Series, entered the mix the following year.
Franklin Barreto (23) received a $1.45 million signing bonus from the Blue Jays as one of the better prospects in a 2012 international class that also included Javier Guerra (58) and Willy Adames (81), while the 2013 international period gave rise to a pair of pure hitters in Gleyber Torres (28) and Ozzie Albies (29), as well as an outstanding defender in Amed Rosario (79).
Many of the shortstops on the Top 100 are years away from being ready, including 10 players that project to arrive no earlier than 2017. Therefore, the amount of turnover on this list will depend on the number of players that ultimately graduate to the big leagues.
Seager, who is 32 at-bats shy of exhausting his rookie status, is a lock to come off the list during the season, and there's a strong chance he'll be joined by Turner.
Crawford and Arcia long have been considered the shortstops of the future for their respective organizations, and both players at least should get a crack at the big leagues later in the season. Anderson, meanwhile, is expected to begin the year in Triple-A and could be called upon ahead of schedule should Tyler Saladino struggle offensively.
That said, the shortstop pipeline in the Minors is as strong as ever, and even with the potential graduations of baseball's premier shortstop prospects, it wouldn't be surprising for many of the younger players to shoot up the rankings by 2017.
Mike Rosenbaum is a reporter for MLB.com. Follow him on Twitter at @GoldenSombrero. This story was not subject to the approval of Major League Baseball or its clubs.