MLB.com Columnist
Jesse Sanchez
Vlad connects at Caribbean HR derby
Guerrero takes field with family, excited for 2017 Hall of Fame ballot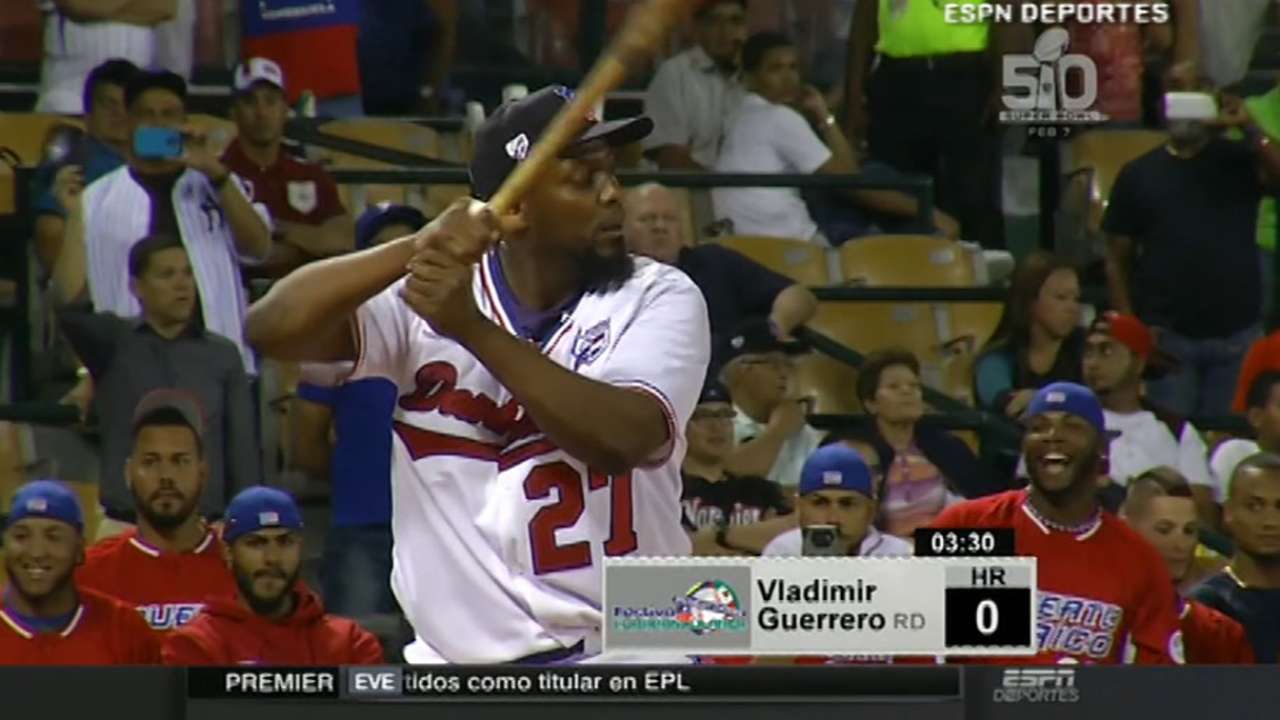 SANTO DOMINGO, Dominican Republic -- Five men wearing authentic baseball jerseys and the name Guerrero stitched across their backs emerged from the visiting dugout at Estadio Quisqueya Juan Marichal on Wednesday night, but only one of them had the familiar stride and head bob that could bring fans to their feet.
Vladimir Guerrero, who will be 41 next Tuesday, tugged on his white jersey with Dominican Republic written across his chest and adjusted his white baseball pants. He pulled up his blue socks to his knees and tipped his black hat to the crowd as he walked to his seat near the first-base line.
The former Major Leaguer was one of five participants in the first home run derby at the Caribbean Series, and for four glorious minutes and 26 swings, he reminded the home crowd what it had been missing.
Next year will be an important one for him. Along with Ivan Rodriguez and Manny Ramirez, Guerrero will be among the players on the Hall of Fame ballot for the first time in 2017. He could join pitchers Juan Marichal and Pedro Martinez as the only players from the Dominican Republic in Cooperstown.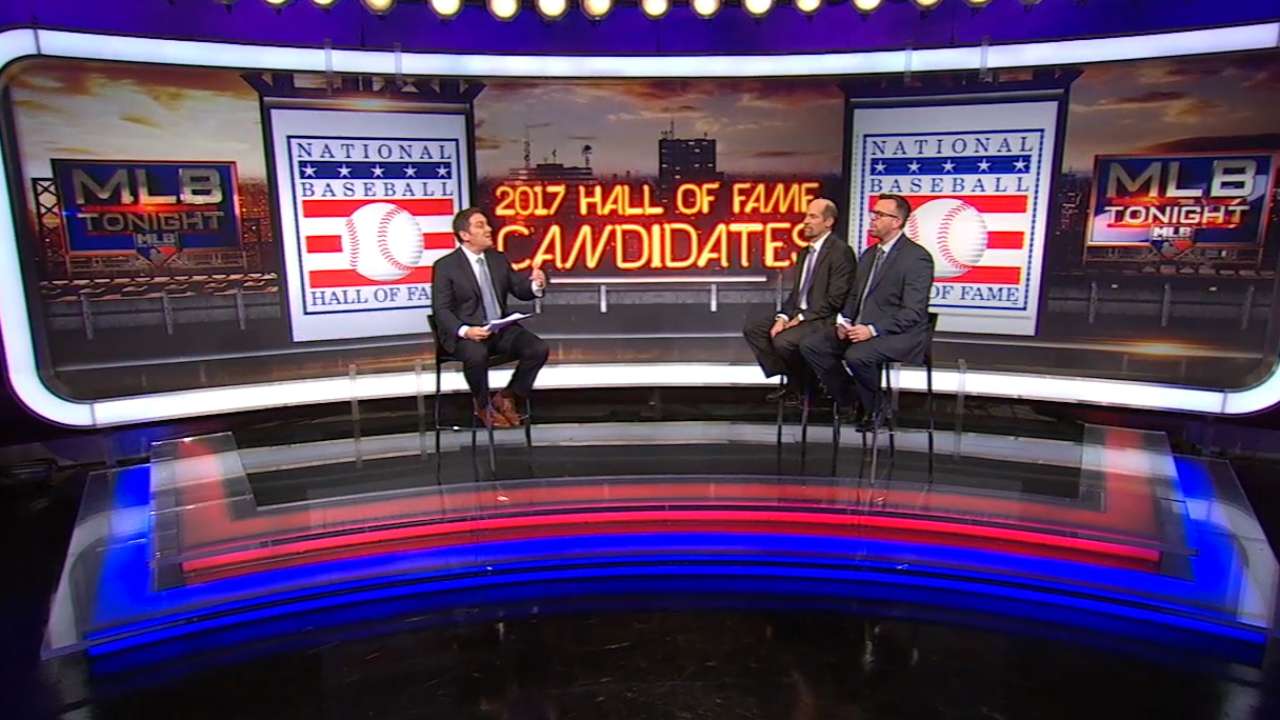 Guerrero makes a strong case.
He posted a .318/.379/.553 slash line with 449 homers and 477 doubles during his 16 seasons in the big leagues. The nine-time All-Star won the American League MVP Award in 2004 and finished among the top 15 in the MVP balloting 10 times. Guerrero also won eight Silver Slugger Awards with the Expos, Angels and Rangers.
"I feel really good about being on the ballot, and we will see what God's will is," Guerrero said. "It's important to wait on the vote, and from there we can talk more. Right now, I feel really good. I'm happy I'm going to be on the ballot."
Guerrero was a true five-tool player, and the common belief is that he would have had an even better career had he not spent his first eight seasons playing on artificial turf in Montreal.
He dealt with knee issues, a torn chest muscle and other ailments during his career. He still managed to hit .290 with 13 home runs and 63 RBIs in 145 games with Baltimore in 2011 before calling it quits.
Guerrero could hit almost any pitch, it seemed, and he could hit them out of the park. He won the 2007 Home Run Derby at the All-Star Game in San Francisco. On Wednesday night, he hit three home runs and was eliminated after the first round.
"To see him out here is very special for all of us in the family," said nephew Gabriel Guerrero, a prospect with the D-backs. "We were all here for him. I know he had a lot of fun swinging."
The swinging Guerreros are famous on the island.
The Guerrero family pic.twitter.com/N0TCVnXrZG

— Jesse Sanchez (@JesseSanchezMLB) February 4, 2016
Guerrero's brothers Eleazar, Wilton and Julio all played professional baseball. Wilton played parts of eight seasons with the Dodgers, Expos, Reds and Royals. Eleazar signed with the Dodgers but never made it out of their academy in the Dominican Republic. Julio spent three seasons in the Minors with the Red Sox.
The next generation of Guerreros includes son Vladimir Jr. and cousins Gregory Guerrero and Jose Guerrero, who are in the Minors with the Mets. There's also Josue Guerrero, who will sign during the next international signing period, which starts July 2.
Gabriel, Gregory, Vlad Jr. and Josue were also on the field during the home run derby. They all trained on a modest field at Wilton's Guerrero Family Baseball Academy in the town of Don Gregorio, not far from where the Guerreros grew up.
"I think my biggest influence on them has been to keep their head up always and work hard," Vladimir Guerrero said. "You feel great that you have so many players in the same family."
Guerrero said his advice to his son is simple: "See the ball and give it a good swing. That's the only advice I can give."
• Felix Perez wins Caribbean Series derby
"I had a great time tonight," Guerrero said. "I didn't think I was going to hit one home run, but thank God I hit three. It's been a while since I retired, and I'm really happy."
Waiting the start of the #HomeRunDerby of @Serie2016 with my son Vladimir Guerrero Jr. I hope to be the winner. pic.twitter.com/tTplwwQ1gF

— Vladimir Guerrero (@VladGuerrero27) February 3, 2016
Jesse Sanchez is a national reporter for MLB.com. Follow him on Twitter @JesseSanchezMLB. This story was not subject to the approval of Major League Baseball or its clubs.