Kiermaier to battle 2-pound steak for charity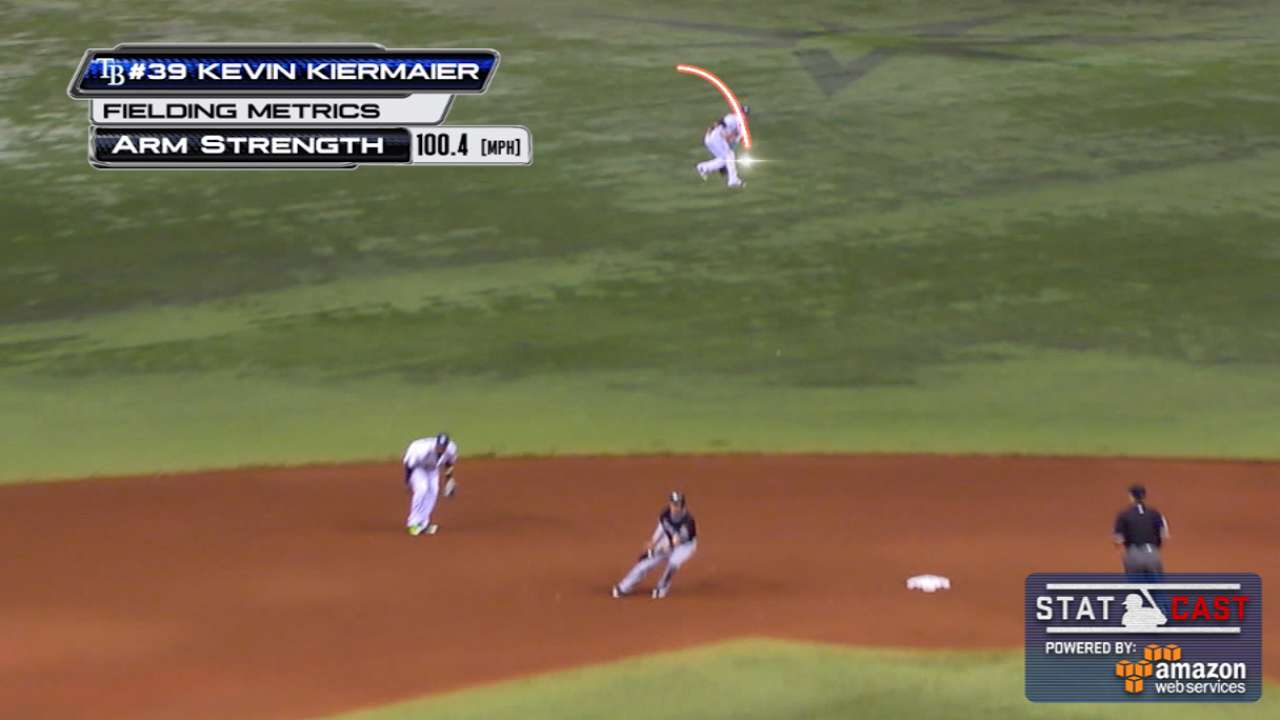 ST. PETERSBURG -- Babe Ruth once devoured between a dozen and 18 hot dogs at a train station during an eating binge before blacking out.
The story is as much a part of the Ruth legend as his called-shot homer in the 1932 World Series. Extremes were the norm for Ruth.
Rays center fielder Kevin Kiermaier will take on a Ruthian-like challenge Thursday night when he attempts to devour a 35-ounce smoked ribeye at Smokey Bones in Clearwater, Fla. The event will raise money for the Friends of Joshua House Foundation, which is a safe haven for abused, abandoned and neglected children, offering a therapeutic residential group care program that provides a protected, nurturing, family-like environment for children ages 6-17.
While the challenge sounds like something the Bambino might do, the Gold Glove Award winner sounded more like Roberto Duran heading into the event: "No mas."
"Oh, no, no, no, let's not get this twisted," Kiermaier said. "There's no way I'm going to be able to finish this steak. I've already accepted that. I'm going to do my best to eat what I can, but there's a zero percent chance of me eating 35 ounces of a steak."
The idea of the lean Kiermaier taking down such a meal brings to mind a python whose belly is swelling with a recently digested animal. That visual is not about to happen, though.
"I'm trying to stay in shape," Kiermaier said. "I want to steal some bases this year. I don't need this little food baby showing in my stomach."
He chuckled.
"So, like I said, I'm going to eat what I can," Kiermaier said. "But I'm not going to get to a point where I'm uncomfortable or shoving food down my throat. But I guess I'm going to give it my best shot, and I guess we'll just see how I feel tomorrow when I get there."
Kiermaier noted that he's not about to turn into Adam Richman of "Man vs. Food."
"No, I think that guy has a little more of reputation to finish things," Kiermaier said. "Finish his food. That's what he gets paid for.
"For me, this is for a good cause, and I'm just trying to do my part and eat as much food as I can. It's a pretty easy concept. I'm looking forward to it. I'm excited to see what the turnout's going to be like. I don't know if I'm going to have people rooting me on like 'Man vs. Food' or not. But we'll see what happens. I know I can not eat 35 ounces of steak."
Bill Chastain is a reporter for MLB.com. This story was not subject to the approval of Major League Baseball or its clubs.