Home wins key to 2016 success, Weiss says
Rockies manager hopes team cashes in on Coors' advantages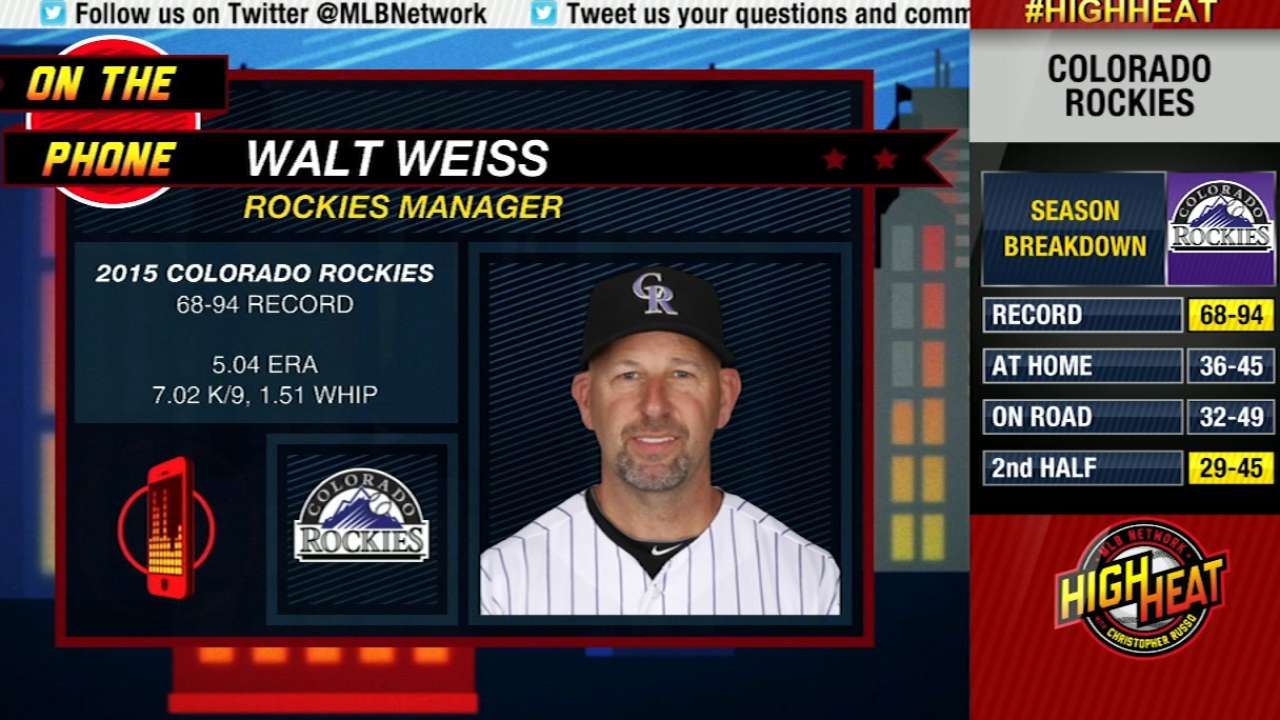 DENVER -- Rockies manager Walt Weiss is hoping his club returns to its former dominance at Coors Field.
Weiss, appearing on MLB Network's "High Heat" with Chris Russo, was asked about the team's road performance. But Weiss pointed out that the problem last season, when the Rockies finished last in the National League West, was its 36-45 home mark. The franchise has just once had a winning record on the road, but has made three playoff appearances in its 23 seasons by dominating at home.
"We talk about the advantages -- another team has to come into a slightly different environment to play against us," Weiss said. "I feel like we have the best home-field advantage in all of baseball. We didn't take advantage of that last year. For me last year that was a bigger concern than our road issue.
"We actually performed relatively well on the road last year, considering our overall record. But for some reason the domination at home got away from us last year. We need to get back to that. We need to win 50-plus games at home to be considered a threat in our division."
As for the road, where the sea-level atmosphere is an adjustment every single trip, Weiss said it's a matter of playing crisply in close games. Several of the Rockies' offseason moves -- adding a disciplined bat in Gerardo Parra, a power bat who could come off the bench for a big swing in Mark Reynolds, and experienced relievers in Jason Motte, Chad Qualls and Jake McGee -- point toward ways to win such games.
"We're always going to have to grind on the road. We've got to play well on the road. We've got to execute the game offensively and we pay a lot of low-scoring, close ballgames on the road. We've got to win those games. In the past we haven't done a great job winning those close ballgames. It comes down to execution and bullpen when you're talking about the road."
On the show, Weiss discussed his son, Bo Weiss, a right-handed pitcher who has signed with North Carolina, where his dad played in college. He also talked football -- his love of the Miami Dolphins growing up, which led him to wear No. 22 in honor of running back Mercury Morris, and his hope that Peyton Manning and the Denver Broncos win Sunday's Super Bowl 50.
Weiss touched on other Rockies-related subjects:
• Roster assessment: "The bullpen is probably one of our strengths. Bringing in McGee really picks us up a notch late in the game. We're starting to build a bullpen with power," Weiss said. "That's something that we haven't had in the last three years. There are some big arms back there.
"The rotation, we're keeping our fingers crossed as far as health goes with Jordan Lyles and Tyler Chatwood. We're counting on [Jorge] De La Rosa to continue his winning ways. He's been a good performer for us. Jonny Gray, we're hoping he takes the next step as a young pitcher. We've got to keep our fingers crossed, but there's a level of talent we haven't seen in recent years."
• Shortstop: Jose Reyes is facing a domestic violence charge in Hawaii and could be subject to discipline from MLB Commissioner Rob Manfred.
"We've got Daniel Descalso, who was on board with us last year," Weiss said. "We've got a kid named Trevor Story, who is a very talented kid and we're really excited about him and the future for him. Cristhian Adames played the position for us some last year. That's what we're looking at, but that Reyes situation is going to have to play itself out."
• Third baseman Nolan Arenado: "As far as I'm concerned he's the best third baseman that I've ever seen defensively. He's an elite player.
"And the home-road thing I know is a stigma for every offensive player that plays for us. But Nolan actually hit more home runs on the road. He hit 42 home runs last year and hit 22 of them on the road. So he's not a product of Coors Field."
Thomas Harding is a reporter for MLB.com. Follow him on Twitter @harding_at_mlb, listen to podcasts and like his Facebook page. This story was not subject to the approval of Major League Baseball or its clubs.