Around the Horn: Outfield and DH
Veteran corps of Ellsbury, Beltran, Gardner and Rodriguez look to build on 2015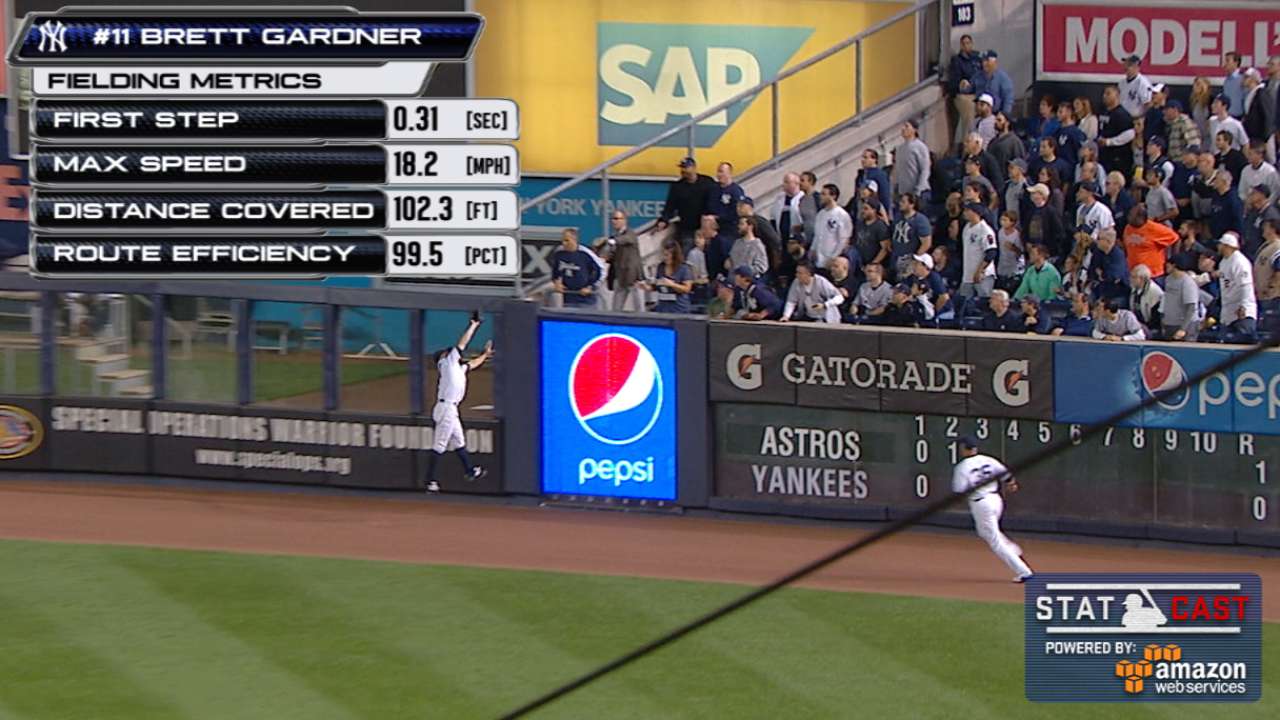 With the start of Spring Training almost here, anticipation is building for the 2016 season. MLB.com is going around the horn to break down each area of the Yankees' roster, continuing with the outfield and DH spots.
The season's first seven weeks showcased just how dynamic the tandem of Jacoby Ellsbury and Brett Gardner could be, wreaking havoc on the basepaths while playing top-notch defense in Yankee Stadium's expansive outfield gaps.
The season hardly ended in the expected fashion for either player, with Ellsbury benched for the American League Wild Card Game against the Astros and Gardner slumping badly down the stretch. Despite that, the Yankees are counting on them to help set the table again in 2016.
"Those two guys, to me, are the guys that really make our offense go," Yankees manager Joe Girardi said. "So getting those two and keeping them on track for a whole season has a lot to do with our success."
For most of this offseason, it hardly seemed a given that Gardner would be wearing pinstripes come February. The Yankees dangled the 32-year-old as trade bait as they attempted to upgrade their starting rotation, but ultimately they did not find a match that made sense.
General manager Brian Cashman now says it is more likely than not that the Yankees will begin the season with Gardner, who was selected to his first All-Star team in 2015 while setting single-season career highs in hits (148) and RBIs (66) and reaching 20 steals in a season for the sixth time in his career.
Gardner's second half was derailed by injuries; hitting coach Alan Cockrell revealed in November that Gardner needed cortisone shots after being hit by multiple pitches. He batted just .196 with a .561 OPS in 58 games from July 29 on; the Yankees also wondered why Gardner stopped running, going from June 13 through Aug. 9 without recording a single steal attempt.
"I take a lot of pride in getting on base and scoring runs, doing those types of things," Gardner said. "The last part of the season, I didn't do a good job of that."
Ellsbury's year was off to a red-hot start until he sustained a right knee sprain on May 19 at Washington. The 32-year-old was hitting .324 with a .412 on-base percentage through his first 37 games, but he didn't return to the lineup until July and then batted just .224 with a .269 on-base percentage in his last 74 contests.
"This is a really good player, and this is a very talented player," Girardi said. "I think we'll see that again."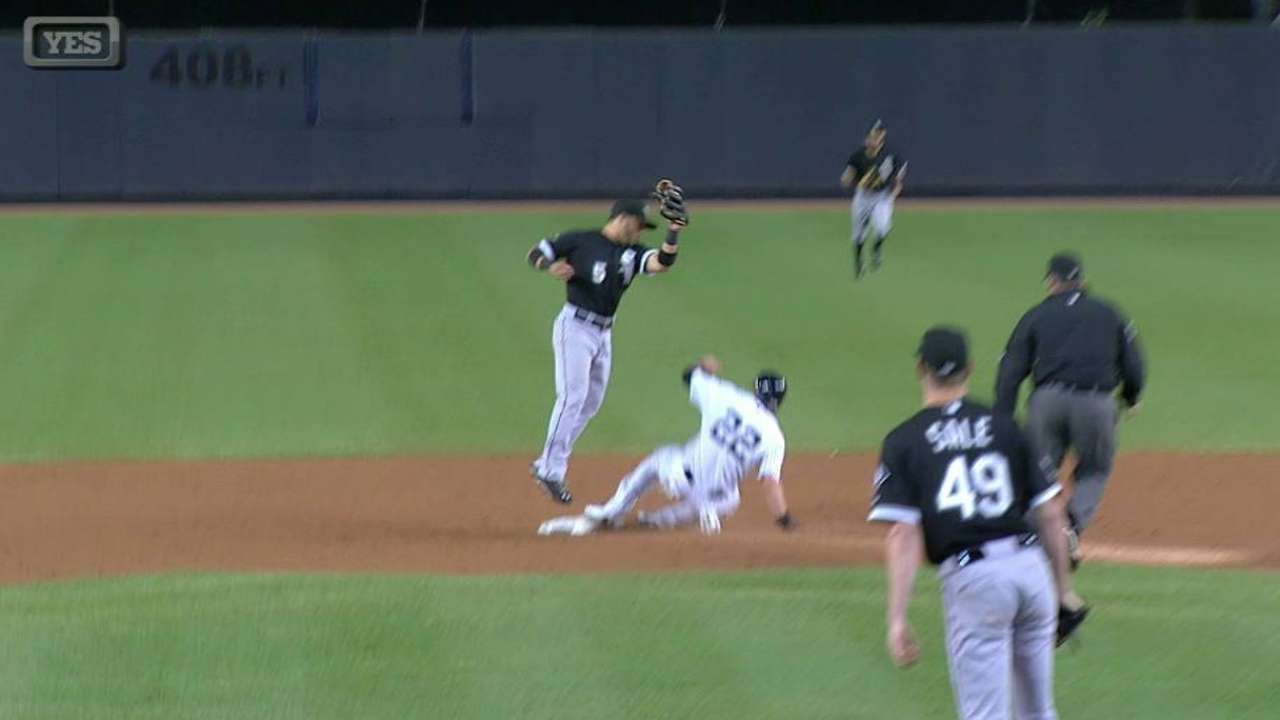 Right field promises to be patrolled by 38-year-old Carlos Beltran, who has said that he will consider retirement after the season. Beltran has slowed defensively but still wields a potent bat: from May 1 on, he hit .295 with 19 homers and an .862 OPS, leading the team in batting average and doubles (29) over that span.
Beltran said that undergoing surgery in September 2014 to remove a bone spur in his right elbow helped him regain his stroke.
"Last year, I couldn't extend my front elbow, and every time I feel like I was going for the ball, I was kind of cutting my swing," Beltran said. "I wasn't really reaching my swing through the middle of the diamond. Right now, I'm just taking my swings, and things are good."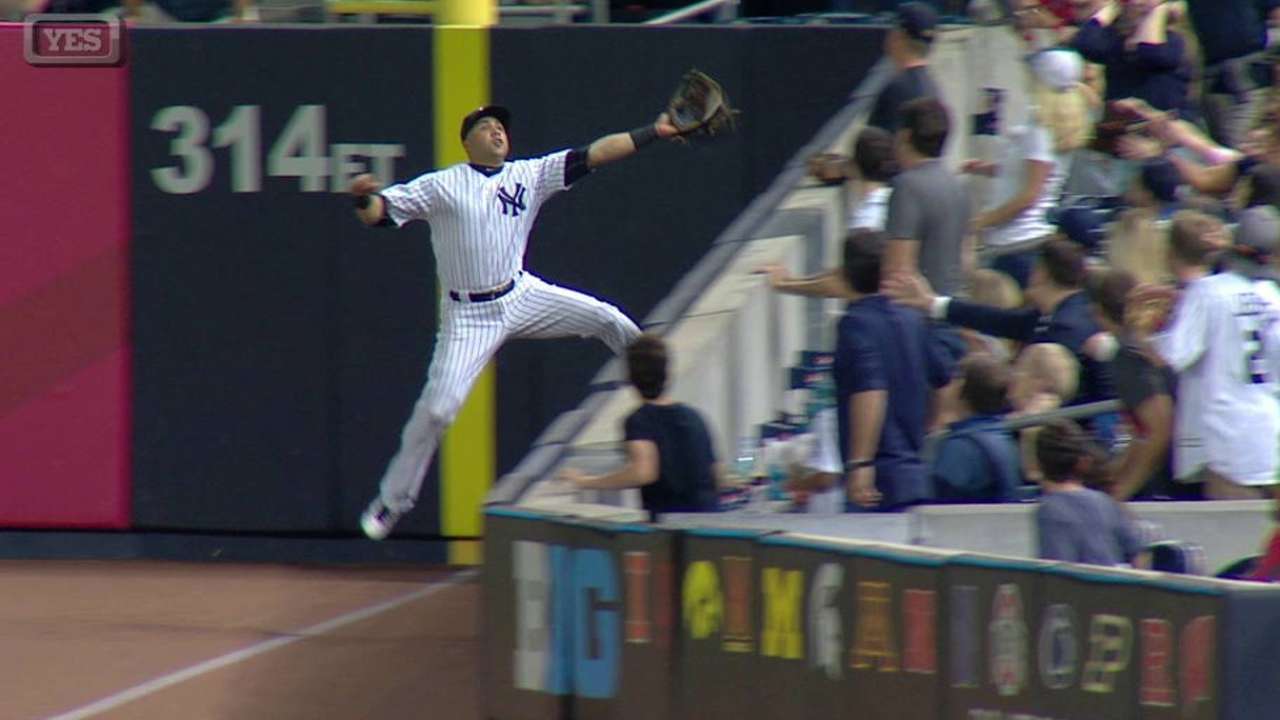 The Yankees added outfield flexibility and athleticism in November, acquiring Aaron Hicks from the Twins in exchange for catcher John Ryan Murphy. Hicks struggled at times during his tenure in Minnesota, prompting some to suggest that the Twins rushed him to the Majors, but the Yankees believe he took a step forward in 2015. Hicks batted .256 with 11 homers, stealing 13 bases in 16 attempts.
"I think I just got more comfortable with the surroundings of being in the big leagues, being able to just enjoy playing baseball and not worry about going back to Triple-A or being back in the Minors," Hicks said.
Cashman believes the 26-year-old Hicks has the ability to play every day, but since the Yankees have thus far held on to Gardner, Hicks projects as a fourth outfielder capable of playing all three positions. He batted .307 against left-handers last year, making him a solid replacement for Chris Young, who departed via free agency.
The tandem of Beltran and Hicks will enable the Yankees to give Aaron Judge additional time to develop. Judge, the Yankees' top prospect, is slated to begin the year at Triple-A Scranton/Wilkes-Barre, but he could make his Major League debut in the second half.
The DH role will be filled full-time by Alex Rodriguez for the second consecutive season. Rodriguez exceeded expectations as he returned from a suspension, doing and saying all of the right things while slugging 33 home runs with an .842 OPS.
Though Rodriguez made cameos at both infield corners, he'll turn 41 in July, and Girardi recently said that he doesn't expect to ask Rodriguez to play the field in 2016. That will allow Rodriguez to focus on his chase of Babe Ruth's career home run total; with 687 homers, Rodriguez needs 27 to equal the Bambino.
"My plan this year is to continue to build on what I started last year," Rodriguez told the New York Post in January. "And I want to be adding value to the team both in the clubhouse and on the field. I'm happy and excited about our young players coming up."
Bryan Hoch is a reporter for MLB.com. Follow him on Twitter @bryanhoch, on Facebook and read his MLBlog, Bombers Beat. This story was not subject to the approval of Major League Baseball or its clubs.