Collmenter's kilt a hit at charity golf event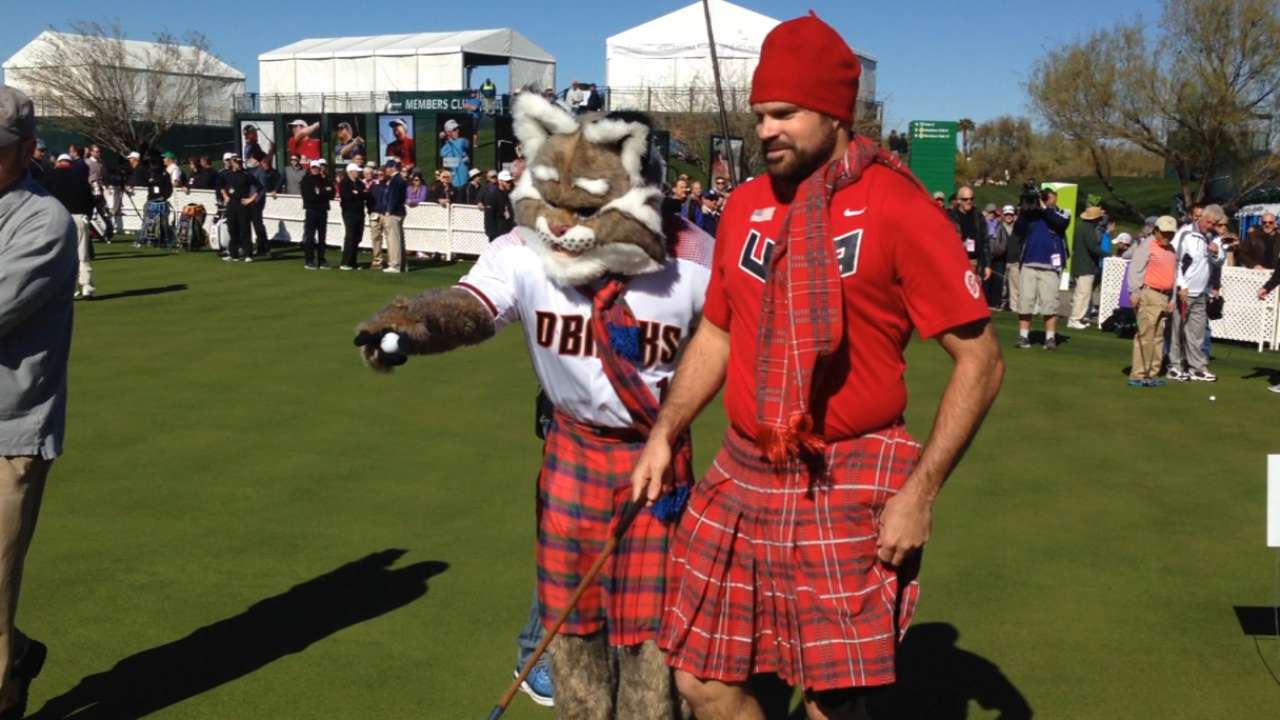 PHOENIX -- D-backs manager Chip Hale and 2001 World Series hero Luis Gonzalez agreed on a couple of things on Tuesday.
First, they were happy to participate in the Outfront Media Special Olympics Open, which helped kick off the Waste Management Phoenix Open.
And second, neither one could explain D-backs pitcher Josh Collmenter's outfit, which featured a kilt.
"I don't know what was up with that," Hale said with a laugh.
It was a great morning participating in @WMPhoenixOpen's Special Olympics Open today. #DbacksGiveBack pic.twitter.com/bvsoyCdOP6

— Arizona Diamondbacks (@Dbacks) February 2, 2016
The event featured a friendly putting competition, which included Special Olympians, current and former sports stars and PGA Tour professionals.
"It was awesome," Gonzalez said. "To have current athletes, former athletes, coaches and pro golfers out there with the Special Olympics kids is pretty exciting, because it kicks off a big week for us here in Arizona."
Hale had a chance to catch up with Arizona Cardinals head coach Bruce Arians, whose team lost in the NFC Championship Game a little more than a week ago.
"We were talking about the Super Bowl," Hale said. "He's excited because he doesn't have to make any coaching changes this year. Last year, he lost his defensive coordinator. It makes the offseason easier."
Hale was in a group that included PGA Tour star Rickie Fowler.
"We actually talked baseball," Hale said. "He's friendly with [newly acquired right-hander] Shelby Miller, so we talked about Shelby. He said he'll come out to the field at some point and check it out, which would be exciting. It's just amazing to watch those guys, how talented they are. I love to play golf. I love to watch it. But I'm not very good at it."
The D-backs' mascot, Baxter, also got into the act. At one point he replaced legendary Brewers broadcaster Bob Uecker's golf ball with a trick ball just before Uecker was about to putt.
#Lifegoals.. Prank Bob Uecker! Such a fun time at the @WMPhoenixOpen @SOArizona celebrity putting contest pic.twitter.com/khOi8WTxE0

— D. Baxter The Bobcat (@DbacksBaxter) February 2, 2016
Collmenter wrapped things up by speaking to a group of kids about being a good teammate and some of the lessons he learned playing sports that can be applied to life.
And as for that kilt?
"Don't ask me," Gonzalez said.
Steve Gilbert is a reporter for MLB.com. Follow him on Twitter @SteveGilbertMLB. This story was not subject to the approval of Major League Baseball or its clubs.