Helton eyes role in Colorado organization
'I'm forever a Rockie,' says legendary first baseman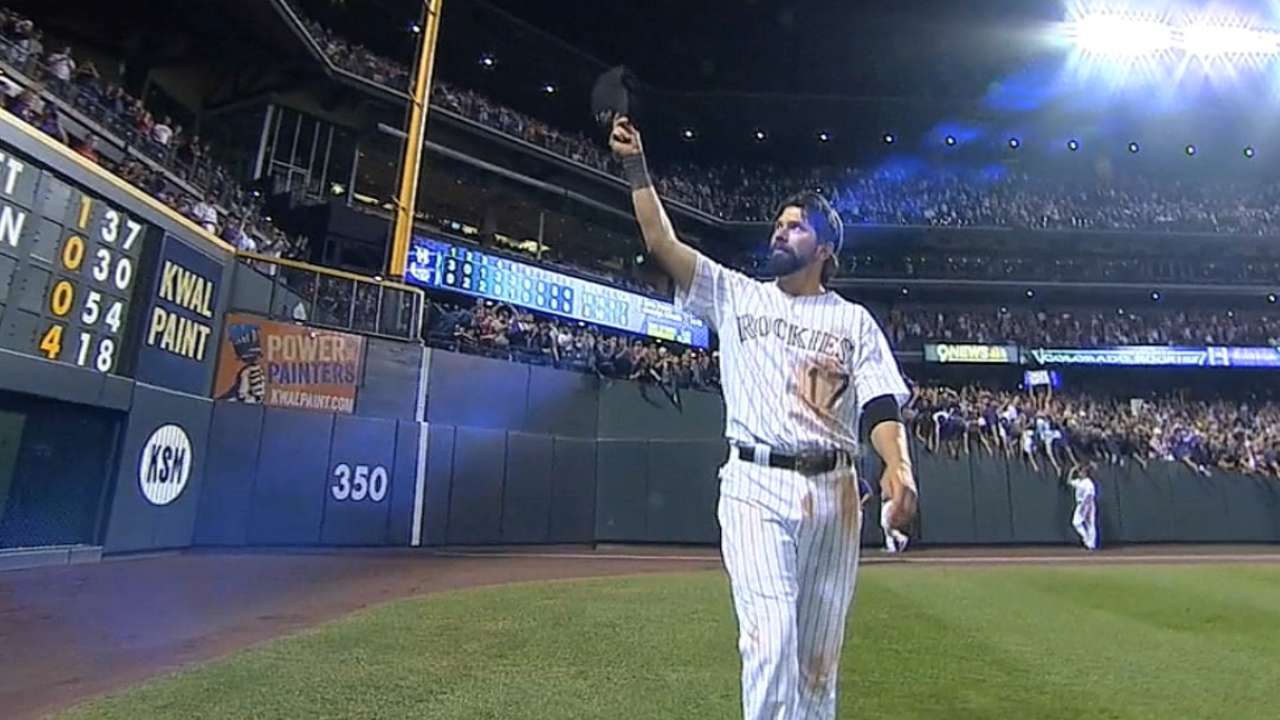 DENVER -- Former first baseman Todd Helton would love to return to the Rockies -- the only team he knew during a decorated 17-season career -- in some capacity.
Helton, whose No. 17 is the only retired number in club history (Jackie Robinson's No. 42 is retired under MLB mandate), ended his playing career after the 2013 season. During a Tuesday interview with the MLB Network Radio on Sirius XM "Inside Pitch" show with Casey Stern and Brad Lidge, Helton said he discussed a desire to lend his influence.
"Absolutely, I'd love to get back into the game -- I've had two years off now, and I think that's enough," said Helton, who last week worked as a coach at Rockies Fantasy Camp in Scottsdale, Ariz.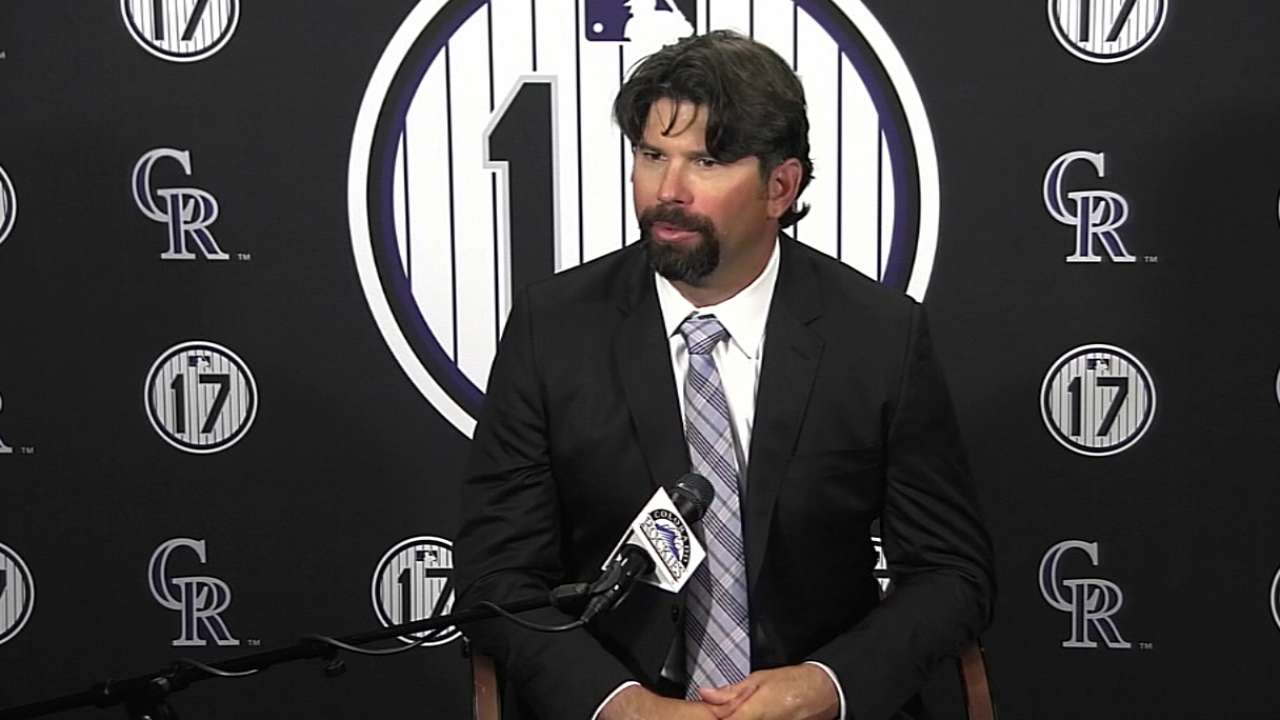 "I don't know if I want to get back into uniform, because you're still traveling, and traveling is what gets you. I still have young kids I'd like to get into the game somehow, make an impact.
"But I'm not sure what that role is yet. Hopefully talk to the Rockies. I wouldn't go anywhere else. I'm forever a Rockie. Hopefully, I'll get to talk to them and make a difference somehow in the organization."
Helton outlined some of his philosophies about building a team that functions best in the hitter-friendly atmospheric conditions and large playing dimensions of Coors Field.
"You got to have speed in the outfield to shorten that outfield, because it's so vast out there -- the bloop hits really discourage the pitchers," Helton said. "You start with the bullpen. You get a [former Astros and Phillies reliever] Brad Lidge out there -- somebody that you know is going to come in and close the game. Maybe a few of them out there. ... You've got to have a few of them out that are going to shorten the game, because the game is so long -- just a powerful, Seattle 2002 around in there, bullpen."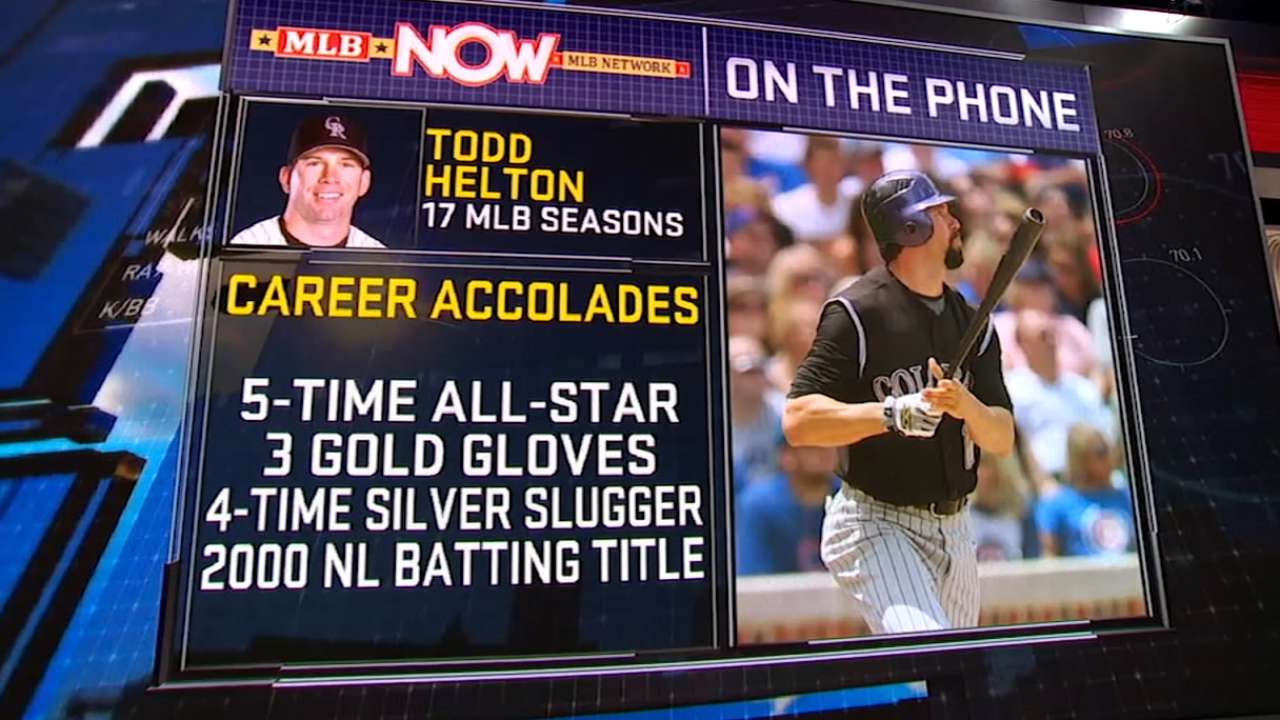 The interview also touched on:
• Helton's hitting approach, which involved toughness in the strike zone and the patience to take a walk: "That's just how my dad taught me. It's your at-bat and you're getting on base to help your team win. Striking out, you're not helping anybody. I was up there battling every at-bat like my life was on the line -- if that was taking a walk, that was taking a walk.''
• The injury factor that comes with playing at altitude: "It takes a different breed there. Coming back to altitude, I was always more sore. I couldn't stretch out like I wanted to. You go to sea level, I could put my hands on the ground while stretching. You'd get back to Coors Field and I could barely touch the ground.
"I was lucky enough to play first base, so I didn't have to move around and run that much. Outfielder, they're out there and definitely more apt to pull something, because you just can't get loose like you can at sea level.''
• The effect of storing baseballs in the "humidor" to keep them from shrinking and hardening in the Colorado atmosphere: "They didn't' tell us until about three months into the [2002] season. I had hit over a dozen balls that I thought were going out of the park and they didn't go out. I'm sitting there looking at my bats, and looking at my arms. 'Did I work out hard enough?' I'm in the cage hitting extra. Finally they come in and tell us that they're putting the balls in the humidor now.
"But even with the humidor, day games when it's hot, the humidor makes no difference. But night games early in the season, you can definitely tell a big, big difference.''
• On how the trade of his friend, shortstop Troy Tulowitzki, to the Blue Jays last summer could help get the Rockies out of the dreaded "middle ground" with what Tulowitzki brought back in talent: "That's not really where a team wants to be. Hopefully, the Rockies are starting to get a direction, whatever that might be. And trading him might be the start of that direction.''
• On Rockies hitters' accomplishments being discounted because of Coors: "Nowadays with the other parks you're going to have to start looking at Cincinnati, Yankee Stadium -- all these parks are great hitters' parks. Philly, that's another great place to hit. There are a lot of great hitters' parks out there. Coors Field is just another one of those parks.''
• The dramatic recovery from neck surgeries of his friend and former University of Tennessee football teammate Peyton Manning, who will lead the Denver Broncos in Sunday's Super Bowl 50 against the Carolina Panthers: "If you would have seen him down under Coors Field throwing to me when he came back after his last surgery, you would be shaking your head. Honestly, we were 5-6 feet apart. His first throw hit me in my foot.
"If it was humanly possible to get it done, he'd get it done. But I honestly didn't think that it could be done to the level that he's done it. I'm proud of him.''
Thomas Harding is a reporter for MLB.com. Follow him on Twitter @harding_at_mlb, listen to podcasts and like his Facebook page. This story was not subject to the approval of Major League Baseball or its clubs.