MLB.com Columnist
Lyle Spencer
AL West's top 5 impact position players
Choo, Springer among those expected to play pivotal roles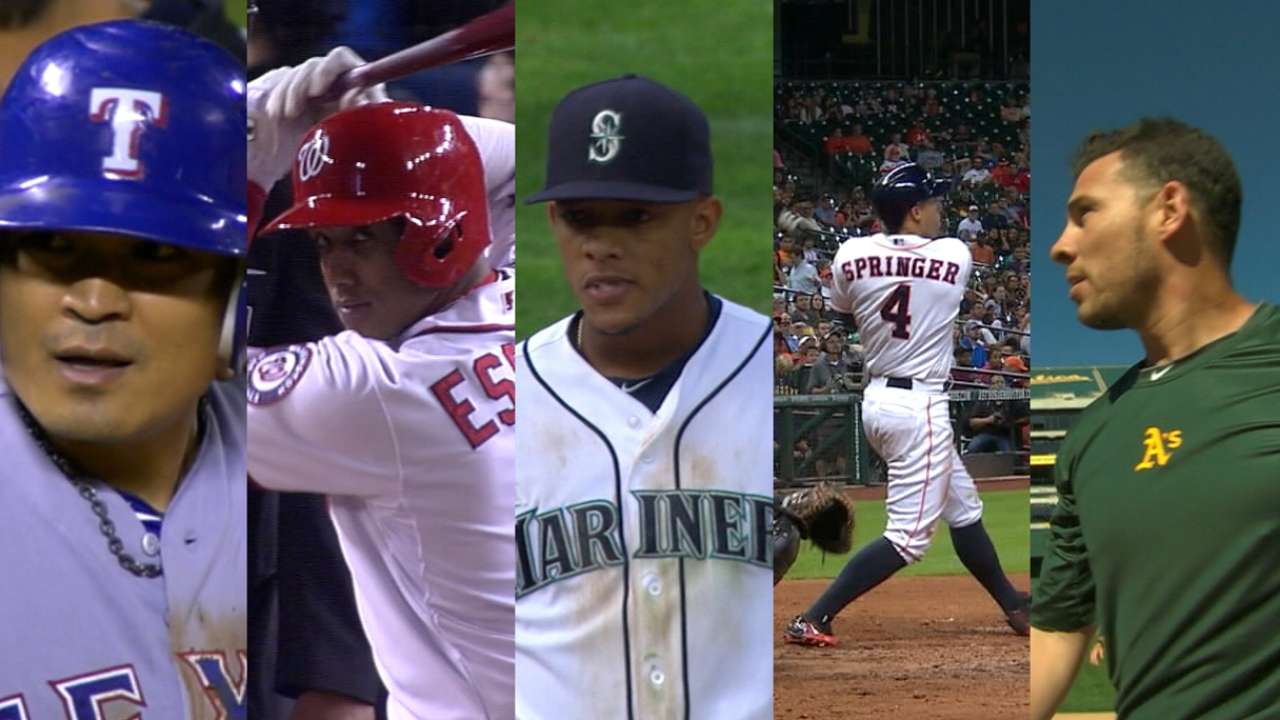 In anticipation of an intriguing spring and a typically wild summer in the American League West, let's examine pivotal position players, and the impact they can have on their clubs.
Shin-Soo Choo, Rangers
An on-base machine in Ohio with the Indians and Reds, Choo was a disappointment in 2014 in Texas after signing a lucrative free-agent contract. But if his second-half eruption last season is a true measure, Choo once again is a weapon to be reckoned with in the formidable lineup of the defending division champions.
It all came together for the left-handed-hitting Korean as Texas thundered down the stretch. Joining fire-starter Delino DeShields in front of Prince Fielder, Adrian Beltre and friends, Choo had a .387/.500/.613 line over the final 32 games, helping the Rangers turn a four-game deficit into a division title in overtaking Houston.
Choo finished at .276/.375/.463, despite a .221/.305/.384 line over the first 80 games. If this new Texas Choo stays on track, Fielder, Beltre and Co. should send him home in triple digits -- and the Rangers should continue to roar.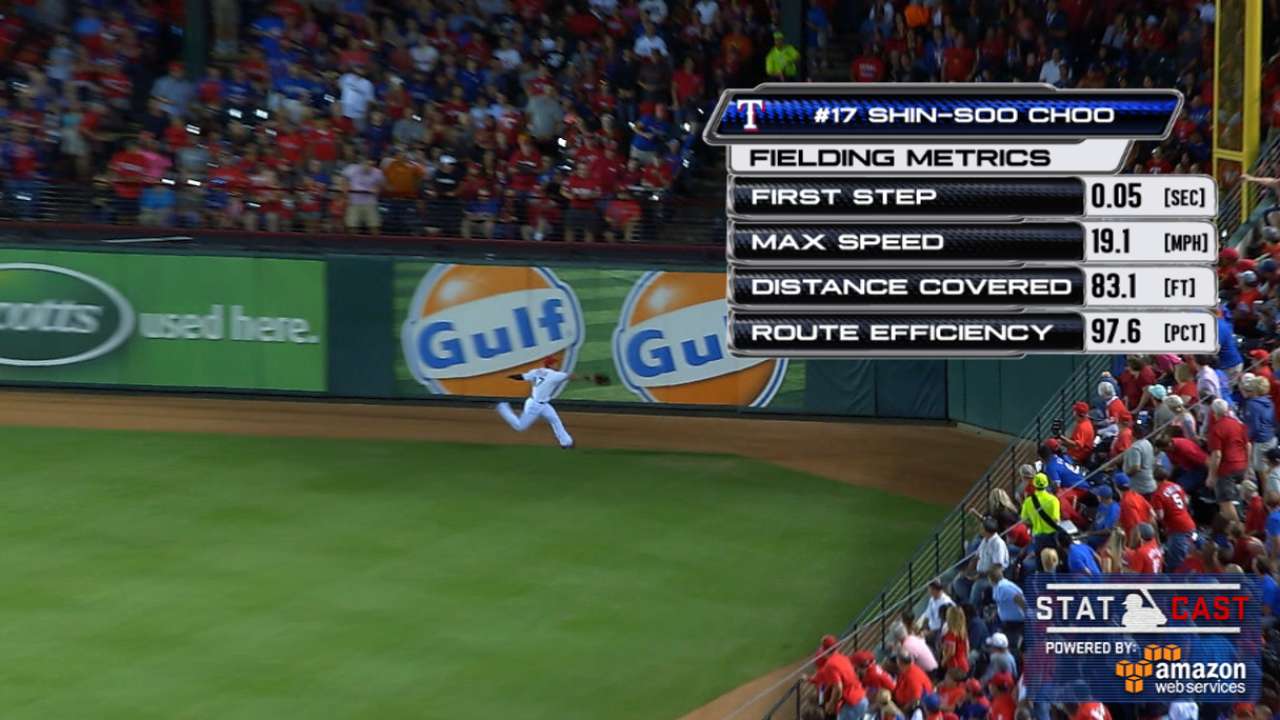 George Springer, Astros
Jose Altuve, Springer and Carlos Correa are so good, manager A.J. Hinch can slot them in any order with power and speed abounding. Based on 2015 numbers, including Springer's .297/.379/.451 line in 46 games leading off, the optimum roll call might be Springer, Altuve and Correa. But it's a triple dose of trouble in any order.
While Springer might not be a prototypical No. 2 hitter with his tremendous power, he can bring the brand of production 2015 AL Most Valuable Player Award winner Josh Donaldson gives the Blue Jays.
At 26, all Springer needs to become a perennial 30-30 man is better luck and good health. He lost 68 days in 2014 to a quad injury and 70 days last year to a wrist fracture and concussion. The Astros were 57-44 when Springer was in the lineup; 29-32 when he wasn't. His .901 OPS factored heavily in those 57 wins.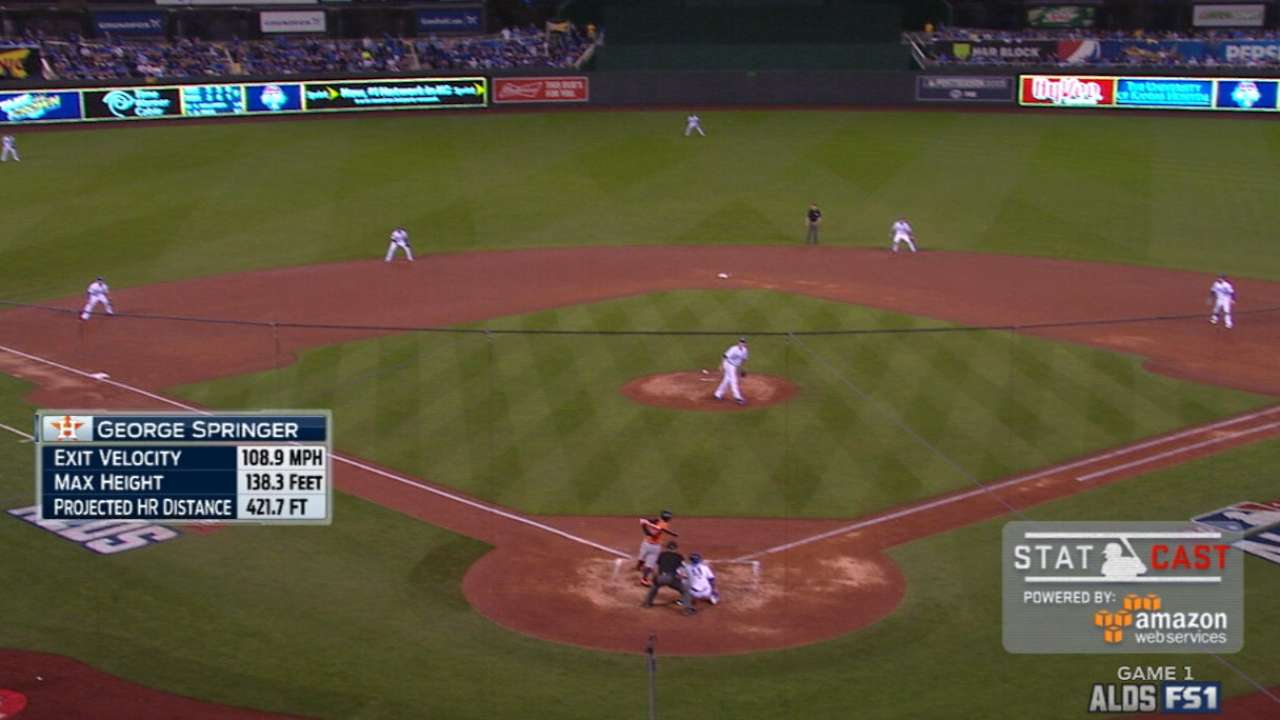 Yunel Escobar, Angels
He can play second, third or shortstop, but Escobar is no Andrelton Simmons with the glove. The Angels acquired Escobar from the Nationals for what he can do to repair a lineup that lost its balance in 2015, tumbling from first in the league in runs scored in 2014 to 12th -- largely due to table-setting troubles.
Lineup construction is overrated to some, but not to Angels manager Mike Scioscia. The Halos were dead last in the Majors in OBP in the leadoff spot at .280. When the great Mike Trout wasn't batting second, the OBP in the No. 2 hole was .305.
Escobar -- tied for sixth last season in the National League batting race at .314 and seventh in on-base percentage (.375) -- is expected to lead off, in front of Kole Calhoun and Trout. One of the game's most underrated players, Calhoun has a .284/.335/.475 career line as a leadoff man, compared to .232/.290/.411 line batting second. Escobar, a contact hitter who bashes first pitches, is roughly the same hitter in any spot in the order.
Whatever the arrangement, the Angels need to get more activity in front of Trout, whose RBIs fell from an AL-high 111 in 2014 to 90. There were 198 Major League players with more at-bats than Trout's 88 with runners in scoring position. He was walked 38 times in those game-turning situations.
Ketel Marte, Mariners
Taking full advantage of a 57-game audition, Marte emerged as Seattle's shortstop of the future with a .283/.351/.402 slash line. A switch-hitter, he profiles as a classic No. 2 guy, dropping bunts, making consistent contact and keeping runners in motion -- the Royals way.
If Marte, behind new leadoff man Nori Aoki, settles in and hits around .280 with a .350 OBP, he'll score frequently in front of Robinson Cano, Nelson Cruz, Kyle Seager, Seth Smith and Adam Lind.
At 22, with good size and fine defensive skills, the evolving Marte looms as a potential factor in lifting the Mariners back into contention.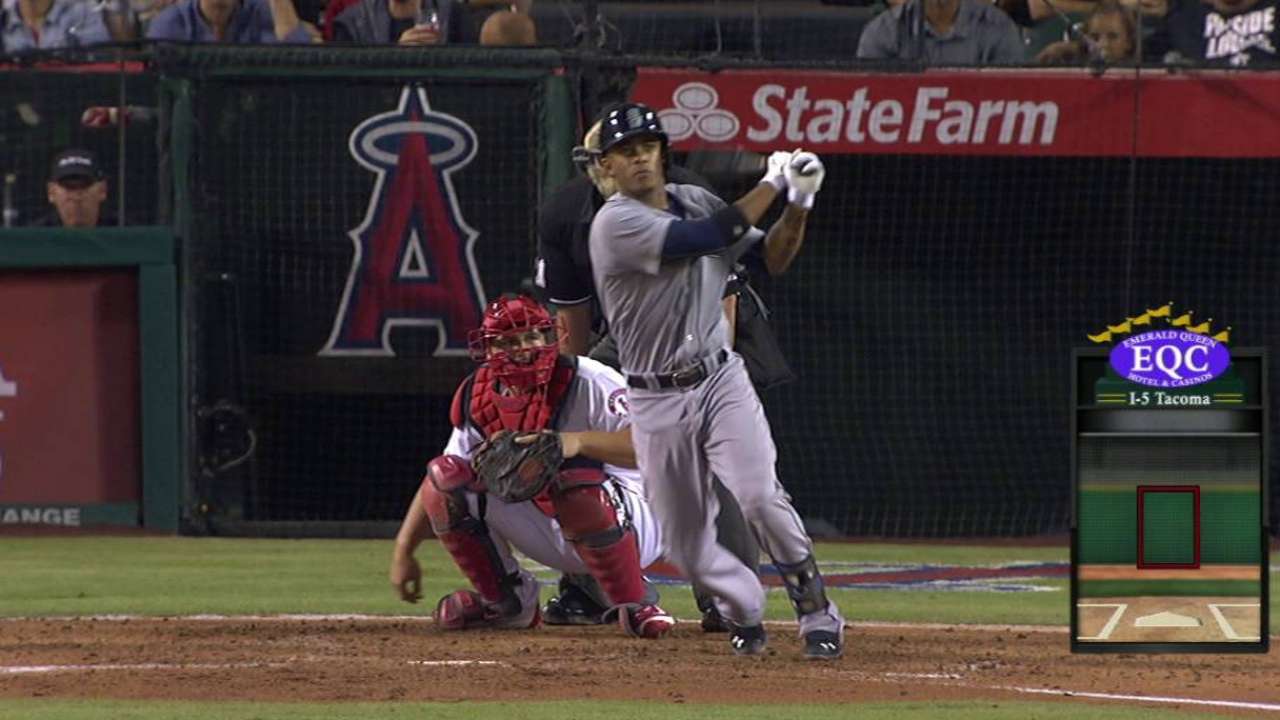 Danny Valencia, Athletics
Nobody can or should replace Donaldson in the hearts of A's fans, but Valencia has the power to bring them out of their seats. This team needs run producers behind first-pitch masher Billy Burns and Coco Crisp, who is due to catch a break and stay healthy.
Despite their 68 wins and last-place finish, the A's had assets beyond Sonny Gray last season -- and Valencia was one after he was claimed off Toronto waivers in August. Oakland is his sixth big league club in six seasons, and he appears determined, at 31, to stick around.
A versatile player with experience at first and in the outfield, Valencia hit .284 with 11 homers and 37 RBIs in 47 games with the A's. His .290/.345/.519 season included a 140 OPS-plus in Oakland. If Valencia can get close to those numbers, A's fans will be thrilled.
Lyle Spencer is a columnist for MLB.com. Follow him on Twitter @LyleMSpencer. This story was not subject to the approval of Major League Baseball or its clubs.