MLB.com Columnist
Jesse Sanchez
Garcia brothers reunite at Caribbean Series
Adonis plays for MLB's Braves, while Jose Adolis suits up for Cuba's Ciego de Avila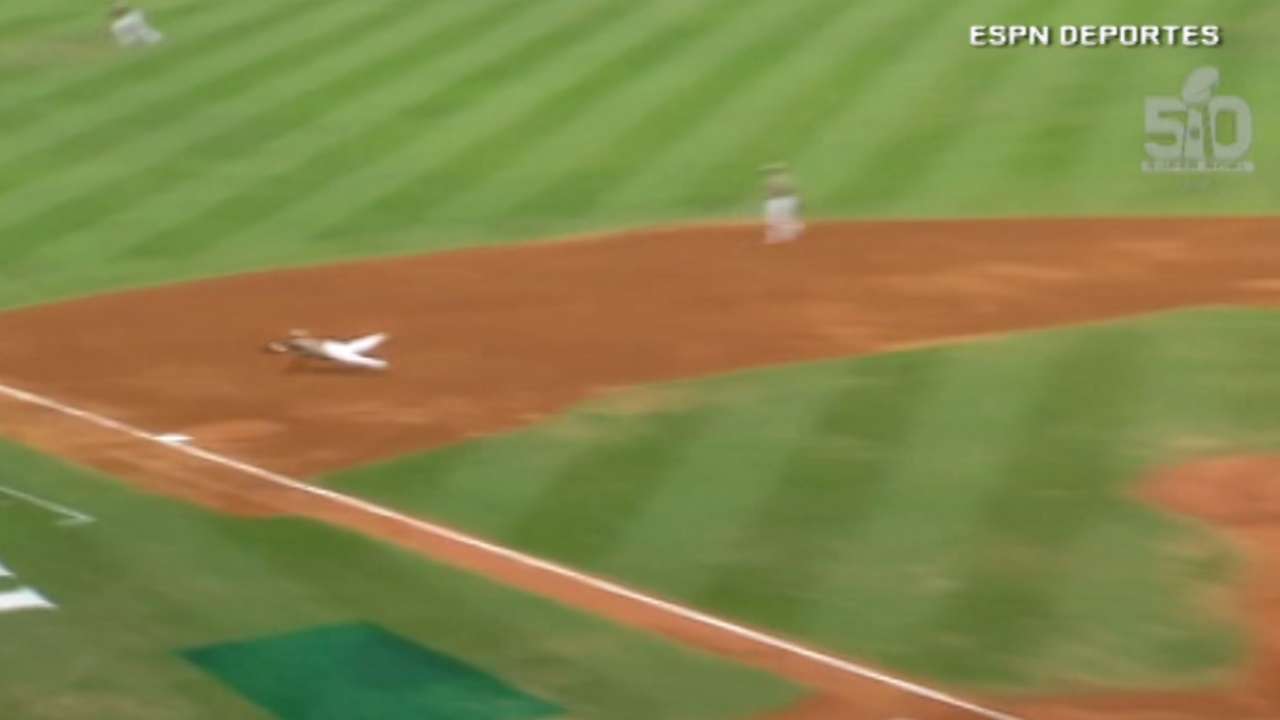 SANTO DOMINGO, Dominican Republic -- A dozen digital recorders and a handful of smart phones inched toward Adonis Garcia's face.
There were sweat beads on his brow and he was still breathing fast after sprinting from the home clubhouse at Estadio Quisqueya Juan Marichal to the dugout to talk about a subject closest to his heart.
"Have you had a chance to speak to your brother yet?" a reporter from Venezuela asked.
Garcia sighed and then smiled.
Garcia and his little brother, Jose Adolis Garcia, will share the field for the first time as professionals on Thursday afternoon, and they'll do it from opposite dugouts at the Caribbean Series. Adonis is the starting third baseman for Venezuela's Tigres de Aragua and Jose Adolis is the starting center fielder for Cuba's Ciego de Avila.
"This is going to be special," Adonis said in Spanish. "This experience has been incredible."
Before Monday night's opening ceremony, the brothers had seen each other just twice since Adonis defected from Cuba five years ago. They later spent two hours at a hotel talking about their family, baseball and the three hours they'll spend on the field together this week.
"I haven't seen him play in several years, so I'm excited about that, but I don't know how good he is," Adonis said. "I've heard a lot, and everyone talks great about [him], but I have not seen him. It will be good to see him in action."
Adonis, who played seven seasons for Ciego de Avila in Cuba's Serie Nacional, defected in January 2011, and spent his first of four seasons with the Navegantes del Magallanes in Venezuela that winter. Adonis' free agency was delayed because of his paperwork, but he was eventually cleared to sign with a Major League team in February 2012. The Yankees signed him for $400,000 three months later.
Adonis played primarily in the outfield in the Minors for the Yankees, but he didn't fit into their plans and the club cut ties with him after Spring Training last year. Garcia signed with the Braves and was called up to the big leagues from Triple-A Gwinnett for a short stint in May. He was recalled again in late July when the Braves traded Juan Uribe and Kelly Johnson. Adonis hit .277 with 12 doubles, 10 home runs and 26 RBIs in 58 games with the Braves.
"For me, the key is my desire," Adonis said. "I have the strong desire to get to the big leagues, and I had a good year. It's all about my desire to be at the top level and get better."
Adonis went on to bat .370 with three home runs and 22 RBIs in 36 regular-season games for Magallanes and .250 in six playoff games. He began the season in Venezuela at second base, but made the switch to third because that's where he'll play for the Braves. There's a good chance he'll win the starting job this spring or split the position with Johnson.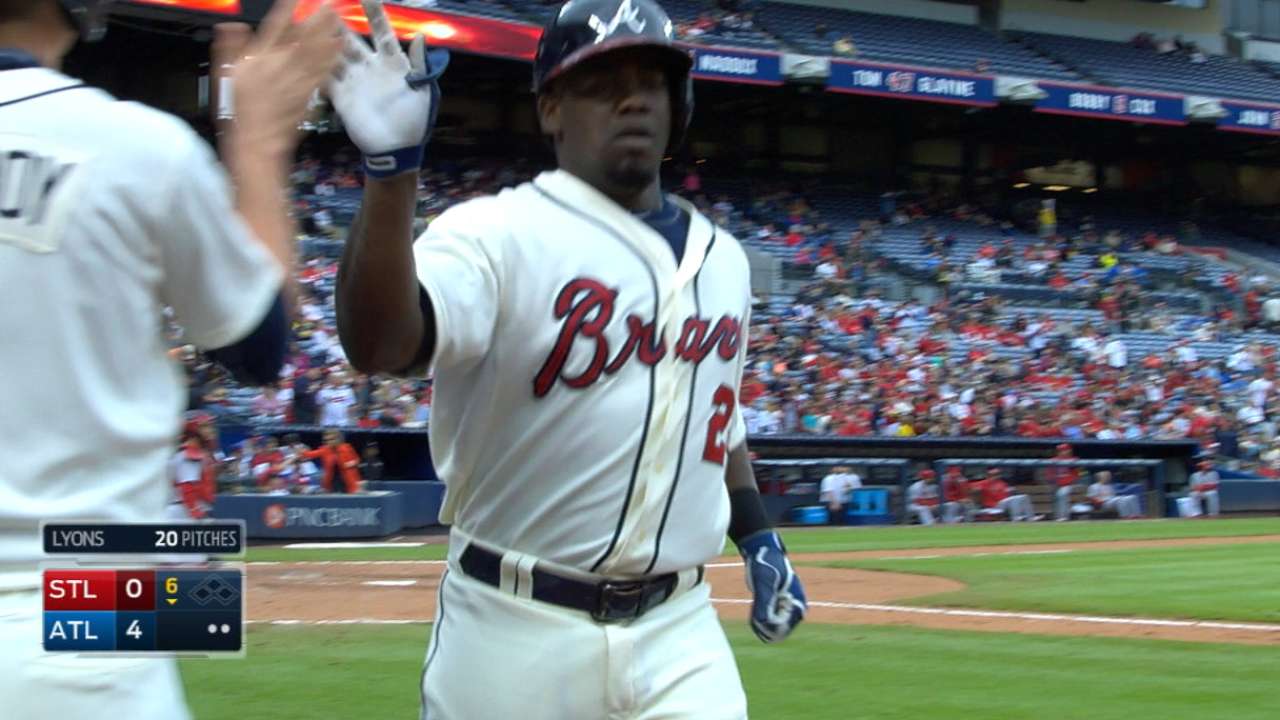 "I don't think he needs to show us the ability to hit because he's hit already in the big leagues," said Braves bullpen coach Eddie Perez, who is managing Venezuela's Tigres de Aragua team. "We want him to be a third baseman, and that's what he did in Venezuela. I think he was the best third baseman in the league, and he's been one of the best players in Venezuela in the last two years. Hopefully he's ready for Spring Training, because I want to see him in the big leagues."
It has been quite a journey for the Garcia family.
The Garcia brothers grew up in a middle-class household in the heart of Ciego de Avila in Ciego de Avila province in the center of the island. The brothers excelled at baseball at an early age, starring at every level in the junior leagues and eventually landing in the Cuban big leagues. Adonis made his Serie Nacional debut with Ciego de Avila in 2004, with his younger brother, Jose Adolis, watching from the stands.
"I've looked up to him since I was a little boy, and it's wonderful to see his success," said Jose Adolis, who will be 23 next month. "It fills me with joy. To be here with him is a great feeling because he's my other half, he's like a part of me."
Complete Caribbean Series coverage
For his part, Jose Adolis made his professional debut with Ciego de Avila in 2011. He hit .308 with 13 home runs and 57 RBIs for the team last year and sports a .315 career batting average in five seasons in the Serie Nacional. He wants to play in Japan and said he's not thinking about joining his brother in the Major Leagues one day. Representing Cuba and bringing the Caribbean Series title back to the island is his top priority.
"He's one of the best prospects in Cuba right now," Cuba's designated hitter Alfredo Despaigne said. "I think he has some work to do, but I like him and the talent he has. He's going to be one of our stars in Cuba."
The Garcia brothers will once again go their separate ways when the tournament ends Sunday. Jose Adolis still lives in the same area where he grew up in Cuba. Adonis lives in a suburb near Tampa, Fla.
"I know it's tough to not see family, and he's very excited," Perez said. "But I said, 'Look, I'm picking you to play and not just to see your brother,' and we laughed. I'm happy for him, and I know he came to play, and this will be a good experience for both of them."
Jesse Sanchez is a national reporter for MLB.com. Follow him on Twitter @JesseSanchezMLB. This story was not subject to the approval of Major League Baseball or its clubs.