How does trade for McGee fit big picture?
An overview of Rox roster, and their hopes for 2016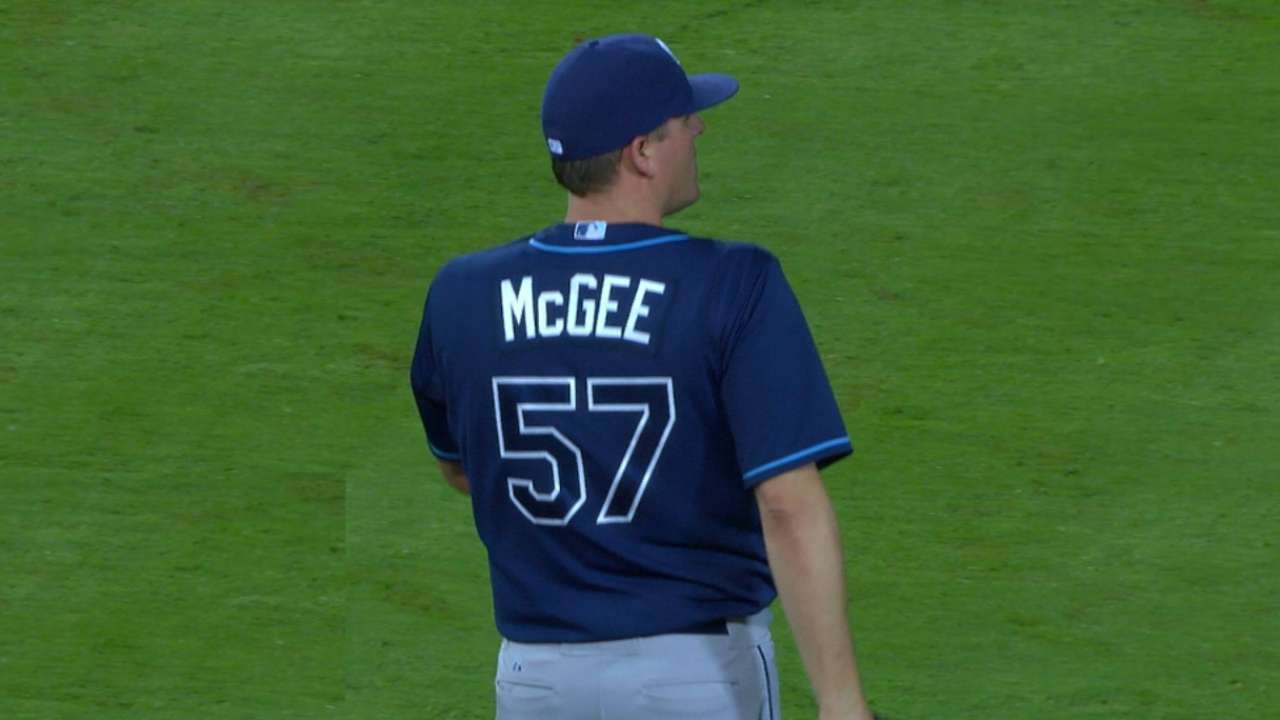 DENVER -- By receiving left-handed reliever Jake McGee in a trade that sent outfielder Corey Dickerson to the Rays on Thursday, the Rockies have a roster they can theoretically take into the regular season.
The trade was praised in some circles as another building block in a powerful bullpen, and pilloried in others as a head-scratching swap of a low-salaried slugger for a $4.8 million late-inning guy on team not seen as a contender until young starting pitching matures.
• Rockies Spring Training info
But it's time to take a big-picture look at how the trade fits with general manager Jeff Bridich's moves over 17 months, and where the team is heading. Bridich touched on a number of pertinent subjects during his conference call with reporters after the trade.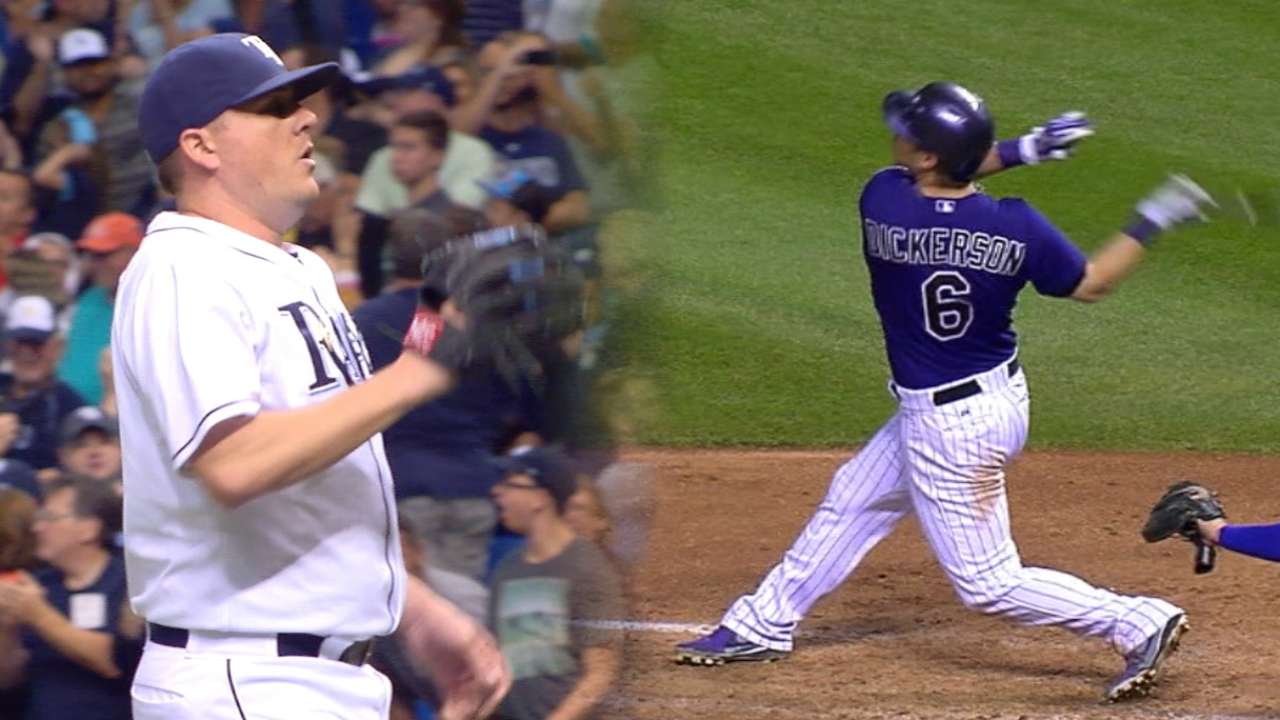 Rotation
Many theorized that trading an outfielder was the Rockies' best shot to improve the rotation, but no deal materialized for a proven starter. Neither could they acquire one close to the Majors, like righty Jeff Hoffman, the No. 9 overall pick in 2014, who came from the Blue Jays in the Troy Tulowitzki trade.
So the staff consists of the team's career wins and strikeouts leader, Jorge De La Rosa, and a group of righties who have to turn their snippets of quality into full and healthy seasons. The projected rotation includes Chad Bettis, who showed quality and intriguing intangibles in nearly a full season in the rotation; Tyler Chatwood and Jordan Lyles, who are coming off injuries; and Jon Gray, who had a taste of big league time last year and will be expected to show growth.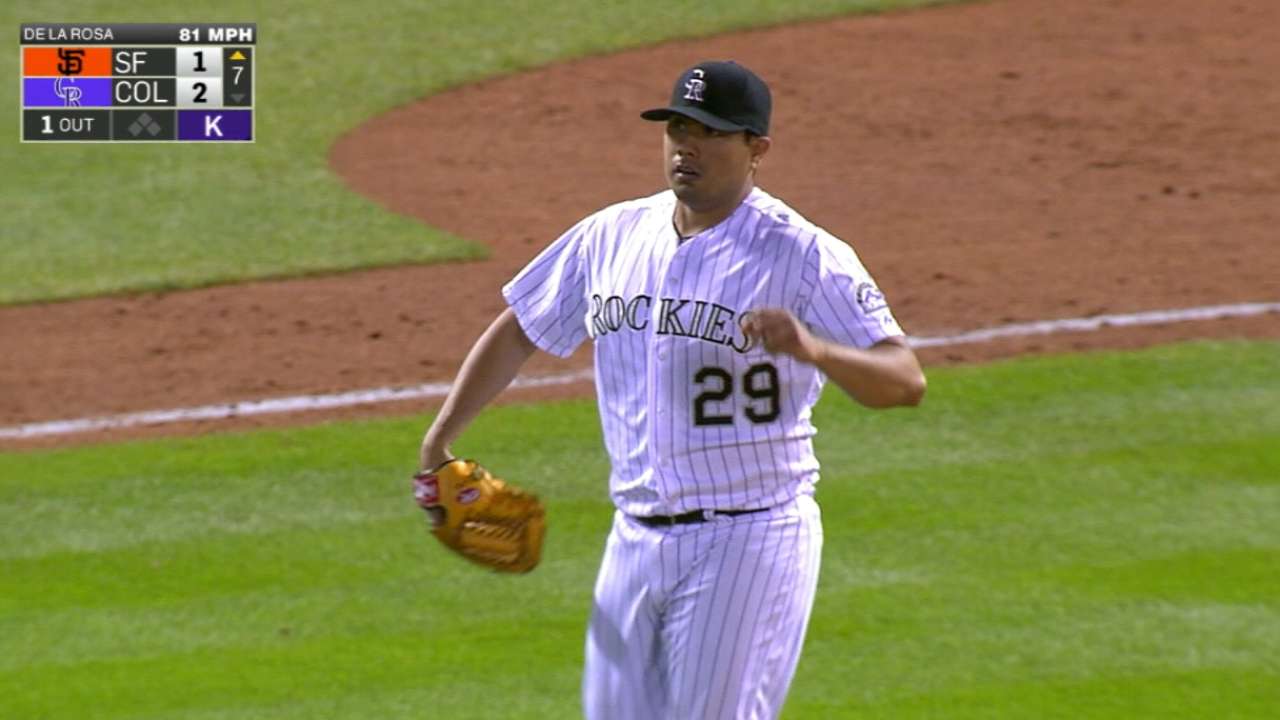 Pushing for spots will be lefties Chris Rusin and Tyler Matzek, and righties David Hale and Eddie Butler. Rusin had a solid 2015, while Hale battled injury and Butler and Matzek struggled and ended up in the Minors.
"Health is always, for anybody, but certainly for us, is always a big determiner of the overall depth of the rotation ... but having the guys compete, the talented guys that are going to compete for that last spot or one of the last two spots, it's a good thing for us," Bridich said.
But depth remains a problem. How many injuries or poor performances will it take for the Rockies to run through their depth and have to entertain ready-or-not situations with prized pitchers?
In the long term, don't forget righty German Marquez, who came from the Rays. Marquez, who turns 21 on Feb. 22, has been a strike-thrower with power despite being among the younger players at each level the last three years. Since he is on the 40-man Major League roster, meaning his three years of options start this season, he'll have to continue producing against older competition.
Bullpen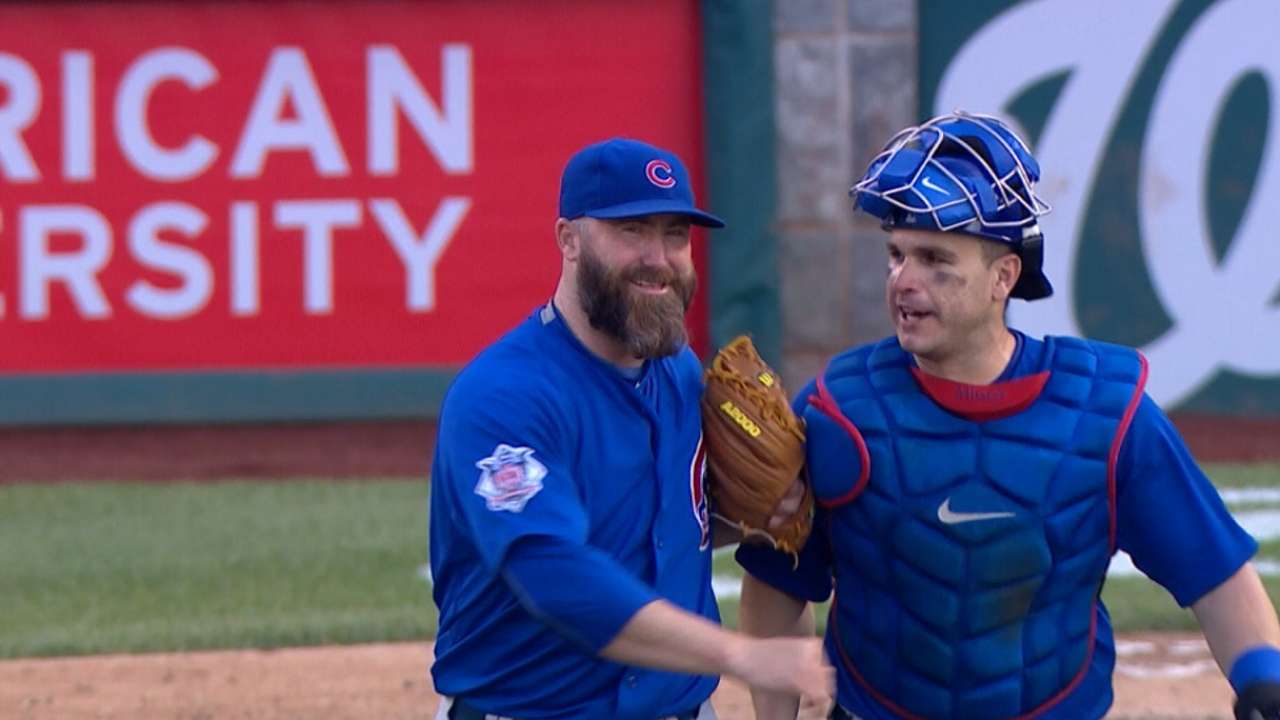 Under Bridich, the Rockies have traded with the Angels for Jairo Diaz and the Jays for Miguel Castro. Justin Miller, a non-roster find last year, and righty Scott Oberg, a 15th-rounder who broke through last year, could be keepers. But the experience of Jason Motte and Chad Qualls (free agents on two-year deals), McGee and Adam Ottavino (who is coming off Tommy John surgery and should be back by midseason) allow them -- as well as strapping righty Carlos Estevez -- to mature naturally. It's a cushion that the young starters don't have.
"Certainly by design we're looking to add these types of people," Bridich said. "If we're going to add quality veterans to the bullpen, the experience in high-leverage innings in high-leverage games is important."
Parra's effect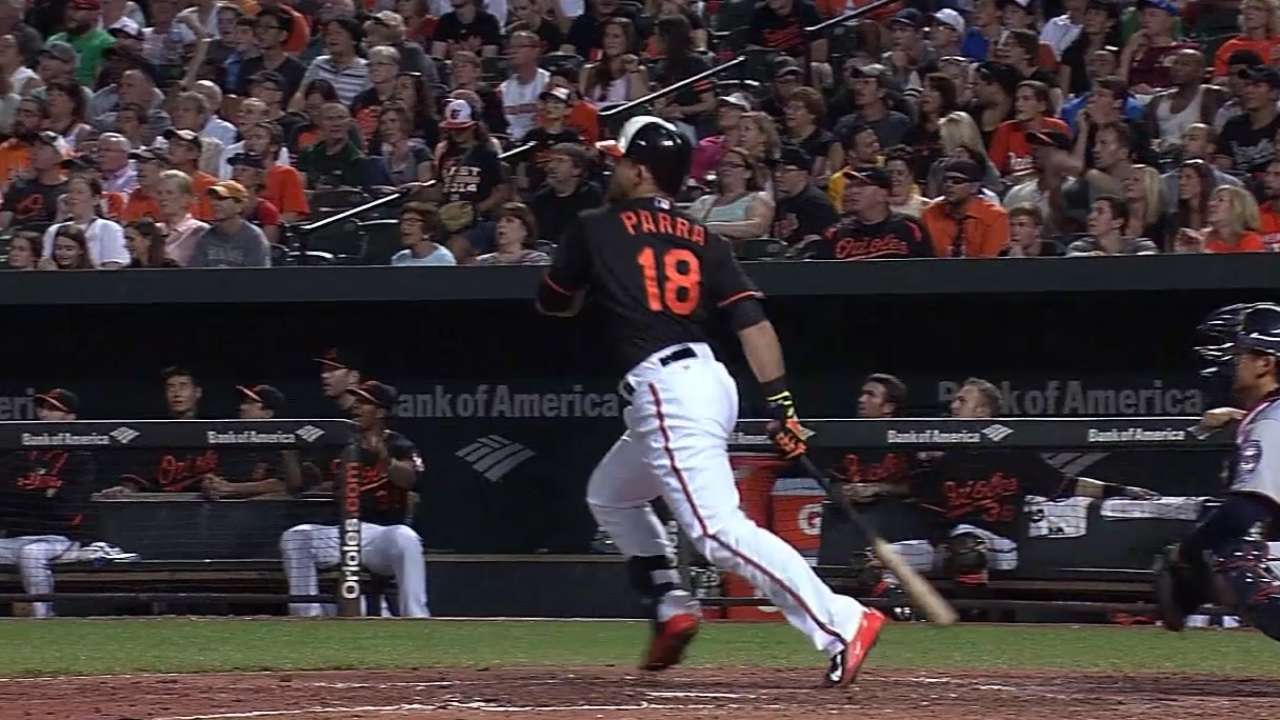 Left-handed-hitting Gerardo Parra, signed for three years and $27.5 million, is similar in batting average and on-base performance to Dickerson, but Dickerson showed dramatically more power in a smaller sample size. But Parra has won Rawlings Gold Glove Awards in both outfield corners and is a clear defensive upgrade, and in two of the last four seasons, according to Fangraphs, Parra has graded at a solid two runs above league average on the bases; Dickerson has graded between negative one and two runs the last two years.
Bridich is comfortable with the tradeoffs.
"The expectation for Gerardo is not to be Corey Dickerson," Bridich said. "They're different players."
Why the trades?
If the Rockies become contenders, Bridich's trades to load the team with "impactful pitching" should be championed. But why was all the trading necessary?
Bridich, who was player development director before becoming GM, has removed the following early picks and top prospects from the 40-man roster: lefties Christian Friedrich and Rex Brothers, righty pitcher Juan Nicasio, outfielder Kyle Parker (outrighted to Triple-A) and catcher Wilin Rosario. They've received 18-year-old lefty Wander Cabrera (from the Cubs for Brothers) and Double-A outfielder Noel Cuevas (from the Dodgers for Nicasio).
Through the 40-man moves and by demoting Matzek and Butler to the Minors last season and not bringing them back, Bridich has shown that players must earn their way. The Rockies want to draft and develop. They back that philosophy by employing a development director in addition to the manager and coaching staff at all levels below Triple-A. But in the aforementioned cases, they have received a low return on their investment.
Blame can be shared by current and previous Rockies management. But the problems with drafting or developing, or both, must be corrected. The Rockies have a chance, having placed six players on the 2016 MLBPipeline.com Top 100 Prospects list.
Where is it all heading?
Any sane forecast of the National League West says the Rockies are no closer to contending. If the season turns funky by the Aug. 1 non-waiver Trade Deadline, the Rockies are in position for a fire sale. Among the candidates: outfielder Carlos Gonzalez, who will have a year and change left on his contract; De La Rosa, in his last year; center fielder Charlie Blackmon, with two years of club control, and even McGee, Qualls and Motte could bring in nice returns.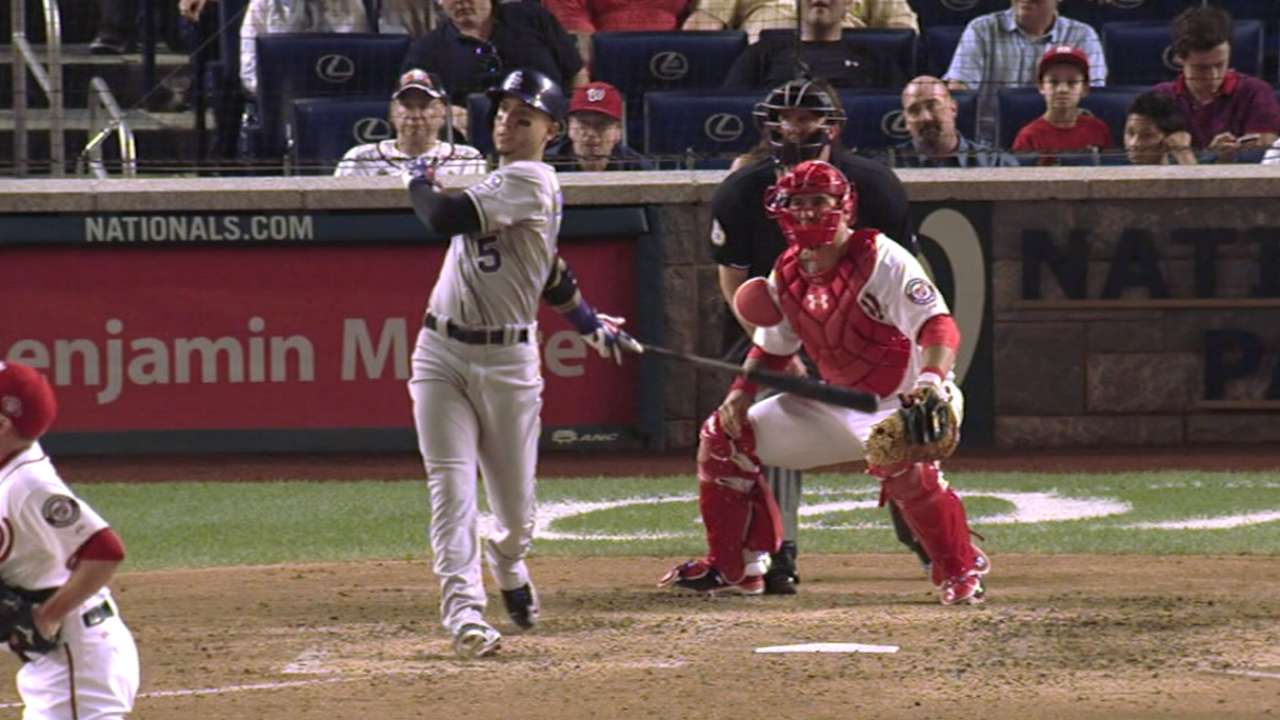 But Bridich has declined to articulate a plan that involves losing now to win later, the way the Cubs and Astros have been successfully rebuilt, and makes no apologies for his focus on winning in 2016.
"We're certainly not trying to lose games -- it's more of a comment on a lot of rhetoric that's come up over the last couple of weeks and just assumptions or some sort of thought process that we're in it to not improve or to lose games so that we can tank or benefit," Bridich said. "Our goal is to win more games, as many as we can possibly win, and to do that in part by adding high-impact pitching to who we are."
Thomas Harding is a reporter for MLB.com. Follow him on Twitter @harding_at_mlb, listen to podcasts and like his Facebook page. This story was not subject to the approval of Major League Baseball or its clubs.