MLB.com Columnist
Jonathan Mayo
Pitching prospects with best combo of tools
Nats' Giolito, Dodgers' Urias obvious leaders; Rockies' Hoffman surprising company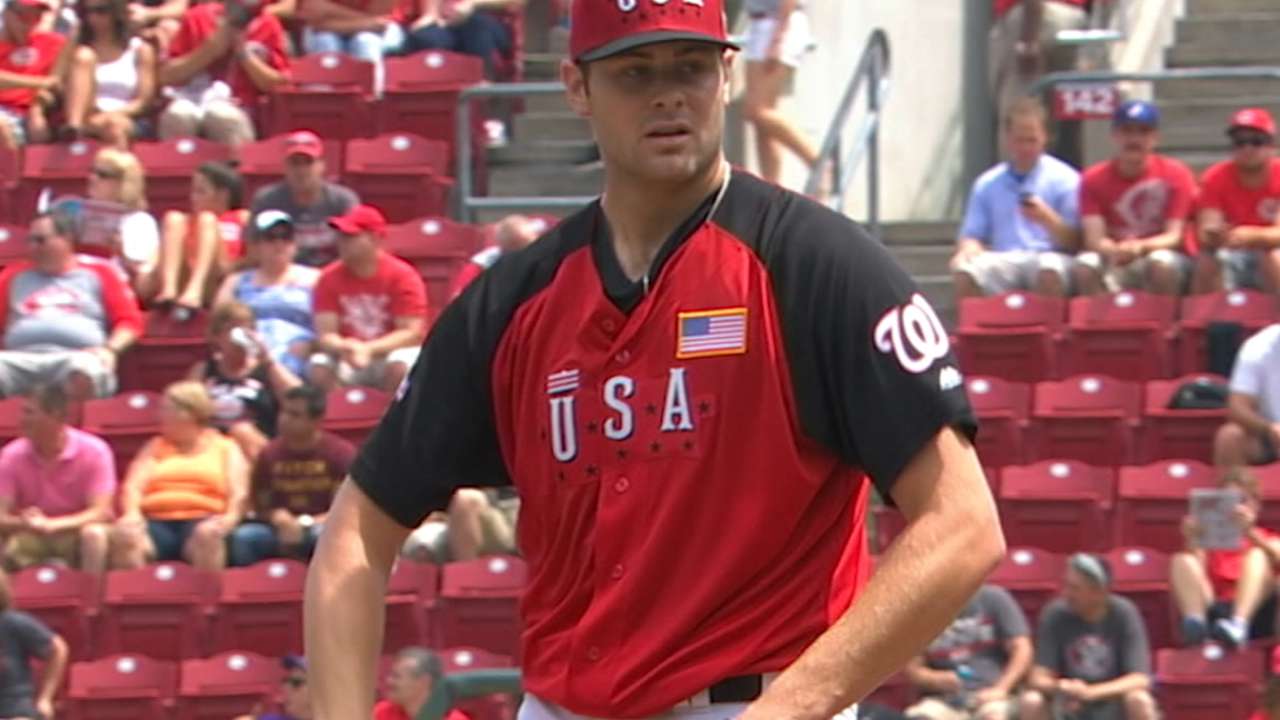 Some pitchers get by with just one plus pitch. They get to the big leagues with an upper-90s fastball or a hammer curve. Those with a combination of the two have the chance to be extremely successful in some role at the highest level.
Throw in a third above-average or better offering and better-than-average control? Now we're talking top-of-the-list kind of arms. It should come as no surprise, then, that the top two pitchers on MLBPipeline.com's recently released Top 100 Prospects list -- Lucas Giolito of the Nationals and Julio Urias of the Dodgers -- have the best combination of pitching tools among all pitching prospects.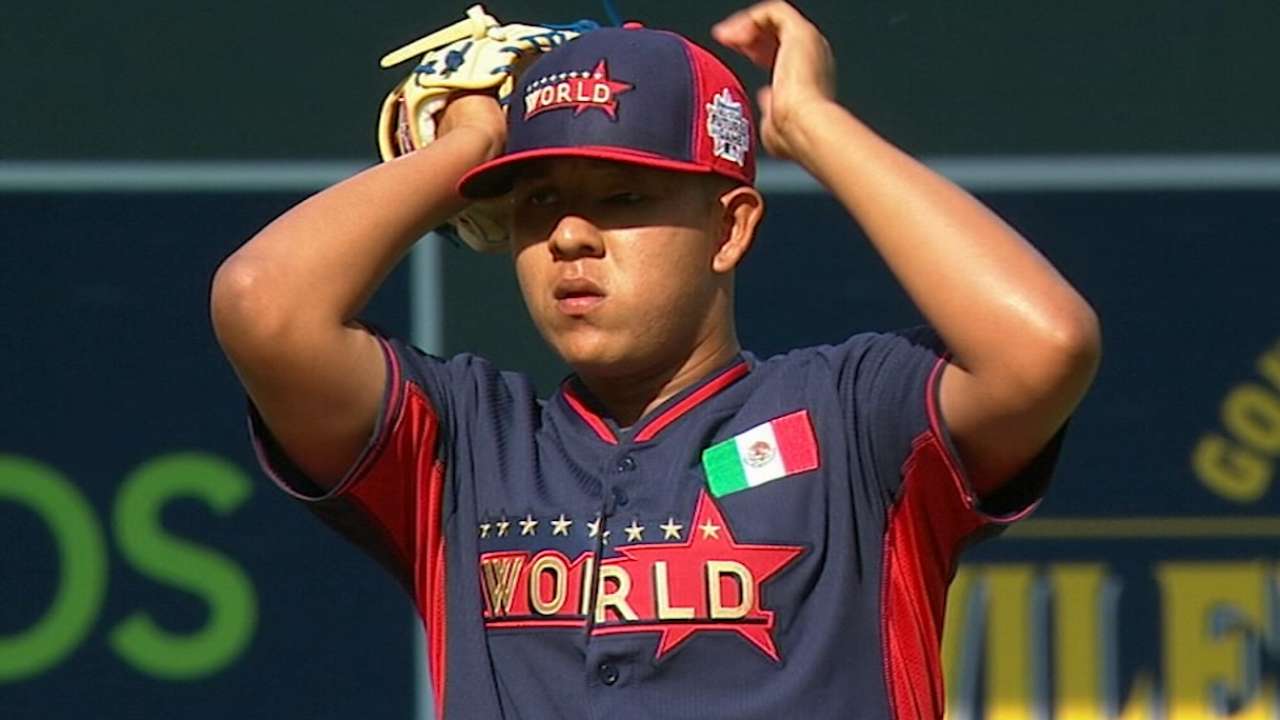 Using the 20-80 scouting scale, with 50 being a Major League average pitch, we took all the pitchers on the Top 100 list and added up their three best pitches and their control grades to see which young hurlers scored the highest. The sum of grades alone does not determine how good a prospect is, or how good a pitcher he will be, but rather is a simple exercise to see how the game's top pitching prospects measure up.
In perhaps the least surprising development in prospecting news, Giolito, No. 3 on the Top 100 list and the top pitcher ranked, comes up with the highest total (260).
Any time you start with an 80 fastball -- the only 80 heater on the Top 100 -- you're off to a good start. But Giolito also has a 70 curve, the only breaking ball given a grade better than 65. Those two pitches alone make him a very intriguing prospect, but he's more than just a two-weapon starter. Giolito gets 55s for both his changeup and his control, and it's not unreasonable to say that both could be 60s when all is said and done. There's a reason he has an overall 70 grade and has a ceiling of a future ace -- not a label to throw around lightly.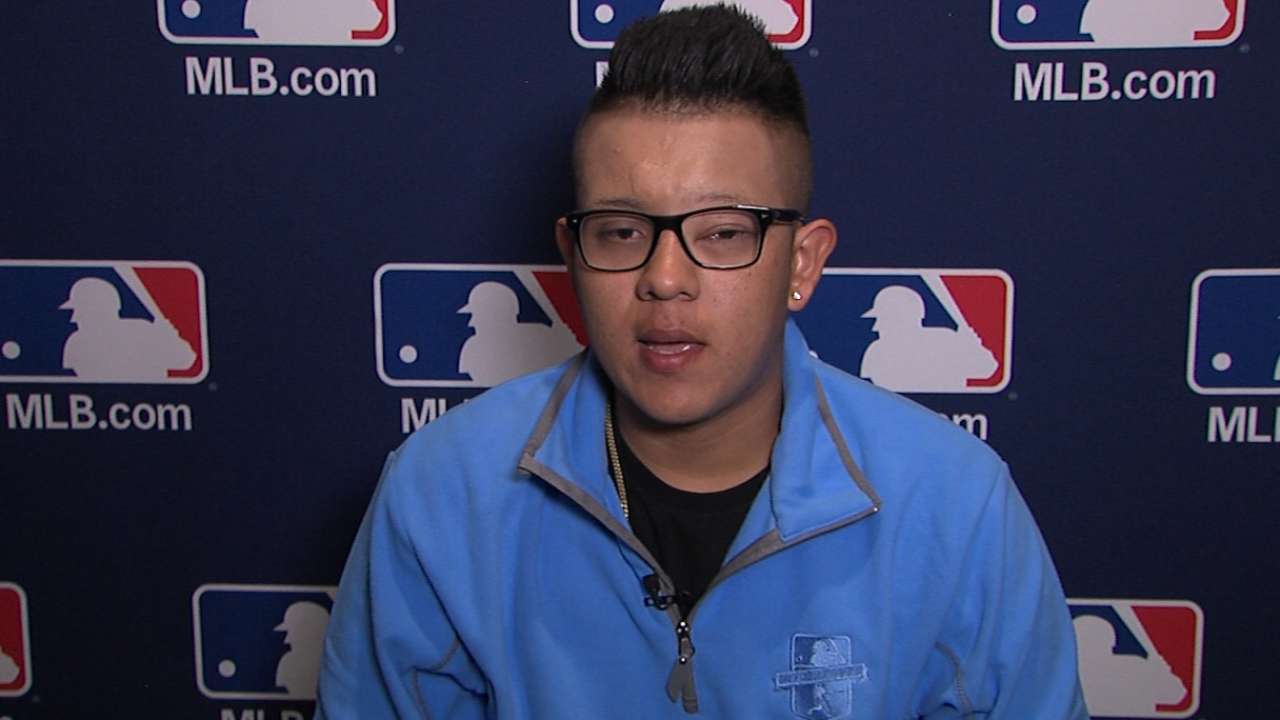 Urias, No. 4 on the Top 100 and the top lefty on the list, understandably comes in second with a score of 240. He doesn't have the 80 or 70 on his report card like Giolito, but he is consistently plus across the board. Urias' 65 fastball may sit in the low 90s, but he can reach back for more, and it plays up because he commands it to both sides of the plate. Both his big breaking ball and his fading changeup are 60s -- that also allows his fastball to play up. Urias throws all pitches for strikes, thus the 55 grade on his control (it wouldn't surprise anyone if that ended up a 60).
Much like it was a surprise that Victor Robles was second on the list when adding up offensive tools, it is a little surprising to see who is tied with Urias at 240. Rockies right-hander Jeff Hoffman, who was sent by the Blue Jays to Colorado in the Troy Tulowitzki trade, earned that distinction. Yet he ranks all the way down at No. 52. What gives?
Based on the grading of Hoffman's individual pitches -- a 65 fastball and curve to go along with a 55 changeup and control -- he belongs in the conversation of best package of pitching tools. But as good as his stuff has been, he's not been quite as dominant as you'd expect. Perhaps we're being a bit harsh given that 2015 was Hoffman's first year back from Tommy John surgery, but the big right-hander struck out just 6.5 per nine innings while allowing 8.2 hits per nine innings last season. His relatively lower ranking is a reflection of him not missing as many bats as he should given that stuff. Another year removed from surgery, it's not out of the question to think that Hoffman will answer any concerns in that area and move up the board.
After that trio, there is a quintet of pitchers who come in at 235. In terms of Top 100 ranking, they're ordered this way: the Rockies' Jon Gray (No. 33), the Rangers' Dillon Tate (36), the Rays' Brent Honeywell (43), the Twins' Tyler Jay (60) and the Royals' Kyle Zimmer (65).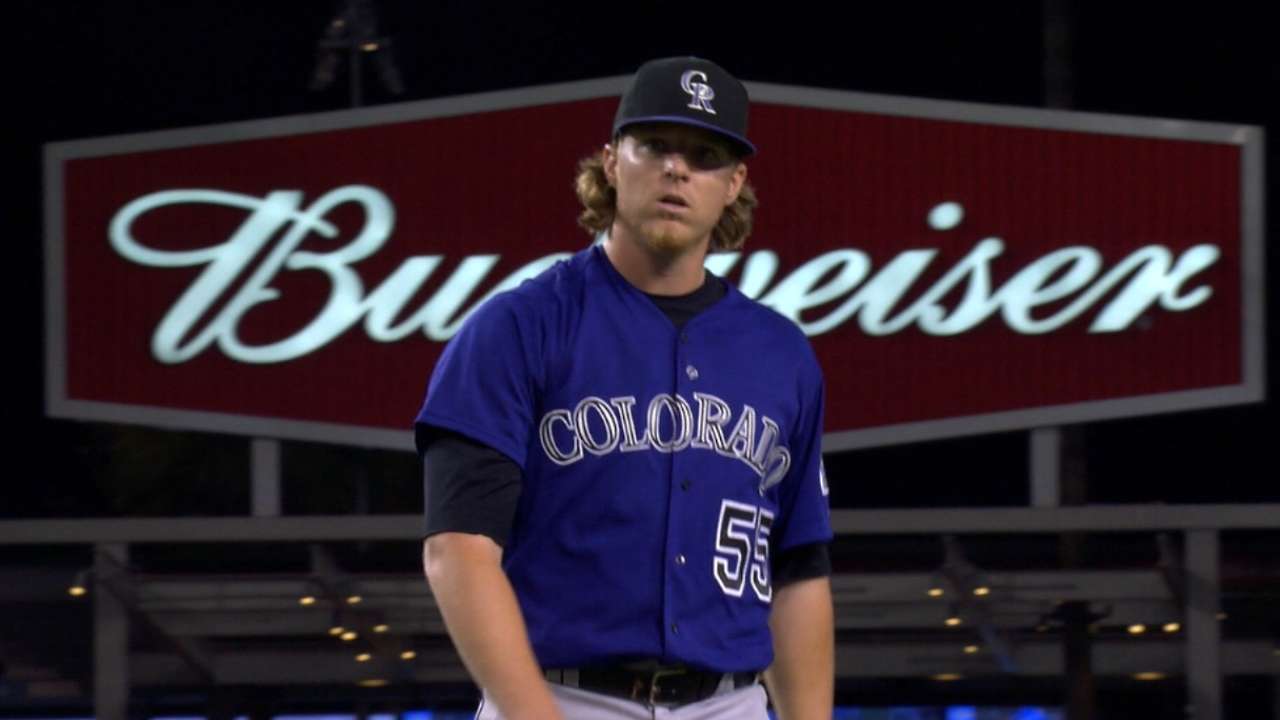 Gray's fastball-slider combination (70-60) is among the best among pitching prospects, behind just Tate (70-65). It's Gray's slightly superior changeup that pulls him back into a tie with Tate, the Rangers' top Draft pick last June. Honeywell's inclusion comes courtesy of an unusual offering -- his 65 screwball -- to go along with his 60 fastball and 55 changeup. Jay and Zimmer both have 65-65 grades on their fastball-breaking ball combinations, with Jay featuring a slider and Zimmer a curve. Jay's lack of track record as a starter (he was a closer in college) and Zimmer's injury history are reasons for their relatively lower rankings.
After that elite eight (sorry, Ivy League), there's a mass of 10 pitchers at 230. Tyler Glasnow of the Pirates, thanks to his 75 fastball and 60 curve, heads that list, followed closely by the Twins' Jose Berrios. An argument can be made that we were light on Berrios' control grade. If that gets upgraded to a 60, then the right-hander belongs in the 235 cluster.
Jonathan Mayo is a reporter for MLBPipeline.com and writes a blog, B3. Follow @JonathanMayo on Twitter. This story was not subject to the approval of Major League Baseball or its clubs.