MLB.com Columnist
Jim Callis
Best package of tools among Top 100 Prospects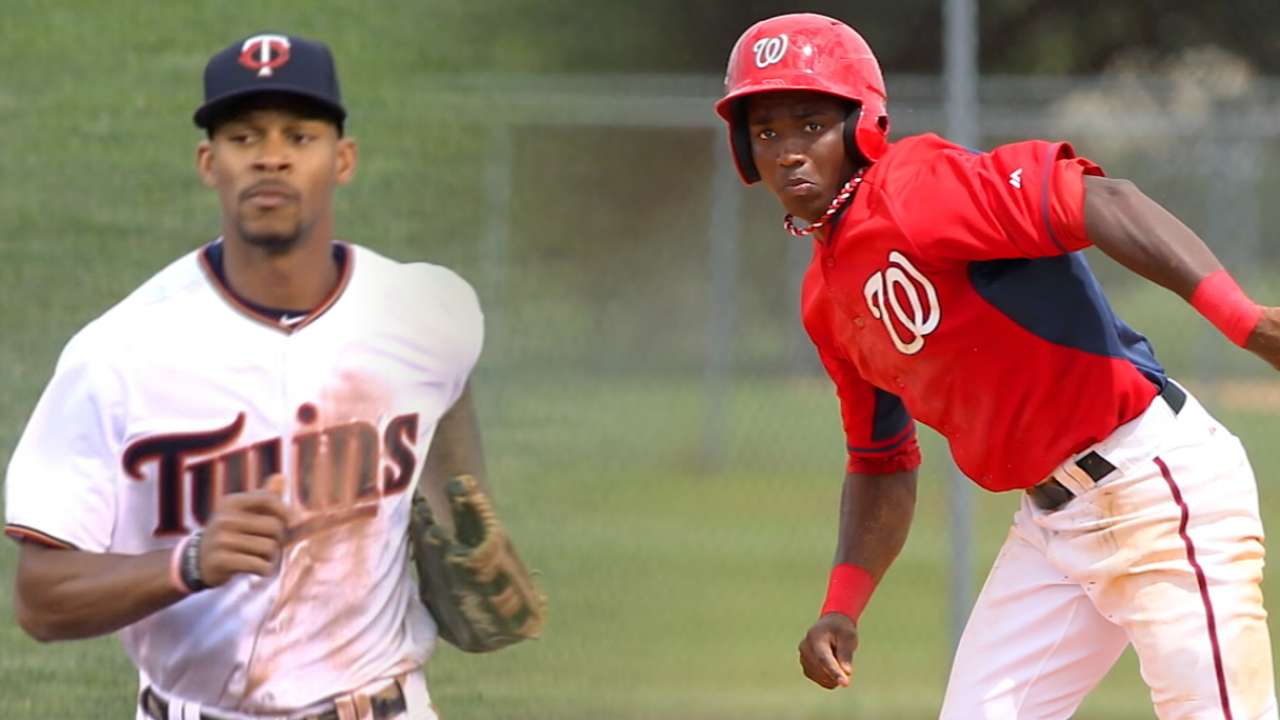 Ever since Byron Buxton started tearing up the low Class A Midwest League and emerging as baseball's best prospect in 2013, the Twins center fielder has been drawing comparisons to Mike Trout.
Trout had done the same three seasons earlier, earning parallels to Mickey Mantle. Veteran scouts said Trout had the best combination of tools they had seen in years. Now they're saying that Buxton has the best combo since Trout.
No one on MLBPipeline.com's just-released Top 100 Prospects list comes close to matching Buxton. Using the 20-80 scouting scale, where 50 represents average, we projected Buxton (No. 2 on the Top 100 behind Dodgers shortstop Corey Seager) as a 65 bat, with 55 power, 80 speed and 70 arm strength and defensive ability. That's a total of 340, and it represents a future .300 hitter with 20 homers and 40 steals per year -- not to mention Gold Glove defense in center field.
By comparison, Trout totaled 335 at the same stage of his career: 70 bat, 65 power, 80 speed, 50 arm, 70 defense. (Which illustrates that not all tools carry the same weight, because Trout's superior bat and power matter more than Buxton's significantly better arm.) Bo Jackson, who had the best pure tools of the Draft era, graded as a 60 bat, 80 power, 80 speed, 70 arm and 80 defender, for a sum of 370.
While it's no surprise that Buxton had the best package of tools on our new Top 100, his closest challenger is much less famous in prospect circles. Nationals center fielder Victor Robles has yet to play in full-season ball, the main reason he ranks as low as No. 63, but his upside is exciting.
Robles earns 60s for his bat and defense, a 45 for his power, a 70 for his speed and a 65 for his arm, for a total of 300. He batted .352/.445/.507 with 20 extra-base hits and 24 steals in 61 games between the Rookie-level Gulf Coast League and Class A Short-Season Auburn as an 18-year-old making his U.S. debut last year, so his current hitting and power grades may prove to be conservative.
Yankees shortstop Jorge Mateo (No. 30), who led the Minors with 82 steals last year in his first taste of full-season ball, is the toolsiest infielder on the Top 100. Often compared to Jose Reyes, he stands out most with his 80 speed and also has a 55 bat and glove, 45 power and a 60 arm, which add up to 295.
Five players have tools totals of 290. The Brewers' Orlando Arcia (No. 6) offers the best shortstop defense (a 65) on the Top 100 and has plus-or-better tools across the board, with the exception of his power. Second baseman Yoan Moncada (No. 7), who cost the Red Sox $63 million in bonus money and tax penalties, offers well-above-average speed, plus hitting ability and arm strength and solid power.
Rangers center fielder Lewis Brinson (No. 16) has 30-30 potential and no tool that grades worse than a 55, earning plus marks for his power, speed and defense. Brewers center fielder Brett Phillips (No. 32), part of the Carlos Gomez /Mike Fiers trade haul from the Astros, has the best outfield arm (a 70) in the Minors, and his worst tool is his average power. Royals shortstop Raul Adalberto Mondesi (No. 37), the son of former National League Rookie of the Year Award winner and All-Star Raul Mondesi, is a faster version of Arcia but has yet to prove himself at the plate.
Of the 21 Top 100 players whose five tools average 55 or better, 20 of them are either middle infielders or center fielders. The lone exception is Padres right fielder Hunter Renfroe (No. 92), a slugger with a strong arm and surprising athleticism for a 6-foot-1, 215-pounder.
Jim Callis is a reporter for MLB.com. Follow @jimcallisMLB on Twitter. This story was not subject to the approval of Major League Baseball or its clubs. This story was not subject to the approval of Major League Baseball or its clubs.