Tigers not seeking 'Groundhog Day' do-over
Club happy with all of its offseason outfield moves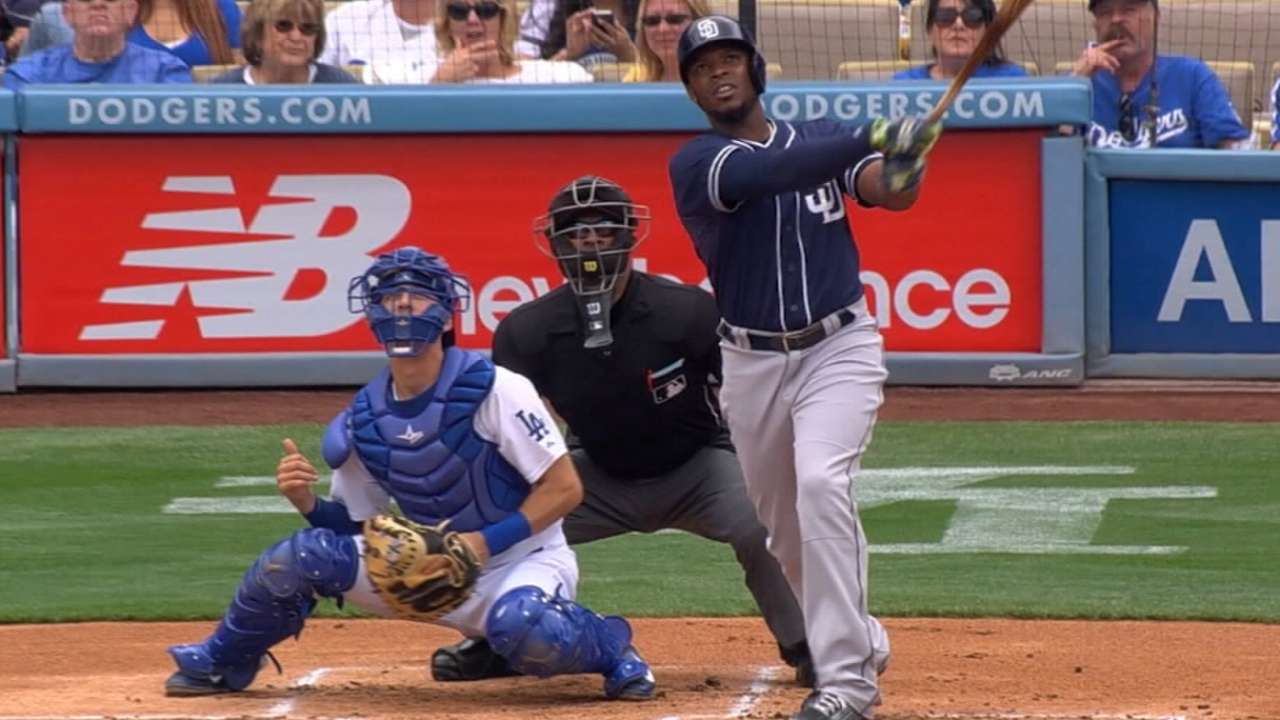 DETROIT -- Groundhog Day, an unofficial holiday normally associated with a large rodent and its long-range weather forecast, has taken on a second life as a holiday for do-overs ever since Bill Murray lived the same day over and over in the 1993 movie. Don't expect the Tigers to spend the day looking for a re-do on their offseason dealings, including the outfield moves they made before signing Justin Upton.
Detroit's trade to bring Cameron Maybin back to the organization in November and the signing of free agent Mike Aviles to a one-year, $2 million contract a month later came at a time when the Tigers were looking to tweak their outfield rather than make a major splash. Though reports around the Winter Meetings suggested that Detroit was monitoring the higher end of the free-agent outfield market, the Tigers' work at the time was more about due diligence than any serious pursuit.
Nearly a month passed before general manager Al Avila was told to go after a bigger upgrade such as Upton, rather than a tweak. Asked afterward if he would do anything differently had he known he'd be able to sign Upton, Avila suggested the moves still work.
"When we made the trade for Maybin and when we got Aviles, obviously at that point we didn't have any plans of acquiring [Upton]," Avila said recently. "But if you look at it now, it still fits well."
Until the Upton signing, Maybin and Anthony Gose were in line to form a speedy, athletic outfield duo covering much of Comerica Park's vast gaps in left and center field. Aviles was an extra outfielder, while the Tigers were expected to pursue another right-handed hitter to potentially platoon with Gose in left.
With Upton now the everyday left fielder, Gose moves back to center as an option to mix with Maybin, either as a lefty-righty platoon or as something more nuanced. Aviles, meanwhile, remains set for a utility role, albeit with likely fewer starts in left field.
"Even now with Upton, [Aviles] gives [manager] Brad [Aumus] a lot more options late in the game," Avila said at last week's Detroit Sports Broadcasters Association. "Let's just say that [Jose] Iglesias, who over the years has needed his time [is out], and [Andrew] Romine is playing shortstop. On that particular day, late in the game, if [Ausmus] needed to make another move, he wouldn't have to bring in Iglesias. He could play Aviles for defense, whether it be at third base for [Nick] Castellanos or to give a guy another day off in the outfield. Or he could make two moves at the end of the game, having two utility players. So with [Jarrod] Saltalamacchia, Aviles and Romine, we feel that there are a lot of options for Brad over 162 games, that will help us win some games."
Jason Beck is a reporter for MLB.com. Read Beck's Blog, follow him on Twitter @beckjason and listen to his podcast. This story was not subject to the approval of Major League Baseball or its clubs.