Around the Horn: A's have depth in LF
Crisp unlikely to be on field every day; Canha, Fuld among other options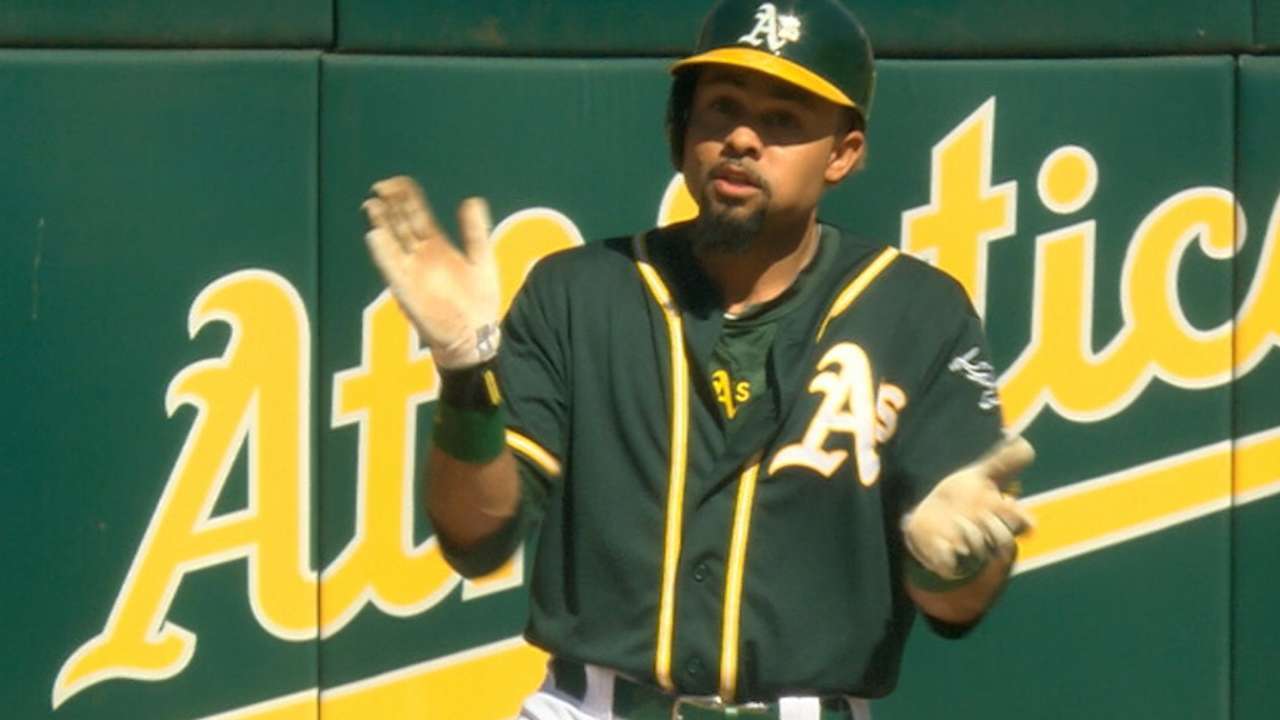 The multipart Around the Horn series, which features a position-by-position look at Oakland's projected starters and backup options heading into the season, continues in left field.
Who's in left field?
Coco Crisp should be, if he's healthy. But the 36-year-old veteran, who will make $11 million in his final guaranteed season, was limited to 44 games last year because of a chronic neck issue, and there's no telling how much that same problem will affect him this season. The A's, meanwhile, have done their part in solidifying depth at the position, recognizing that Crisp's chances of staying on the field every day are slim.
Young slugger Mark Canha resides at the top of that list, but on days he's manning first base, the A's can divide up playing time between Sam Fuld and breakout candidates Jake Smolinski and Andrew Lambo, with one of those two likely beginning the season in Triple-A.
Offensive outlook
Crisp hit just .175 in 139 plate appearances last year, compiling only six extra-base hits, all of them doubles. The switch-hitter is surely bound for better days so long as health is on his side, but perhaps they'll be spent as a pinch-hitter off the bench. That's where Crisp was 6-for-15 last season, and it's in this role he could try to keep his neck pain managed.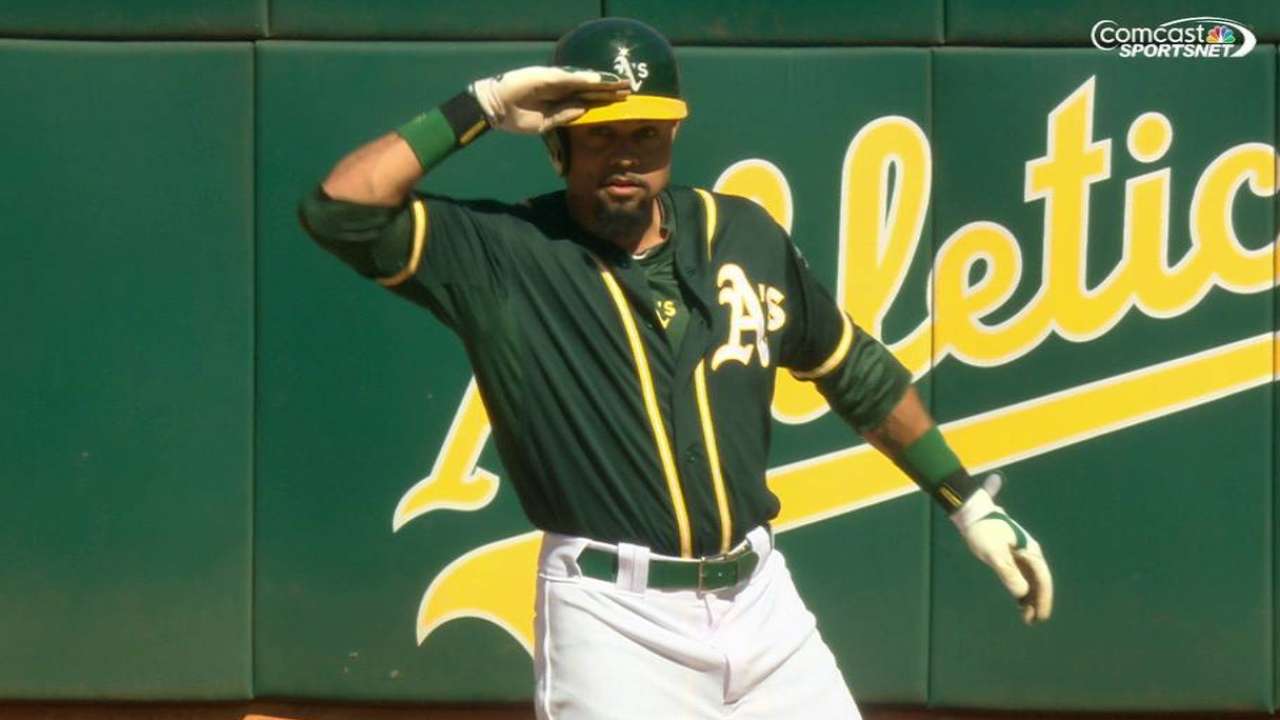 Canha figures to be a lineup mainstay, no matter where he plays, and for good reason. As a rookie last season, the right-handed hitter compiled 16 home runs and 70 RBIs in 124 games, batting .254/.315/.426.
Smolinski has potential to bring the power, too, and he'll have a chance to win a roster spot out of camp. So will Lambo, who has a .280 career batting average in the Minors with 100 home runs and 442 RBIs in 741 games.
Fuld brings the most experience among the backup group, albeit with a less exciting offensive profile. Known more for his dynamic defense in all areas of the outfield, Fuld has a .227 career average over his eight-year career in the Majors. Last year with the A's, the left-handed hitter came in under the Mendoza line, batting .197 with a .276 on-base percentage. He hit 16 doubles and stole nine bases.
Getting defensive
Crisp's defense remains a plus, even after he shifted to left field from center last year. Canha's best defensive position is first base, but he showed steady improvement in the outfield down the stretch. Fuld holds the edge in this area, while Smolinski and Lambo figure to be more valuable offensively than defensively.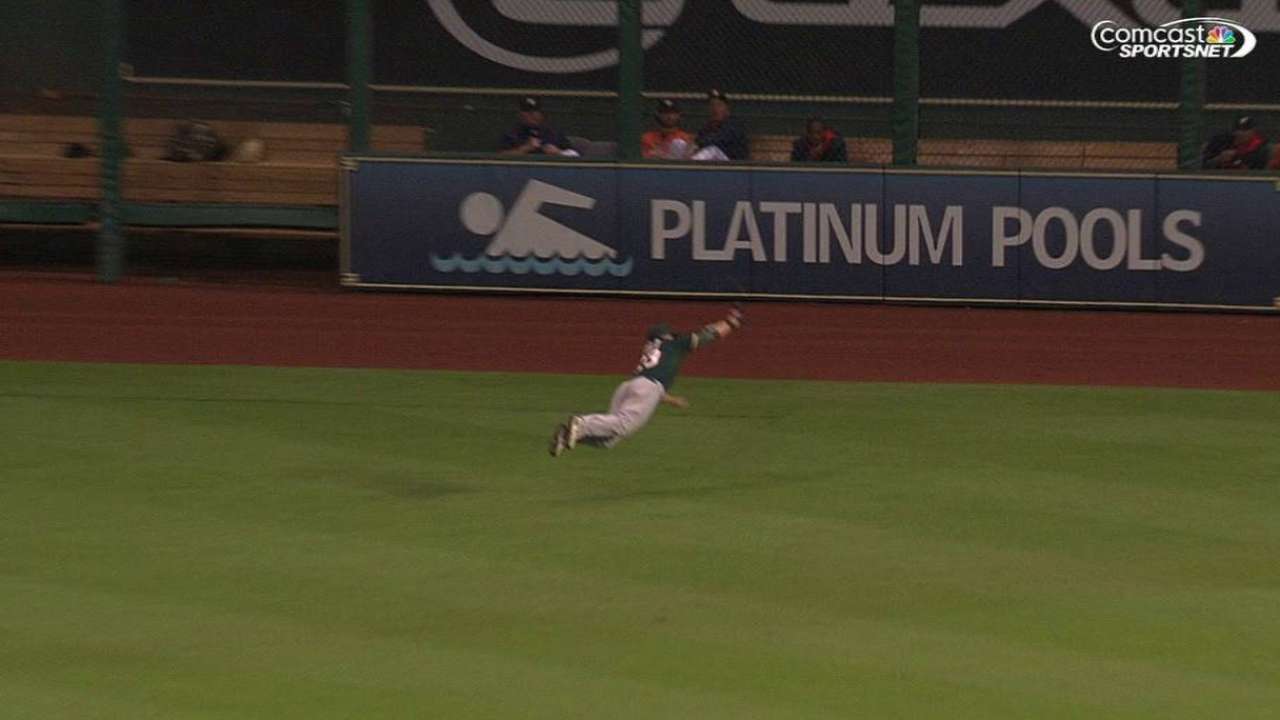 Depth chart
Although depth is already abundant at this position, keep an eye on Danny Oh in Triple-A. The left-handed-batting outfielder was Oakland's first pick in the Triple-A portion of December's Rule 5 Draft. Oh, 26, was a 27th-round pick by the Yankees in the 2012 Draft out of the University of California at Berkeley, where he was teammates with Canha and A's shortstop Marcus Semien. He has a .274 career average with a .355 on-base percentage in four Minor League seasons.
The A's No. 2 prospect, Matt Olson, has been expanding his resume by clocking time not only at first base but also in the outfield, and he could also find himself fighting for a midseason callup.
Jane Lee is a reporter for MLB.com. This story was not subject to the approval of Major League Baseball or its clubs.