Take 2? Jocketty recalls ill-fated Cards trade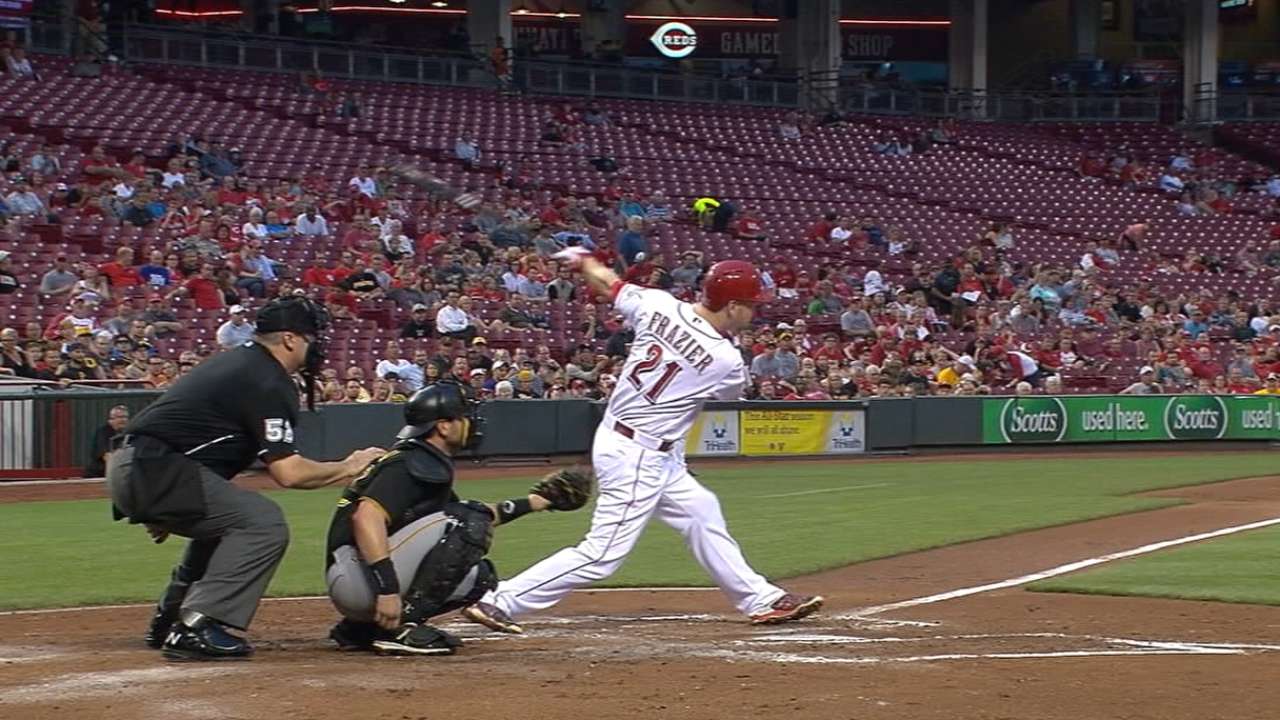 CINCINNATI -- Rarely are there do-overs in life, but Bill Murray's 1993 film "Groundhog Day" offered a scenario in which a person received multiple chances to get a day right before moving forward.
What if Major League Baseball general managers were offered a do-over? What day would they like to have back so they could make a trade or a signing better the second time? For Reds president of baseball operations Walt Jocketty, that would be Nov. 10, 1997, when he was general manager of the Cardinals.
"I traded Dmitri Young for Jeff Brantley, and Brantley was hurt most of the time," Jocketty said. "We traded for him to be our closer after [Dennis] Eckersley. I think Eckersley ended up spending his last year back in Boston, and we wanted a closer in the same price range. Brantley was the guy."
Brantley had saved 44 games for the Reds in 1996, but he missed most of '97 because of right shoulder surgery to repair a torn labrum. The '97 season was Young's first year in the Majors, and he had batted .258/.335/.363 with five home runs and 34 RBIs in 110 games. He was primarily a first baseman, but he played some outfield, too.
"The problem was finding a position for him. We had [Mark] McGwire," Jocketty said.
Brantley was 0-5 with a 4.44 ERA and 14 saves in 48 games for St. Louis in 1998. He would need a second surgery to repair the labrum, then he moved on to the Phillies in '99. Young, meanwhile, batted .310/.364/.481 with 14 homers and 83 RBIs in 144 games for Cincinnati. He batted .304/.353/.488 over his four seasons with the Reds.
"It was not one of my better ones," Jocketty said of the trade.
After that deal, Jocketty changed the way he executed trades.
"Back then, you didn't do as much in-depth research on the medicals as we do today," Jocketty said. "We took the word."
A year ago, when he was asked the same Groundhog Day second-chance question, it's probably no coincidence that Brantley also wished he could have done the 1998 season differently.
"In my mind, [I was] ready to pitch," Brantley said last year about that 1998 season. "I did a couple of rehab assignments in the Minor Leagues. For some reason, I picked up the phone and called Walt Jocketty … and said, 'I'm ready to pitch right now.' The next thing I know, Dave Duncan is on the phone. He was the pitching coach with Tony [La Russa]. He said, 'I don't think you're really ready.' I said, 'Oh, I'm ready and I'm ready right now.' I got called up to the big leagues pitching in Colorado [on April 9, 1998], and I knew from the first pitch on that I was not ready.
"All it did was tear down everything I had built back up. I had to go back and have surgery again, do all of that rehab another time, and it was just never the same after that."
Mark Sheldon is a reporter for MLB.com. Read his blog, Mark My Word, follow him on Twitter @m_sheldon and Facebook and listen to his podcast. This story was not subject to the approval of Major League Baseball or its clubs.