Longtime exec Brooks starts MLB job
New program to add diversity to coaching and baseball operations
PITTSBURGH -- In November, Tyrone Brooks joined an advisory council created to address the issue of diversity in Major League Baseball. That was when he learned the league was looking for someone to run its newly created Front Office & Field Staff Diversity Pipeline Program. They were looking for someone with a passion for bringing people into the game and for connecting those already within the industry.
In other words, they were looking for Tyrone Brooks.
Brooks began work Monday as the senior director of the Pipeline Program. As part of his new role, he will identify, recruit, mentor and develop minorities and women for coaching and baseball operations jobs throughout the league.
Brooks, 42, is uniquely qualified for the position, having worked his way up baseball's professional ladder after getting his start as an intern 20 years ago.
"It just kind of fit when I saw what they were looking for, as far as looking at how we can bring people into the game and me already having a passion for it," Brooks said. "The Commissioner is very committed to diversity and this whole initiative. That's why I feel blessed to be a part of it."
One of the reasons Brooks is ideally suited to lead the new Pipeline Program is the path he took to get here. In 1996, he joined the Braves' front office as a 22-year-old intern through the club's Career Initiatives Training Program.
The minority-based internship program, established by president Stan Kasten and Hank Aaron, gave Brooks a chance. He made the most of it.
"That first opportunity with Atlanta really changed the course of my life, the way I look at it," Brooks said.
He went on to work full-time for the Braves, Indians and, eventually, the Pirates. He first served as Pittsburgh's director of baseball operations and most recently as director of player personnel under general manager Neal Huntington.
"The thing that we love about Ty is he's not only going to recruit quality candidates; he's going to help them grow. He's going to help them develop, and he's going to help them land in spots that's going to help them land bigger and better opportunities," Huntington said. "We think Major League Baseball absolutely found the right guy, the best guy for this role. It's something he's good at, something he's passionate about."
While Brooks has helped the Pirates reach the postseason three years in a row, he's also continued to connect people through the Baseball Industry Network. Brooks founded the network in 2009, and it has since grown to include more than 28,000 members
"Tyrone has been involved in very every aspect of baseball operations during his long career in the game, and has earned the respect of both his colleagues and competitors with his work ethic, intellect and his willingness to mentor others," said MLB Chief Legal Officer Dan Halem, to whom Brooks will report in his new role. "Tyrone is passionate about increasing the number of diverse individuals who hold positions in club baseball operations departments and on the field, and has the determination and experience to make a difference on an issue that is extremely important to the Commissioner and our owners."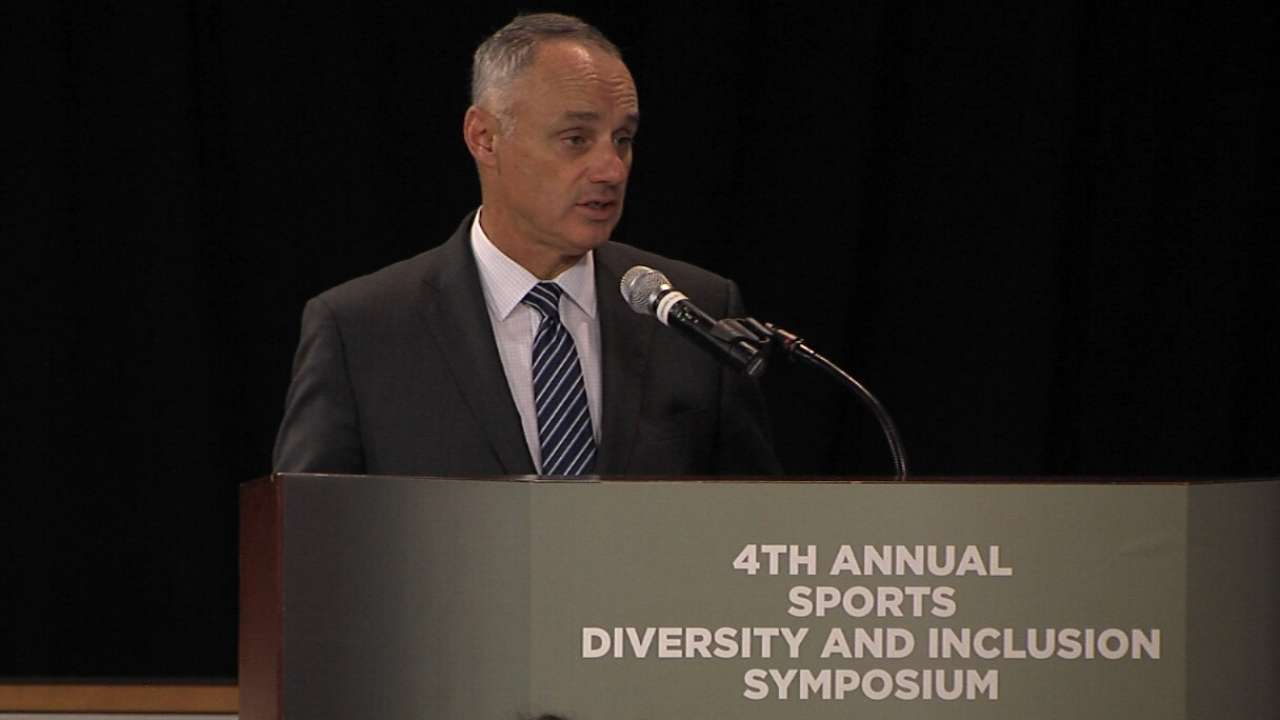 Part of Brooks' new job will be to enforce adherence to the "Selig Rule." He will work with all 30 clubs, encouraging them to consider qualified minority and female candidates when a front-office or on-field job opens up. Brooks will also work closely with each club to ensure they consider recently retired players who may be interested in coaching, scouting or front-office jobs.
That's the upper end of the pipeline, dealing with those already involved in the game. At the lower level, Brooks and Renée Tirado -- the Pipeline Program's senior director of recruitment -- will actively seek out qualified candidates in colleges and baseball programs throughout the country.
"We need to make an effort on our end to actively go after individuals, to be proactive in educating people about what career options are available with Major League Baseball," Brooks said. "We're trying to do as much as we can to flood the pipeline at the lower levels just to get people started, getting them experience.
"From there, getting a chance to learn more, get hired full-time and then taking the steps to learn at different levels within the organization, within the baseball ops side, to then progress and move into different roles and continue to grow into a leadership role."
In other words, they're looking for the next Tyrone Brooks.
"It's a great opportunity to start from scratch, to put in this program and be out actively to grab people and bring them into the pipeline," Brooks said. "Then, once they're in the pipeline, what steps do we take to help them grow individually, to become leaders within the industry?"
Adam Berry is a reporter for MLB.com. Follow him on Twitter at @adamdberry. This story was not subject to the approval of Major League Baseball or its clubs.