MLB.com Columnist
Jesse Sanchez
Vargas hoping to capitalize on trip to Caribbean Series
Slugger hopes winter ball in Puerto Rico helps him earn more time with Twins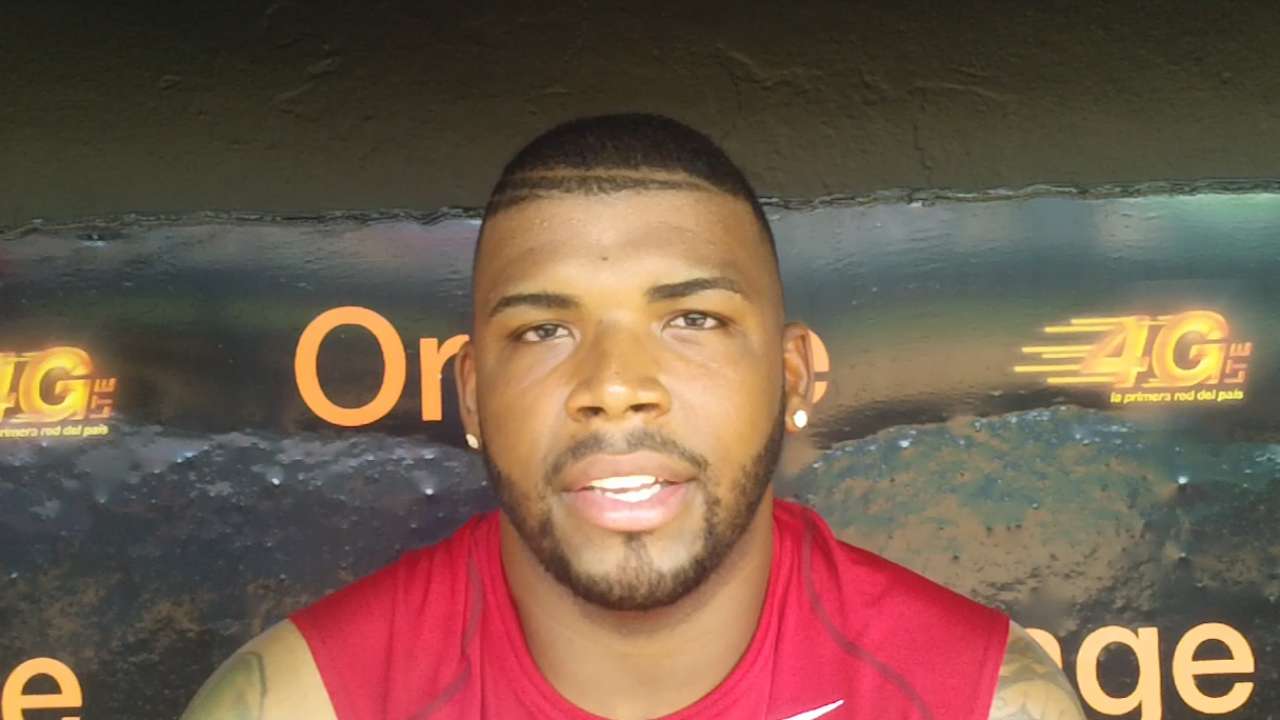 SANTO DOMINGO, Dominican Republic -- Kennys Vargas stood near the steps in the visiting dugout at Estadio Quisqueya Juan Marichal hours before the first pitch against Venezuela, folded his arms and stared across the diamond.
Vargas signed a few autographs for Team Puerto Rico fans and chatted up reporters in town to cover the 2016 Caribbean Series.
• Complete Caribbean Series coverage
"I'm here to represent my island and wear the colors of Puerto Rico," Vargas said. "It's been a long time since we have won a Caribbean Series, and we hope this is the year that it finally happens."
Vargas, 25, also has another motive. The slugger is wise enough to recognize what's happening with Minnesota's roster and how he might fit in 2016. Vargas says he is in the Dominican Republic with Puerto Rico's Cangrejeros de Santurce because he wants to be here, but the reality is that he has no other choice if he wants to show the Twins he can be a consistent big league player.
On Monday, Vargas went 0-for-4 in Puerto Rico's 2-1 loss to Venezuela in the first game of the Caribbean Series. Puerto Rico (0-1) is off Tuesday and will resume play Wednesday night against Cuba's Ciego de Avila squad.
"For me, playing in the winter helped in my development, and it's a place to get better, because you are playing every day," Vargas said in Spanish. "I've been working a lot on my defense at first base and trying to be more consistent in the batter's box. I came here with a goal to get better in those parts of my game, and I feel like I've done that. I know this will help me have a good start to 2016."
Vargas could be the odd man out after the Twins signed Byung Ho Park to be their designated hitter and moved Miguel Sano to right field. Veteran Joe Mauer is locked in at first base and Vargas still has Minor League options.
It wasn't supposed to be this way for Vargas, though.
The Twins traded Kendrys Morales in late July 2014, and it opened the door for the young slugger, then at Double-A New Britain. He responded by hitting .274 with nine home runs and 38 RBIs in 53 games. Vargas' strikeout tally began to rise during the final month of the season, but he still entered Spring Training last year as the front-runner for Minnesota's designated-hitter job.
Vargas spent the first two months of the season with the Twins until he was demoted to Triple-A Rochester on May 18 because of his struggles at the plate. He made his way back to the big leagues three weeks later, but he was optioned all the way down to Double-A Chattanooga the next month.
It didn't take long for Vargas, who had three hits in 16 at-bats after being called up in September after a strong finish at Triple-A Rochester, to realize winter ball in Puerto Rico was his best course of action. The decision could keep him in the big leagues.
Vargas hit seven home runs with 20 RBIs and 21 runs scored in 33 games during the regular season for Mayaguez in Puerto Rico, and he was named the league's Most Valuable Player. He struck out 24 times and walked 15 times in 120 at-bats for the Indios.
"He gets it. He's not happy about what happened last year," Twins general manager Terry Ryan said. "I've got hopes for all three guys who had sophomore slumps in [Danny] Santana, [Oswaldo] Arcia and Vargas. There has to be some urgency. I would hope they'd realize what's at stake. All three had big years in 2014. But you have to be consistent and be able to adjust. We're going to have to see how those guys adjust."
Arcia, who spent time on the disabled list with a right hip flexor sprain, hit .199 with 12 home runs and 41 RBIs in 79 games at Triple-A after starting the season with the big league club. As for Santana, he played in 91 games for the Twins but spent August at Triple-A after struggling offensively. He would go on to hit .320 with five doubles, a triple and one home run in 25 games for the Aguilas in the Dominican Winter League. Arcia did not play winter ball in Venezuela after the regular season in 2015. He instead chose to spend the offseason working out at the club's Spring Training complex in Fort Myers, Fla.
"I've been working a lot on my defense and my approach at home plate. I produced home runs and RBIs, and I think I did pretty good. I was the MVP of Puerto Rican [Winter] League this year," Vargas said. "I feel really good about that, and I feel ready for Spring Training and trying to make the team."
Jesse Sanchez is a national reporter for MLB.com. Follow him on Twitter @JesseSanchezMLB. This story was not subject to the approval of Major League Baseball or its clubs.