Around the Horn: Middle infield
New additions Walker, Asdrubal should give club platoon advantages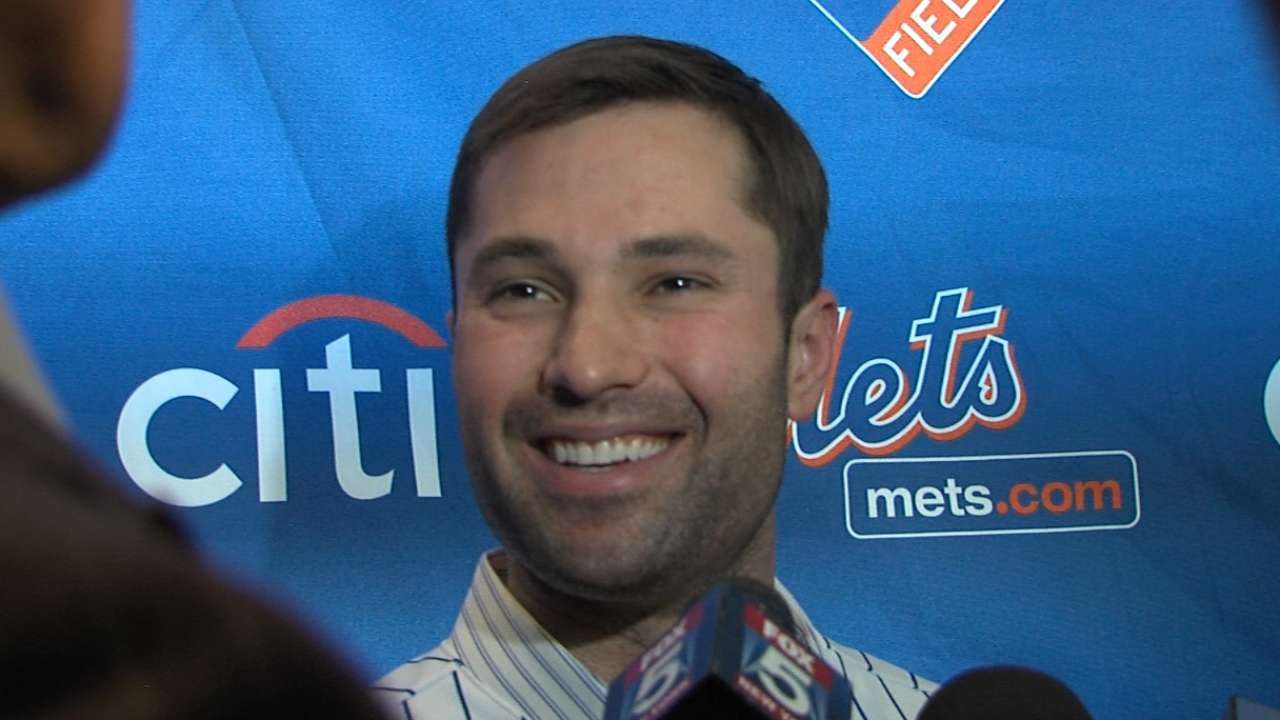 With pitchers and catchers scheduled to report to Port St. Lucie, Fla., by Feb. 17, it's time to dissect the Mets' 2016 roster. This is the first of a six-part Around the Horn series taking a position-by-position look at projected starters and backups heading into the season.
NEW YORK -- Before Yoenis Cespedes returned to Flushing and changed the conversation, versatility was the buzzword around Citi Field. Adaptability was what the Mets craved. Heading into this offseason knowing they were going to lose at least one of their heaviest hitters to free agency, the Mets spent time from the outset seeking creative ways to improve.
That started in December with their middle infield. The Mets traded for second baseman Neil Walker. They signed shortstop Asdrubal Cabrera. They pushed Wilmer Flores into a super-sub role and eased the pressure off everyone else. And in doing so, the Mets feel they constructed an efficient machine up the middle despite the loss of Daniel Murphy, relying on platoon matchups and frequent rest to make this as productive a bunch as possible.
"We said at the beginning, we're trying to build a team with a lot of flexibility, versatility and depth," assistant general manager John Ricco said. "We're looking to find ways to complement the guys we have. We think we have some good players, but whether it be through giving them more rest, or finding ways to give them at-bats in situations where they'll thrive, that's the goal."
Adding Cabrera and Walker does more than give the Mets a pair of durable veterans up the middle. Trickling down to manager Terry Collins' bench as well, those moves gel together to give the Mets platoon advantages on a near-daily basis, allowing them to deploy their entire set of infielders in situations that suit them. Consider: Flores, who becomes the primary backup at no fewer than three infield positions, slugged .600 against left-handed pitchers last season but only .358 against right-handers. Limiting his exposure to the latter should allow the Mets to upgrade their overall middle infield production -- and that's without mentioning the benefits of limiting Flores' defensive innings at shortstop.
Consider: The switch-hitting Walker clubbed all 16 of his home runs last season against right-handed pitchers.
Consider: Even third baseman David Wright owned a sizeable platoon split in a small sample last season, batting 81 points and slugging 212 points higher versus left-handed pitchers. Flores and Walker are both capable of subbing there when needed.
If this is a theory that Ricco and his front office contemporaries concocted long ago, they finally were able to test it last July. Acquiring Juan Uribe and Kelly Johnson prior to the non-waiver Trade Deadline didn't seem all that impactful on paper, even in retrospect; Johnson posted a .304 on-base percentage after the deal and didn't distinguish himself defensively, while Uribe hit merely .219 and missed almost the entire postseason due to injury. But it's worth noting that when those two arrived, the rest of the infield started to thrive. Flores produced a .662 OPS before that trade, .799 after it. Murphy posted a .705 OPS before the trade, .851 after it. Even Ruben Tejada, who may struggle to find playing time (or roster space) within this new construct, went from .255/.328/.350 before the trade to .271/.354/.350 after it.
"You're starting to look around the league, the way the game is played, and it's starting to be a platoon kind of a game," Collins said.
The move does push big league-ready prospects Dilson Herrera and Matt Reynolds back for more seasoning at Triple-A Las Vegas -- though to the Mets, that's part of the benefit. If anything goes wrong, those two should be more than ready by the time Collins needs them.
In the interim, the Mets are using Walker and Cabrera as part of a grand middle-infield experiment. How it works out could define their 2016 season.
Anthony DiComo is a reporter for MLB.com. Follow him on Twitter @AnthonyDiComo and Facebook, and listen to his podcast. This story was not subject to the approval of Major League Baseball or its clubs.