Sarah's Take: Kendrick big asset for Dodgers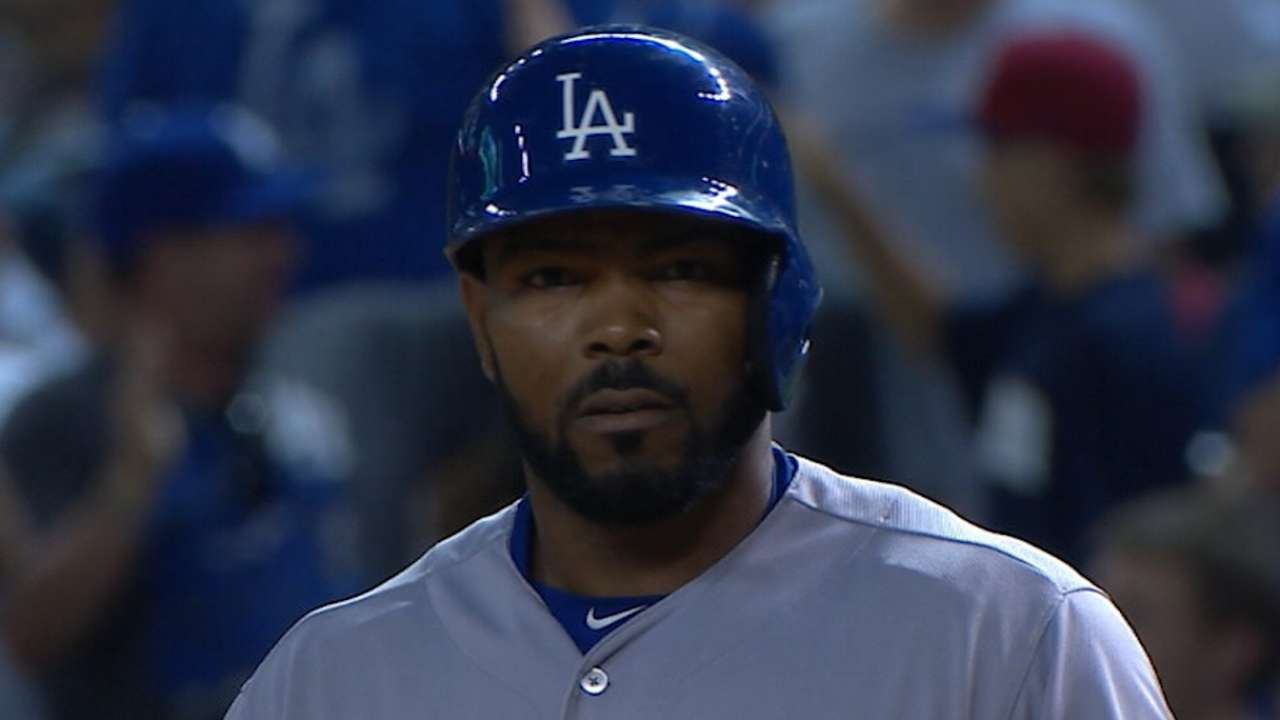 Many baseball people think the Los Angeles Dodgers have depth in their organization, and they didn't need to re-sign Howie Kendrick for the 2016 season. However, the club signed Kendrick to a two-year, $20 million deal late last week, pending the results of a physical.
When Kendrick turned down a qualifying offer from the Dodgers in November, many thought there was no way for him to return to the organization. Kendrick had a terrific season until he had a hamstring injury in August. He was the club's most consistent hitter in 2015 while providing excellent defense at second base.
Kendrick isn't a spectacular player who catches a lot of media attention, but not many players perform more professionally. He will be an asset to the Dodgers, alongside youngster Corey Seager at shortstop.
Yes, the Dodgers have many players who can perform at second base. However, playing them at second would limit the versatility of the 25-man roster for new manager Dave Roberts. Nowadays, competitive teams need an extremely versatile roster to survive a 162-game season.
Kiké Hernandez was the favorite to be the Dodgers' everyday second baseman before they re-signed Kendrick. Undoubtedly, after last season's superb performance, Hernandez deserves an everyday job, but his ability to play multiple positions may make him more valuable as a utility player. Unless Joc Pederson learns how to decrease his strikeouts, the Dodgers should use Hernandez in center field. The Dodgers can't carry a center fielder who hits less than .250 and still go to the playoffs.
During the Winter Meetings, the Dodgers re-signed Chase Utley. Although he has been an offensive force at second since 2001, at 37, he is more suited for a reserve role. Recently Utley has been plagued with various leg injuries. He can be a fantastic pinch-hitter. He can play both first and third base. With Justin Turner recovering from a serious knee injury that might make him unable to play Opening Day, Utley could be needed at third. First baseman Adrian Gonzalez also needs periodic days off.
The Dodgers have several question marks heading into Spring Training. Will Seager be able to play shortstop satisfactorily? After last September, when Seager hit .337 while playing excellent defense, most people expect great things from him. There's little doubt that Seager has the skills to be an excellent Major Leaguer, but at 21, does he have the stamina to play a full schedule while playing the most demanding position other than catcher?
Will Yasmani Grandal rebound from a poor second half? After becoming an All-Star for the first time in his career, Grandal attempted to conceal a shoulder injury. The injury affected his offensive production. Although he had arthroscopic shoulder surgery as soon as the Mets eliminated the Dodgers from the National League Division Series, it is not yet clear whether he will be ready for Opening Day, and whether he will regain his offensive prowess.
How the starting rotation perform? When the Dodgers couldn't re-sign Zack Greinke, it made their starting rotation weaker than it was in 2015. The acquisitions of Scott Kazmir and Kenta Maeda should help to make up for the loss of Greinke, but there are questions about the durability of the starting rotation.
Will Yasiel Puig rebound from an injury-plagued season? Everyone has been interested in Puig since he came up in June 2013. His talent is obvious, even though he has frustrated the coaching staff. Last season, he had three hamstring strains and his offensive production decreased.
Sarah D. Morris can be reached at sarahmorris27@gmail.com. This story was not subject to the approval of Major League Baseball or its clubs.