Inbox: Will Severino have innings limit?
Beat reporter Bryan Hoch answers questions from fans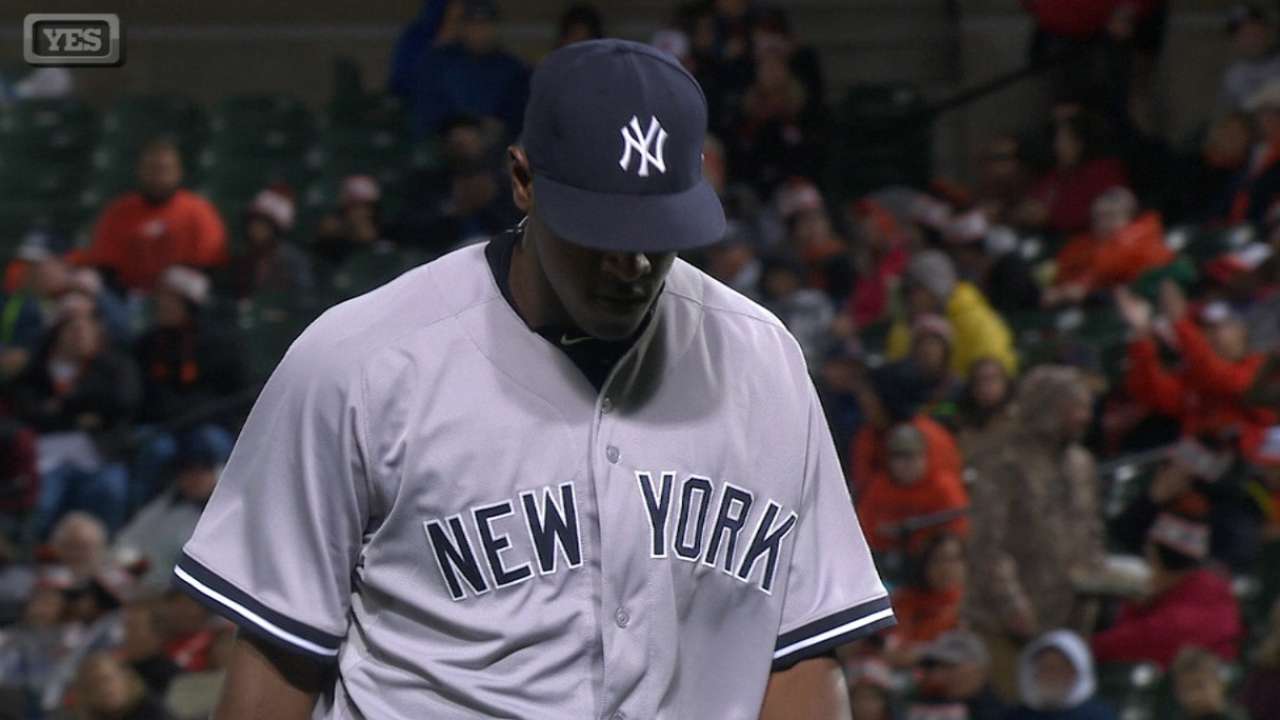 With Luis Severino heading into his first full season, has there been any talk of limits on innings or skipping starts in order to not overuse him?
-- Michael D., Madawaksa, Maine
As with any young pitcher, the Yankees will keep an eye on Severino's fatigue level to reduce any injury risk, but there isn't a hard and fast limit to how many innings he can work. Coming off an impressive season in which the right-hander started the year in Double-A Trenton and wrapped it up on the big league roster, manager Joe Girardi has said that he does not expect much of a limit on Severino.
"If there is [a limit], it's very short," Girardi said.
The Yankees did closely watch Severino's innings last year, but that was because they believed -- correctly, as it turned out -- that he would be able to help them at some point after the All-Star break.
• Submit a question to the Inbox
Severino threw just 99 1/3 innings in 19 starts with Double-A Trenton and Triple-A Scranton/Wilkes-Barre before firing 62 1/3 in 11 Major League starts, giving him a total of 161 2/3 innings. That's 48 2/3 innings more than his previous high of 113, in 2014.
Using that as a guide, a full workload approaching 30-something starts and 200 innings shouldn't be out of reach. For that to happen, he'll need to be more economical; despite averaging 93.2 pitches in his 11 starts, Severino only saw the seventh inning twice (Sept. 4 vs. Tampa Bay, 6 1/3 innings and Oct. 3 at Baltimore, seven innings).
Severino turns 22 this month and seems game for the challenge, telling the New York Post last week that he is planning on reaching 200 innings. If he can, it would be a huge boost to a rotation otherwise pockmarked by uncertainty.
With all due respect to Derek Jeter, will the Yankees name a new captain, or have they done so already? It's always good to have a leader.
-- Anthony C., Olympia, Wash.
No, they haven't, and it may be a while before we see another. I don't sense any particular urgency on the part of ownership or management to hand that title out again. Girardi has spoken often about how he sees fractions of captaincy in his clubhouse, where different players command respect among the starting pitchers, relievers, position players and the like.
It was that way even when Jeter was on the roster -- sure, he was the captain, but guys in the bullpen gravitated toward Mariano Rivera, or maybe took their cues from Jorge Posada's fiery personality. Girardi spoke last spring about having enough veteran presence and leadership in the clubhouse to make up for Jeter's departure. CC Sabathia, Brian McCann, Brett Gardner, Carlos Beltran and even Alex Rodriguez helped in that regard, to name a few.
Besides, while Jeter was obviously deserving of the honor and served the captaincy well, there were other factors at play. Remember the oddly-timed press conference to announce the decision in Cincinnati back in June 2003? That was widely viewed as George Steinbrenner sending a message about Joe Torre's control of the clubhouse. Hal Steinbrenner has yet to operate in such a manner.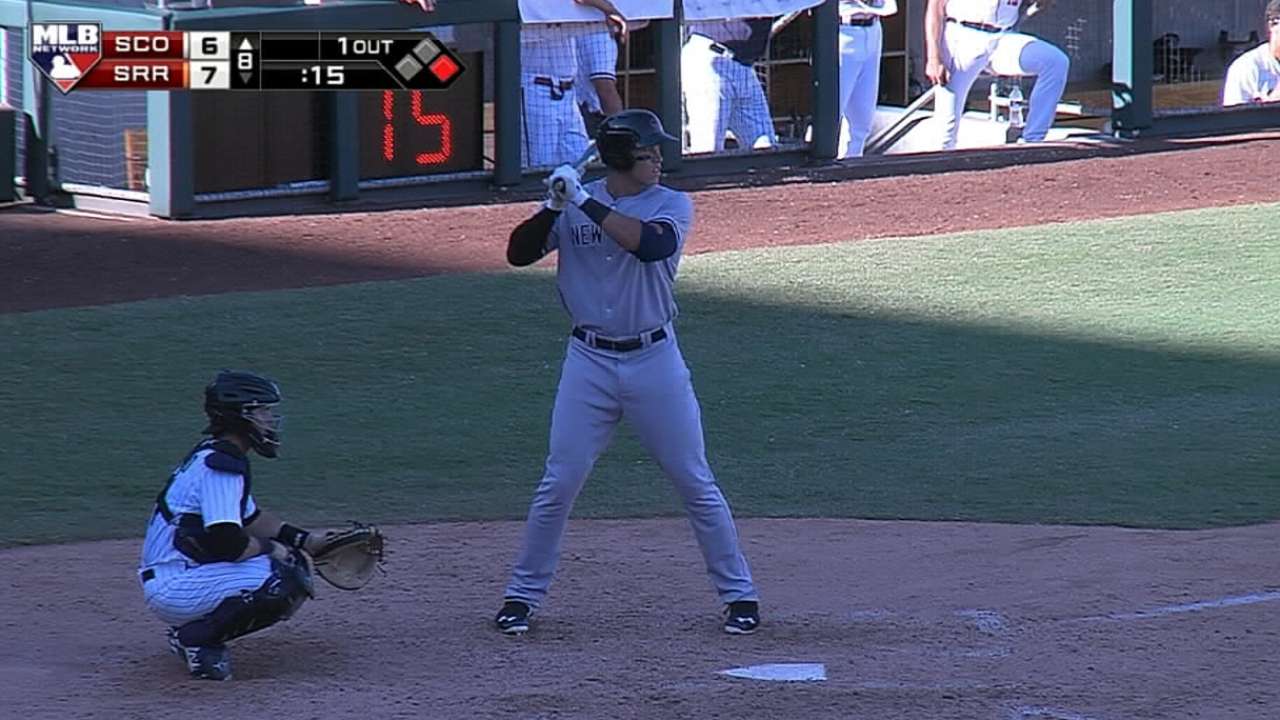 I get why Severino, Greg Bird and Aaron Judge are "untouchable" in terms of being trade chips, but given how well Didi Gregorius has settled in, do you feel that Jorge Mateo could be dangled?
-- Lee J., Liverpool, England
They're "untouchable" until they're not, as we learned last year at the non-waiver Trade Deadline. General manager Brian Cashman repeatedly stated that all four of those players were off limits, but when push came to shove and it looked like the Yankees had a chance to acquire Craig Kimbrel from the Padres, Mateo was on the table.
The deal obviously wasn't completed, but that was telling. Still, the Yankees continue to be extremely high on Mateo and look forward to his continuing development, as he should begin this year at Class A Tampa.
Have the Yankees thought of transitioning Starlin Castro to third base to take Chase Headley's spot at the end of his contract?
-- Michael D., McKinney, Texas
While the Yankees would like to give Castro a few reps at the hot corner, it's a bit early to be planning on replacements for Headley, who is signed for $39 million more through 2018. Headley's defensive issues, particularly his throwing, will have to be something that infield coach Joe Espada hammers down on this spring.
With his outfield experience, could we see Rob Refsnyder groomed to be a sort of super-utility player? Having a quality bat that can fill in for aging stars around the diamond could be very useful.
-- Timothy H., Bluefield, Va.
It makes sense to me, especially since the Yankees have talked about using their final roster spot as a revolving door of sorts, but Girardi said after the season that he could not see a scenario where Refsnyder returns to the outfield, because the Yankees believe his bat profiles better as a middle infielder.
That obviously creates a dilemma now that they are all-in on Starlin Castro at second base, and so their working plan is that Castro and Dustin Ackley will handle second base while Refsnyder plays every day at Triple-A. Keep in mind that things can change in a hurry during seven weeks of Spring Training, and they often do.
Bryan Hoch is a reporter for MLB.com. Follow him on Twitter @bryanhoch, on Facebook and read his MLBlog, Bombers Beat. This story was not subject to the approval of Major League Baseball or its clubs.