Brewers, D-backs strike 5-player deal
Trade of Segura could clear path for Arcia; Crew lands Anderson, two others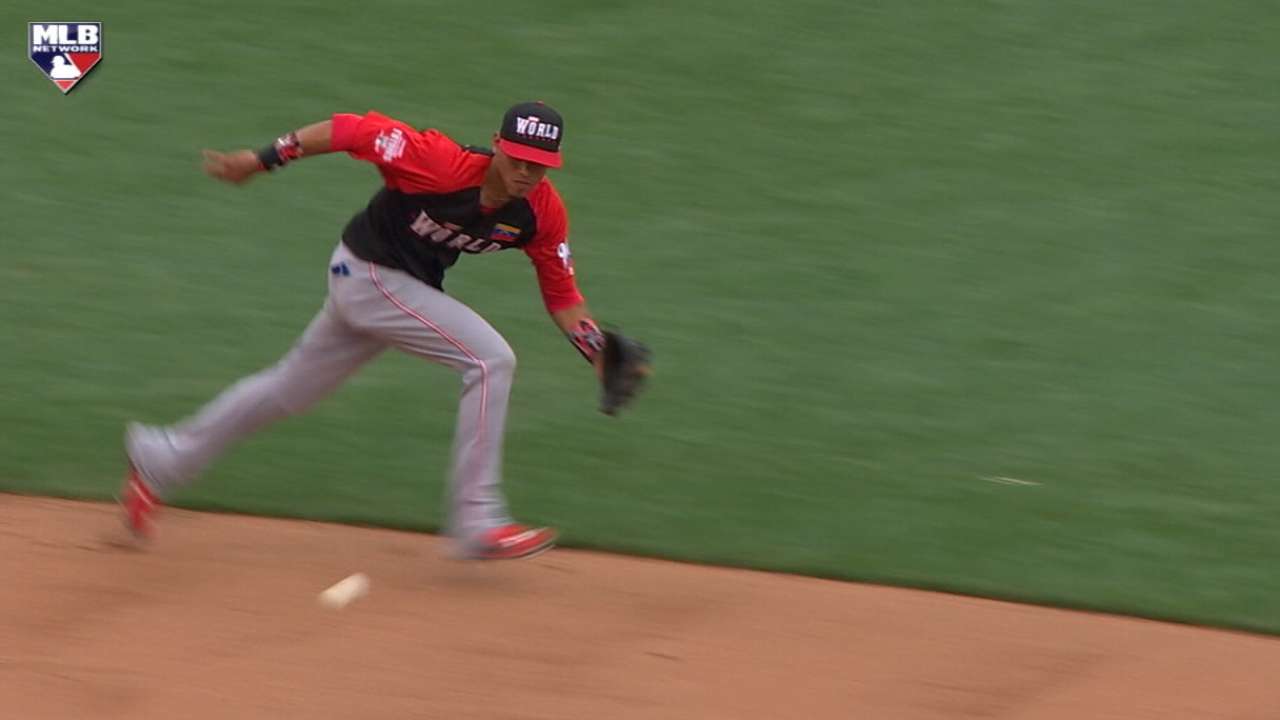 MILWAUKEE -- The Brewers and D-backs made a Saturday splash with a five-player trade that cleared a path to the Major Leagues for Milwaukee's top prospect.
Removing a roadblock for Orlando Arcia, Milwaukee sent shortstop Jean Segura, along with Southern League ERA champ Tyler Wagner, to Arizona for right-hander Chase Anderson, infielder Aaron Hill and Minor League shortstop Isan Diaz. The Brewers also received cash in the deal to cover some of the $12 million due to Hill in the final season of the veteran's three-year contract.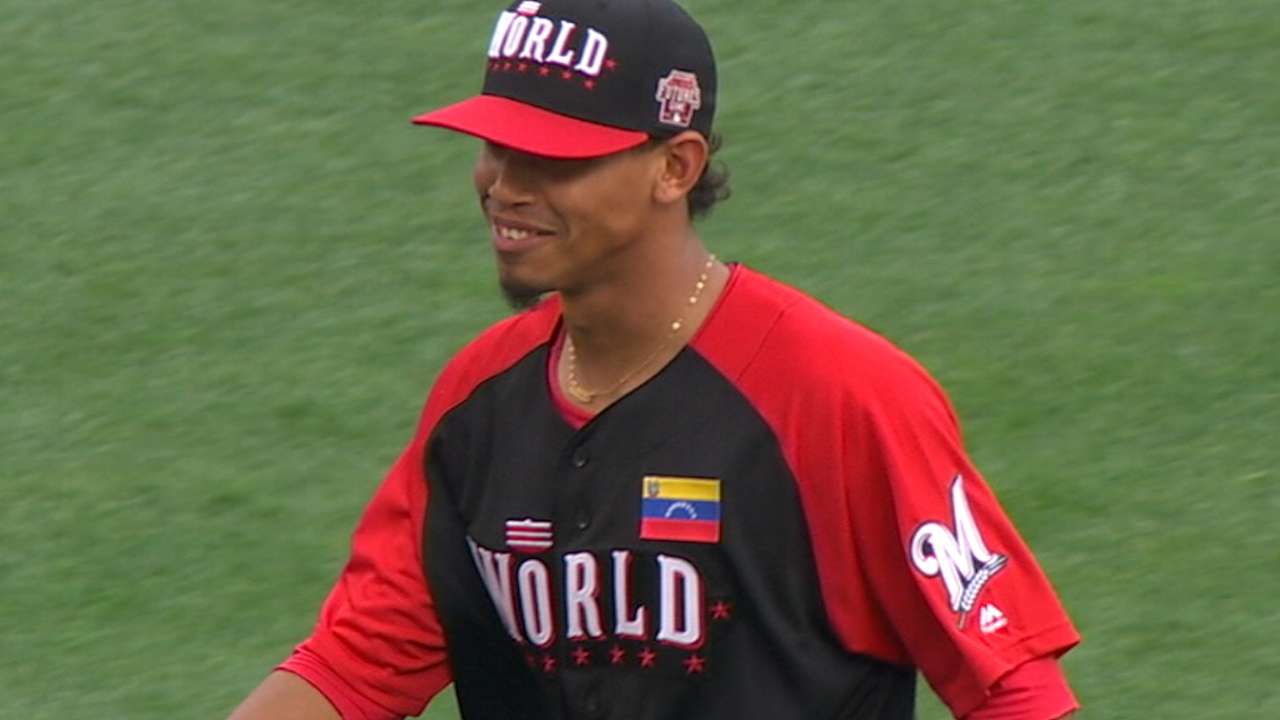 In the short term, Brewers general manager David Stearns added to the back end of his starting rotation with Anderson and to his infield depth with Hill, who figures to mix in at second and third base and could be trade bait at midseason. In the long term, Stearns stockpiled another highly regarded shortstop prospect -- Diaz, 19, was the Most Valuable Player of the Pioneer League last season -- while clearing a path to Miller Park for Arcia, who will begin 2016 in the Minors. Jonathan Villar, acquired from the Astros in an earlier trade, is the leading candidate to be the Brewers' Opening Day shortstop, Stearns suggested. He mentioned Yadiel Rivera as another option.
• Crew posts 5 prospects on '16 Top 100 list | Arcia No. 6
"We're going to send [Arcia] to Triple-A and allow him to continue his development," Stearns said. "Ultimately, as he continues to grow and mature as a player, his production and his continued development will dictate his timeline to the Major Leagues, rather than a move like this."
Segura came to the Brewers from the Angels as part of a July 2012 trade for Zack Greinke and broke out the following year by batting .325 in the first half and making the National League All-Star team. But Segura has done little at the plate since then, posting a .252/.285/.331 slash line over the past two seasons. He turns 26 on March 17 and has three more years of club control for Arizona.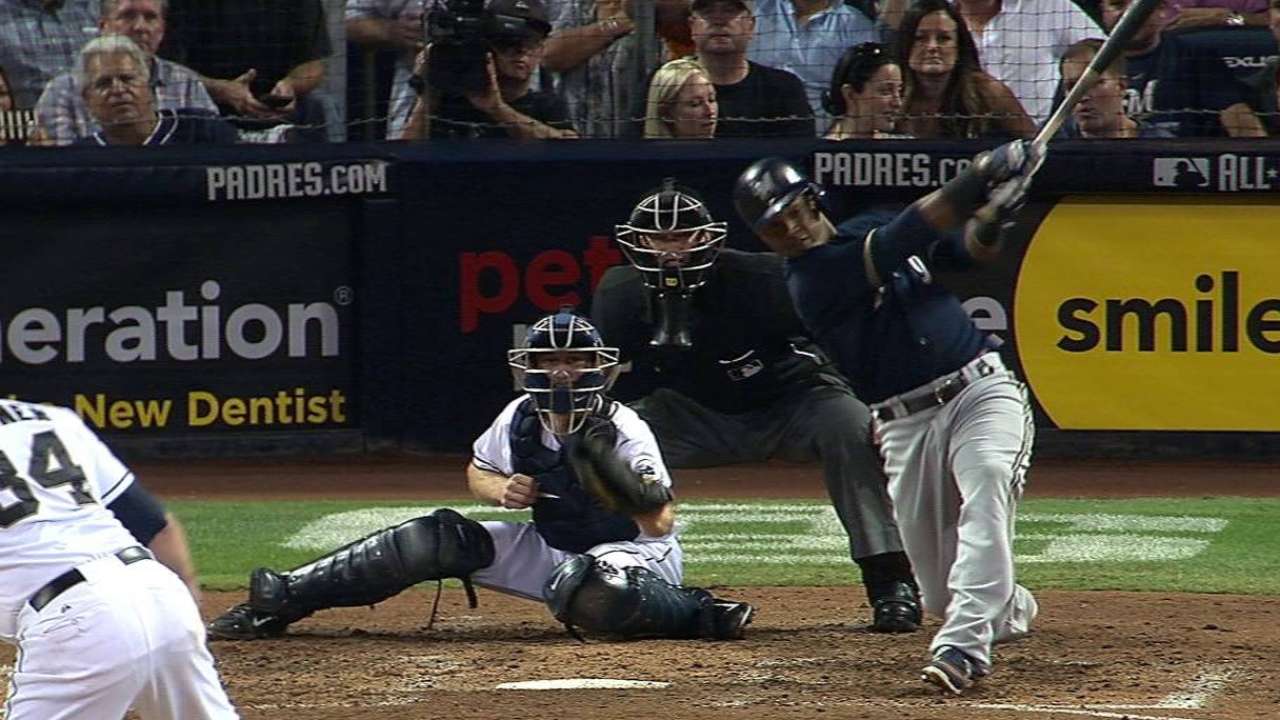 With Arcia coming off a breakthrough season at Double-A Biloxi, Segura became a prime trade chip for the Brewers' rookie general manager.
"This is actually a trade we've been working on for a long time," Stearns said. "[Arizona executive] Dave Stewart was one of the first general managers I spoke to when I got the position, about potential trades. We went through a number of different iterations and discussions with different players involved, and ultimately this concept picked up steam over the past week."
By trading Segura, Stearns continued Milwaukee's recent sell-off. Since July, the Brewers have traded away nine players in eight trades that fit the "players for prospects" model. In order, they are Aramis Ramirez, Carlos Gomez, Mike Fiers, Jonathan Broxton, Gerardo Parra, Francisco Rodriguez, Adam Lind, Jason Rogers and Segura. The team also traded Neal Cotts for financial flexibility in that span.
Anderson, 28, will slide into a Brewers starting rotation that also includes Wily Peralta, Jimmy Nelson, Taylor Jungmann and Matt Garza, with Jorge Lopez and Zach Davies also pushing for a spot in Spring Training. Anderson pitched in the Majors in each of the past two seasons, going 15-13 with a 4.18 ERA in 48 starts. He ranked 10th in NL Rookie of the Year Award balloting in 2014.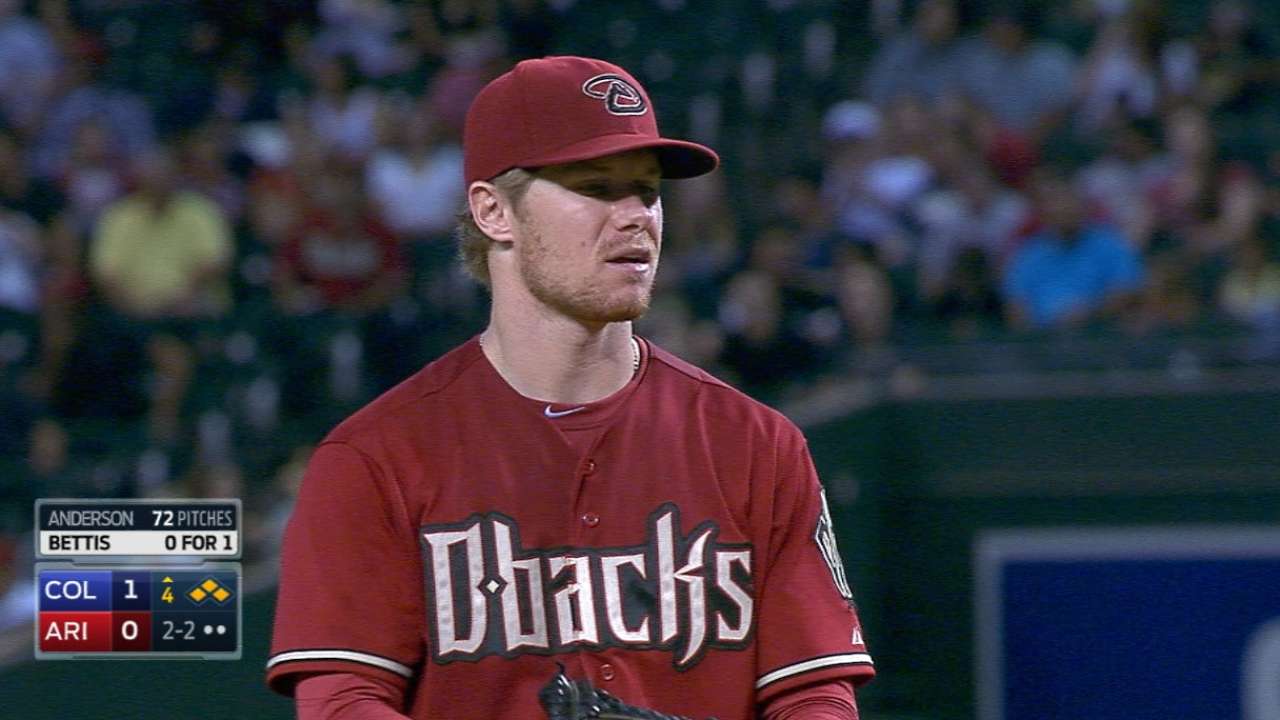 Hill will be 34 on March 21 and is entering his 12th big league season. He's a career .268/.323/.423 hitter for the Blue Jays and D-backs, and he split time between second base and third base last season. He is a career .429 (18-for-42) hitter at Miller Park with four home runs and 11 RBIs in 10 games. He hit for the cycle against the Brewers on June 29, 2012.
Both teams received Top 20 prospects in the trade; Wagner, 25, ranked No. 15 on MLBPipeline.com's list of the top Brewers prospects after he went 11-5 with a 2.25 ERA at Biloxi, and Diaz was No. 14 on Arizona's list after hitting .360 with a .436 on-base percentage, 13 home runs and 51 RBIs for Rookie-level Missoula.
"He's going to continue to develop as a shortstop," Stearns said. "We believe he can play there. We obviously have some depth in our organization at shortstop, which is a really good thing to have, and he adds to that. He's an impressive player. He has a very powerful, compact swing."
Fantasy spin | Fred Zinkie (@FredZinkieMLB)
This trade creates infield instability for both teams. In Milwaukee, Hill will likely become the club's third baseman, and Villar will keep the shortstop spot warm until skilled prospect Arcia is ready to make his big league debut. Ranked as Milwaukee's top prospect via MLB Pipeline, Arcia could impact mixed leagues with his plate skills and speed by the middle of the season. In the meantime, both Hill and Villar can help NL-only squads. In Arizona, the club will have to decide whether to use the speedy Segura or the slick-fielding Nick Ahmed at the shortstop position. The D-backs could also ask Segura to adjust to second base, which would push Chris Owings (.227 average in 2015) to a reserve role. Because of the uncertainty, Segura is a risky option for mixed-league squads.
On the mound, the picture is clearer. For the Brewers, Anderson will give the team a reliable starter in an unsettled rotation. The right-hander is unlikely to dent mixed-league lineups, but he can help NL-only owners. For the D-backs, Anderson's departure should ensure Robbie Ray a spot in the Opening Day rotation. Ray made strides last season by posting a 3.52 ERA and an 8.4 K/9 rate, and additional improvements could make him a mixed-league contributor.
Adam McCalvy is a reporter for MLB.com. Follow him on Twitter @AdamMcCalvy, like him on Facebook and listen to his podcast. This story was not subject to the approval of Major League Baseball or its clubs.