MLB Network to air BBWAA Awards tonight
MLB.com also to simulcast event held during Winter Storm Jonas in NY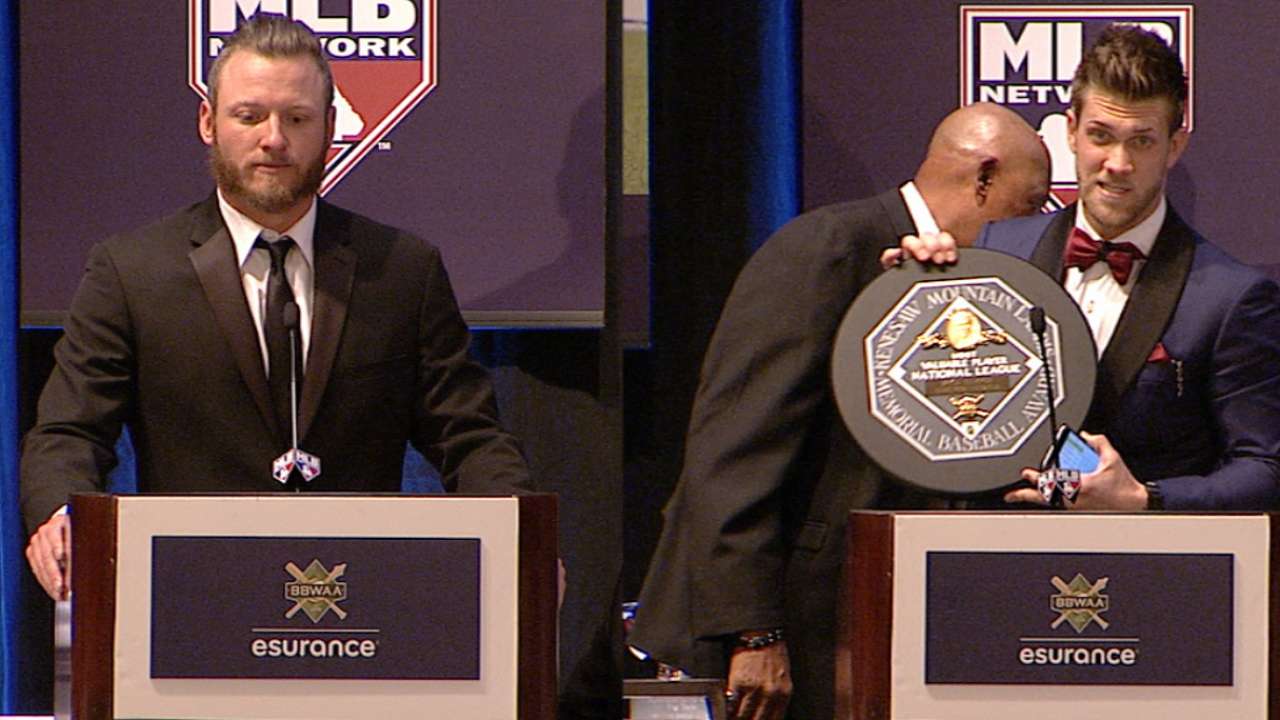 First come the prospects, and then come the proven.
After MLBPipeline.com reveals its top 50 prospects during a 9-10 p.m. ET show tonight on MLB Network, viewers should stay tuned because the following hour will be devoted to all the awards handed out during last weekend's historic Winter Storm Jonas in New York. The New York Baseball Writers' Association of America Celebration presented by Esurance will air at 10 p.m. ET and will be simulcast on MLB.com.
The one-hour telecast will honor the 2015 recipients of the BBWAA Awards -- Josh Donaldson, Bryce Harper, Dallas Keuchel, Jake Arrieta, Carlos Correa, Kris Bryant, Jeff Banister and Joe Maddon. Additional honors ranging from the Postseason MVP for Royals closer Wade Davis to a posthumous Yogi Berra tribute will be further reason to make it a Network doubleheader, where blue-chippers lead to black tie.
The annual BBWAA Awards Dinner had to be scaled back as the snow blanketed Manhattan, but it still offers a chance to relive the greatness that rose out of 2015, a last look back before Spring Training calls us again.
• MLB's best brave blizzard for BBWAA Awards presentation
Donaldson and Harper received their Most Valuable Player trophies at this event, and both gave passionate acceptance speeches. You might even get a glimpse of that special "MVP" jacket lining that Harper modeled during the evening.
"It's very special to be in this room, because it's not only great athletes, but there's a lot of great people here," said Donaldson, the Blue Jays' third baseman. "I think that's what's most important about this event and for us to be able to be here and receive this."
"I remember many nights as a young boy, sleeping with my bat and dreaming of being a great ballplayer for a long time," said Harper, the Nationals' right fielder. "One of those dreams came true. I play for a great team and great management, with many great fans."
Watch as Cy Young Awards are presented to Keuchel of the Astros and Arrieta of the Cubs. Their respective teammates, Correa and Bryant, were a dominating force when the top prospects were unveiled a year ago, and at the BBWAA event you can see why as they accept their Rookie of the Year Awards.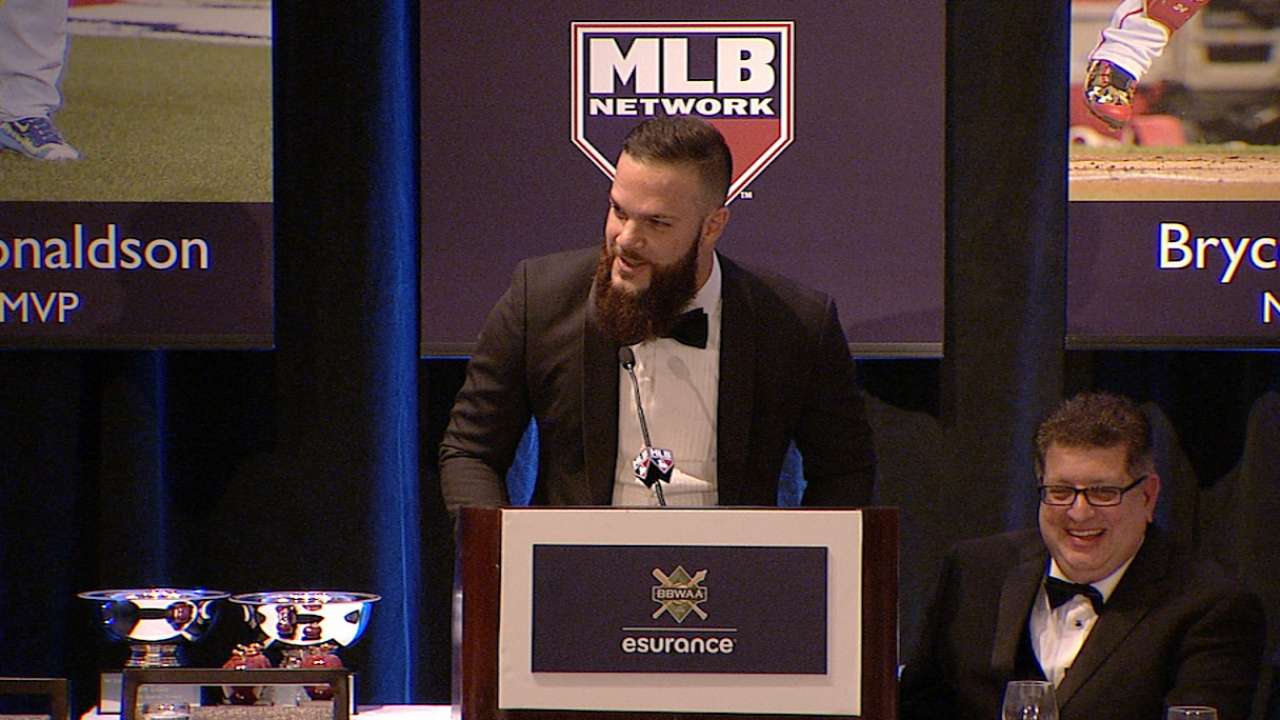 Banister earned the AL Manager of the Year Award by leading the Rangers to the AL West crown, and Maddon gave the Cubs three major award winners by receiving the NL trophy. Neither manager was able to make it to New York because of the snowstorm, but you'll want to watch as both are feted for their own unique styles and successes.
Here are the other awards you will see presented:
William J. Slocum-Jack Lang Long and Meritorious Service Award: LaTroy Hawkins, Blue Jays
Willie, Mickey and the Duke Award: Former A's trio Tim Hudson, Mark Mulder, Barry Zito
Casey Stengel "You can look it up" Award: Tommy John
New York Player of the Year Award: Curtis Granderson, Mets
You Gotta Have Heart Award: Marcus Stroman, Blue Jays
Babe Ruth Award for Postseason MVP: Davis, Royals
Epstein/Castellano Good Guy Award: Terry Collins, Mets
Joan Payson Award for Community Service: Berra (his family accepting)
Joe DiMaggio "Toast of the Town" Award: The Mets' Jacob deGrom, Noah Syndergaard, Steven Matz and Matt Harvey
Mark Newman is enterprise editor of MLB.com. Read and join other baseball fans on his MLB.com community blog. This story was not subject to the approval of Major League Baseball or its clubs.