Inbox: How will White Sox fare in '16?
Beat reporter Scott Merkin answers fans' questions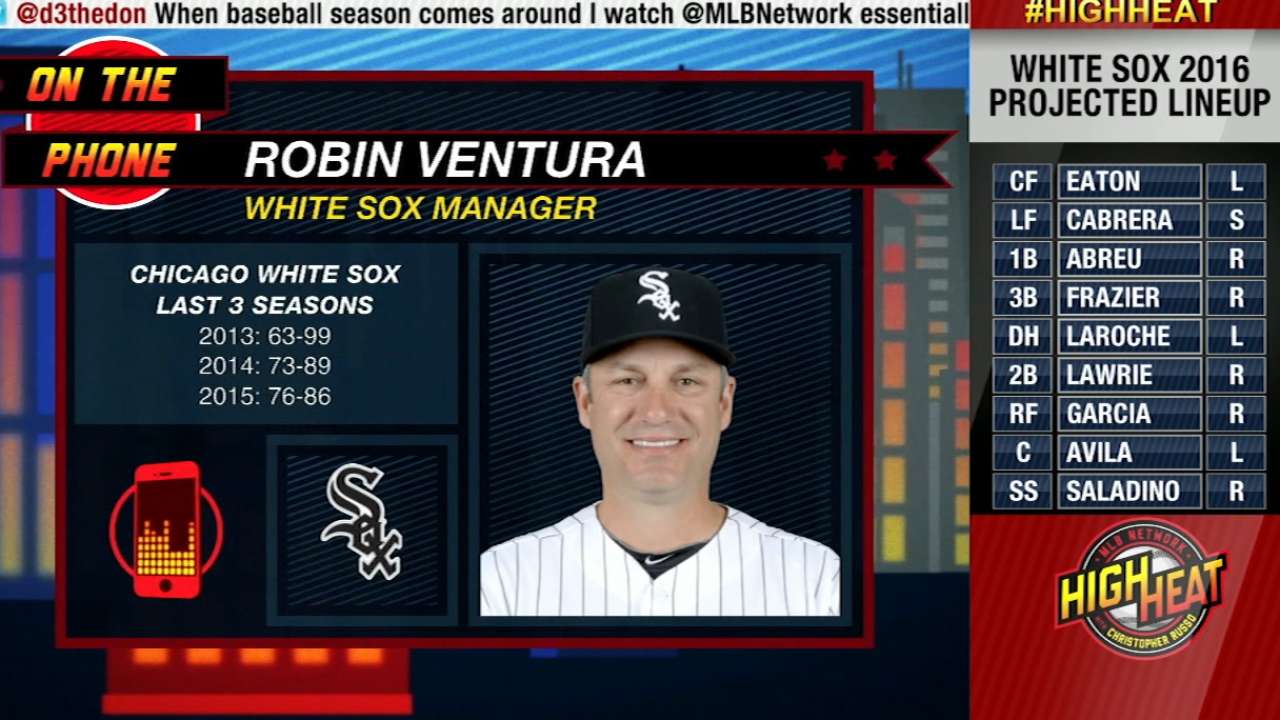 CHICAGO -- SoxFest has arrived, meaning just three weeks until pitchers and catchers report to Camelback Ranch. Hope to see a number of you at the Hilton Chicago this weekend.
Let's get right to your questions:
@scottmerkin Your prediction as to where the CWS finish in 16; I am thinking 4th place- 3rd if all goes well. Any Buerhle rumors?

— PCOLA SOX FAN (@giuffre_nick) January 26, 2016
I'm going to stick with what I said in one of our recent Podcasts. This team, as it's presently constructed, can contend for the postseason. They will need Adam LaRoche closer to his career norm, and Avisail Garcia to show growth in right. Very few teams will find themselves in good shape if two or three of its everyday starters underachieve.
• Submit a question to the White Sox Inbox
@scottmerkin is Ian Desmond a shot for SS on the south side? Was Kyle S on White Sox draft board last draft or was it pitching all the way?

— Scott J Kujat (@Scott_j_k) January 25, 2016
Desmond is probably not in play with the Draft pick compensation attached to his signing. Top prospect and future shortstop Tim Anderson is getting closer to the Majors, and the White Sox are seemingly willing to give Tyler Saladino and Carlos Sanchez a chance at the outset.
@scottmerkin since position players have not been produced from the system. Why not package Anderson to get an outfielder. No faith in Avi

— Bob Belke (@BobBelke) January 25, 2016
Your "no faith in Avi" judgement seems to be a common theme among White Sox fans. But mark my comments down now: If Garcia plays every day, he will be a positive surprise this season. Having only one full season at age 24, I believe he deserves the benefit of the doubt. His 1,098 plate appearances scattered over four seasons do not necessarily predict his future.
General manager Rick Hahn wants this team to be able to replenish from within. Unless the White Sox are obtaining an absolute game-changer, who is more than a one- or two-year rental, you don't give up the top player in the system.
The White Sox started out making moves to be competitive this offseason, but they have stalled in acquiring a slugging outfielder. Their half-measure changes appear to keep them from being in the hunt for the playoffs or the division title. With that said, when do you expect the White Sox to have a fire sale for the two-year open window that will never come to fruition?
-- Tom, Hoffman Estates, Ill.
I disagree on the White Sox not having a chance to contend. Look for Todd Frazier to be one of the more significant offseason moves made by any team. The front office has not spoken on any sort of complete rebuild, but the expectations are to win this season and if they have the same sort of struggles as the last three, changes could come quickly.
Why did the White Sox non-tender Tyler Flowers and not keep him as a backup for Chris Sale and Carlos Rodon?
-- Brad, Chicago
Keeping Flowers for those two starters in particular was discussed because he has such good rapport with them and had such good results as a battery. Ultimately, the move to non-tender Flowers allowed both sides to move in a direction they wanted.
@scottmerkin are you looking forward to your session at #SoxFest2016? Will there be Q&A with audience?

— Michealene (@msox12) January 26, 2016
It's going to be great to have the White Sox beat on stage, trying to give a little insight into what we do. With that said, I expect at least one question about Michigan football coach Jim Harbaugh.
Scott Merkin is a reporter for MLB.com. Read his blog, Merk's Works, follow him on Twitter @scottmerkin, on Facebook and listen to his podcast. This story was not subject to the approval of Major League Baseball or its clubs.