Mets hail Cespedes deal at BBWAA event
Honorees Granderson, deGrom, Matz happy to welcome back slugger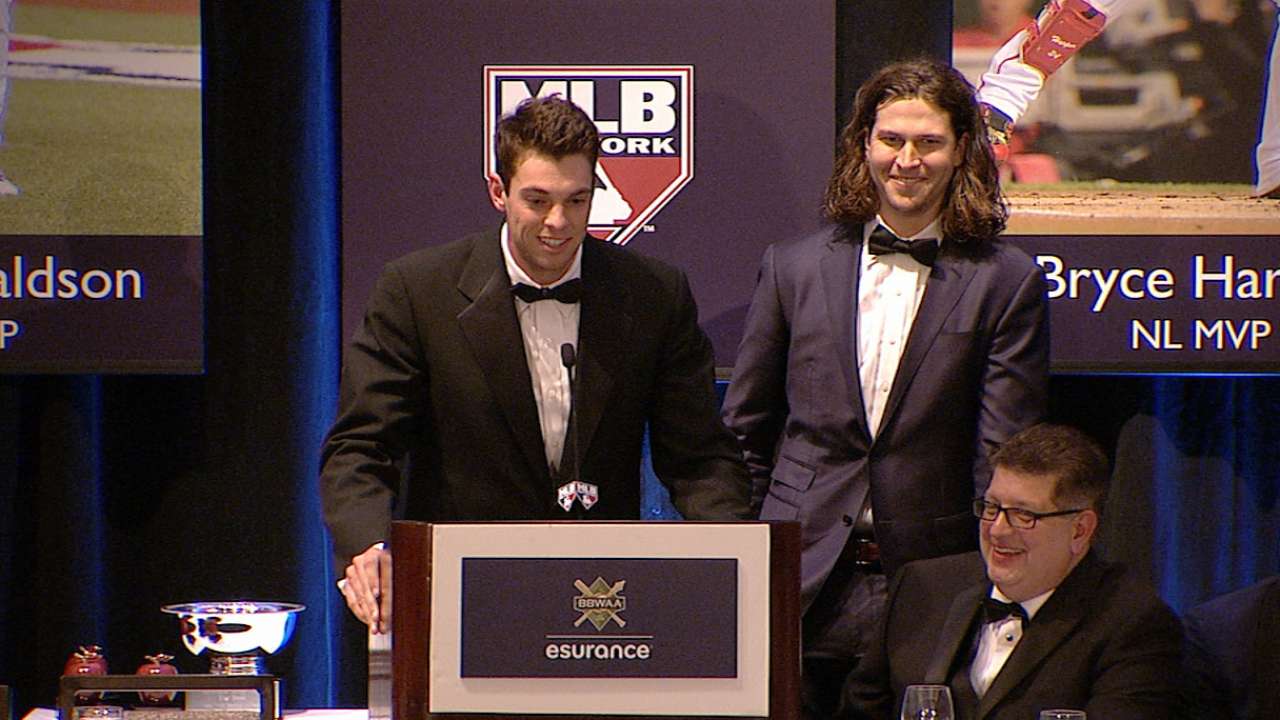 NEW YORK -- Mets fans are not the only ones excited that the club has reached an agreement with Yoenis Cespedes.
A few of the Mets players, who braved through the historic blizzard for the closed-door Baseball Writers' Association of America Awards presented by Esurance took some time to express their enthusiasm for Cespedes' return to New York on Saturday night.
"You hear him get an offer somewhere else, and it's a team you might have to play a lot, you don't really want to face a guy like that all the time," Jacob deGrom said, referencing the division-rival Nationals' run at Cespedes. "So we're definitely excited to have him back on our team. In the little bit of time we had him, he was impressive. So a full season is going to be a lot of fun."
• MLB's best brave blizzard for BBWAA Awards presentation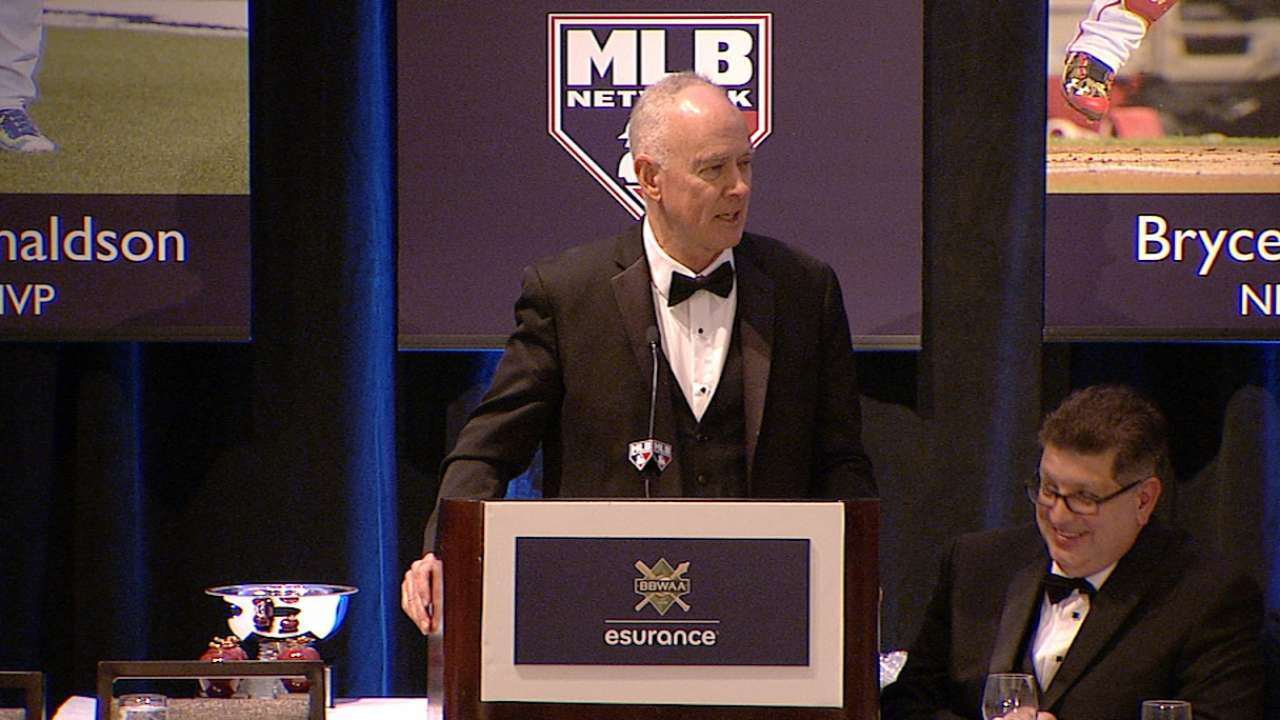 That full season comes after the two sides reached an agreement Friday night, which has not been confirmed by the club, reportedly for three years at $75 million with an opt-out after the first season. Cespedes' arrival sparked a revival that led the Mets to the World Series last season. In 57 games with New York, Cespedes hit .287 with 17 homers and a .942 OPS.
"We got a chance to experience him for 2 1/2 months last year and he did some amazing things for us," right fielder Curtis Granderson said. "I know the city is excited to have him back and even if he could do just half of what he did last year it would definitely be a very big thing for us."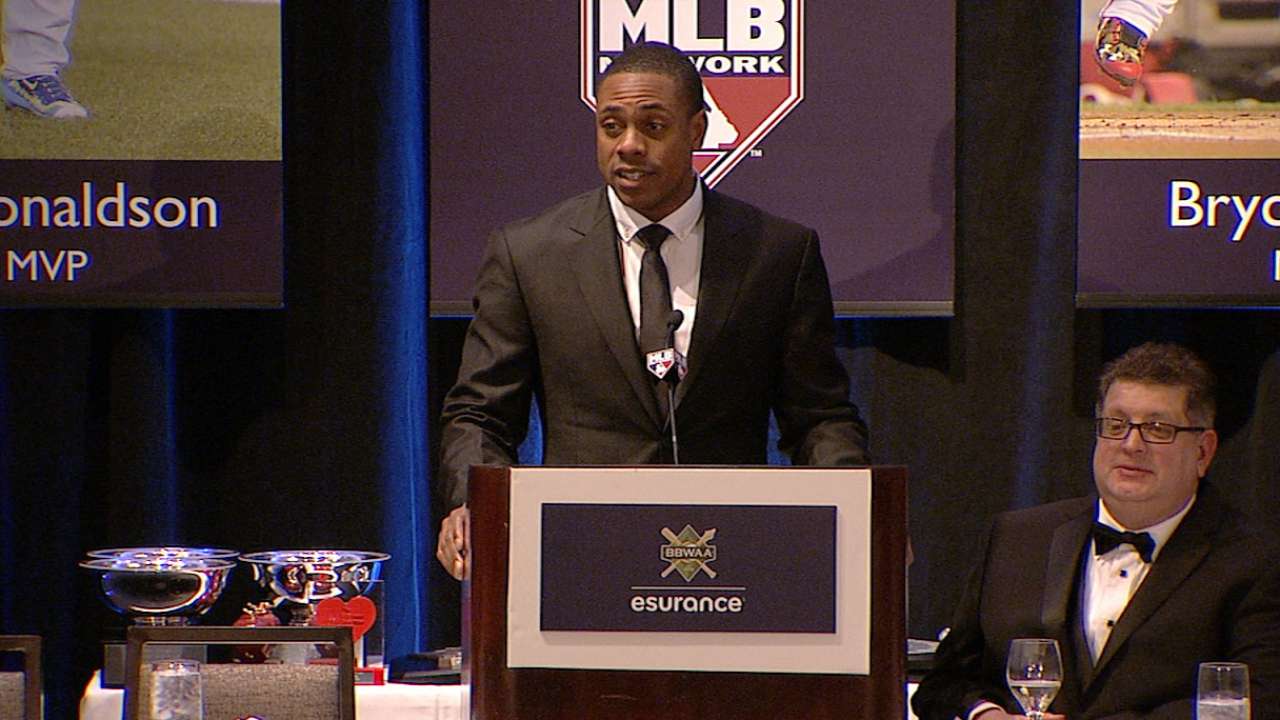 Granderson received the New York Player of the Year Award while deGrom and Steven Matz were on hand to accept the Toast of the Town Award on behalf of the Mets' core of young starting pitchers, including Noah Syndergaard and Matt Harvey. The awards were presented at the New York Midtown Hilton in a private ceremony for the honorees and their families, all of whom were dressed in their finest tuxes to celebrate baseball's brightest.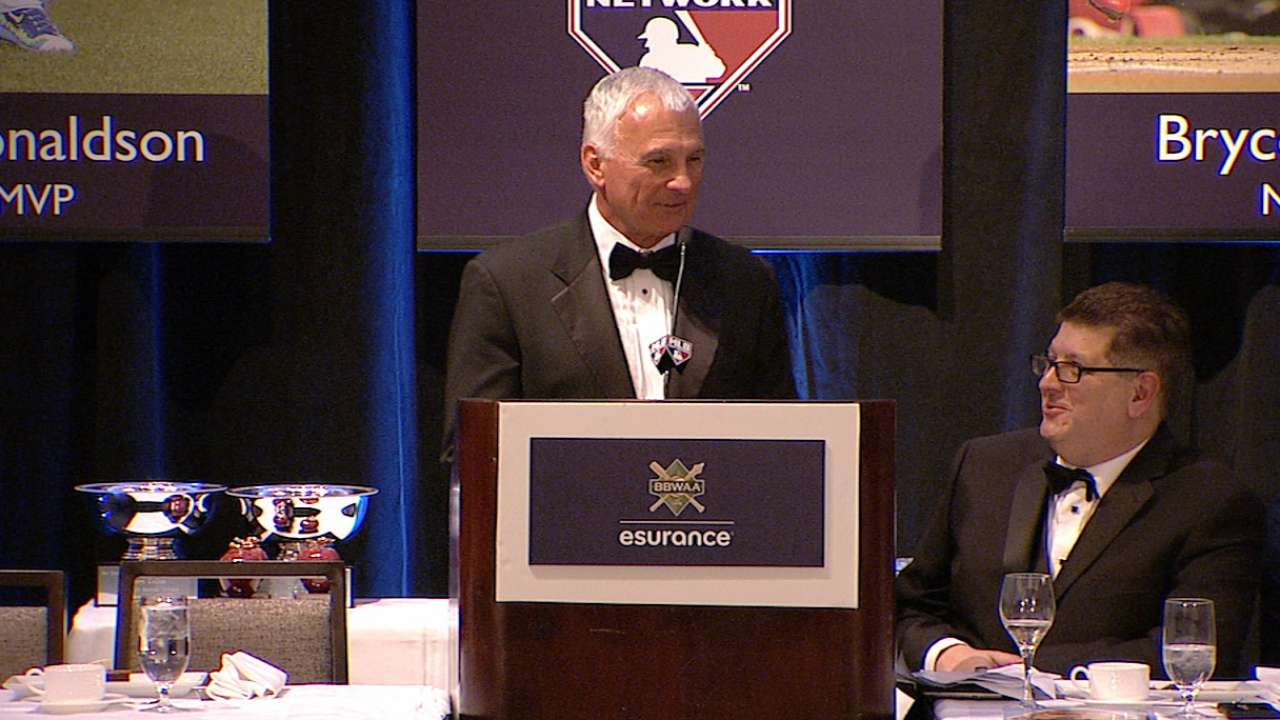 But Cespedes had been the talk of the town as his contract negotiations stalled into late in the offseason. Granderson joked that his friends keep him updated on all the latest rumors so he was aware that the Mets would have the opportunity to retain Cespedes.
"He was so clutch," Matz said. "I definitely think he's intimidating. He's a long-ball threat but at the same time he'll get the job done and hit the ball the other way. As a pitcher, I'd be intimidated."
Jamal Collier is a reporter for MLB.com. Follow him on Twitter at @jamalcollier. This story was not subject to the approval of Major League Baseball or its clubs.