Donaldson accepts AL MVP, credits teammates
'I was able to feed off them every day,' Blue Jays 3B says at BBWAA ceremony
In the eyes of Josh Donaldson, his blossoming Major League success can be traced back to one player in particular -- former A's and Giants pitcher Barry Zito.
"[I] looked up at the scoreboard in 2012, and he was hitting about 40 points higher than I was, and it made me realize I needed to change a few things," Donaldson said. "I've got to thank Barry for showing up that year and bringing the stick."
And with that nudge, Donaldson has since emerged as one of the game's elite players, earning the American League Most Valuable Player Award last season. The Toronto third baseman was among the Major League stars at the Baseball Writers' Association of America Awards presented by Esurance on Saturday receiving an award for a stellar 2015 campaign.
The trophy presentations were held at a private ceremony for players and families after the dinner had to be scaled down due to the severe weather on the East Coast. The event is scheduled to be broadcast Friday at 10 p.m. on MLB Network.
"It's very special to be in this room, because it's not only great athletes, but there's a lot of great people here," Donaldson said. "I think that's what's most important about this event and for us to be able to be here and receive this."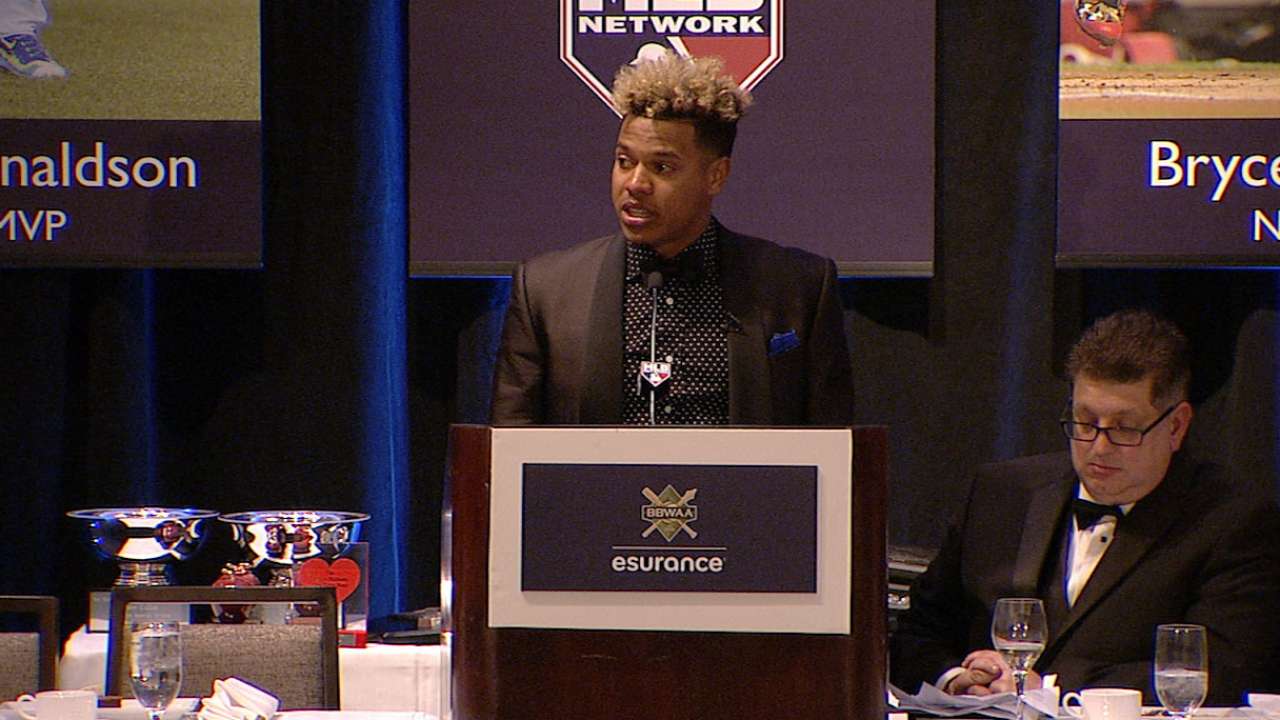 In his first season with the Blue Jays, Donaldson enjoyed a career year, batting .297 with 41 home runs and an MLB-high 123 RBIs. He set career-best marks for runs scored (122), hits (184), homers, RBIs, slugging percentage (.568) and OPS (.939). The 30-year-old became the second player in franchise history to take home the MVP award, joining George Bell, who won it in 1987.
MVP wasn't the only hardware Donaldson received, as he also won the Hank Aaron Award, earned a Silver Slugger Award and was named the Players Choice Most Outstanding Player.
Donaldson joined Toronto last offseason in a trade with Oakland, and became a crucial component to a Jays club that won its first AL East title in more than two decades. He helped his club to a 93-69 record in the regular season and the franchise's first playoff appearance since 1993.
"My teammates were probably the most important part of this," Donaldson said. "They fed off me every day, I was able to feed off them every day. One hundred and sixty-two games is a grueling season. To be a part of it with these guys, I really appreciated going through the grind."
Chad Thornburg is a reporter for MLB.com. This story was not subject to the approval of Major League Baseball or its clubs.