Winner time: All dressed up, snow place to go
MLB's best brave blizzard for BBWAA Awards presentation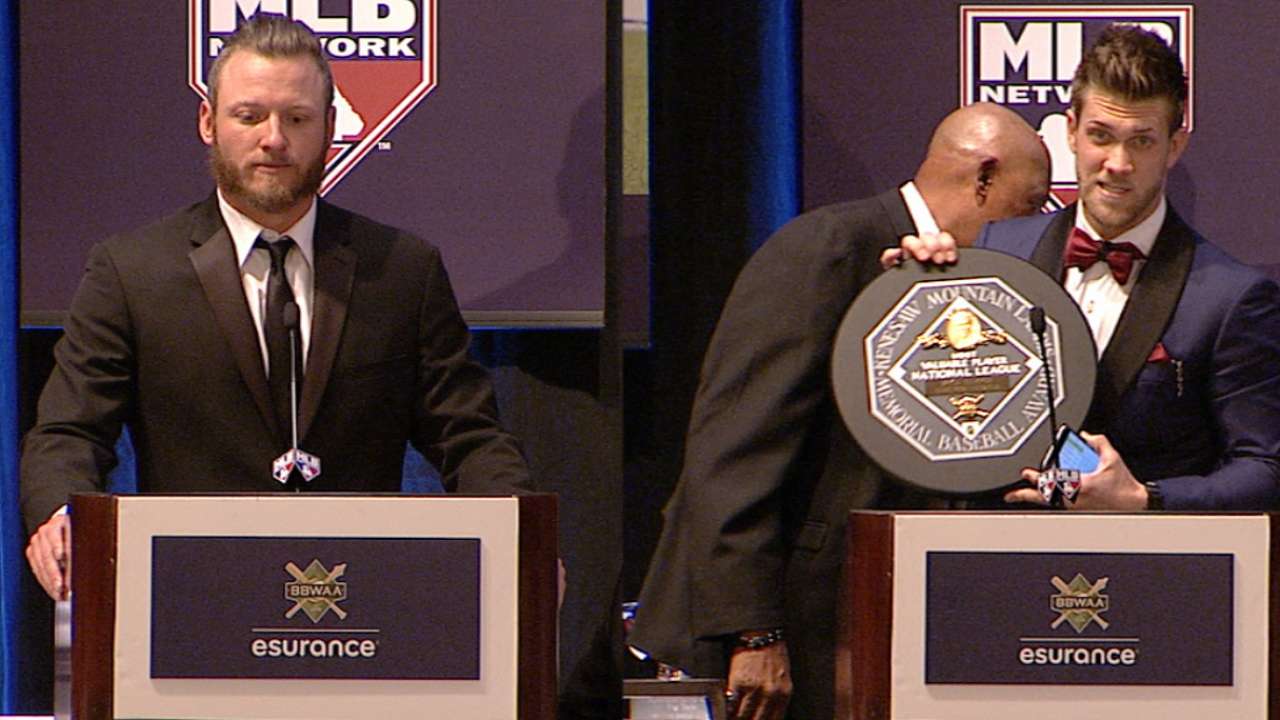 NEW YORK -- This weekend's historic blizzard forced Saturday night's Baseball Writers' Association of America Awards Dinner to be scaled down, but the biggest stars in baseball certainly did not hold back. Many had already flown from across the country for the big night, and with speeches already written, tuxes packed and friends and family in town, some of MLB's marquee names celebrated dream-come-true honors -- just not in the manner they might have expected.
Winter Storm Jonas buried New York under nearly 28 inches of snow, and in the interest of safety and because of hotel staffing/food services issues brought on by a transportation shutdown, the BBWAA had to cancel the originally scheduled event that was open to the public. Instead, the awards were presented at the New York Midtown Hilton in a private ceremony for the honorees and their families, all of whom were dressed to the nines in a celebration of baseball's brightest.
The BBWAA festivities, presented by Esurance, were recorded and will air at 10 p.m. ET Friday on MLB Network.
"I've never seen anything like this," said Cubs third baseman Kris Bryant, who was born in Las Vegas, of the snow as he accepted the National League Rookie of the Year Award. "I'm enjoying it, although I'm sure you New Yorkers aren't."
Tuxedos and two feet of snow! #Snowzilla pic.twitter.com/TWO5p2HF7f

— Kris Bryant (@KrisBryant_23) January 24, 2016
Bryant was joined at the ceremony by Astros shortstop Carlos Correa, his American League Rookie of the Year counterpart, as well as AL Most Valuable Player Josh Donaldson of the Blue Jays, NL Most Valuable Player Bryce Harper of the Nationals, AL Cy Young Award winner Dallas Keuchel of the Astros, NL Cy Young Award winner Jake Arrieta of the Cubs and plenty of other bold-faced names.
• Bryant, Arrieta brave snow for BBWAA honors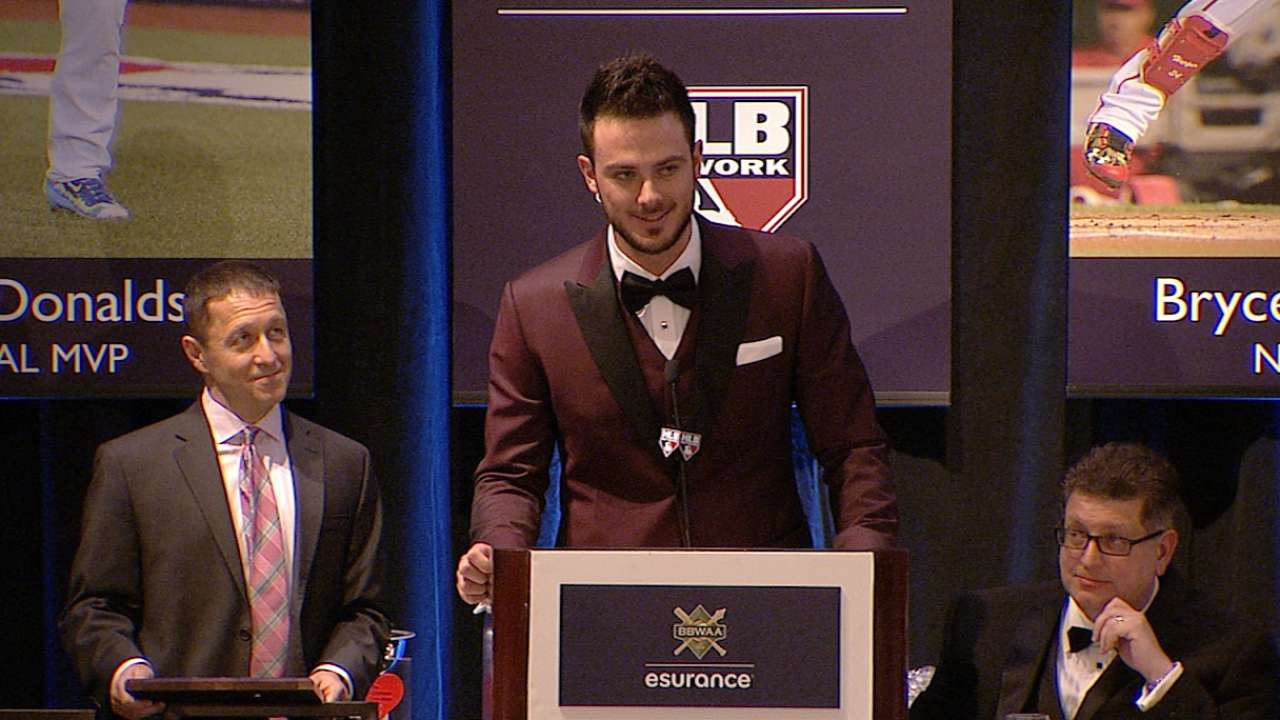 Like Bryant, Correa seemed to get a kick out of the weather, saying this was his first time seeing snow, and a video he posted on Twitter of him "playing" blizzard baseball on Saturday afternoon showed he was making the best of the situation.
Snow can't stop baseball❄️⚾️ #blizzard2016 #NYC pic.twitter.com/eivr7mgWfP

— Carlos Correa (@TeamCJCorrea) January 23, 2016
While accepting his award, Correa spoke of fellow Puerto Rican and Hall of Famer Roberto Clemente, whom he called his "idol for life."
"Nothing would make me more proud than eventually wearing No. 21 on Roberto Clemente Day in my Astros uniform," he said. "For me, that will be something really special."
• Perfect storm: Astros receive BBWAA honors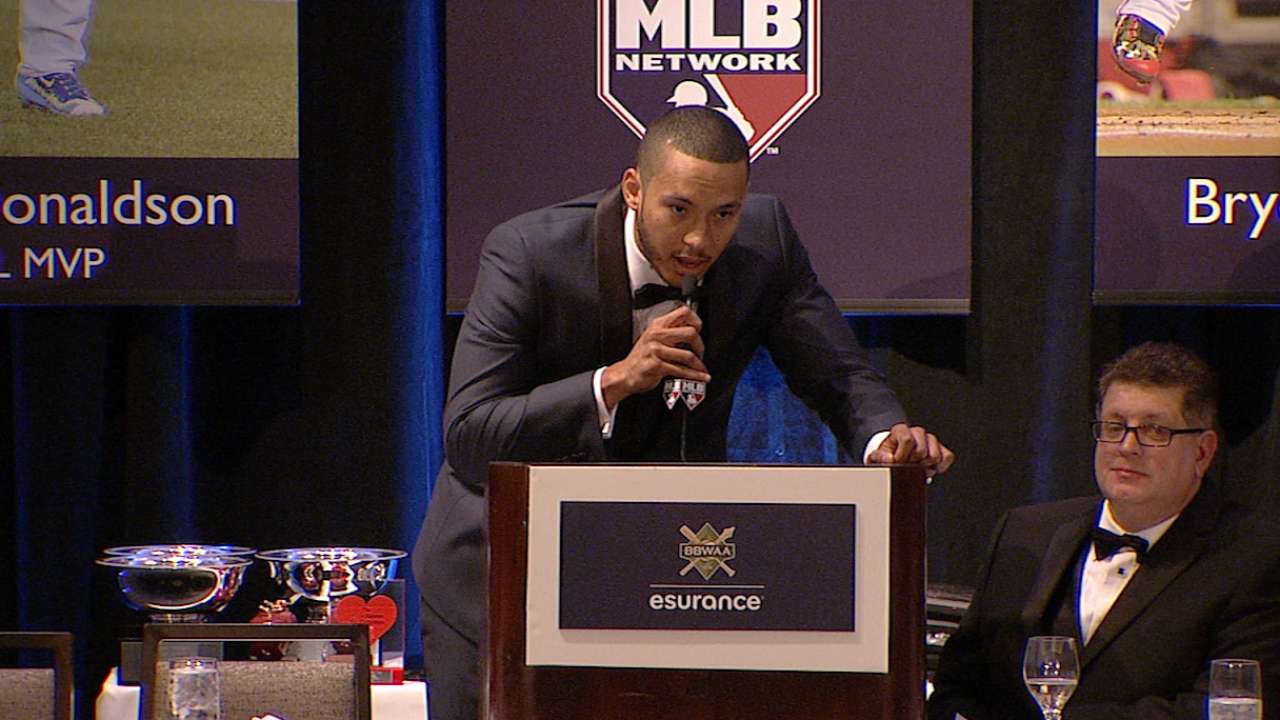 Harper also showed an emotional side, getting choked up talking about his parents, Ron and Sheri, while accepting the NL MVP Award, and he spoke about his journey to stardom.
"I remember many nights as a young boy, sleeping with my bat and dreaming of being a great ballplayer for a long time," Harper said. "One of those dreams came true. I was shocked that I was actually given this award unanimously. I am humbled to know that you all felt I deserve this award."
• Emotional Harper presented with MVP Award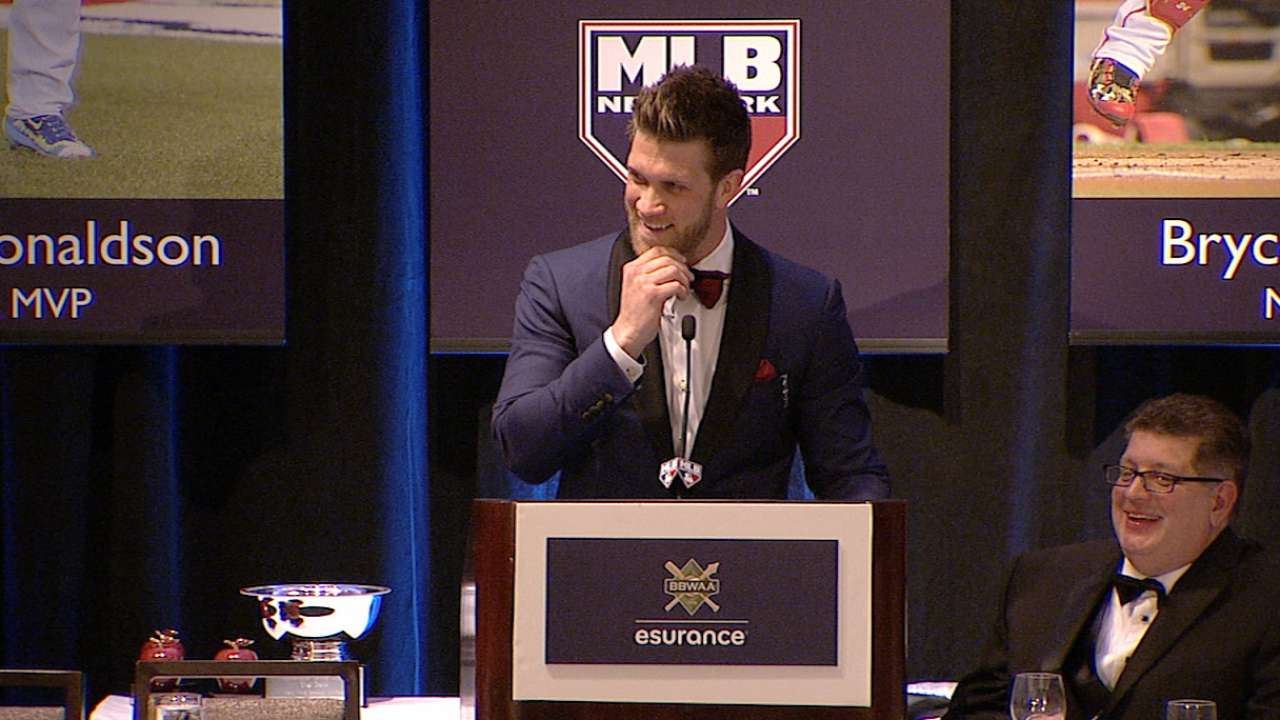 Harper and Correa weren't the only players to show emotion on the night. Blue Jays pitcher Marcus Stroman fought back tears while talking about his journey back from knee surgery as he accepted the You Gotta Have Heart Award.
• Donaldson accepts AL MVP, credits teammates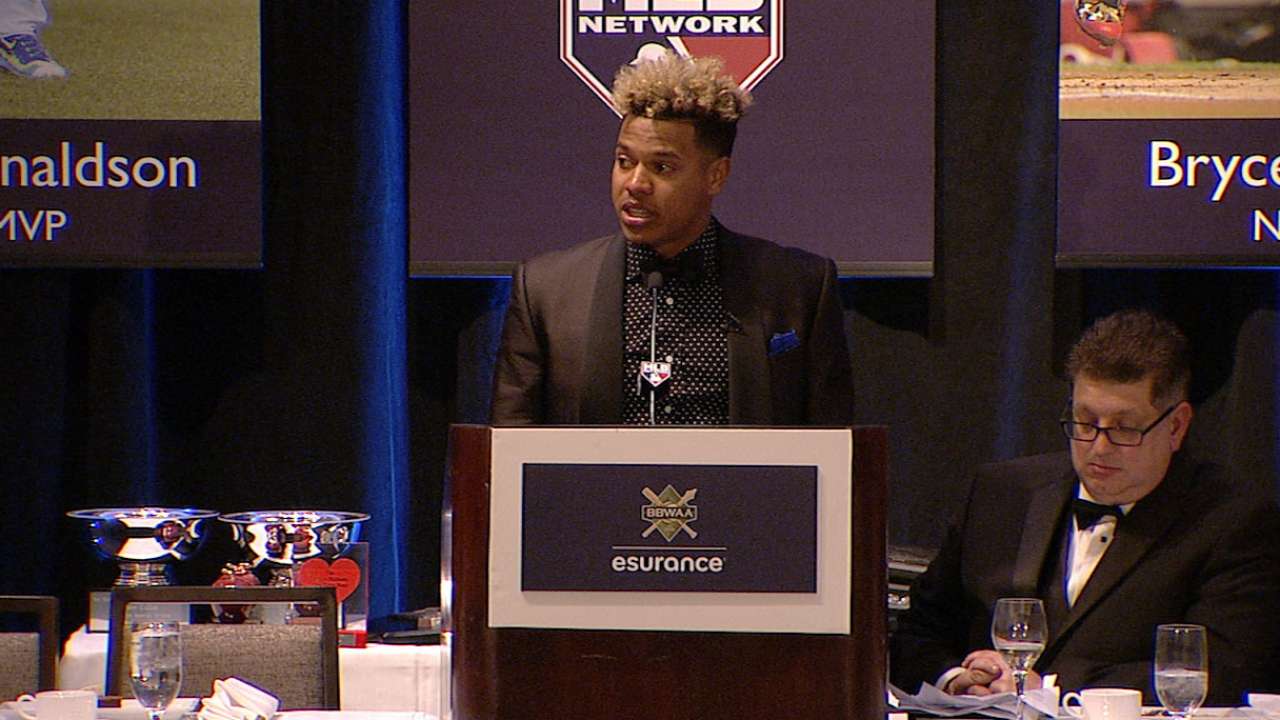 The night also had some lighter moments. In accepting the AL Cy Young Award, Keuchel took a moment to tip his cap to Arrieta.
"I was looking back when the season ended, I thought, 'Hey, I had a pretty good year,'" said Keuchel, who went 20-8 with a 2.48 ERA and 216 strikeouts. "Then I looked at Arrieta's numbers [22-6. 1.77 ERA, 236 K's] and thought, 'Wow, that's ridiculous.'"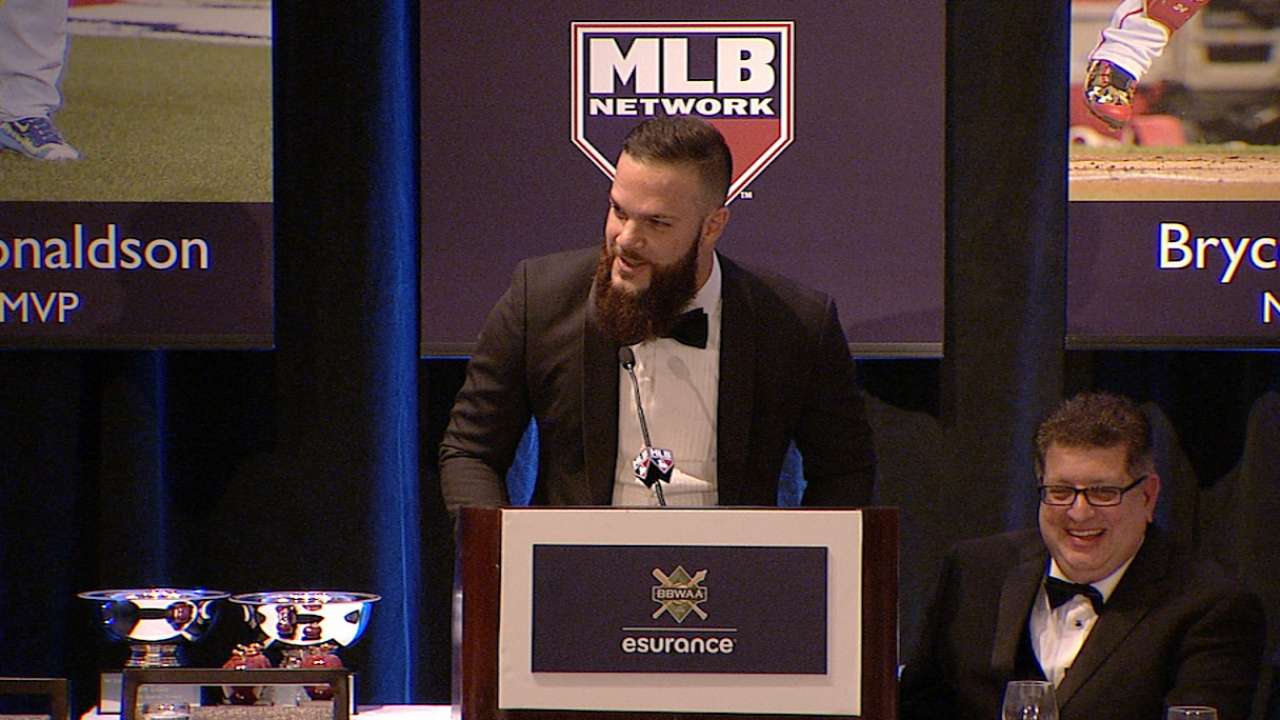 Sandy Alderson, the Mets' general manager, joked he has the option to opt-out of next year's BBWAA Dinner -- in reference to the clause in the contract of his newest free-agent signing, outfielder Yoenis Cespedes. Then he poked fun at Matt Harvey for his absence Saturday night, saying, "The flights from SoHo must have been canceled."
• Mets abuzz about Cespedes at BBWAA event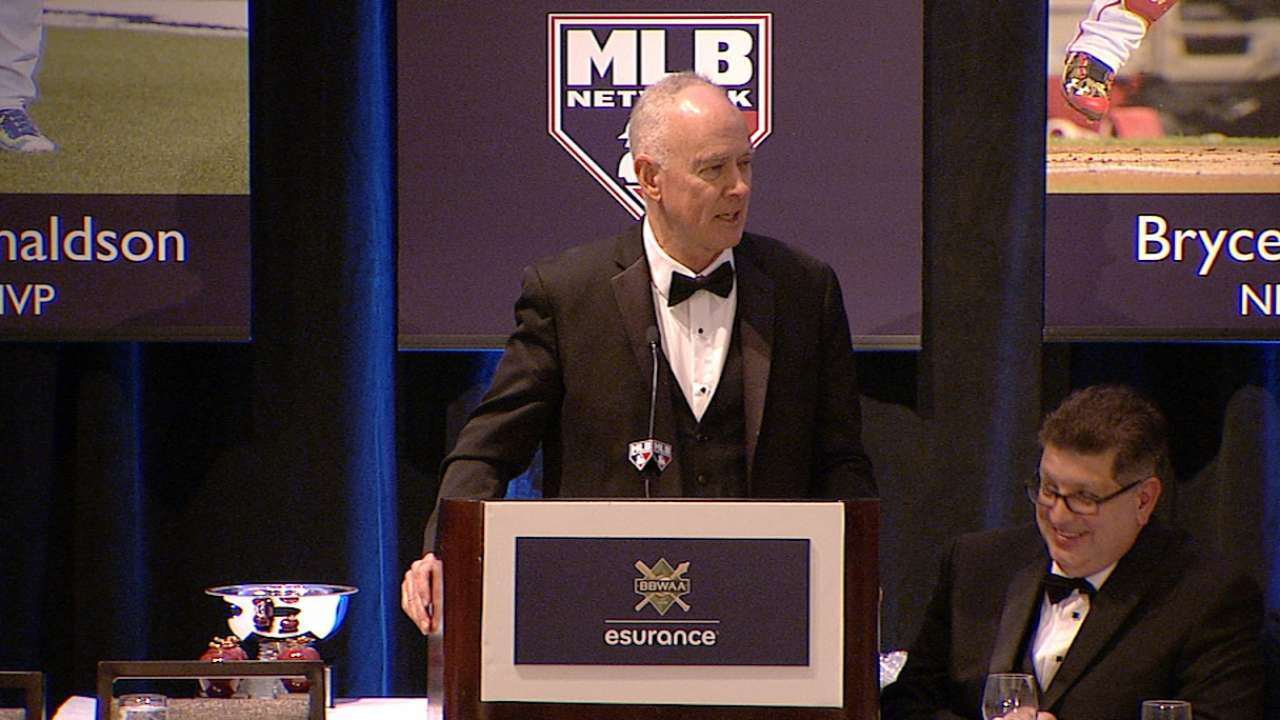 In addition, Yogi Berra was honored posthumously with the Joan Payson Award for his community service, presented by his friend and former Yankees left-hander Ron Guidry. And the dynamic former A's pitching trio of Barry Zito, Tim Hudson and Mark Mulder received the Willie, Mickey and the Duke Award.
Each of the players who were receiving major awards had already arrived in New York on Friday before the effects of the blizzard hit the city; however, neither Manager of the Year -- the Cubs' Joe Maddon nor the Rangers' Jeff Banister -- was able to make it.
Those in attendance certainly made the best of the challenging conditions -- Mets manager Terry Collins, who received the Epstein/Castellano Good Guy Award, arrived via subway -- but not everyone was embracing the winter wonderland.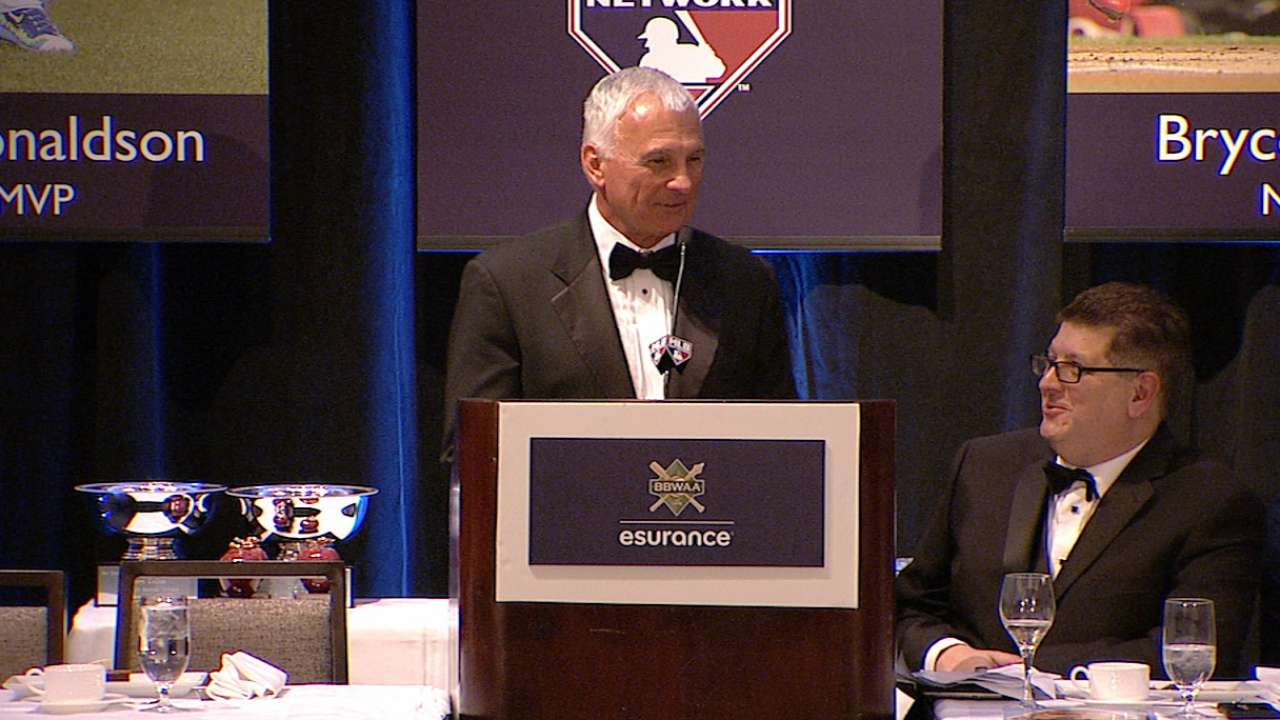 Blue Jays reliever LaTroy Hawkins, who won the William J. Slocum-Jack Lang Long and Meritorious Service Award, was honest in his playful assessment: "I hate the snow. That's why I've lived in Texas the last 15 years."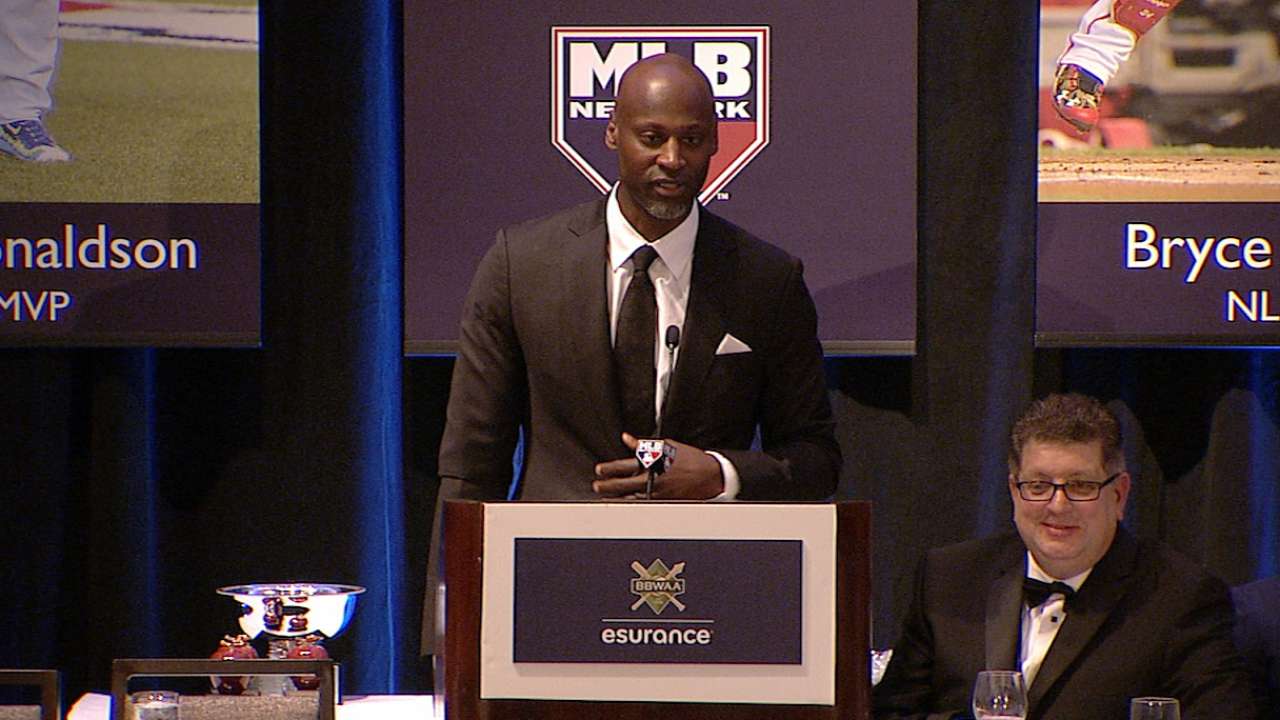 COMPLETE LIST OF BBWAA AWARD WINNERS
American League Most Valuable Player: Josh Donaldson, Blue Jays
National League Most Valuable Player: Bryce Harper, Nationals
American League Cy Young Award: Dallas Keuchel, Astros
National League Cy Young Award: Jake Arrieta, Cubs
American League Rookie of the Year: Carlos Correa, Astros
National League Rookie of the Year: Kris Bryant, Cubs
American League Manager of the Year: Jeff Banister, Rangers
National League Manager of the Year: Joe Maddon, Cubs
William J. Slocum-Jack Lang Long and Meritorious Service Award: LaTroy Hawkins, Blue Jays
Willie, Mickey and the Duke Award: Former A's trio Tim Hudson, Mark Mulder, Barry Zito
Casey Stengel "You can look it up" Award: Tommy John
New York Player of the Year Award: Curtis Granderson, Mets
You Gotta Have Heart Award: Marcus Stroman, Blue Jays
Babe Ruth Award for Postseason MVP: Wade Davis, Royals
Epstein/Castellano Good Guy Award: Terry Collins, Mets
Joan Payson Award for Community Service: Yogi Berra
Joe DiMaggio "Toast of the Town" Award: The Mets' Jacob deGrom, Noah Syndergaard, Steven Matz, Matt Harvey
Jamal Collier is a reporter for MLB.com. Follow him on Twitter at @jamalcollier. This story was not subject to the approval of Major League Baseball or its clubs.