Gibson encouraged by Tigers' moves, praises Upton
DETROIT -- Tigers fans welcomed Justin Upton to town with open arms on Saturday at TigerFest. Other new arrivals such as Jordan Zimmermann, Mike Pelfrey, Mark Lowe and Justin Wilson were greeted warmly as well. But the most welcomed sight at Comerica Park was the familiar face of Kirk Gibson, still energetic and smiling as he continues his battle with Parkinson's disease.
The former Tigers great joked with fans as he shared memories of 1984 with teammate Alan Trammell.
He related to the sudden wealth of high Draft picks by remembering his first three purchases after he signed with the Tigers: "A van, a waterbed and a stereo."
He looked forward to going up north right after TigerFest and snowmobiling with Trammell, like he has for years.
"I'm going to drive my machine about a thousand or so miles," Gibson said.
But as much as anything, he looked forward to the upcoming season and getting back to the ballpark. After doing a limited schedule of broadcasts as an analyst on FOX Sports Detroit while he dealt with his condition, he plans to work more this year.
"I did 30-some [games] last year, but I'm planning on doing more," Gibson said. "I've learned how to maintain a lot more [with] medication and a lot of physical therapy. I do a lot of movement stuff.
"People box, people do yoga, whatever. I'm just really active. I climb trees and I stay up there for hours. I do all kind of different movements. I just stay active and I do my therapy. So far, so good."
Gibson enjoyed his time around the team last season, and he said he's been encouraged by the offseason moves. That includes Upton, whom he coached and managed in Arizona during the early years of Upton's career.
General manager Al Avila said earlier this week he talked about Upton with Gibson and Trammell before forging ahead to sign the free agent to a six-year, $132.75 million contract. Though the D-backs traded Upton to Atlanta after six seasons, Upton and Gibson have expressed a mutual respect this week.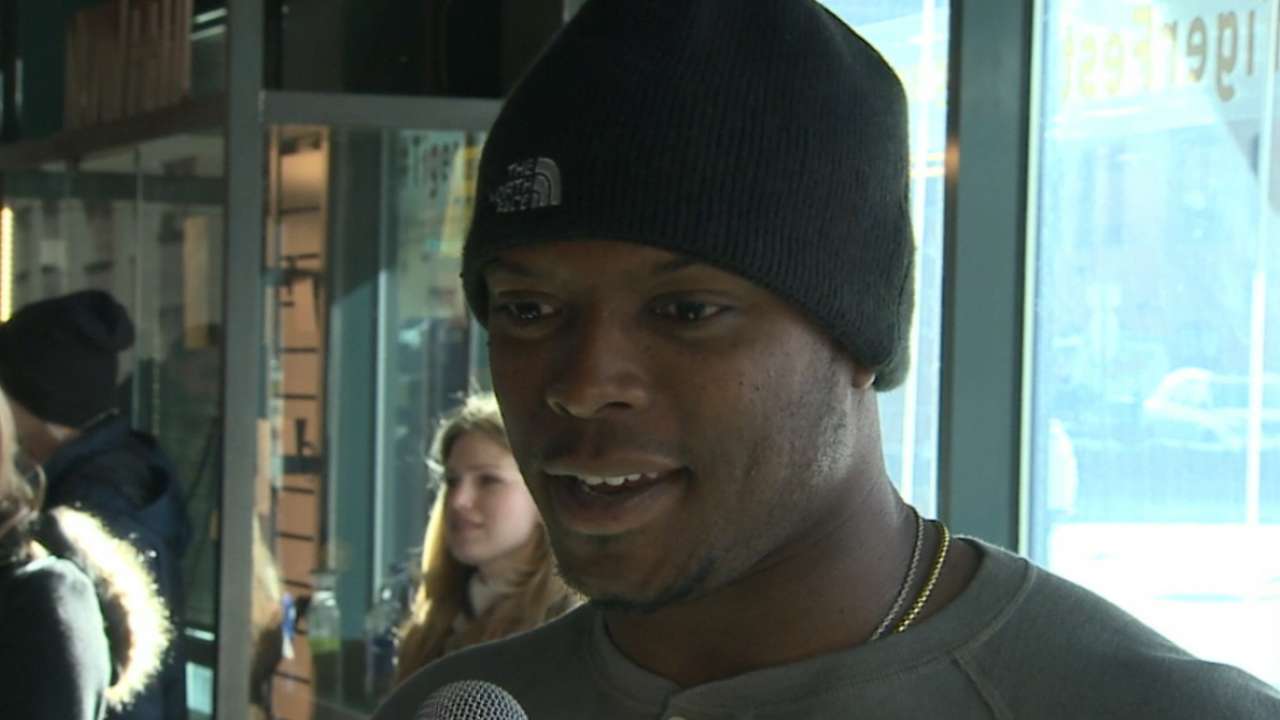 "He's extremely talented. He always has been," Gibson said. "He's learned to harness his ability much more. He understands how to handle the peaks and valleys. A lot of things that he had to learn were a lot of things that I had to learn. There was a big buildup, he was thrown into the fire, he did very well, experienced some success. …
"I was honored, and it was really cool, that I got to have J-Up. This kid, he's got a great personality. He laughs. But he's like me in that he hates to fail. He had to learn how to deal with that. My son's the same way. … He's going to fit in great with these guys. It's going to be a real good situation for him."
Jason Beck is a reporter for MLB.com. Read Beck's Blog, follow him on Twitter @beckjason and listen to his podcast. This story was not subject to the approval of Major League Baseball or its clubs.