Optimizing the Mets' OF alignment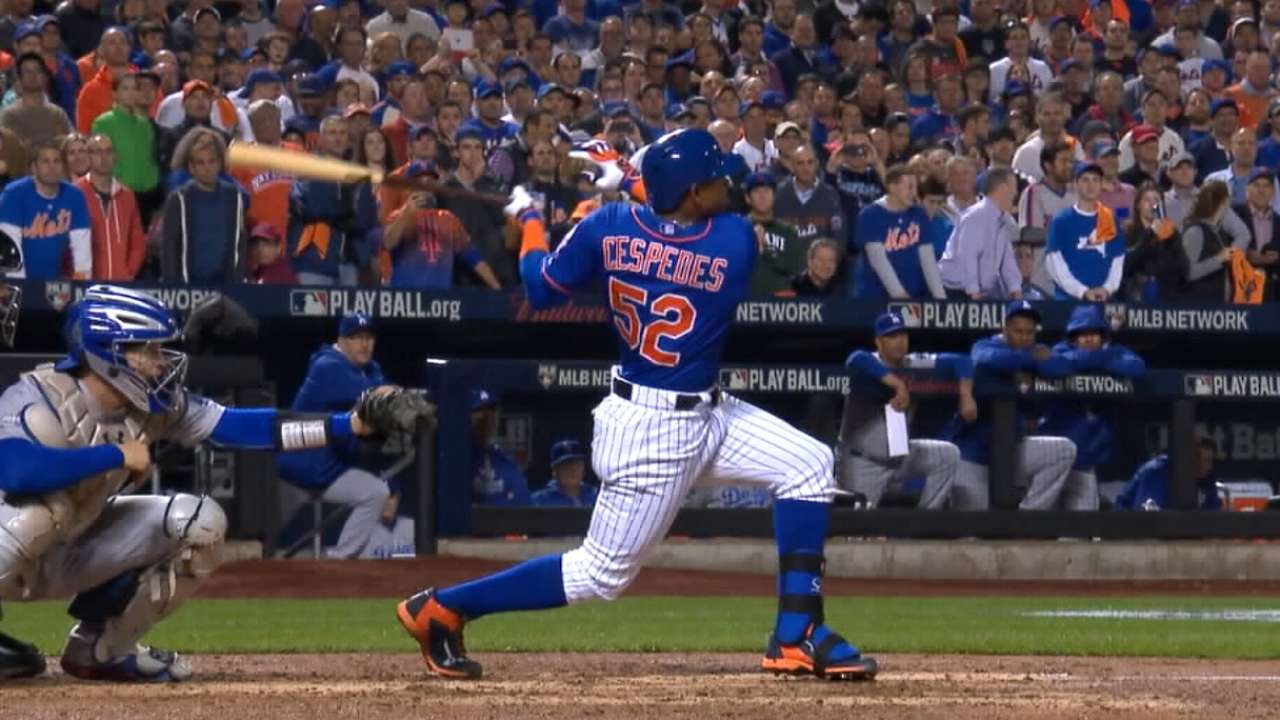 • Justice: Cespedes tips NL East scales in Mets' favor
But who gets to start when, exactly? Let's break that down:
Is Cespedes a viable option in center field?
In short, yes. His career numbers there aren't great -- he has a -12.6 ultimate zone rating in center in four seasons -- but he's acceptable. Plenty of teams deploy below-average center fielders, and Cespedes' bat will easily mask his deficiencies on defense.
But the Mets' conundrum arises from the fact that they also have a world-class center fielder in Lagares, who has amassed a UZR of 46.5 in just three seasons at the professional level -- and he's done so without regular playing time.
So how do the two compare? Take a look at the below chart, showing the starting point of each defender and the point at which they make the catch:
Clearly Lagares has the edge in range, but it may not be as pronounced an edge as you might think. In 2015, most of the extra range covered by Lagares came on balls that landed in front of Cespedes. Essentially, with Cespedes in center field, the Mets are going to allow a few extra singles -- which obviously aren't as harmful as extra-base hits.
But the defensive equation isn't as simple as Lagares minus Cespedes. Cespedes is going to play every day, whether in center or in left. And in left, he's a Gold Glover and one of the best defensive options in the game. Take a look at his range vs. Conforto's:
It's a huge range advantage for Cespedes, and that's probably to be expected.
But take a look at the comparison on balls with fewer than six seconds of hang time, where the outfielder was forced to reach a max speed of more than 15 mph (thus eliminating most lazy fly balls):
The difference isn't quite so pronounced, and Conforto holds his own. (Obviously, the sample size is small.) Still, it's obvious that Cespedes + Lagares is a better defensive option than Cespedes + Conforto. But the starting job will come down to a number of other factors, including...
What impact does the Mets' starting pitcher have?
The offensive luxury of a Conforto/Cespedes/Granderson outfield must first be weighed against the losses on defense.
But here's the thing about Mets -- their pitchers don't give up a whole lot of balls hit to the outfield. In fact, they don't allow many balls to be hit into the field of play at all.
Among pitchers with at least 150 innings in 2015, here's how the Mets' top three starters ranked in terms of strikeout rate:
Noah Syndergaard, 7th, 27.5 K%
Jacob deGrom, 8th, 27.3 K%
Matt Harvey, 17th, 24.9 K%
No other team in baseball had three starters rank in the top-17 in K-rate, and Steven Matz -- in an admittedly very small sample size -- finished at 22.8. This is a rotation that prides itself on its ability to miss bats.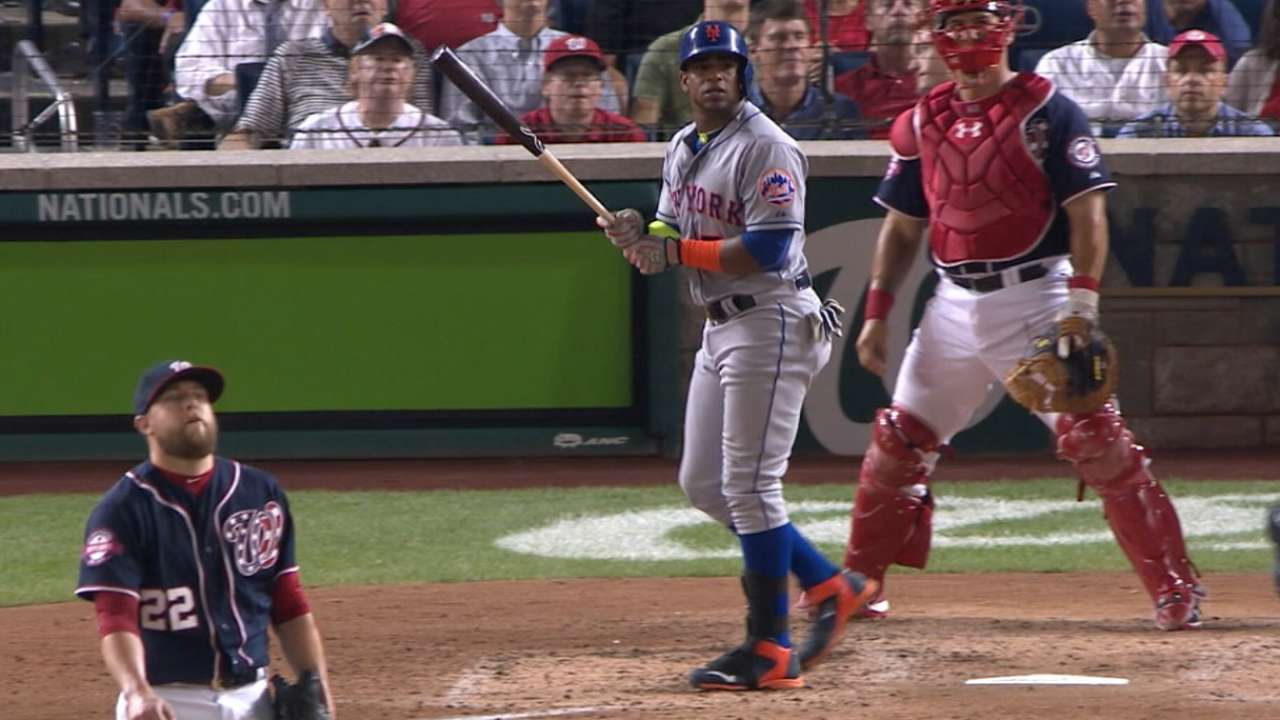 So what does that mean for the Mets' outfield situation. Well, when those three are pitching -- and possibly Matz, as well -- it's a good idea to cram as much offense into the lineup as possible, because the impact of outfield defense will probably be limited.
On the other hand, when Bartolo Colon -- 16.7 K% (74th out of 89 qualifying pitchers) and 36.9 fly-ball rate (23rd) -- is on the mound, it's probably a good idea to field a defense that can cover some ground in the outfield.
Who should start against left-handers?
Contrary to what many believe, the Mets' outfield situation isn't a simple offense/defense argument. As Mike Petriello noted last week, there are reasons to be optimistic about Lagares' bat entering 2016.
And while it clearly makes sense to sit Lagares against righties:
Vs. right-handed pitching in 2015
Cespedes: .310 average/.338 on-base percentage/.571 slugging percentage
Granderson: .280/.388/.504
Conforto: .275/.341/.531
Lagares: .253/.271/.328
It doesn't make any sense to sit him against lefites:
Vs. left-handed pitching in 2015
Lagares: .273/.333/.438
Cespedes: .223/.297/.439
Granderson: .183/.273/.286
Conforto: .214/.267/.214 (only 15 plate appearances)
There are plenty of left-handed hitters who fare very well against left-handed pitching. Granderson and Conforto do not. (Although, the Mets never really gave Conforto much of a chance against lefties in 2015. He actually held his own against southpaws in the Minors.)
In the same vein, the right-handed hitting Cespedes' splits are reversed, meaning he also hits better against right-handers (though the difference isn't quite so pronounced over his entire career). And in the infield, the Mets will start left-handed slugger Lucas Duda and switch-hitting second baseman Neil Walker -- a much-better hitter against righties.
The Mets can't afford to leave Lagares out of their starting lineup against left-handed pitching -- whether that comes at the expense of Granderson or Conforto. In those cases, his Gold Glove-caliber defense is simply an added bonus.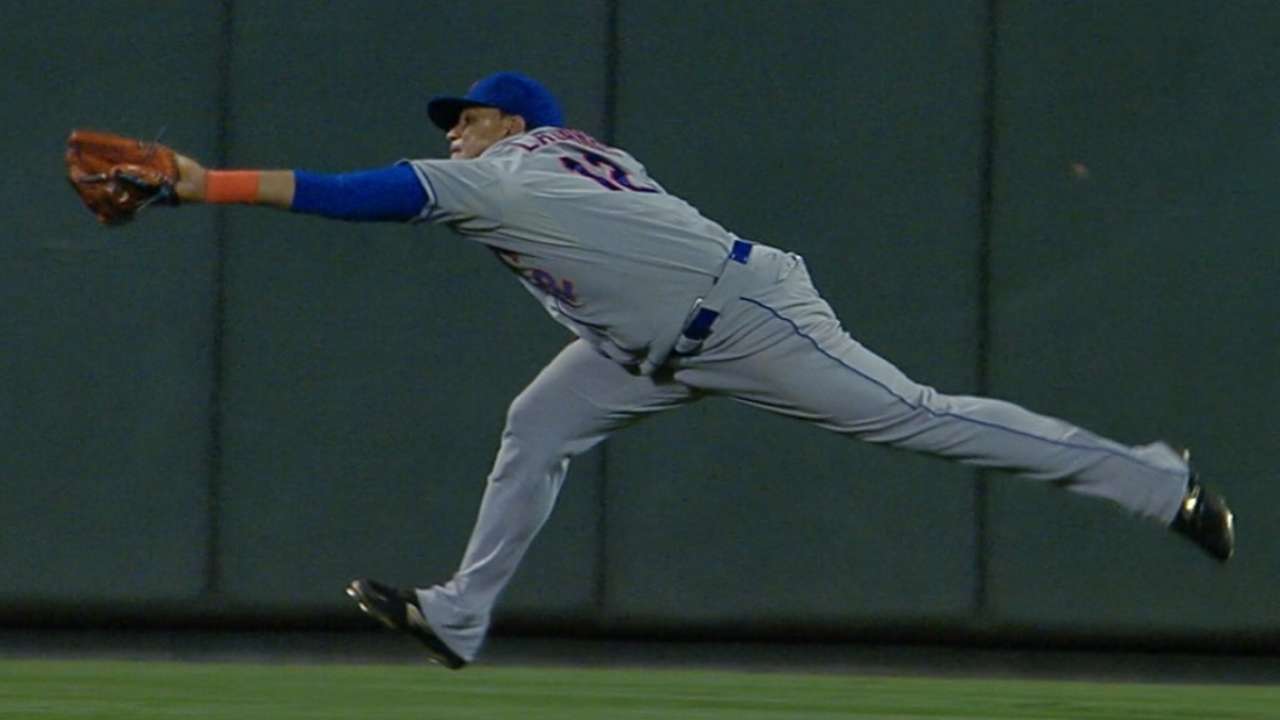 (An aside: When Granderson sits -- and at 35 years old, he's no longer equipped to play every day -- who starts in right? Neither Conforto nor Cespedes has ever played there, and Lagares -- who has some experience as a right fielder -- clearly has the most value in center.)
Lagares will get plenty of game action against left-handed pitching, and he's probably also the best option when the fly-ball-friendly Colon pitches. In other cases, it depends on the tendencies of the opponent. But as a baseline, the Conforto/Cespedes/Granderson trio should play just fine.
The good news for the Mets is that they now have an outfield for seemingly every possible game situation. It's simply up to Collins to deploy his players correctly.
AJ Cassavell is a reporter for MLB.com. Follow him on Twitter @ajcassavell . This story was not subject to the approval of Major League Baseball or its clubs.