Rangers will help Hamilton to 'manage' knee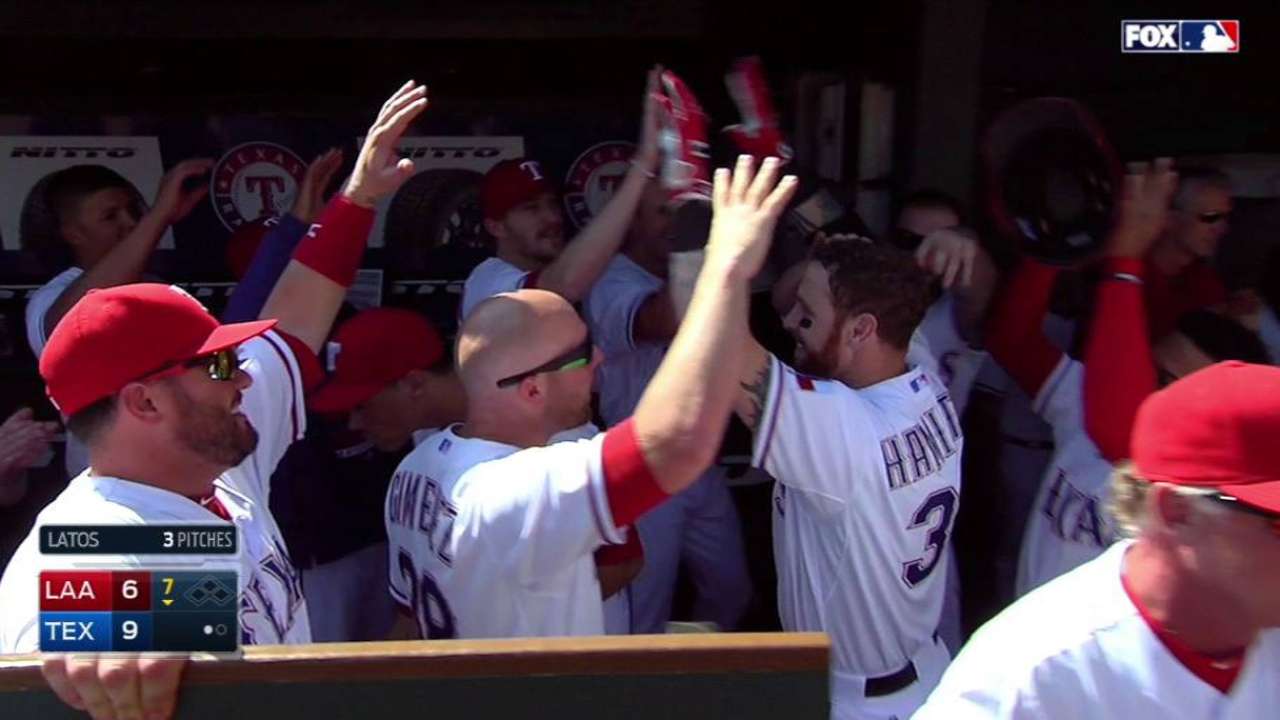 ARLINGTON -- General manager Jon Daniels said the Rangers will have to help outfielder Josh Hamilton "manage" his surgically-repaired left knee through the 2016 season.
Hamilton had surgery on the knee both on Sept. 11 and again in October after the season was over. His health was the first subject brought up to Daniels in a question and answer session with fans on Saturday morning at FanFest and again with the media afterwards.
Hamilton said he had been feeling pain for much of the past two months before getting a cortisone shot from Dr. Keith Meister on Thursday. The shot was meant to reduce inflammation in a capsule behind the knee, and Hamilton felt strong enough afterward that he started taking batting practice on Friday.
"I know, structurally speaking, Dr. Meister feels the knee is in as good of shape as it's been recently and as good of shape as it's going to be," Daniels said. "It's something we're going to have to manage.
"Listen, he had two surgeries in six weeks. He's 35-36 years old. He has had multiple knee surgeries on that knee in the past. He is a 240-pound man. It's additional stress when you're a bigger person on your lower half. It's just the reality.
"The way Keith described it to me is it's just an older, beat-up knee. There is nothing to fix. We're just going to have to manage it."
The Rangers went into the offseason looking for depth in left field behind Hamilton. Their primary acquisition was Justin Ruggiano, a right-handed hitter who could possibly form a platoon, but the Rangers also acquired James Jones, a left-handed hitter with speed, from the Mariners. Daniels said he is looking forward to seeing both in Spring Training.
Ryan Rua is also back. He was their Opening Day left fielder in 2015, but he suffered a fracture in his right heel the first week of the season and never really recovered. Third baseman Joey Gallo and outfielders Nomar Mazara and Lewis Brinson are all at Triple-A Round Rock but could be added to the mix if needed.
"I do look at left field as a spot where we have a number of guys who have talent that can help us," Daniels said. "It's going to be a matter of deciding what is the best way to utilize that group. Whether it's a platoon, a timeshare, whether we get guys healthy, get the young guys time. I think that will be a competitive spot."
Daniels said the Rangers may add more depth to the position before the offseason is over, but he doesn't expect to add any "big-ticket" players unless the price on some free agents goes down drastically.
For the most part, the Rangers are done acquiring players. On Monday, Daniels and others from the front office are headed for the annual week-long winter trip to the Dominican Republic.
The next big item on their agenda is getting deals done with their three unsigned arbitration-eligible players. Shawn Tolleson, Mitch Moreland and Jake Diekman all have hearings scheduled in February.
"I think they all should settle," Daniels said. "I don't think these are the type of cases you go to hearings. You work for the settlement but you prepare to go to a hearing."
There is also one other piece of business that might be addressed before Opening Day. Daniels was asked about it in the fans Q&A and his response got a big ovation.
It was about third baseman Adrian Beltre, who is in the last year of his contract.
"Our intention is to work something out to keep him here beyond that," Daniels said.
T.R. Sullivan is a reporter for MLB.com. Read his blog, Postcards from Elysian Fields, follow him on Twitter @Sullivan_Ranger and listen to his podcast. This story was not subject to the approval of Major League Baseball or its clubs.