Rehabbing Vazquez aims to show he's ready
Catcher coming back from Tommy John surgery; Red Sox using caution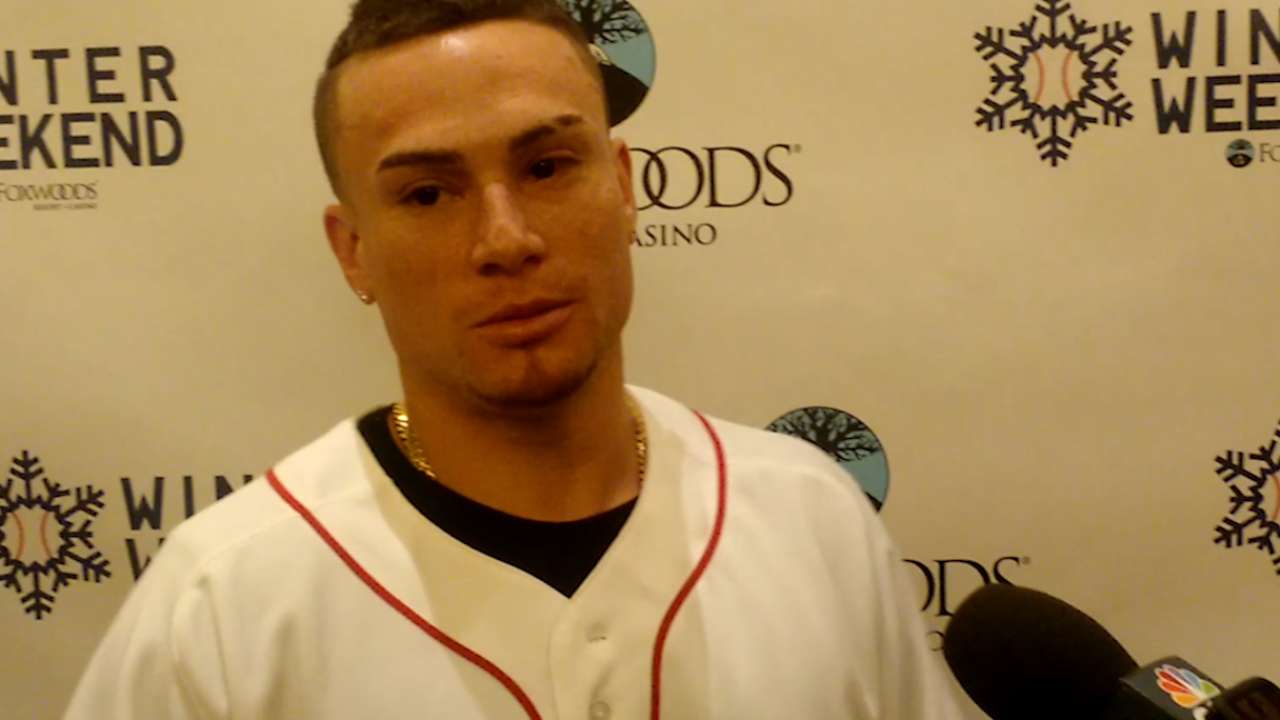 MASHANTUCKET, Conn. -- After missing the entire 2015 season due to Tommy John surgery, Red Sox catcher Christian Vazquez is not in the mood to ease into Spring Training.
Vazquez did take a break from his workouts to attend Red Sox Winter Weekend, but he'll be headed right back to JetBlue Park in Fort Myers, Fla., in a matter of days.
"Yeah, I'm in Fort Myers ready to roll," Vazquez said. "I'm up to 150 [feet throwing]. I threw two days ago. No pain. No setbacks. Nothing. I'm going to be ready 100 percent the [first] day of camp."
The Red Sox, however, seem more inclined to take things at a slower pace with Vazquez.
"Really, our timeframe has been that we are not having him throw completely until Spring Training opens," said Red Sox president of baseball operations Dave Dombrowski. "He is down right now in Fort Myers. He is throwing I think out to 150 feet on a consistent basis. He's been pain-free throughout the whole winter with the throwing program.
"But we really won't know until he gets down there, when you start throwing to the bases and start throwing hard, seeing how his arm responds at that point. All the indications from the doctors are that it should be fine. But right now it's only speculation until he gets down there and does it on a day-in, day-out basis."
At Friday's Town Hall event, manager John Farrell said that Blake Swihart currently projects as the team's No. 1 catcher, citing the uncertainty of Vazquez's comeback. Dombrowski echoed those thoughts on Saturday.
The Red Sox also have a trusted veteran backup in Ryan Hanigan, who is under contract for one more year. Could this lead to Vazquez opening the season at Triple-A?
"That's not my decision," Vazquez said. "I'm going to play hard. If I feel good, I'm going to play hard. They make the decision. I'll play where they put me. That's my goal."
Vazquez isn't worrying about things out of his control. Instead, he is embracing his return to health.
"Everybody gets nervous," said Vazquez. "It's a big surgery. The first time I threw a baseball after surgery I didn't feel pain, nothing. I feel great. Thank God. I'm working hard. My shoulder is more important now. My elbow is fixed. I'm working hard to get strong."
Not many catchers have had Tommy John surgery, but Vazquez did speak with Matt Wieters, who came back from that procedure last season.
"It's different because we don't throw breaking balls or anything. I talked to Wieters in Baltimore, and he told me, 'Take your time, don't rush,'" Vazquez said.
Vazquez clearly made the most of the situation, getting himself in better shape.
"Of course, I'm in the best shape of my life," Vazquez said. "I lost 25 pounds this season."
One year ago, Vazquez projected as Boston's No. 1 catcher. Now, he will try to work his way back to that position.
"I wouldn't say he's forgotten, but we have Hanigan and Swihart," said right-hander Joe Kelly. "He's the third guy right now. He hasn't played in a season, and he's itching to get back out there, to try to open some eyes and show everyone, 'Hey, I was a pretty good catcher before I got hurt.' It's going to be fun to watch him with a little competition, battling it out in Spring Training to see what he brings to the table."
Ian Browne is a reporter for MLB.com. This story was not subject to the approval of Major League Baseball or its clubs.