MLB.com Columnist
Tracy Ringolsby
Opt-out clause key to Cespedes' deal with Mets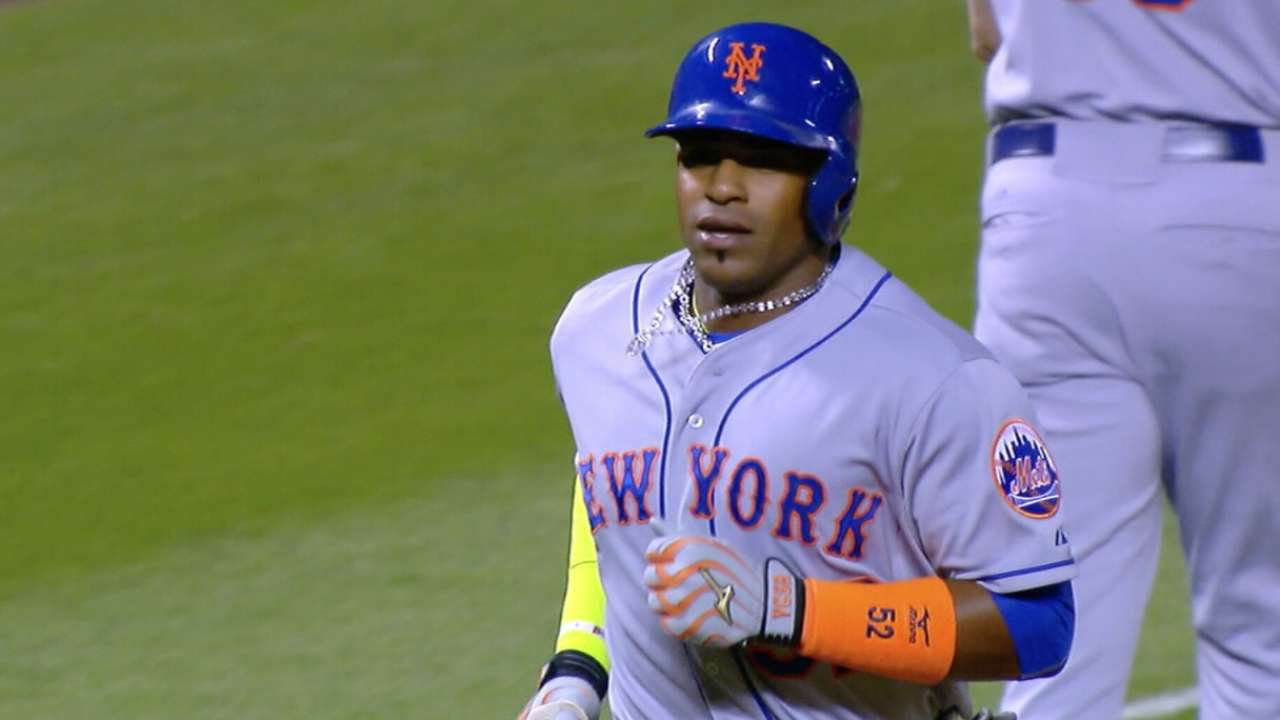 Yes, Yoenis Cespedes enjoyed playing the final two months of last season with the Mets in New York.
Sure, the $25 million a year average value of the three-year free-agent deal Cespedes agreed to on Friday to return to the Mets is impressive. But more than anything, what sold the 30-year-old on re-signing with the Mets is an opt-out clause at the end of the upcoming season.
When Cespedes signed with the Oakland A's prior to the 2012 season, he accepted a four-year deal because it included a clause allowing him to become a free agent at the end of the contract -- instead of needing six years of big league service time.
The plan hit a roadblock, however. Cespedes found himself part of a free-agent class that is one of the strongest in recent years. Next offseason, however, Cespedes could well be the marquee name.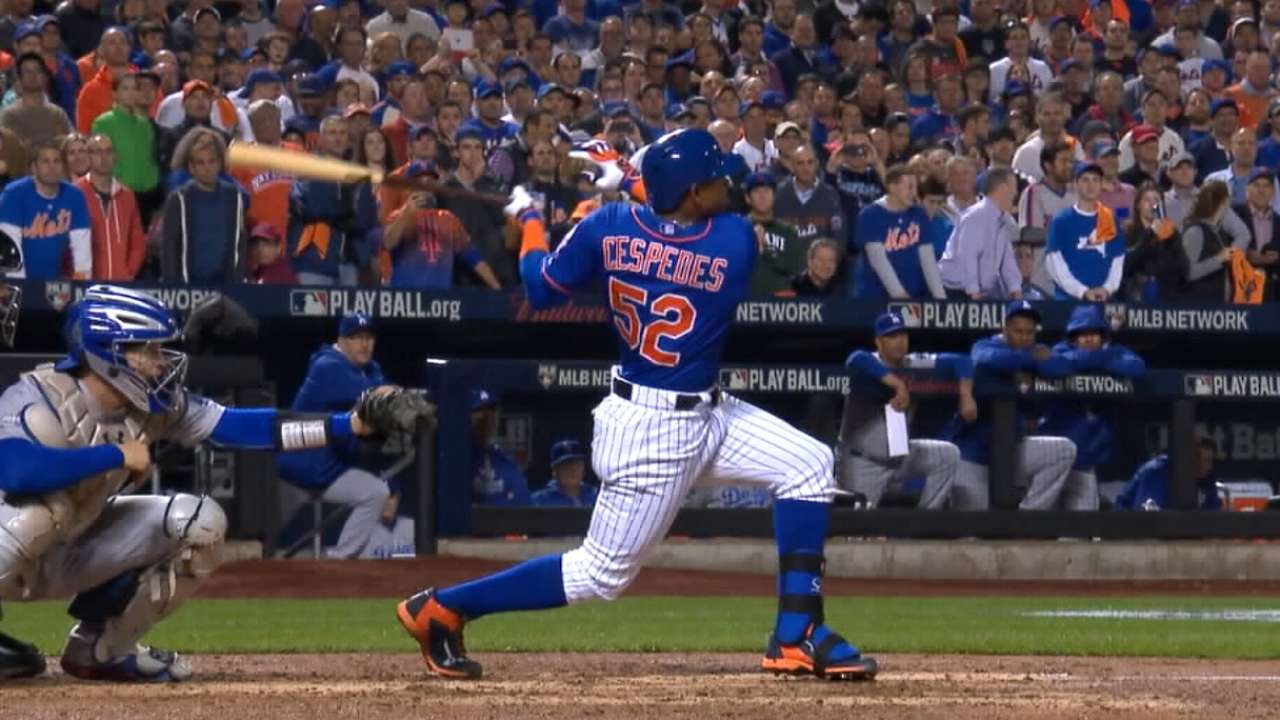 There are two notable names on that list -- outfielder Matt Holliday, who will be 37, and third baseman Adrian Beltre, who will be 38. The Cardinals have an option on Holliday for 2017, while the Rangers have hinted at a possible extension for Beltre.
Cuban infusion
Since 1984, when Detroit's Barbaro Garbey became the first Cuban defector to play in the Majors since Fidel Castro enacted a ban on Cuban athletes playing abroad 20 years prior, 71 other Cuban-born players have appeared in the big leagues. Among those 71 are 50 who signed as amateur free agents -- a majority of them Cuban defectors, with one exception being Orestes Destrade, who spent a significant amount of time in the U.S. Among the 21 others who were drafted, most spent a large portion of time growing up in the U.S. -- with Jose Fernandez and Ariel Prieto being among the handful of those who defected shortly before being selected.
Cespedes is the 39th position player in the group, although 10 of those players were raised in the United States and went through the Draft. Cespedes ranks seventh in RBIs (367) and is fifth in home runs (106) among the sample, even though he has only been in the big leagues for four seasons.
Rafael Palmeiro leads that generation of Cubans with 1,835 RBIs and 569 home runs, but he grew up in the United States and was a first-round Draft choice of the Cubs in 1985, after attending Mississippi State. Shortstop Alexei Ramirez, who recently signed a free-agent contract with the Padres, is the RBI leader among Cuban defectors with 542, while Kendrys Morales leads in home runs with 132.
There are three defectors who have appeared in more than 1,000 games, and they are all shortstops: Ramirez (1,226), Yunel Escobar (1,213) and Yuniesky Betancourt (1,156).
Mound matters
Among the 34 Cuban-born pitchers to appear in the big leagues since 1984, four of them were signed through the Draft -- including defectors Prieto, the A's No. 1 Draft pick in 1995, and Fernandez, the Marlins' first-round pick in 2011. Prieto initially signed with an independent league club, while Fernandez was still in his teens and went to high school in Florida.
The other two were Tony Menendez, the White Sox first-round selection out of American High School in Miami in 1984, and reliever Tony Fossas, the Rangers' 12th-round pick in 1979, who went to high school in Boston and attended the University of South Florida.
Menendez made brief appearances in the big leagues over three seasons and was 3-1 with a 4.97 ERA. Fossas appeared in 567 games over 12 years with seven teams and was 17-24 with a 3.90 ERA. Prieto was 15-24 with a 4.85 ERA in six years. Fernandez, who returned last season after recovering from Tommy John surgery, is 22-9 with a 2.40 ERA over three campaigns with the Marlins.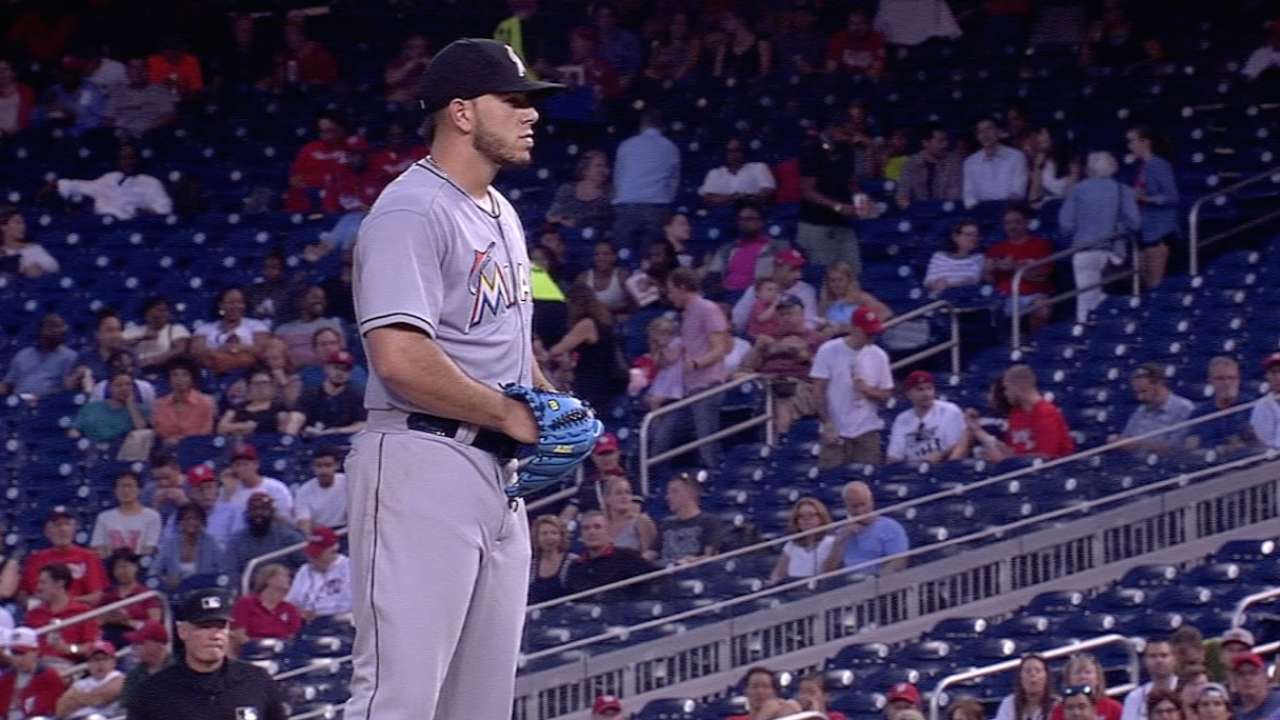 Among the Cuban defectors of this generation, Danys Baez is the leader in appearances with 533, followed by Livan Hernandez with 519 -- including 474 starts, tops among the group. Hernandez is the leader in wins, compiling 178 over 17 big league seasons. His half-brother, Orlando, ranks second in wins with a 90. The only others with more than 25 wins are Jose Contreras (78) and Rolando Arrojo and Baez (40 apiece).
All-time
Luis Tiant, who pitched in the big leagues from 1964-82, is the all-time leader in victories (229) among Cuban-born pitchers, followed by Dolf Luque -- who in 1914 became the first Cuban-born pitcher in the big leagues. Luque was 194-179 over 20 big league seasons. Third on the all-time list is Mike Cuellar, who was 185-130 during a career that lasted from 1959-77.
Of the 193 Cuban-born players who have appeared in the big leagues, only two with at least 25 at-bats have hit better than .300 -- Tony Oliva, a .304 hitter with the Twins from 1962-76, and Jose Abreu, who has hit .303 the past two seasons with the White Sox.
Among players signed out of Cuba, Tony Perez is all-time home run leader with 379 during a career that spanned from 1964-86. Perez is also the only Cuban-born Hall of Famer. He was inducted in 2000 in his ninth year on the ballot.
Anniversaries
• The Ruppert Estate sold the Yankees to Larry MacPhail, Dan Topping and Del Webb for $2.8 million 71 years ago on Monday. They acquired 400 players -- 266 of whom were in the military -- Yankee Stadium and ballparks in Newark and Kansas City.
• Texas traded Gaylord Perry to the Padres for Dave Tomlin and $125,000 38 years ago on Monday. Perry, who turned 40 that September, won the 1978 National League Cy Young Award, becoming the first pitcher to win the award in both leagues. He was the American League Cy Young Award winner with Cleveland in 1972.
• Dodger catcher and eventual Hall of Famer Roy Campanella suffered a broken neck and was paralyzed in an auto accident in Long Island 58 years ago on Thursday.
Tracy Ringolsby is a columnist for MLB.com. Read his blog, Write 'em Cowboy. This story was not subject to the approval of Major League Baseball or its clubs.