Bryant, Correa recall humble beginnings in youth baseball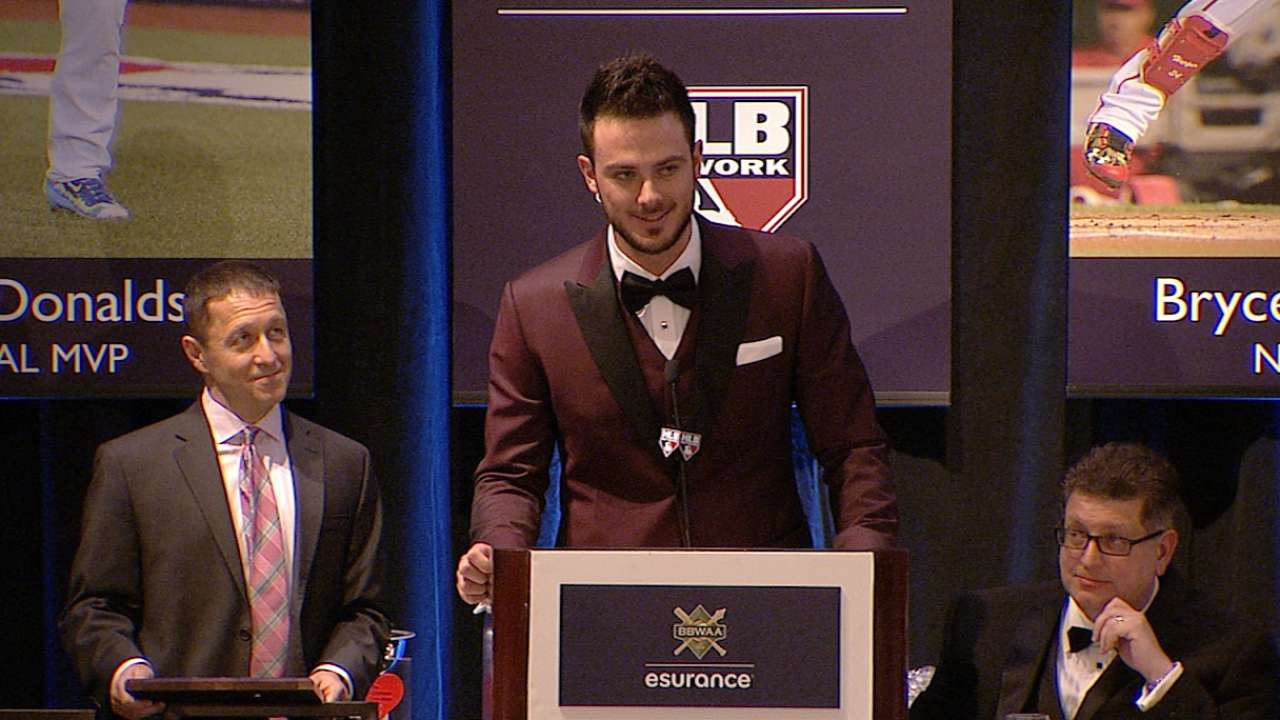 Baseball's annual award winners may have been announced in November, but the pomp and circumstance continued this weekend, when the Baseball Writers' Association of America convened to present the stars with their hardware.
Many of this year's BBWAA awards winners credit childhood experiences with inspiring their love of baseball. In fact, Kris Bryant and Carlos Correa, the National and American League Rookie of the Year Award winners, respectively, aren't that far removed from the days of playing ball in their own backyard.
Correa, the No. 1 overall Draft pick in 2012, reported to the Astros' Spring Training facility at just 17 years of age. After making his Major League debut three years later, Correa became the youngest shortstop to homer in the playoffs. But the budding star has humble roots; he was a mere 8 years old when he began helping his father, Carlos Sr., around construction sites in their native Puerto Rico.
"That's probably why people say I'm [mature at] 20 years old," Correa explained. "I had to grow up a lot faster than most kids."
Scouts noticed the hard work he put in from a young age. As a teenager, Correa transferred to the Puerto Rico Baseball Academy and High School in order to better hone his baseball skills and the results paid off. During his rookie season, the former Little Leaguer slugged 22 homers with 68 RBIs in just under 100 big league games, all while playing stellar defense.
But Correa hasn't forgotten where he came from. He still works with the strength coach that he had in Puerto Rico, the infield coach who taught him how to play defense, and the hitting coach he's used since he was 11.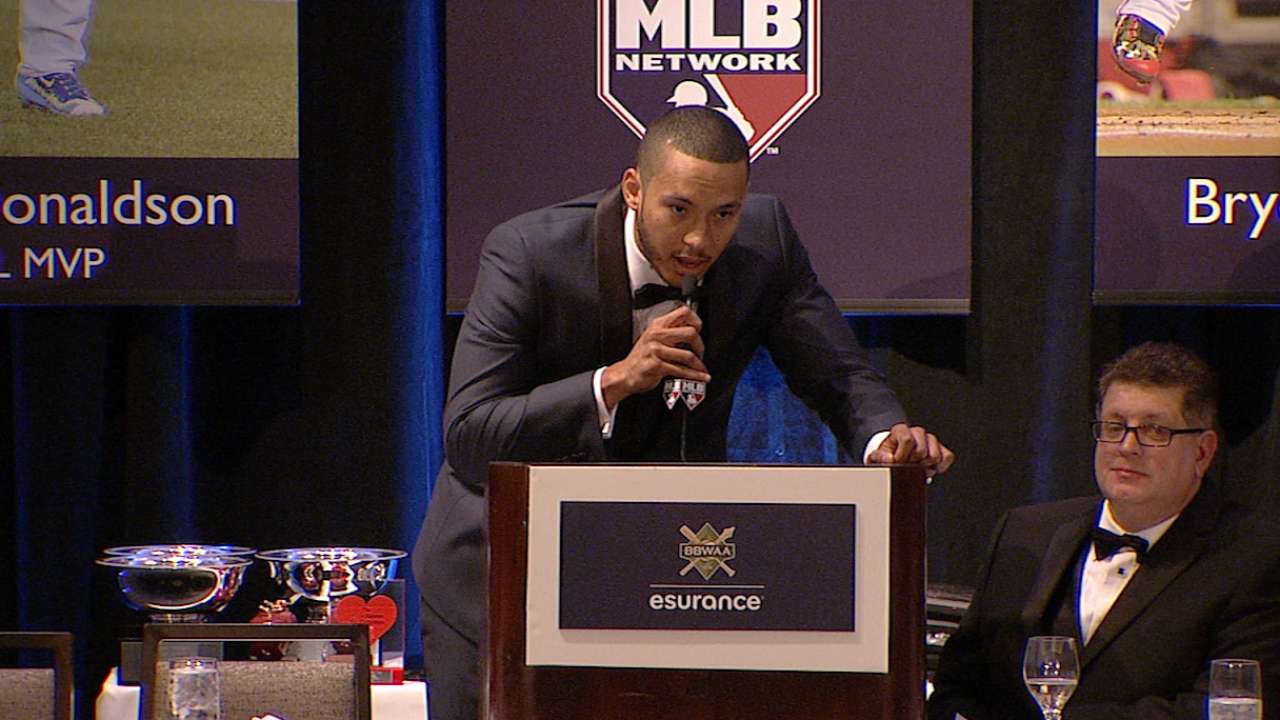 Bryant, meanwhile, grew up in Las Vegas playing in Peccole Little League. Even before beating out Matt Duffy, Jung Ho Kang and Noah Syndergaard to garner the Rookie of the Year title, he had some pretty impressive competition: fellow Vegas native Bryce Harper, this year's NL Most Valuable Player Award winner.
"I wish you got the chance to see him when he was 10 or 11 years old," Bryant said of Harper. "He swung really hard and hit the ball really hard, and it was fun to see."
In fact, the Cubs' third baseman and the Nationals' right fielder played a season together on the same club team, the Southern Nevada Bulldogs. At the time, Bryant was 14 years old and Harper 13. The latter would reach the big leagues first, win the NL Rookie of the Year Award in 2012, and secure his first NL MVP Award all before turning 23. But Bryant was close behind.
"When we were younger, we used to call him 'Silk,'" Harper said. "He was so smooth with everything he did."

Unlike Harper, Bryant played at the collegiate level, for the University of San Diego. There, he won the Golden Spikes Award and the Dick Howser Trophy, both honors given to the top college player in the country. The third baseman's success spurred the Cubs to select him with the second overall pick in the 2013 Draft. Through it all, his father remained nearby as motivation.
"I remember when I was 8 years old, I hit my first home run," Bryant said. "[It] was an over-the-fence homer. My dad had told me that he'd give me $100 if I hit one, so I would go out there and try and try."
While his dad may have been his first coach, Bryant's current skipper, Joe Maddon, shares the BBWAA spotlight with him. The NL Manager of the Year Award winner, Maddon started his baseball career at West Hazleton Little League in Hazleton, Pa. The Cubs' eccentric skipper couldn't afford a Wilson glove growing up, but he remembers going to local sporting goods stores to try them on.
"I can still smell the leather in that shop," Maddon said.
Although Maddon may still recall the times his glove failed him on the field, his Little League memories put a smile on his face.
"Where I grew up and how I grew up, it was nothing but the best," he said. "I don't think I ever had a bad day. Those memories are special."
Joe Sparacio is a contributor to MLB.com. This story was not subject to the approval of Major League Baseball or its clubs.