Diamond Dreams Gala raises $500,000
Proceeds go to the Astros Foundation and New Hope Housing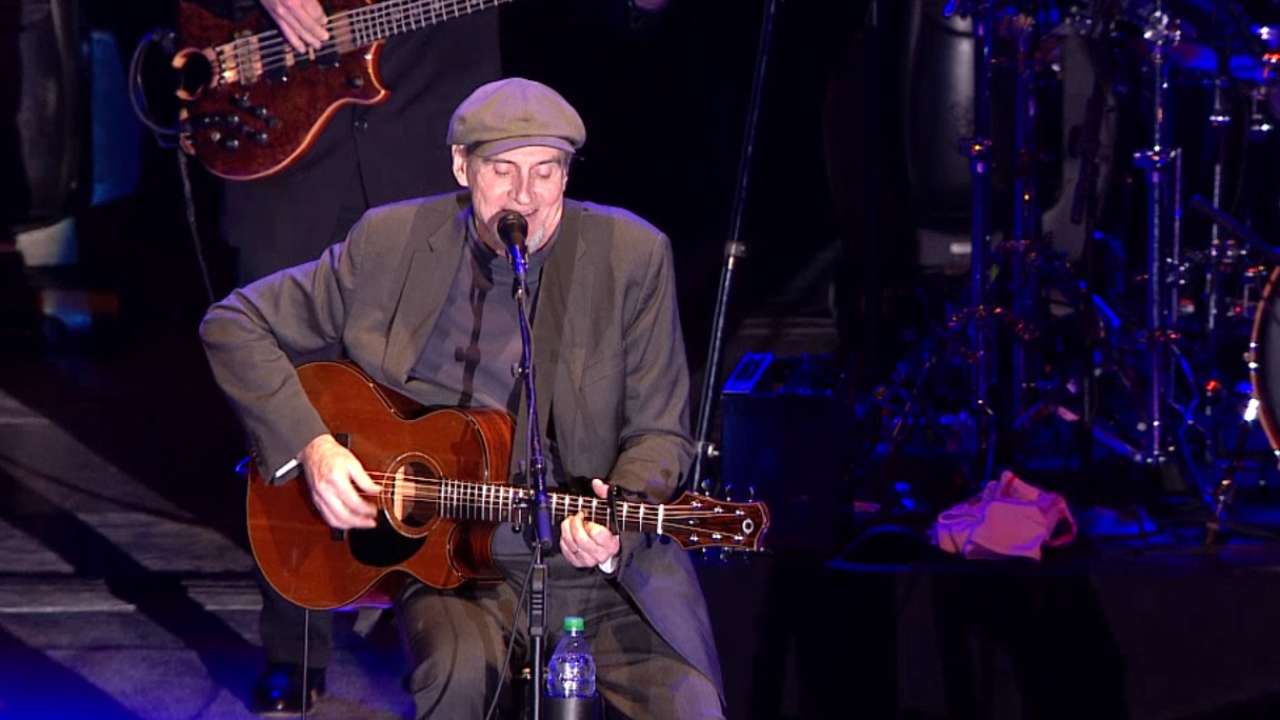 HOUSTON -- The Astros introduced a new event to their jam-packed January calendar -- a charity gala to complement the traditional caravan and FanFest events that are typically held at this time of year.
What would normally be a quiet Minute Maid Park the night before FanFest was instead the site of the club's inaugural Diamond Dreams Gala, a star-studded event that featured a legendary recording artist, multiple Hall of Famers and a large chunk of the projected 2016 Astros roster.
"We're going to do this every year," club owner Jim Crane said. "This is the starter. We'll hopefully do a good job tonight, and we'll make it bigger and bigger as time goes by."
The entertainment was provided by legendary singer and songwriter James Taylor, a five-time Grammy winner and one of the best-selling artists of all time. Taylor was initially greeted on stage by three Hall of Famers -- Astros legends Craig Biggio and Nolan Ryan, plus Reggie Jackson, a personal friend of Crane -- all of whom presented Taylor with a personalized Astros jersey.
Taylor's nearly two-hour performance included most of the hits that defined a career spanning nearly five decades. The 67-year-old Rock and Roll Hall of Famer opened the show with "I Feel Fine," and from there, presented hit after hit, including "Carolina In My Mind," "Shower The People" and "Sweet Baby James."
Even those who weren't all that familiar with Taylor's music -- which included most of the millennial-laden current Astros roster, plus select older fan favorites -- were looking forward to the performance.
"It's a nice Friday night out," Biggio said. "It's a free date night."
But even if the players didn't know Taylor, plenty of the party-goers did. At one point, a fan yelled out "I love you, James!" -- to which a delighted Taylor replied, "I love you too. Which is hard to explain, because we don't even know each other."
The event drew more than 900 patrons and raised approximately $500,000, to be split between two entities: the Astros Foundation and New Hope Housing, an organization combating homelessness by providing housing and support services for people in need.
The gala served as the grand finale to the Astros' 2016 Caravan, an annual community outreach tour traveling throughout Houston and central and south Texas. The last item on the agenda is today's FanFest at Minute Maid Park from 11 a.m. to 4 p.m.
"We appreciate all the support the community has given us, and we want to give back," second baseman Jose Altuve said. "This is a good idea for the Houston Astros, doing the FanFest, this gala tonight ... the players are really happy to be here."
The Diamond Dreams Gala was held in the outfield area of the closed-roof Minute Maid Park, making for an elegant, somewhat chilly evening. January weather in Houston tends to jump all over the thermometer, and on this particular night, a cold front saw temperatures dropping to the upper 40s.
A jovial Taylor seemed unfazed by the chill in the air, gently asking at one point for "a warm beverage of some sort," before assuring the crowd he's played in similar elements before.
"I did actually play a gig that was colder than this," Taylor said, remembering a national anthem performance before a Carolina Panthers-New England Patriots game. "It was 17 degrees."
The Astros were prepared for the winter temps, providing fleece blankets and utilizing upright heaters throughout the seating area.
"We have air conditioning, but no heat," Crane said. "It's chilly."
That didn't seem to slow the crowd. If anything, it prompted patrons to get moving up toward the stage, where party-goers danced and sang along with Taylor as he belted out the hits. "Fire and Rain." "Mexico." "Smiling Face." "How Sweet It Is."
Taylor ended the performance with the only appropriate grand finale -- his signature song, written by his good friend Carole King -- "You've Got a Friend."
Alyson Footer is a national correspondent for MLB.com. Follow her on Twitter @alysonfooter. This story was not subject to the approval of Major League Baseball or its clubs.