MLB.com Columnist
Richard Justice
Cespedes may tip scales in Mets' favor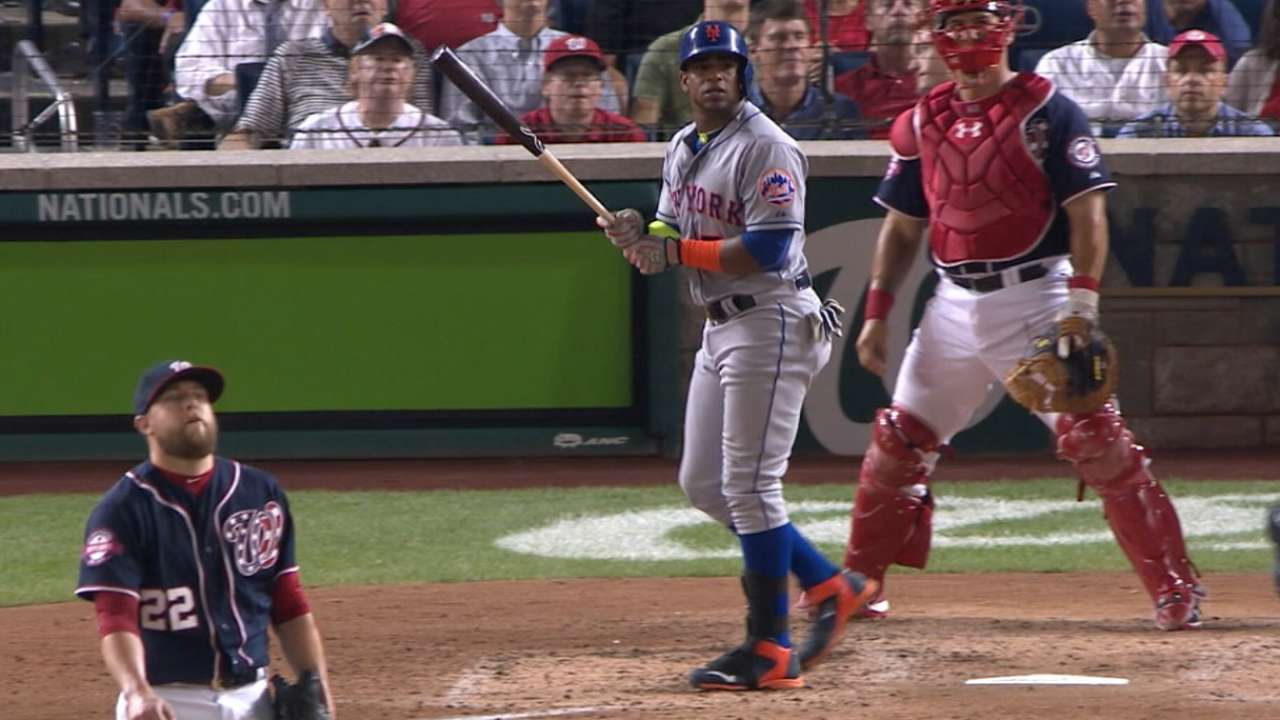 Did the New York Mets just move back ahead of the Washington Nationals and position themselves to win a second straight division championship? You're not alone if that's your instant reaction. At the very least, the National League East is positioned to deliver a 15-round heavyweight bout in 2016.
Outfielder Yoenis Cespedes transformed the Mets once already when he was acquired in a non-waiver Trade Deadline deal with the Tigers last summer. And he may have transformed them again on Friday by agreeing to a three-year, $75 million contract to return to Queens.
• Let's Yo Mets! Cespedes takes NY by storm
Cespedes was already wildly popular with Mets fans after what he did for them last summer. And he's going to be something akin to a folk hero after apparently turning down a larger offer from the Nats and possibly one other team. Rather than follow the money, Cespedes stayed with the Mets for an even better reason. He's happy. He likes his teammates, the city, etc.
The Mets' entire offseason suddenly looks different. With the acquisitions of second baseman Neil Walker, shortstop Asdrubal Cabrera and left-handed reliever Antonio Bastardo, the defending NL champions are significantly better than they were on Opening Day last season.
And in the 10 months since, the Mets have learned a lot about playing and winning big games and about enduring the pressure of a postseason grind. In a potentially tight race, confidence matters.
In closing the deal, the Mets will allow Cespedes to opt out of this contact after one year and test the free-agent marketplace again. No big deal there. The Mets are in a win-now mode.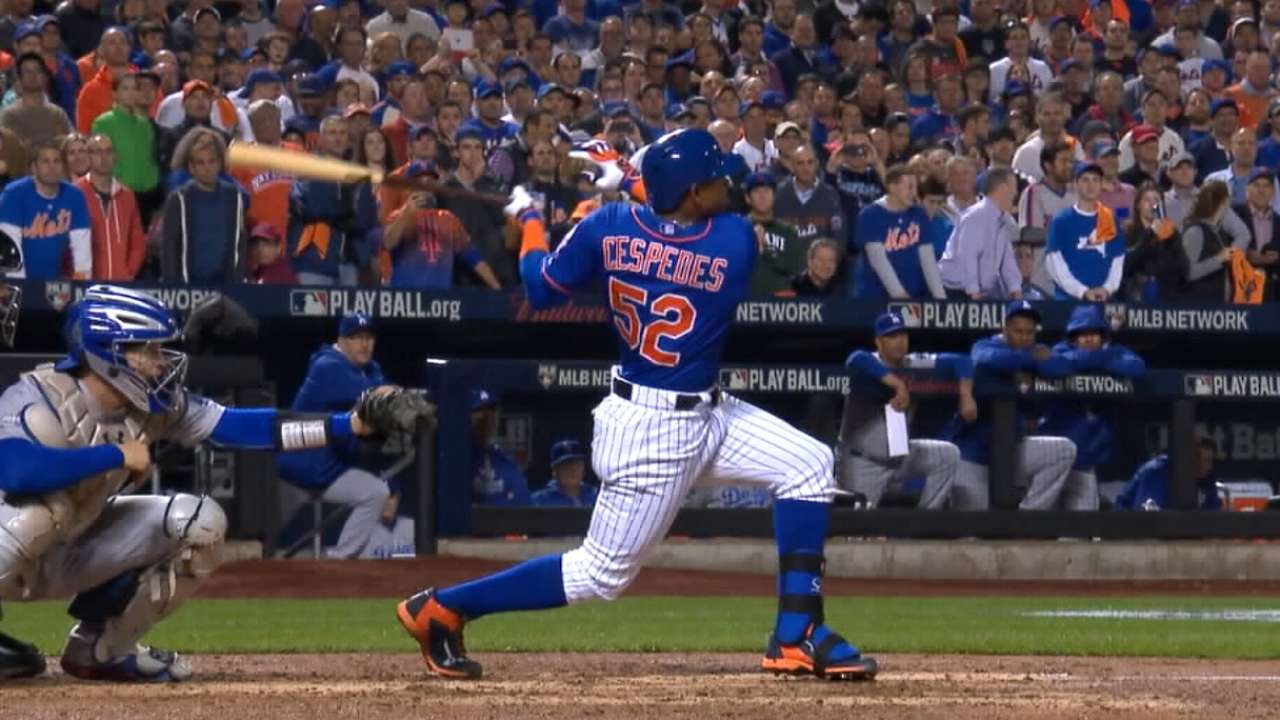 That trip to the 2015 World Series has whetted their appetite for more. If Cespedes helps the Mets play deep into October again, they will be thrilled with this contract regardless of what he does next winter.
Few teams have ever been changed the way the Mets were last season. It wasn't just the acquisition of Cespedes that did it, but he was the biggest reason.
They were 53-50 and averaging 3.5 runs per game when general manager Sandy Alderson pulled off the Cespedes deal on July 31. Again, there were other factors. Rookie outfielder Michael Conforto became a solid contributor, and third baseman David Wright returned from the disabled list.
But Cespedes was tremendous. The Mets went 37-22 after he came aboard. And after being one of baseball's worst offensive teams for four months, they were one of its best down the stretch, averaging 5.4 runs per game.
Cespedes very nearly played his way into the NL Most Valuable Player Award conversation in two months. He hit 17 home runs and drove in 53 runs in 57 games as the Mets cruised to their first division championship in nine years.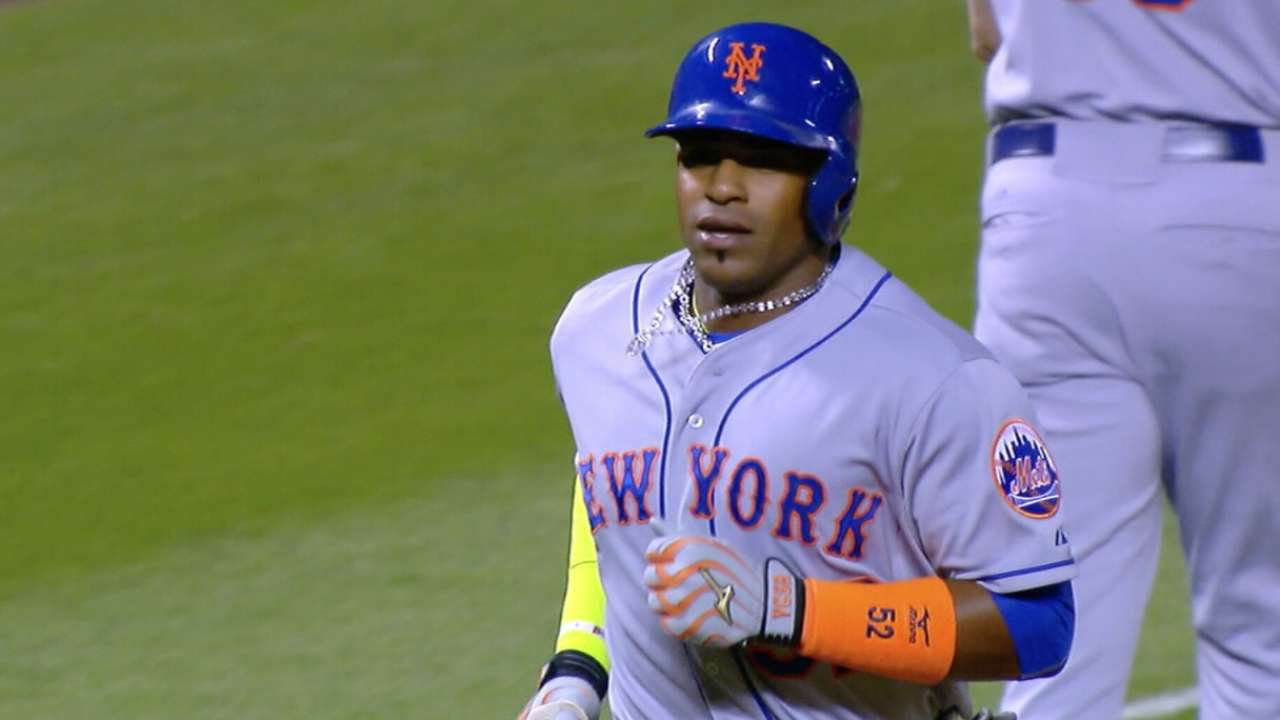 For a couple of months after the season ended, the Mets had little confidence about re-signing Cespedes. They were unwilling to offer more than a three-year contract and figured there'd be something better for him elsewhere.
Sometimes, though, budgets and available talent don't match up. This is no knock on Cespedes. Baseball people rave about him. He's just 30 years old and impacts games in an assortment of ways. Cespedes had played left field for most of his career, but switched to center for the Mets.
Cespedes wasn't great there, but the Mets believe that he's athletic enough to get better. Besides that, his real position is in the middle of the order, not just producing runs, but in making hitters on both sides of him better.
Cespedes finished with a 6.3 WAR last season, according to baseball-reference.com. That ranked him 11th overall in baseball, just behind Jason Heyward (6.5) and just in front of Anthony Rizzo (6.2). In four full Major League seasons, Cespedes has averaged 31 doubles, 26 home runs and an .805 OPS.
The Mets agreed to terms with Cespedes at a time when the Nationals apparently were discussing a five-year contract. Had the Nats gotten him, their lineup would have been scary good, with Cespedes alongside NL MVP Award winner Bryce Harper, third baseman Anthony Rendon and others.
Meanwhile, the Mets seemed prepared to open the season with Juan Lagares in center. He's one of the best defensive outfielders in baseball, but has 14 home runs in 1,249 career at-bats.
These past two seasons have been an endorsement of Alderson's blueprint. His reconstruction of the Mets has been about acquiring as much quality pitching as possible. Alderson believed that a great pitching staff, a staff of young, controllable arms, would be the groundwork for a contender. He also thought he could acquire enough offense without trading one of those arms.
There have been plenty of times when it would have been popular to trade a pitcher for a hitter. Now that the Mets have just played in their first World Series in 15 seasons and still have Matt Harvey, Jacob deGrom, Noah Syndergaard and Steven Matz leading baseball's best rotation, they've made it a really good time to be a Mets fan. And it got even better on Friday.
Richard Justice is a columnist for MLB.com. Read his blog, Justice4U. This story was not subject to the approval of Major League Baseball or its clubs.