Emotional Boggs welcomed back by Sox
Hall of Famer attends Winter Weekend, reflects on upcoming honor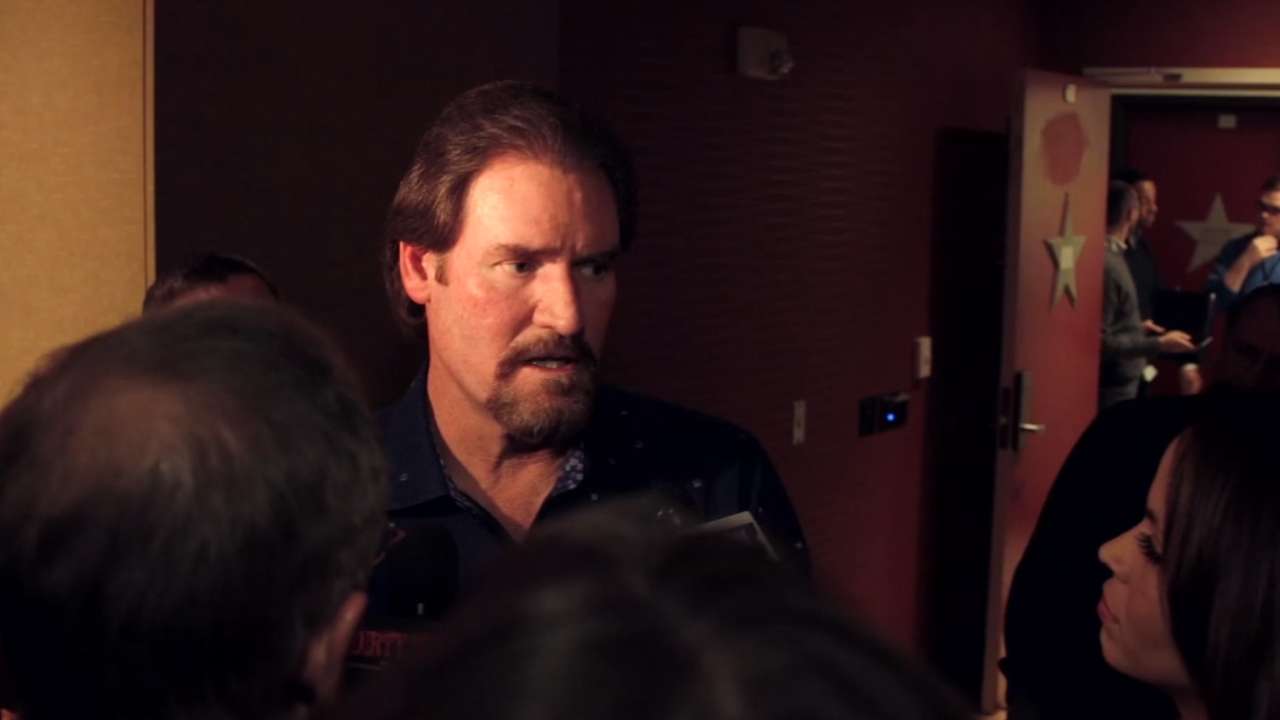 MASHANTUCKET, Conn. -- The Red Sox started their second annual Winter Weekend at Foxwoods Resort and Casino by welcoming one of their most accomplished former players back to the family.
Just before Christmas, the Sox announced they are retiring the No. 26 that was worn by Hall of Famer Wade Boggs. And on Friday night, with Boggs eagerly accepting the club's invitation to participate in the weekend festivities, it became clear that this is about far more than a number going on a façade.
"Right now I sort of feel like Tom Hanks in the movie 'Castaway,'" said Boggs. "It's like I've been on an island for 20 years and they found me. So now I get to come home and enjoy the lobster, and I'm back in the Red Sox family. I'm back. It's great to be back. It's been nothing but huge, positive feedback all along."
At Friday's Town Hall event at the Grand Theater, NESN's Tom Caron called Boggs out to the stage and the crowd erupted with applause. Boggs waved to the fans and patted his heart.
"He's the greatest third baseman in Red Sox history, one of the greatest Red Sox of all time, and now his No. 26 will be in its rightful place," said Red Sox president Sam Kennedy. "We had the opportunity to do something that was long overdue, and that was to retire the No. 26 of the great Wade Boggs."
Boggs was on the verge of tears as he spoke to the crowd.
"Having a person's number retired is not a right, it's a privilege," Boggs said. "This is, other than the birth of my children and marriage to my wife, Debbie, the greatest day of my life."
Brock Holt, who wore No. 26 for the Red Sox the last three seasons, came out to the stage and took his jersey off and put it on Boggs.
Red Sox chairman Tom Werner and Kennedy made the call to Boggs last month to inform him of the news.
"I thought it was prank call at first. Immediately I filled up with tears," Boggs said.
One of the best pure hitters of his era, Boggs even left open the possibility that he could return to the Red Sox in an advisory capacity, perhaps even by Spring Training.
"We're going to talk, absolutely," said Boggs. "Like I said, I'm back. Whatever role they want me to play, I'm back in the fold. An advisory [role], I don't know what my agent Alan Nero has in mind. We're going to sit down and talk. I think there's a certain role I could fill."
In the mid-1980s, the role Boggs filled was that of a hit machine, one who won five batting titles for the Red Sox in a span of six years.
Boggs chuckled when on-base percentage became an obsession of certain Major League front offices in the early 2000s. That was his game all along.
"I was [Moneyball] before [Moneyball]," Boggs said. "I was chastised for it in arbitration and in the media, quite frankly. I haven't seen a lot of guys get on base 300 times in the last 10-15 years and I did it four years in a row, 200 hits and 100 walks."
Why does Boggs think it took so long for his number to be retired at Fenway?
"I don't know. You'd have to ask the individuals that came on board with the Red Sox after I left. I'm sure that going to New York, and riding the horse [after the Yankees clinched the 1996 World Series] had something to do with it," said Boggs. "When I got drafted at 17, my dad said, 'You got drafted by Boston in the seventh round. Fenway Park was built for you.' Truer words were never spoken because I played the wall like a fiddle."
The big day for Boggs will come on May 26 at Fenway.
"It's a tremendous privilege that you can have your number retired by an organization and nobody else will ever wear it again and you live in immortality up on the façade," Boggs said.
Before Boggs exited the stage, he whispered to manager John Farrell, "Good luck, Skip. Let's win it this year."
Ian Browne is a reporter for MLB.com. This story was not subject to the approval of Major League Baseball or its clubs.