Pain-free De La Rosa in unfamiliar situation
Winningest pitcher in Rockies history used to dealing with series of injuries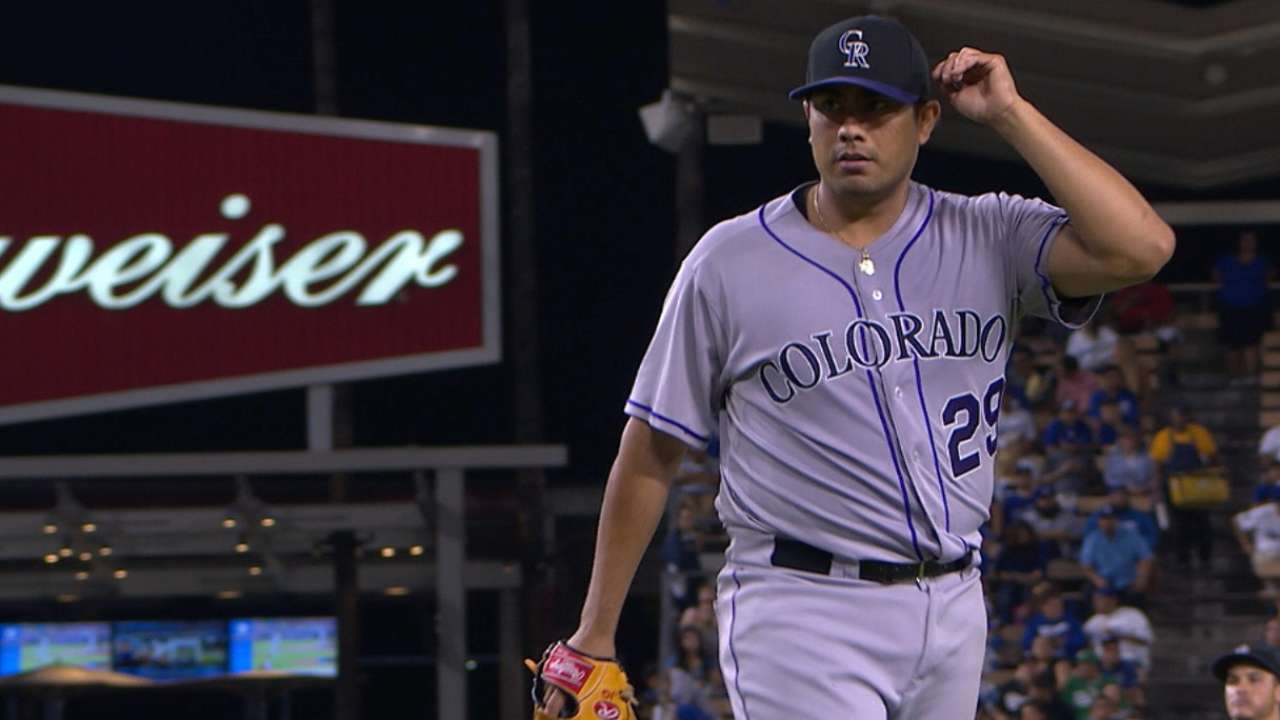 DENVER -- Rockies left-handed pitcher Jorge De La Rosa felt discombobulated Friday morning.
In town for Rockies Fest -- a festival for fans all day Saturday at Coors Field, open for season-ticket holders at 8:30 a.m. MT (free) and the public at 12:30 p.m. ($20 for fans 13 and over, $1 for fans under 13) -- De La Rosa wanted to throw a bullpen session, but it turns out he forgot to pack his glove for the flight from his Scottsdale, Ariz., home.
But forgive De La Rosa for not feeling like himself. It takes some time to get used to being healthy.
There was no groin injury, although one usually shows up in the spring. His fingers still looked chewed up from years of fastballs and changeups, but there were no blisters or other maladies that have hung with him throughout his career. His back didn't hurt, the way it seems to a month into every season. The right Achilles tendon -- the issue that forced the Rockies to shut him down in mid-September last year -- finally turned healthy about a month ago, after rehab and PRP (platelet-rich plasma) injections. It had been hurting for six years.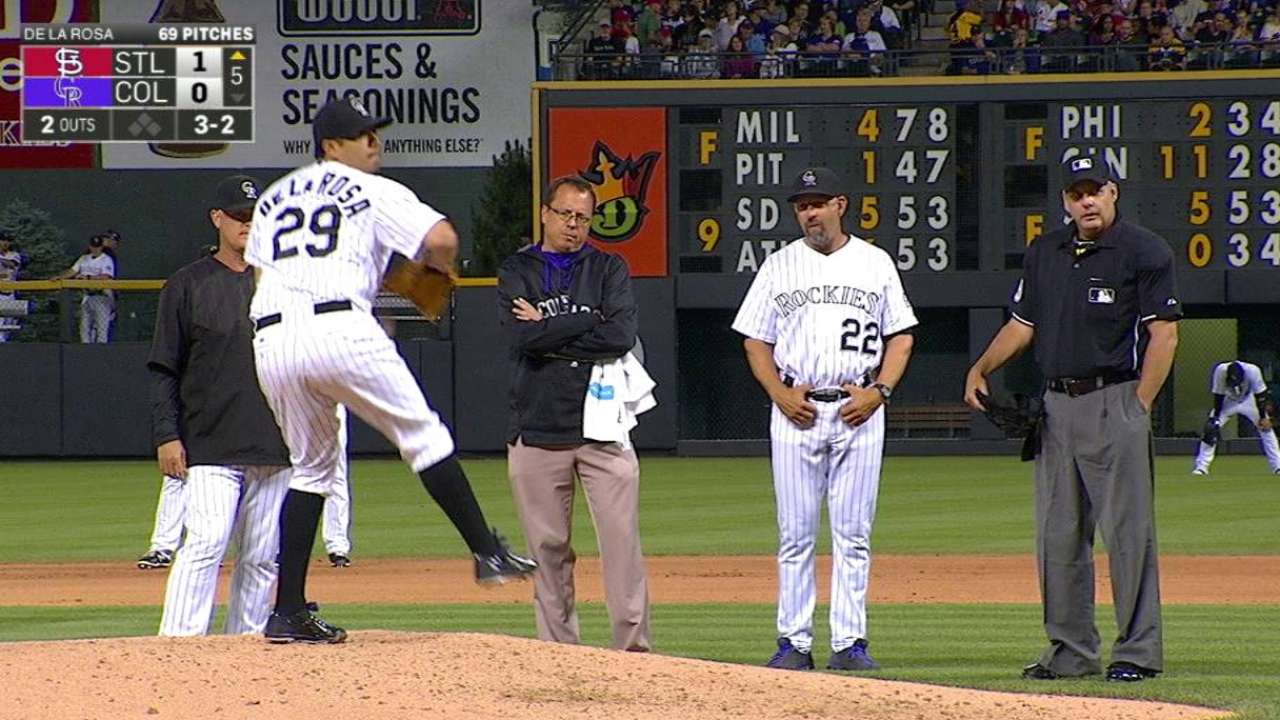 Can De La Rosa, who turns 35 on April 5, actually pitch when feeling good? Since arriving in a trade with the Royals at the start of 2008, De La Rosa has topped the club's career list in wins (78) and strikeouts (877). He also leads in wins (48), winning percentage (.750) and strikeouts (455) at Coors Field. Most of his best work has been done in pain.
The best he can recall feeling -- with a little reminding -- was at the start of 2014, when he went 1-3 with a 6.38 ERA in his first five starts. But with back and thumb problems plaguing him the rest of the way, he went 13-8 with a 3.76 ERA.
But it's January. Let De La Rosa, who posted a 9-7 record and a 4.17 ERA in 26 starts last year, enjoy his pain-free days.
"It's hard when you have to play hurt, but I can handle the pain," De La Rosa said, chuckling with the knowledge that, like an annoying relative during the holidays, the pain will return. "I guess the stronger I feel is when things don't go the way I want. But I feel strong."
The Rockies' current free-agent flirtation with veteran righty Yovani Gallardo is with an eye toward veteran leadership.
Well, make that more veteran leadership.
"I'm really shy, and sometimes I'm scared to go to guys and tell them something, but sometimes you have to," De La Rosa said. "And guys come to me for tips -- how I throw my changeup or my cutter. I like helping."
The Rockies don't mind De La Rosa speaking without saying much.
"He's a proven frontline starter -- his track record speaks to that and his success at home surely speaks to it," Colorado manager Walt Weiss said. "He's an example for guys every day that he pitches for us. That's important."
Rockies pitching coach Steve Foster said, "Some people in pro sports simply lead by being that guy that posts up. Sore in the Achilles or the blister or the back -- whatever it is -- they post up every five days. He competes when he's on the mound."
De La Rosa arrived the season after the Rockies' only World Series appearance, and he went 16-9 with a 4.38 ERA in 2009, when the club went to the postseason. However, he missed the National League Division Series loss to the Phillies with a left groin strain.
Colorado hasn't had a winning season since 2010. De La Rosa had a shot at free agency, but he elected to sign a two-year, $25 million deal that ends this year. He is pitching with the potential pain of uncertainty.
Even if the team nabs a veteran, the bulk of the current rotation is inexperienced either because the pitchers are just breaking in or, in the cases of righties Jordan Lyles and Tyler Chatwood, lost much of the last two years to injury. The Rockies also have hope in players they drafted or acquired as prospects in trades.
It adds up to a team that seems better equipped to compete in the future than 2016. Veterans on such a team are often subject to being moved at the non-waiver Trade Deadline -- Aug. 1 this year. De La Rosa is counting on producing quietly and hoping his pitching mates mature.
"In 2009, it was special -- every time you woke up, you thought you could win," De La Rosa said. "The guys we have here, we can do special things. If we stay healthy and our pitchers learn the league a little better, we can compete with anyone."
No matter how much it may hurt.
Thomas Harding is a reporter for MLB.com. Follow him on Twitter @harding_at_mlb, listen to podcasts and like his Facebook page. This story was not subject to the approval of Major League Baseball or its clubs.