Rockies one of 3 teams bidding for Gallardo
Free-agent righty also in negotiations with Orioles and Astros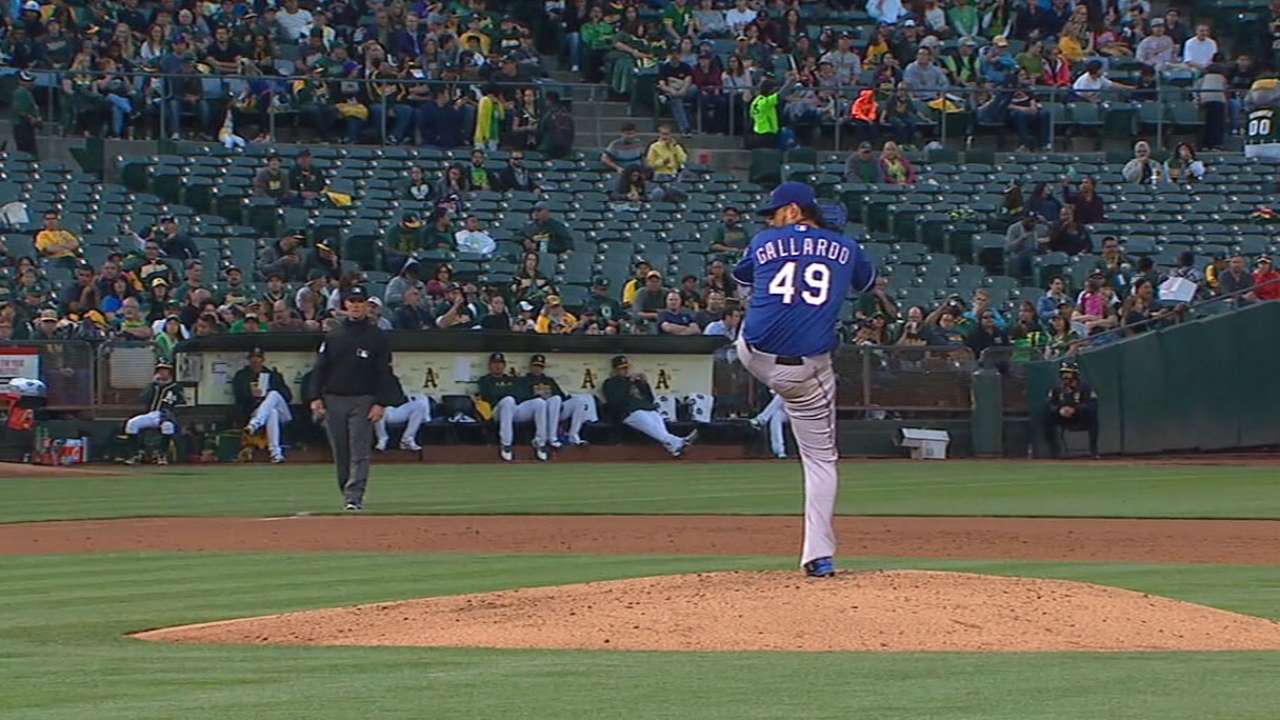 DENVER -- Free-agent right-hander Yovani Gallardo is negotiating with the Rockies, Orioles and Astros, one of his representatives said Friday.
"He'll be happy pitching for any of the three teams," said Bobby Witt, partnering with Scott Pucino to represent Gallardo for Octagon. "He wants to go out and pitch, and he's excited to get to work."
Colorado has the least to lose in terms of Draft-pick compensation.
Gallardo, 29, received a qualifying offer from his 2015 team, the Rangers, which means the team that signs him is subject to losing a pick in the '16 Draft. Because the Rockies have a Top 10 overall pick -- No. 4, due to a 68-94 record last season -- their top choice is protected. Instead, they would lose the 38th overall pick from Competitive Balance Round A. The O's and Astros would lose first-round choices -- Nos. 14 and 18, respectively.
A team signing a player with a qualifying offer not only loses the pick, but also the signing bonus money associated with the slot. Colorado owns overall picks No. 45 and 81, in addition to the No. 4 selection.
Rockies senior vice president and general manager Jeff Bridich wouldn't confirm that the club is all in on Gallardo when he appeared on MLB Network Radio.
"You know, I'm not sure exactly where that came from, but I mean, that's no different than us checking in on everybody, or most everybody as we have over the course of the free agency period," Bridich said. "Obviously, his name is out there because he's still out there and he doesn't have a job. But we've been checking in on relievers as well."
Orioles executive vice president of baseball operations Dan Duquette told MLB Network Radio that his club would prefer to hold onto its pick.
"The question for us is, 'Are we willing to give up our first-round pick?' and so far that answer has been 'No,'" Duquette said.
The other issue, of course, is finances and length of contract, which Gallardo's representatives have said is negotiable. He has been most closely compared to righty Ian Kennedy, who has reached a reported five-year, $70 million agreement with the Royals, and lefty Wei-Yin Chen, who has reached a five-year, $80 million pact with the Marlins.
Thomas Harding is a reporter for MLB.com. Follow him on Twitter @harding_at_mlb, listen to podcasts and like his Facebook page. This story was not subject to the approval of Major League Baseball or its clubs.