Around the Horn: Angels' bullpen
Several relievers will compete this spring for setup role ahead of Smith, Street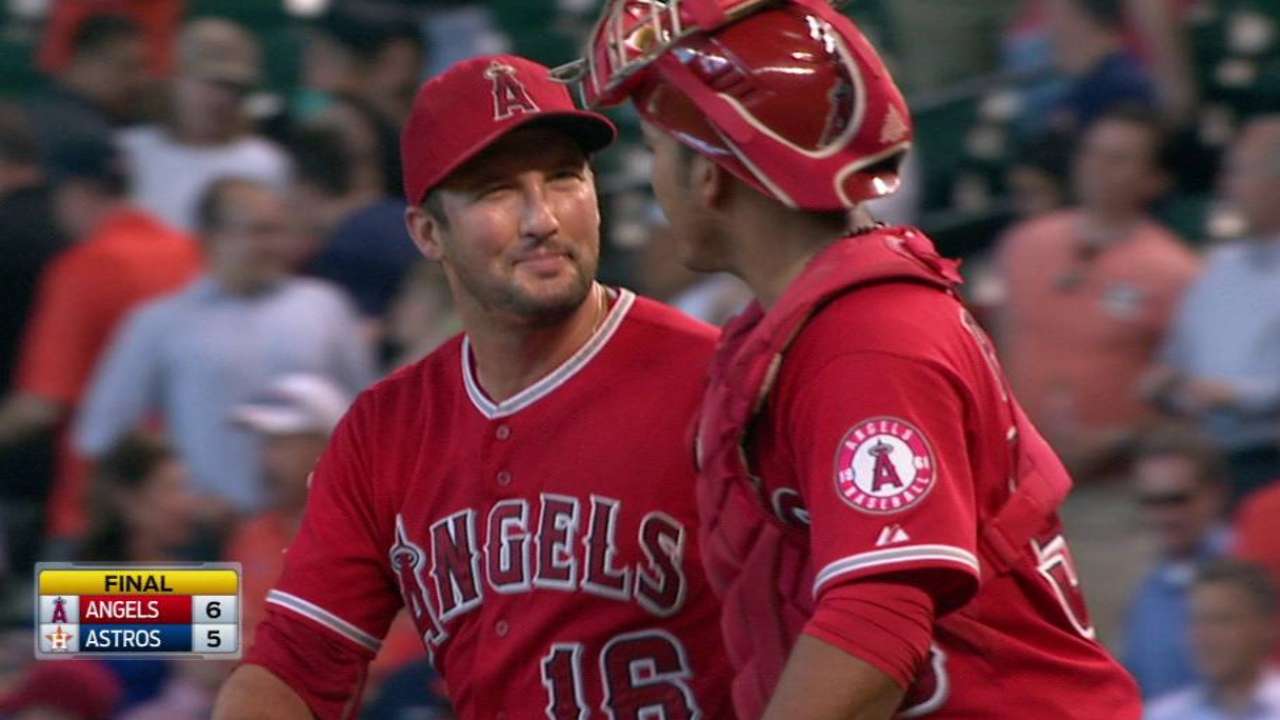 With pitchers and catchers scheduled to report to Tempe, Ariz., by Feb. 18, it's time to dissect the Angels' 2016 roster. This is the third of a six-part Around the Horn series taking a position-by-position look at projected starters and backup options heading into the season. Next up: the bullpen (previously: catcher, corner infield).
ANAHEIM -- From 1970-79, 255 pitchers threw at least 250 innings in a season. In the 1980s, that total dropped to 109 pitchers. In the '90s, it was 33. From 2000-09, there were seven. And since 2010, there have only been two. Two. That's just one of several ways to illustrate a widely understood trend: Starting pitchers are utilized less frequently and bullpens are increasingly more important.
These days, it isn't just a great closer or even an elite setup man that are necessary. The best bullpens have at least three dominant, trusted arms. Look at last year. Seven of the 10 postseason teams had at least three relievers who made at least 30 appearances and finished with ERAs under 3.00. And that brings us to the Angels.
They have a closer, Huston Street, with 315 career saves and a 2.85 ERA. They have a setup man, Joe Smith, who has held opposing hitters to a microscopic .218/.286/.303 slash line over the last five years. And then they have a collection of arms -- mainly Fernando Salas, Al Alburquerque, Mike Morin, Cory Rasmus, Jose Alvarez, Deolis Guerra and Bobby LaFromboise -- trying to make up the rest of the bullpen.
At least one of them to has to take a big step forward.
"It's nice to have an individual, or two or three -- or, if I'm really greedy, let me just say five -- around Smith and Street that are all capable of taking that job on any given night," Angels general manager Billy Eppler said. "That means more of an opportunity to rest guys as needed. But if it's not a case of one guy doing it, then it's a case of mixing and matching."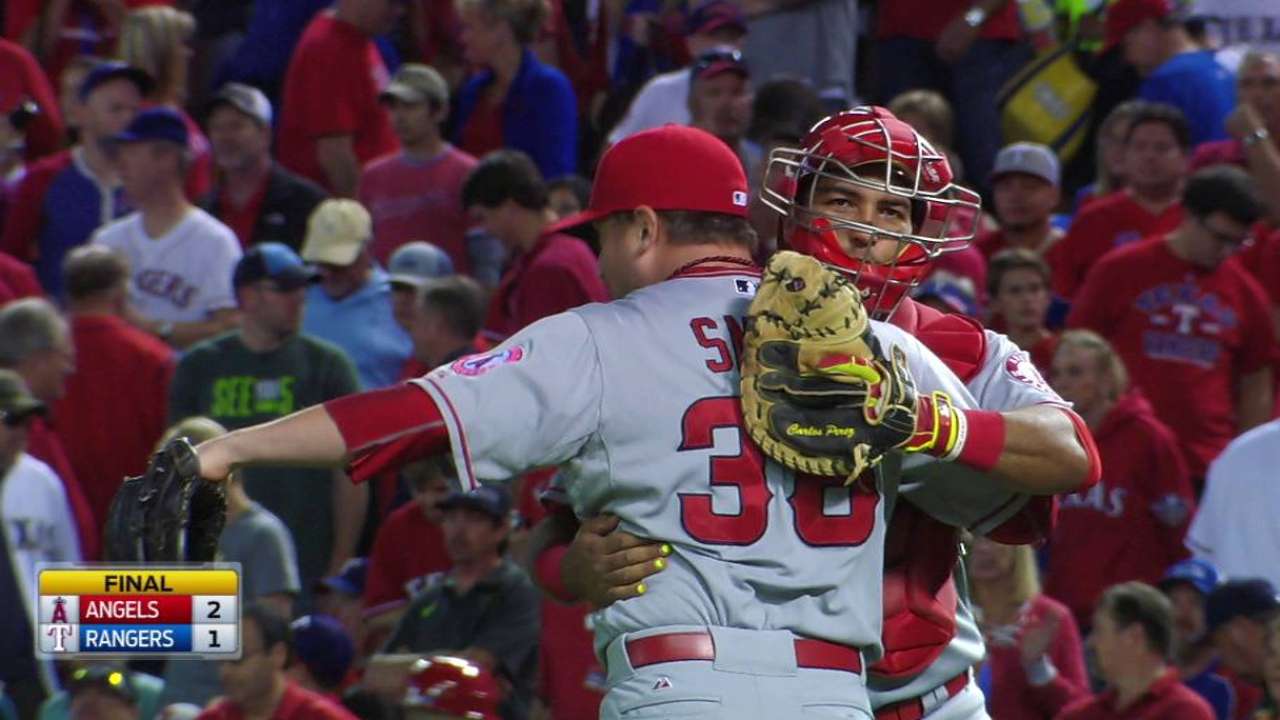 The dominant Angels bullpens of 2002-04 featured up to five above-average relievers in Troy Percival, Francisco Rodriguez, Brendan Donnelly, Scot Shields and Ben Weber. And the best 'pen in recent years was forged down the stretch in 2014, when Street's arrival allowed Kevin Jepsen to flourish as the seventh-inning reliever.
Jepsen was dealt to the Rays last winter for Matt Joyce, who finished the ensuing season with a .174 batting average. And the man who emerged in that seventh-inning role last year, 23-year-old flamethrower Trevor Gott, went to the Nationals for third baseman Yunel Escobar in December.
That likely means the Angels will begin the upcoming season by matching up in that crucial seventh inning, with the hope that eventually someone proves capable enough to seize the role.
But who?
One guy to watch may be Morin, who followed a dominant rookie season with a sluggish sophomore campaign. The 24-year-old right-hander went from a 2.90 ERA in 60 appearances in 2014 to a 6.37 ERA in 47 appearances in 2015. He gave up 11 runs (10 earned) in his first 15 innings, missed a month with an oblique strain, finished July with a 7.43 ERA and spent all of August in Triple-A.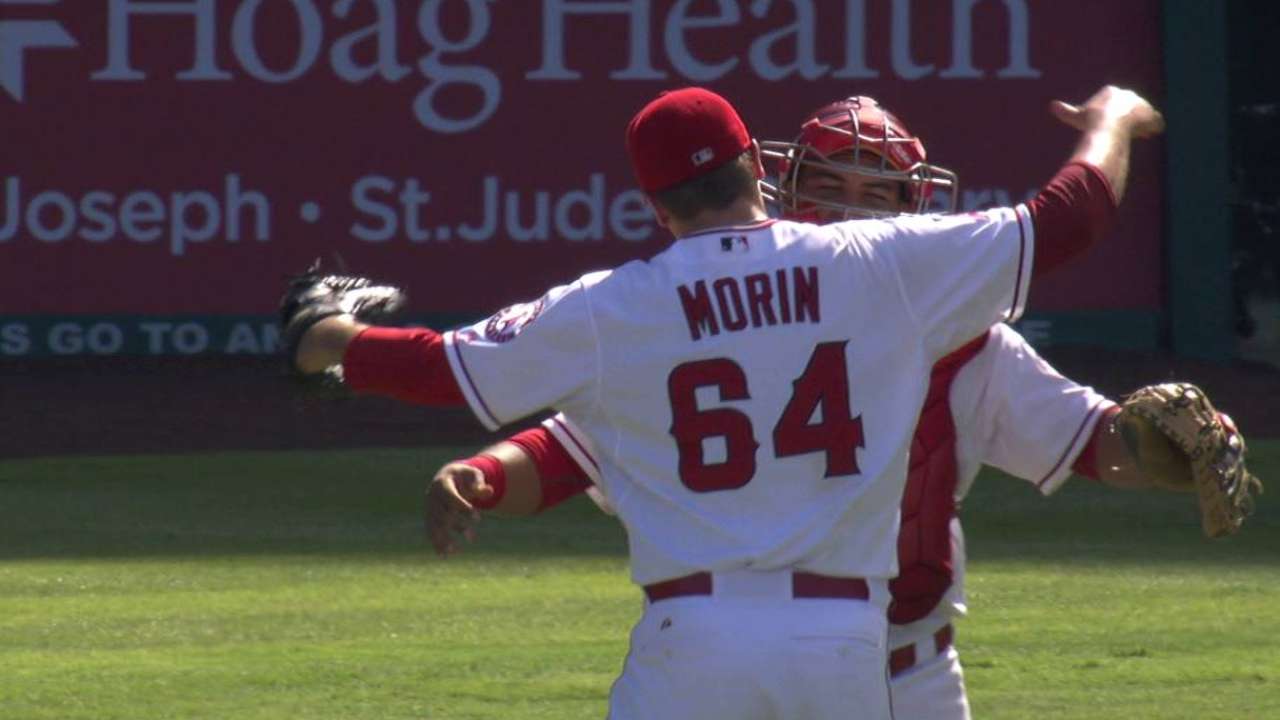 But Morin gave up just one run on one walk and 17 strikeouts in his first 14 appearances in September, before running out of gas late. And he still wound up improving on his strikeout rate (8.2 to 10.4) and walk rate (2.9 to 2.3) from a year before. Some in the organization believe Morin was pitching through arm pain early last season, and several others see him as a prime candidate to bounce back.
Another could be Alburquerque, who also broke out in 2014 and seemingly fell off in 2015. Alburquerque's ERA jumped from 2.51 to 4.21, his WHIP shot up from 1.17 to 1.55, and his strikeout-to-walk ratio went from 3.00 to 1.76. But peripherals suggest his 2014 and '15 seasons weren't much different, and that the 29-year-old Alburquerque may have experienced bad luck.
Rasmus had a 2.57 ERA in 56 innings in 2014 but struggled to a 5.23 ERA in 20 2/3 innings in 2015 -- a season hindered by sports hernia surgery and forearm issues. Now he's out of options and hoping to lock down his first solidified role.
Salas, who also can't be optioned, has the best track record of the bunch. The 30-year-old right-hander has a 3.58 ERA and struck out 9.3 batters per nine innings in 289 appearances from 2011-15. He sports the 15th-highest home-run rate among relievers during that stretch, but he allowed only a .189/.274/.358 slash line in high-leverage situations last year.
Guerra, a Rule 5 Draft pick who has to be offered back to the Pirates if not on the active roster, posted a 1.23 ERA, 0.79 WHIP and 4.63 strikeout-to-walk ratio in Triple-A last year. LaFromboise, also out of options, joined Guerra in that same Indianapolis bullpen. He had a 2.98 ERA but walked 21 batters in 54 1/3 innings.
LaFromboise and Alvarez are the only lefties in the group, and chances are that one of them will crack the Opening Day roster. Alvarez transitioned from the rotation last year and did well, finishing with a 3.49 ERA while holding same-side hitters to a .219/.299/.276 line.
Alvarez or LaFromboise could be paired with one of the right-handers to match up in the seventh inning with the hope of turning leads over to Smith and Street.
That seems like the most logical plan, unless somebody stands out.
"We look at that bullpen group as having a lot of candidates in it," Eppler said. "There's no doubt there's an opportunity for a lot of guys to take down a more significant role than maybe they've held in the past, and an opportunity for them to kind of plant the flag, so to speak, and occupy very meaningful innings for us."
FanGraphs WAR projections (by Steamer)
Smith: 0.5
Salas: 0.4
Morin: 0.4
Alburquerque: 0.2
Rasmus: 0.2
Alvarez: 0.2
Guerra: 0.1
Street: 0.0
LaFromboise: 0.0
Beyond the active roster: The Angels are still waiting on Cam Bedrosian, the hard-throwing 24-year-old right-hander who has yet to put it together. Bedrosian has a 5.81 ERA in 51 appearances in the big leagues the last two years. … For additional Minor League depth, Eppler has brought in a couple of righties (A.J. Achter and Ramon Ramirez) and a couple of lefties (Rob Rasmussen and Lucas Luetge). They'll all compete for a roster spot in Spring Training. … Greg Mahle stands as the Angels' best relief prospect. Ranked 12th in the system by MLB Pipeline, the 22-year-old lefty can throw four pitches for strikes and relies mostly on deception.
Alden Gonzalez is a reporter for MLB.com. Follow him on Twitter @Alden_Gonzalez and Facebook , and listen to his podcast. This story was not subject to the approval of Major League Baseball or its clubs.