6 Royals to watch this spring
Dyson can earn starting spot in right; Colon could supplant Infante at second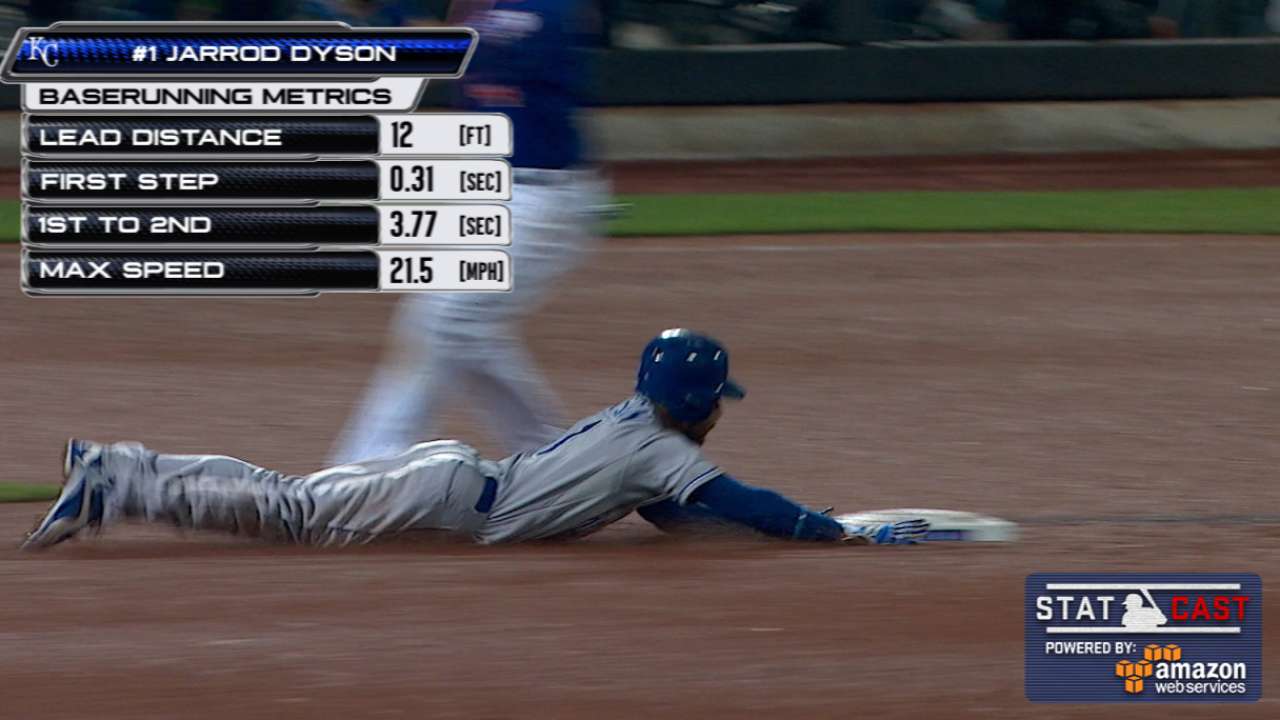 KANSAS CITY -- With Spring Training only a few weeks away, let's take a very early look at six Royals to keep an eye on in Surprise, Ariz.
Jarrod Dyson, RF: Manager Ned Yost and general manager Dayton Moore said at the Winter Meetings last month that it was time to give Dyson a shot at a starting job. Both Yost and Moore suggested that if given that chance, Dyson easily could swipe 50 bases and give the bottom of the lineup a boost. They also cautioned that putting Dyson in right field was the plan "as of now."
"Things can change, as you know," Moore said.
Dyson has a career .536 OPS vs. left-handed pitchers, so it's likely the Royals will start out with a soft platoon with Dyson. Right-handed-hitting Paulo Orlando would give Dyson some protection against the tough lefties. It's not out of the question, either, that the Royals find an everyday solution in right field through free agency or trade in the next few weeks.
Danny Duffy, LHP: The signing of right-hander Ian Kennedy means Duffy will be in a battle with right-handers Kris Medlen and Chris Young for one of the final two spots in the rotation. The Royals have told Duffy to prepare this offseason as if he will be a starter. But if he falters in Surprise, Duffy could be headed to the bullpen, where he excelled last September (six appearances, 0.00 ERA). It's really a win-win for the Royals -- he's either a valuable lefty in the rotation, or another power arm for the shutdown bullpen.
Christian Colon, 2B: One of the heroes of Game 5 of the World Series, Colon will be given every chance to take the job at second base away from Omar Infante. This is the chance Colon has been waiting for. And while there is a gap defensively between the two, the Royals won't tolerate another subpar offensive season from Infante. In other words, if Colon hits in Surprise, he very well could have the gig. Colon has great value, too, in terms of roster construction -- his versatility around the infield could allow the Royals to keep just one backup infielder. That would free up a spot for another outfielder or relief pitcher.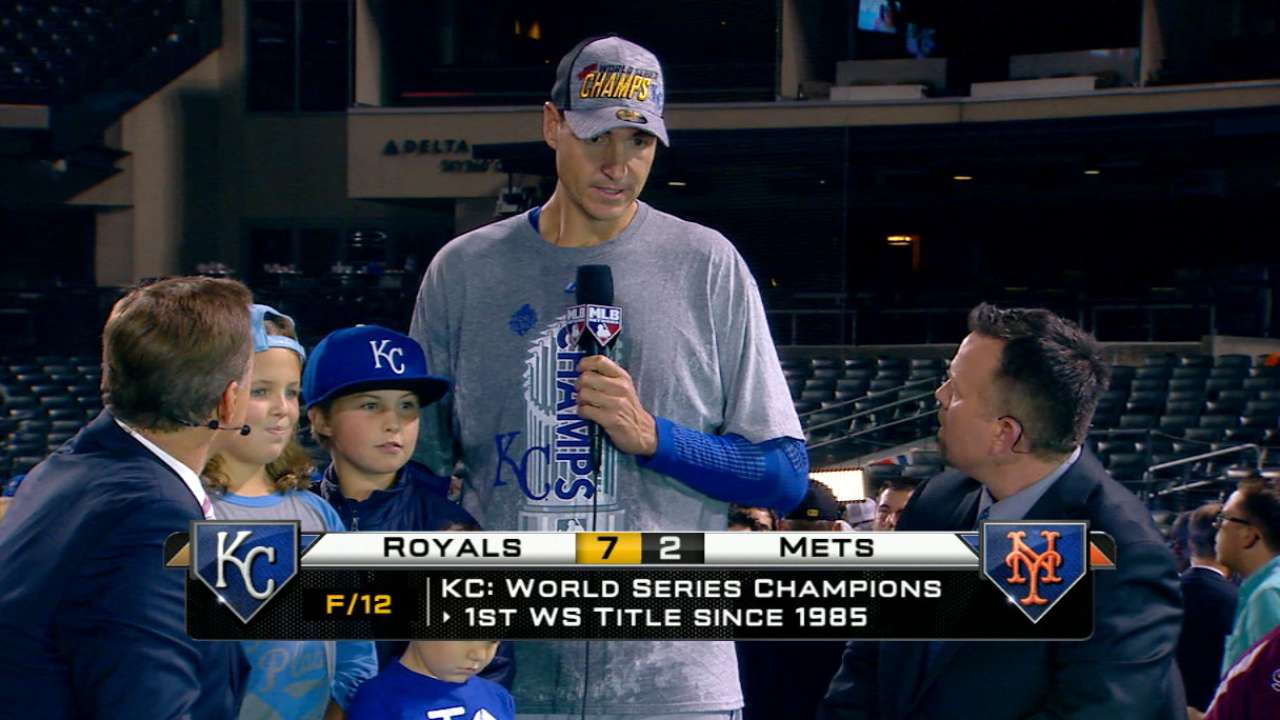 Brian Flynn, LHP: Flynn had a terrific Spring Training in 2015 and nearly made the 25-man roster. In fact, he probably should have made the roster, but he had options left and the Royals needed to keep Ryan Madson on the 25-man, which sent Flynn to Triple-A Omaha. Then a torn lat muscle ended Flynn's season in early April. But from all reports he is healthy again and ready to compete for a bullpen job this spring. He showed a mid-90s fastball with a sharp slider last March, and he could end up being the only lefty in the 'pen if Duffy makes the rotation. Tim Collins, rehabbing from Tommy John surgery, will likely start the season in the Minors.
Dillon Gee, RHP: The Royals are excited to see what they have with Gee, who signed a Minor League deal. Gee, the Mets' Opening Day starter in 2014, understands he may have to win a job by being a reliever, but he has told the Royals he's OK with that. Gee could be this year's version of Young, a flexible righty who can float between the bullpen and rotation when needed.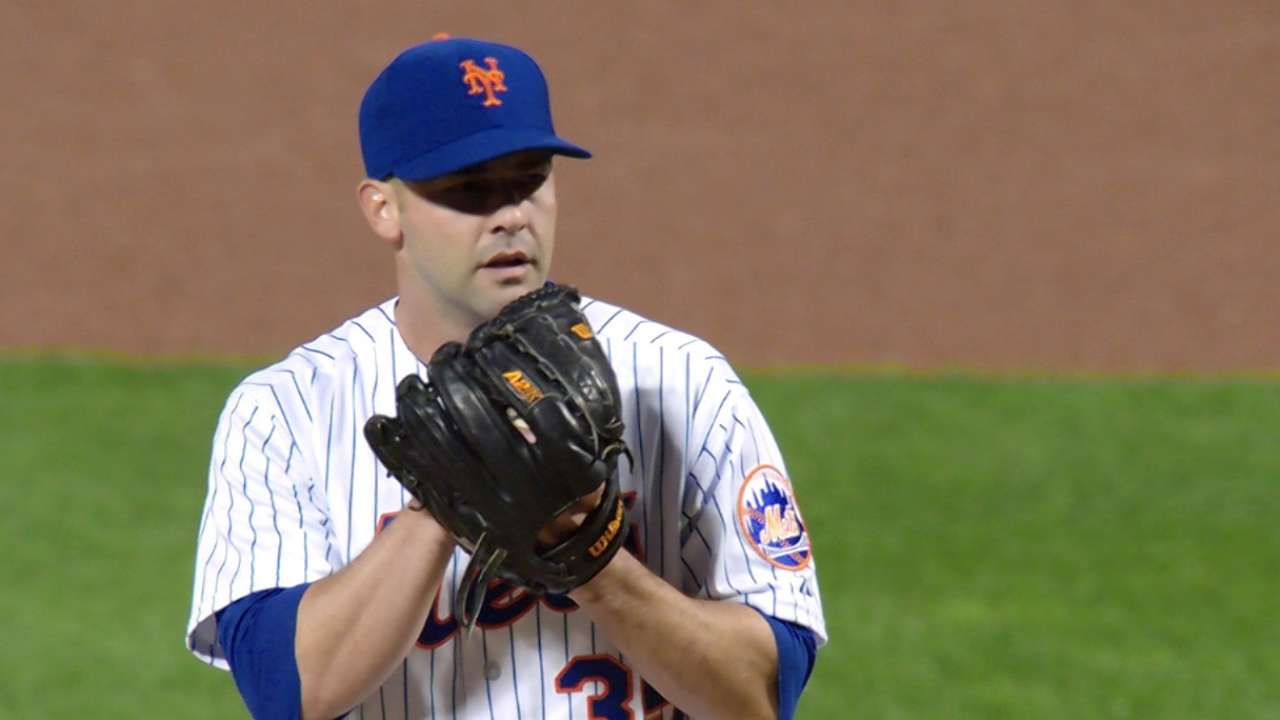 Jose Martinez, OF: If the Royals choose to carry a fifth outfielder, Martinez making the team would be a heck of story. The 27-year-old was signed to a Minor League deal last January. He then raised a lot of eyebrows when he won the Pacific Coast League batting title with a .384 average. He posted a 1.024 OPS, and the Royals rewarded him with a spot on the 40-man roster. While Martinez doesn't possess a ton of pop (just 50 homers in nine Minor League seasons), he's not a huge strikeout guy and he will take a walk. Martinez is average defensively, but as mentioned, he'd be a great story -- perhaps this year's Orlando.
Jeffrey Flanagan is a reporter for MLB.com. Follow him on Twitter at @FlannyMLB This story was not subject to the approval of Major League Baseball or its clubs.