Kershaw comes out on top in MLBN top SPs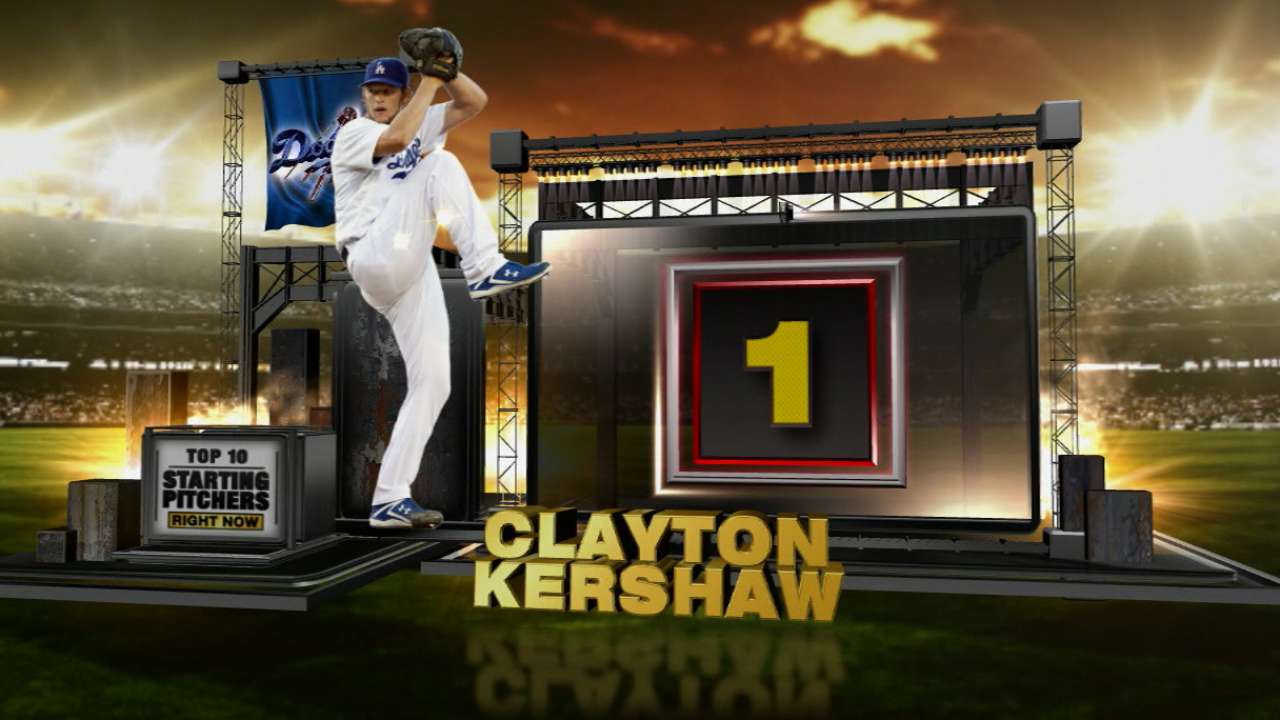 In an era in which pitching is once again dominating baseball -- and free-agency dollars -- it's worth debating the top starting pitchers in the Major Leagues. There's no shortage of aces in the game today, including a wide array of Cy Young Award winners and a superstar who was the National League's MVP Award winner just two seasons ago.
MLB Network revealed its top 10 starting pitchers on Thursday night, based on results from "The Shredder" -- an algorithm based on player performance that accounts for both offense and defense that was put together by MLB Network's research department "without emotion or bias." Host Brian Kenny and guest host John Smoltz also provided their top 10s.
"The Shredder" uses an objective methodology to rank players at each position based on their past track records as well as their future projection. It weighs the offensive and defensive statistics for a player in both one- and two-year increments and places more emphasis on defense at positions that are on the right of the defensive spectrum, i.e. catcher, shortstop, second base, and center field. It also takes into account a player's durability as well as the offensive environment of his home park. (In other words, it gives more credit to home runs hit in San Diego as opposed to Colorado.)
The full results are as follows:
MLB Network's top 10 starting pitchers
1. Clayton Kershaw
2. Jake Arrieta
3. Zack Greinke
4. David Price
5. Chris Sale
6. Max Scherzer
7. Corey Kluber
8. Dallas Keuchel
9. Felix Hernandez
10. Adam Wainwright
As perhaps the most valuable player on any club, Kershaw was the unanimous No. 1 choice on all three lists. Not that it's hard to see why. Kershaw has led the NL in ERA in four of the last five years, including two seasons with ERAs below 2.00, and he topped all Major League pitchers with 301 strikeouts in 2015.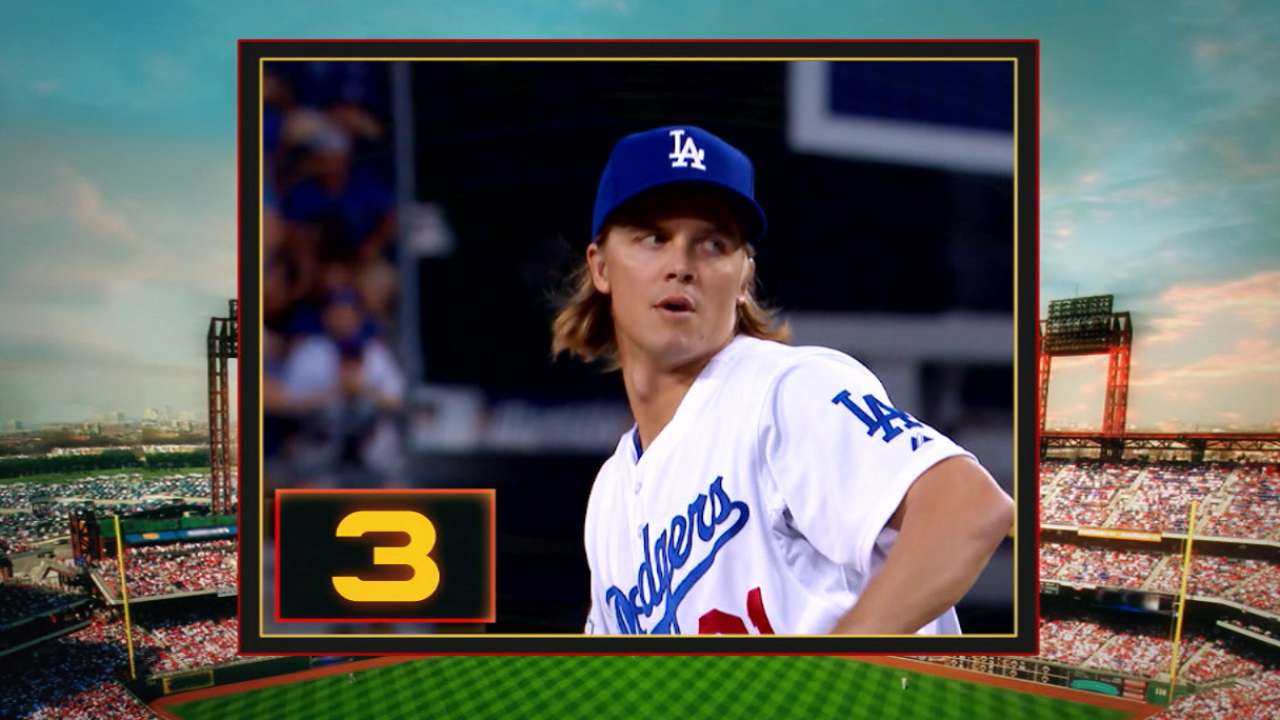 John Smoltz:
1. Clayton Kershaw
2. Jake Arrieta
3. Max Scherzer
4. Dallas Keuchel
5. Zack Greinke
6. David Price
7. Madison Bumgarner
8. Jacob deGrom
9. Chris Sale
10. Matt Harvey
Brian Kenny:
1. Clayton Kershaw
2. Jake Arrieta
3. Zack Greinke
4. Chris Sale
5. Max Scherzer
6. Dallas Keuchel
7. Jose Fernandez
8. Jacob deGrom
9. Adam Wainwright
10. Matt Harvey
"We're basically watching a Hall of Fame career unfold, and he's still in his prime," Kenny said.
The body of work is important to look at with Kershaw, who took home the NL MVP Award in 2014 to become the first pitcher to do so in the Senior Circuit since Bob Gibson in 1968. Kershaw's numbers stack up well with Sandy Koufax, and the comparisons are endless between the two Dodgers southpaws. This past season, Kershaw also led the NL with three shutouts, four complete games and 232 2/3 innings pitched.
"This was yet another outstanding season for the game's top pitcher," Kenny said. "Still the champ."
Biggest disagreements
Kershaw and Arrieta were no-brainers at the top two spots, but those easy selections were followed by much disagreement between the analysts and computers. Kenny and the algorithm both placed Greinke in the top three, but Smoltz ranked the right-hander fifth.
Instead, Smoltz preferred Scherzer as his third choice, while the algorithm ranked the Nationals hurler sixth and Kenny had him fifth.
"He is the frontrunner in the rotation for the Nationals, and that's why I valued his year with two no-hitters a lot higher than maybe The Shredder did," Smoltz said of Scherzer. "He had a couple more games where he could have thrown a no-hitter if somebody were to make a play here or there."
Keuchel also cracked the top five in Smoltz's rankings, but the lefty was rated sixth by Kenny and even lower by the computers, which felt this year's American League Cy Young Award winner was no better than seventh.
"His ability to get weak contact is unbelievable, and for me, Dallas Keuchel has now niched himself in the elite class in one year," Smoltz said.
Kluber and Hernandez were well liked by the algorithm, but neither host had them in his rankings. On the other hand, both analysts felt Mets teammates Matt Harvey and Jacob deGrom deserved spots in the Top 10, though the computers disagreed on both players.
"I think deGrom and Harvey, because they went to the postseason, definitely get bumped up in my list," Smoltz said.
Kenny had the only list with Fernandez and the only without Price, while Smoltz was the only one who included Madison Bumgarner.
Wainwright didn't crack Smoltz's list due to missing five months with a torn left Achilles, but Kenny and the algorithm found room for the Cardinals ace.
"When he is pitching, he deserves to be in the top five," Kenny said.
In total, 14 different pitchers were named, underscoring the depth at the position.
Biggest risers
Arrieta had a breakout season and Greinke once again established himself as one of the best at his craft, resulting in both pitchers cracking the top 10 after being left off the list the year before.
On his way to his first NL Cy Young Award, Arrieta tossed a no-hitter and pieced together a historic second half with a 12-1 record and 0.75 ERA over 15 starts to help the Cubs reach the postseason.
"He had one of the most dominant years you can imagine," Smoltz said.
Greinke had a season for the books, too, leading the Majors with a 1.66 ERA and a 0.84 WHIP en route to winning 19 games. Greinke cashed in on his big year, inking a six-year, $206.5 million deal with the D-backs in December.
Austin Laymance is a reporter for MLB.com. This story was not subject to the approval of Major League Baseball or its clubs.