MLB.com Columnist
Lyle Spencer
Swinging at first pitch has its advantages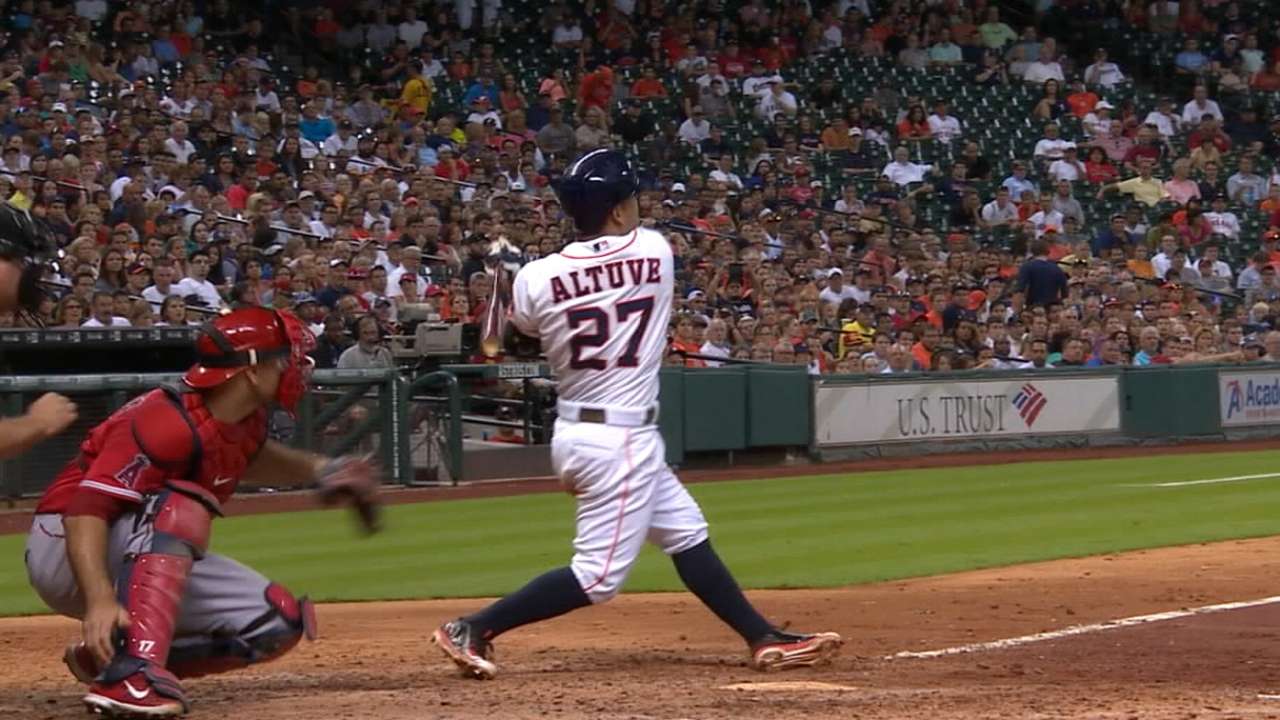 In this era of dominant pitching and ever-rising strikeout numbers, it's not a good idea to fall behind in counts to the elite artists. Putting Clayton Kershaw, Max Scherzer, Chris Sale or Chris Archer in the driver's seat is not a comfortable way to go.
Jose Altuve is in a class of his own. The All-Star second baseman is the most aggressive hitter in Major League Baseball, hands down -- and it is paying huge dividends for his Astros.
Over the past four seasons, coinciding with his emergence as an elite player, Altuve has put more first pitches in play than any hitter in the game. He batted .425 last season on 134 first pitches after bashing .430 in 2014 on 151 first pitches, with three home runs each season. The payoff: a .341 overall average, an American League batting title in 2014 and a .313 average last year.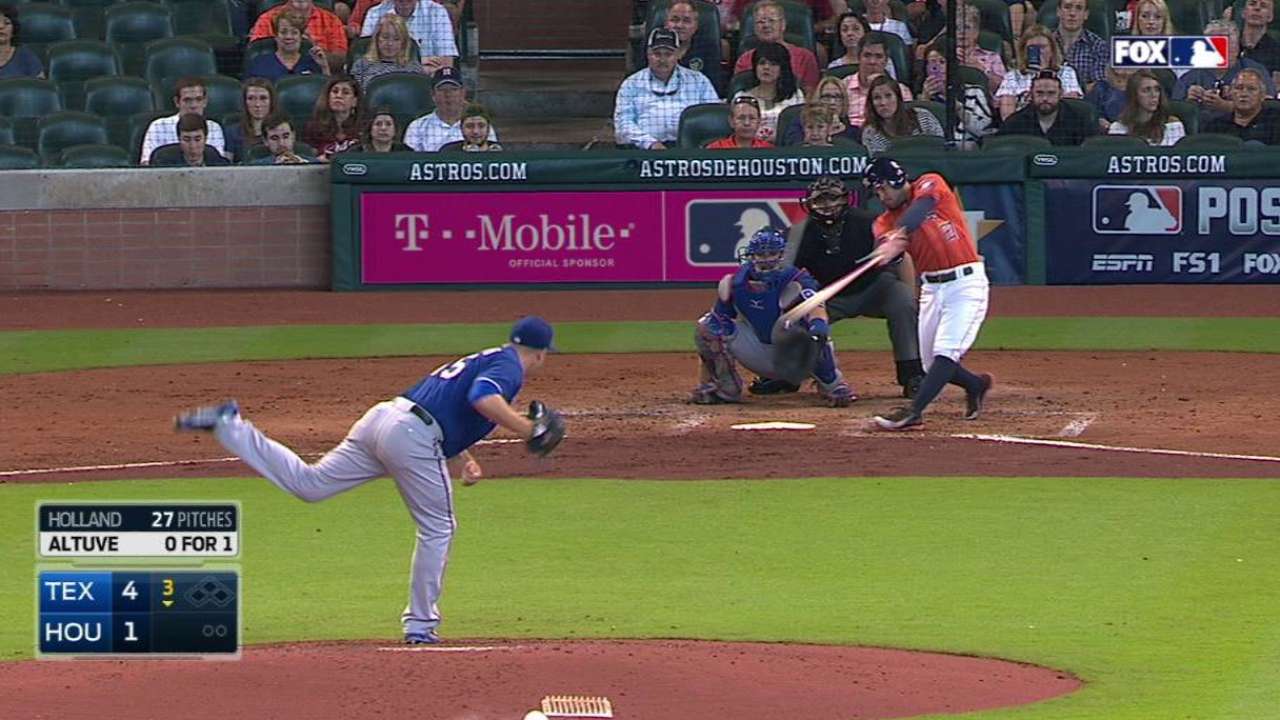 The little man is doing big damage as the most prolific ambusher in the game. Since his 2012 breakthrough season, Altuve has put 504 first pitches in play, batting .381 with a .561 slugging percentage.
Altuve has launched 111 more first pitches than runner-up Erick Aybar, the former Angels shortstop now with the Braves. Carlos Gomez, Altuve's teammate, is a .362 hitter with a .643 slugging mark on 392 first pitches put in play since 2012, banging 23 homers and 31 doubles. Handle the 'Stros with care.
Among table-setters, the Athletics' Billy Burns operates closest to Altuve. Burns hit .479 last season on 117 first pitches, slugging .718, with eight doubles, four triples and four homers.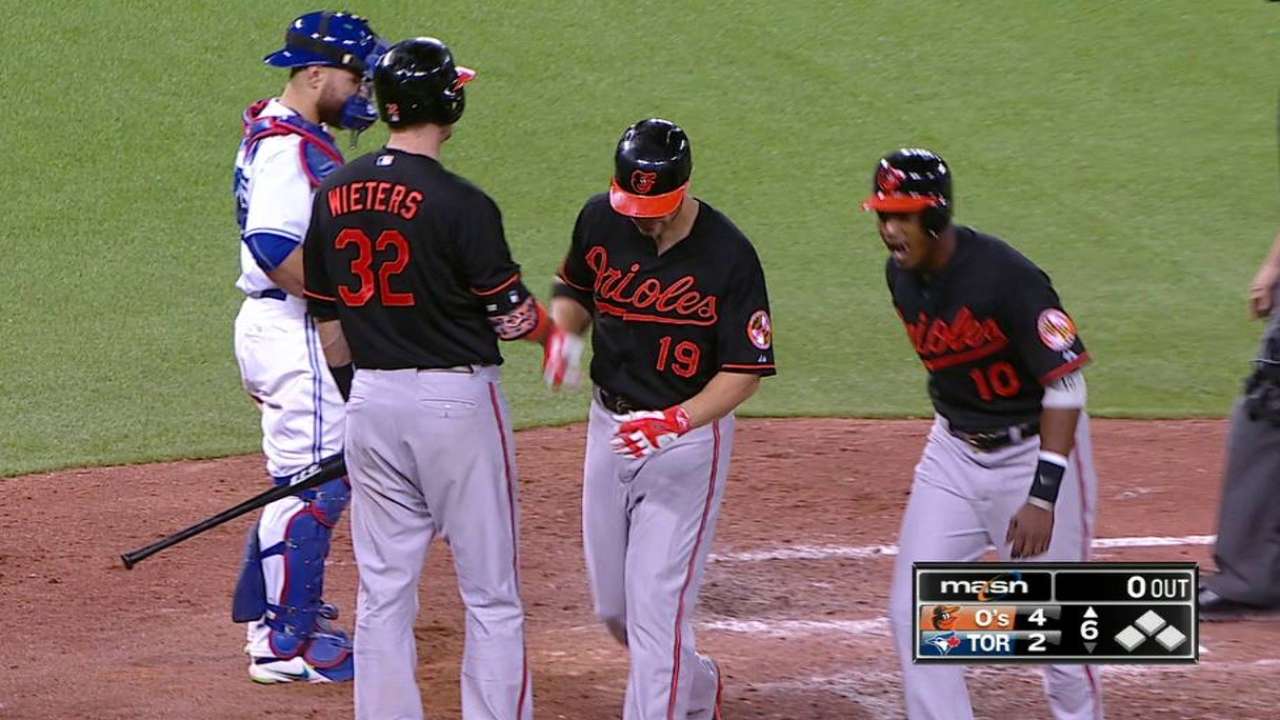 No ambush hitter has been as productive in the power category as the Orioles' Chris Davis. He leads the Majors in first-pitch homers since 2012 with 38, followed by Miguel Cabrera (33), Ryan Braun (31), Anthony Rizzo and Nelson Cruz (28 each).
The active leader in first-pitch homers, with 103, is Alex Rodriguez, followed by Cabrera with 94. Albert Pujols and David Ortiz have 69. Going back to 1985, the co-leaders are Barry Bonds and Vladimir Guerrero with 127.
Pitchers, beware, in Baltimore this season. Mark Trumbo, Davis' new power companion, is a .332 hitter with 19 homers and a .632 slugging percentage on first pitches.
In his early Texas years, Crush Davis studied at the feet of notorious first-pitch mauler Josh Hamilton. Davis is crushing at a 1.004 slugging clip and batting .436 since 2012 on first pitches. His .944 career slugging mark is the highest since first-pitch hitting has been recorded.
Khris Davis, coincidentally, is second at .890. The Brewers' young basher has produced 17 homers on 118 first pitches put in play.
The Cubs' Kris Bryant took full advantage of first pitches en route to the 2015 National League Rookie of the Year Award. Bryant hit .500 with seven homers on 72 he put in play, slugging .972. Also hitting .500, on 84 first-pitch swings, was the Astros' Jonathan Villar.
First-pitch maulers since 2012 include Cabrera (.432 BA, .778 SLG); Paul Goldschmidt (.446, .813); David Peralta (.451, .823); Jonny Gomes (.441, .902); Braun (.401, .803); Cruz (.372, .792); Rizzo (.388, .759); Joey Votto (.412, .796); Buster Posey (.443, .711); Giancarlo Stanton (.393, .779); Freddie Freeman (.402, .638); Brandon Moss (.397, .778); Kendrys Morales (.404, .668); Robinson Cano (.393, .656); Brett Gardner (.422, .672); Jose Bautista (.353, .741); Matt Holliday (.373, .649); Todd Frazier (.344, .675).
A fascinating study is the Dodgers' Yasiel Puig. On 224 first pitches he has put in play, he's a .424 hitter with a .750 slugging percentage built on 18 doubles and 17 homers. Criticized for being overly aggressive, Puig is more vulnerable the deeper he gets in counts, falling to .172 and slugging .254 with two strikes.
Mike Trout, the game's best player, hasn't grown comfortable hacking at first pitches. He's a .310 hitter with six homers a .552 slugging mark putting only 116 in play. But in Trout's rookie season in 2012, batting a career-high .326, he hit .419 and slugged .839 with three homers in 31 first-pitch swings.
The Tigers' 2012-13 AL Most Valuable Player Award winner, with Trout second each year, Cabrera powered his way to an AL Triple Crown in '12 while hitting .436 on 94 first swings, producing 10 of his 44 homers and 29 RBIs.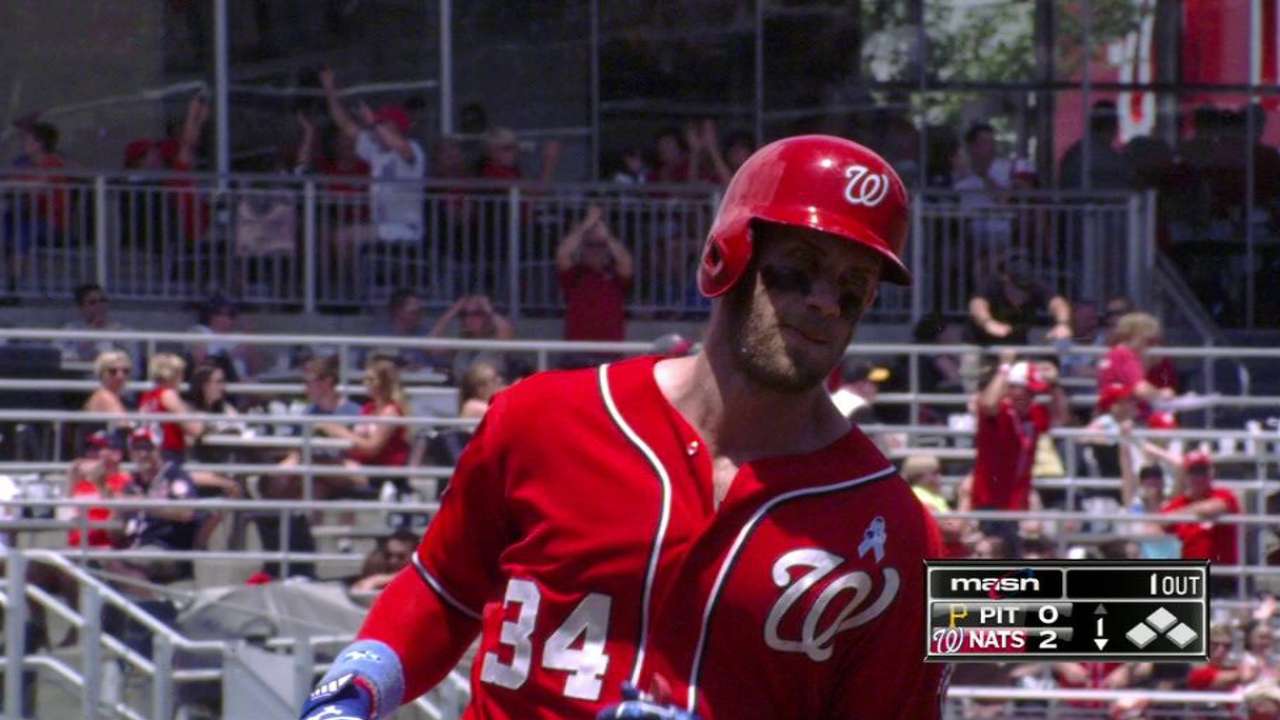 Bryce Harper, the 2015 NL MVP Award winner, comes out swinging. He's a .372 hitter slugging .702 with 24 homers on 282 first pitches in play.
Josh Donaldson, who edged Trout for the AL MVP Award last year, is a .362 career hitter with a .673 slugging percentage on 254 first swings. He has homered 19 times.
There are great hitters who lose or never feel a comfort zone with first pitches. The Yankees' Mark Teixeira is a .328 career hitter slugging .649 on 789 career first pitches, but the past four seasons, those numbers slipped to .214/.389. The Royals' Mike Moustakas is a .239 career hitter on first pitches, Kurt Suzuki .241.
Pitchers most vulnerable to first-pitch hacks included Stephen Strasburg (.491 opponents' batting average, .877 slugging on 57 swings), Ian Kennedy (.484 BA, .968 SLG on 62 in play) and Jason Hammel (.443 BA, .900 SLG). Kyle Kendrick and Tom Koehler each surrendered nine first-pitch homers to lead that dubious category.
The list of pitchers in 2015 drawing the highest percentage of first-pitch swings is filled with high-octane names: Kershaw, 41.1; Scherzer, 39.3; John Lackey, 37.1; Matt Harvey, 35.1; Corey Kluber and Carlos Carrasco, 34.8; Zack Greinke, 34.2; Madison Bumgarner, 34.0.
Swing away, guys. Falling behind 0-1 to these guys is the prescription for a headache.
Lyle Spencer is a columnist for MLB.com. Follow him on Twitter @LyleMSpencer. This story was not subject to the approval of Major League Baseball or its clubs.