Moncada on rise, won't stop working to improve
Red Sox's top prospect excelled in 2015 at Class A Greenville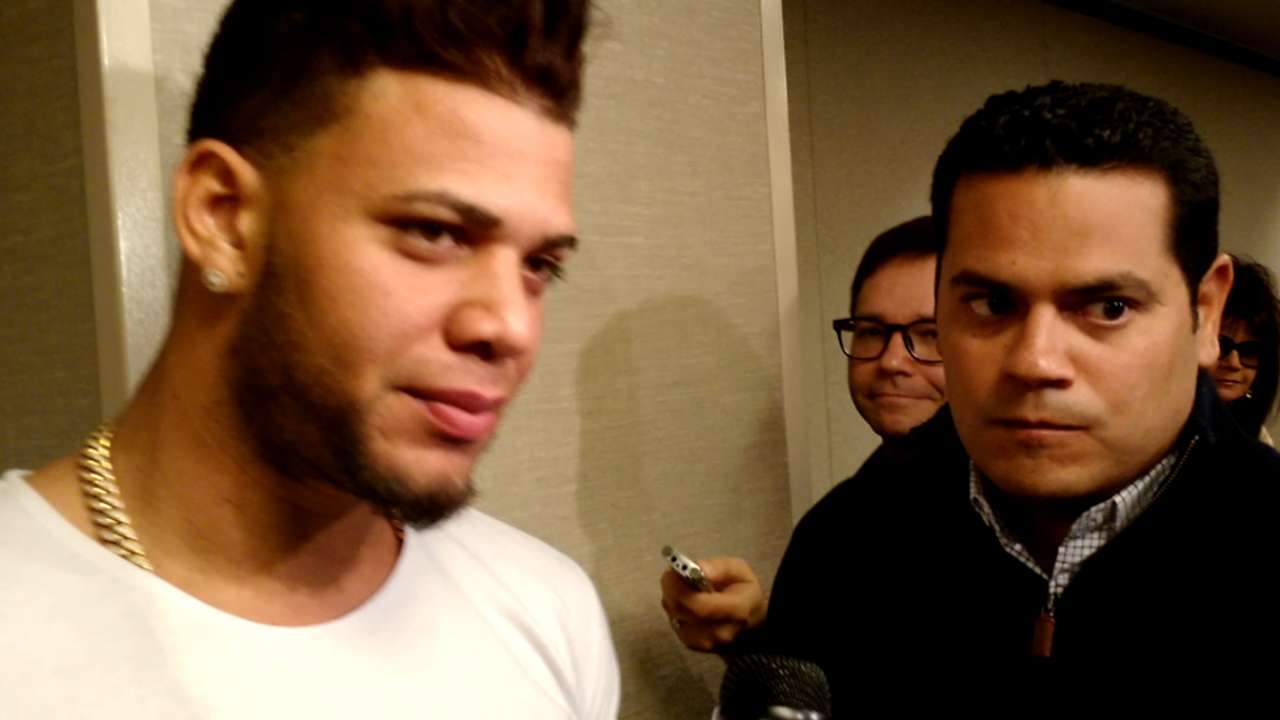 BOSTON -- Yoan Moncada's first season in the Red Sox organization can be judged as a success when you consider the reason he was in town on Thursday.
The prized prospect from Cuba -- and Boston's No. 1 prospect, according to MLB.com -- was recognized as the organization's Minor League Player of the Year in 2015. But the thing that should excite Red Sox fans is that Moncada feels he can play a whole lot better.
"One of the big things is going through the length of a full season, you wear down some," Moncada said through an interpreter. "I feel like I'm better prepared for that going into this season.
"I can't wait for the season to start. I've been working out in Fort Myers since early November. I feel like this is the best physically that I've ever felt. I'm looking forward to how it's going to translate into the season."
Last year was a season of acclimation for a player who was signed after Spring Training had already started and then spent the year getting adjusted to a different culture.
"The biggest adjustment has been just been not being around my parents," Moncada said. "They continue to remain in Cuba. It's been an adjustment to life without them. I'm just trying to focus on baseball and getting to the big leagues and trying to figure out that [family] situation whenever I can."
The reason the Red Sox deemed Moncada worthy of a record-setting contract is because of his array of skills, which should make him an impact player in all phases.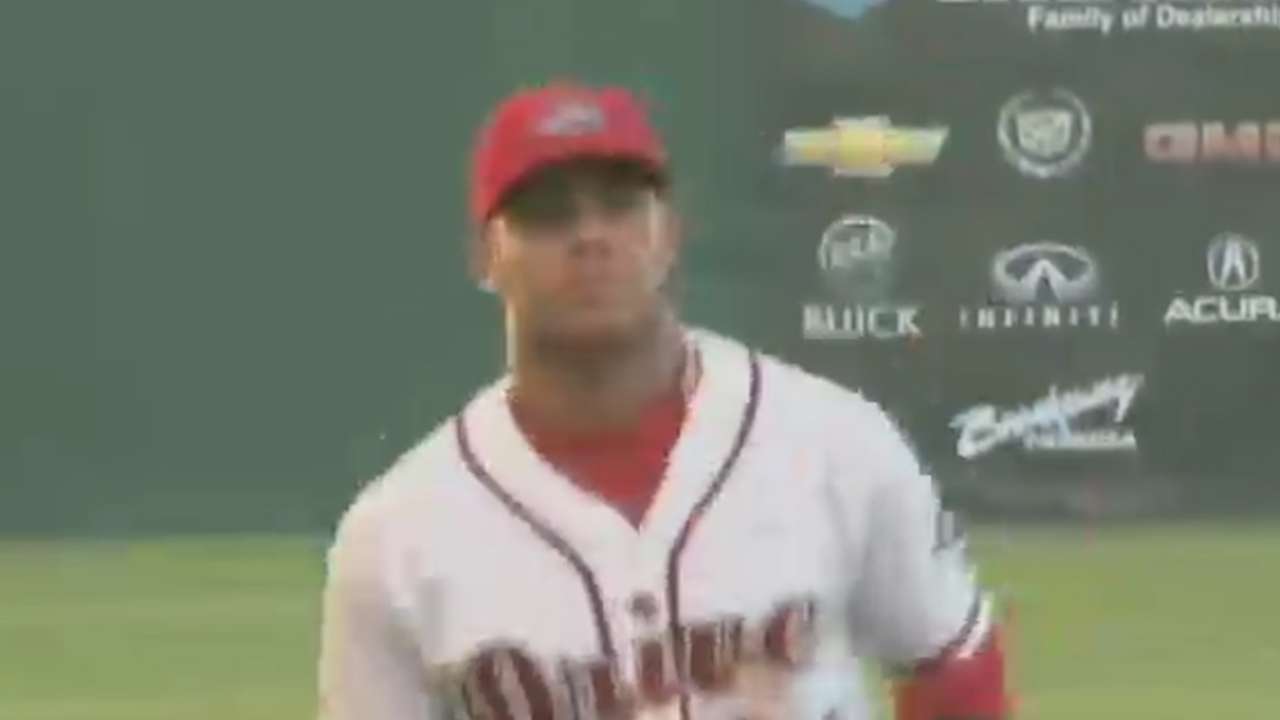 "Despite having gone a long time without having played in games, I still tried to play to my strengths," Moncada said. "I think, especially in the second half of the season, I was able to do that. And I was pretty satisfied with the way I was able to finish the season off."
Playing at Class A Greenville, Moncada hit .278 with 19 doubles, three triples, eight homers and a .817 OPS. He also stole 49 bases in 81 games.
"I'd say my strength right now is baserunning," said the 20-year-old Moncada. "I feel like I can steal bases. I like to be aggressive on the basepaths. I think my defense is coming along, but it's something I need to work on, along with my hitting. You should always improve your offense."
Considering the investment the Red Sox made, the organization was enthused to see the way it played out last year. What excited the brass the most?
"Watching the growth in the second half," said general manager Mike Hazen. "In the first half, you didn't know really what to expect -- so many changes, from extended spring [camp] on down. There was so much we threw at him that was new. Watching him in the second half really settle in, that was sort of the mindset we had leaving him in one place.
"We need him to get comfortable with the coaching staff, the environment, professional baseball in the States. He really did a good job of that. We saw the work ethic from a consistency standpoint. Going out there and taking 50 ground balls every day, and even if you go 0-for-4, you're taking 50 ground balls tomorrow. Even if it's 100 degrees, we've got to figure out a way to get our work done.
"Those are things he really embraced, and we saw a lot of improvements. For his career, that's something that's going to be expected of him at the Major League level, so he might as well figure it out now, and he did."
Though Moncada is far more settled from a cultural level than he was last year, he will continue to evolve. For example, the quest to master the English language continues.
"Mostly [I'm learning] through conversations with teammates and asking questions," Moncada said. "I've learned a little bit, but not much yet. But also through the classes. It's just a matter of getting more and more comfortable with it."
Ian Browne is a reporter for MLB.com. This story was not subject to the approval of Major League Baseball or its clubs.